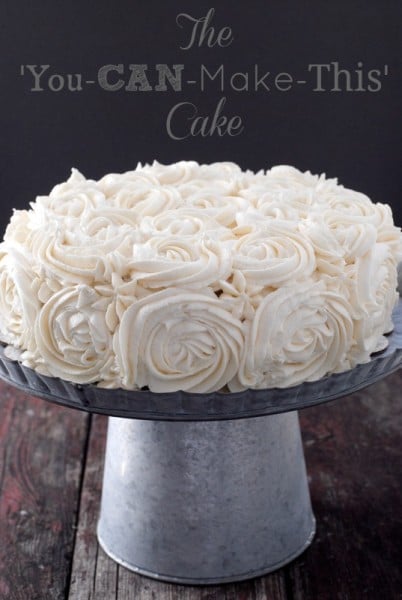 Good or bad, my children's birthdays are within 10 days of each other. Fellow moms will already have begun to translate this information through the project management function of birthday planning; gift ideas, gift procurement, additional gift ideas to provide desperate relatives without inspiration, birthday activities, and birthday food. This is heightened for me since both my children are gluten free therefore historically providing I bake their cakes, whatever they wish them to be.
This year we were fortunate as a new beautiful bakery has opened in our neighborhood also offering a selection of gluten-free cake options which are much more exotic than I could muster. I suggested that maybe they'd like that option; equally celebrating the novelty of a purchased cake after all the years of their lives of me making them, and secretly coveting the recouping of that time for the rest of the hurry-scurry I knew would be happening on their special days. They both declared firmly, they wanted me to bake their cake. I was flattered and happy to do it.
My son's 10th birthday came first. I wondered what type of layer cake he'd want (my thinking). When I asked what kind of cake he'd like; he responded he had an idea but felt I'd say no, that it probably could not be done (note: those are the surest words to make positive I'll execute; 'I don't think you can do it'). I prodded my sullen lad a bit and he revealed he'd hoped for a Lumpy Space Princess cake.
If you are not in college you most likely have no idea what that even means. I shudder to admit she is a character from a highly questionable cartoon (Adventure Time), set in a post-apocalyptic environment with a bevy of bizarre and suspect characters. Lumpy Space Princess (and I know this after watching an 8 minute YouTube video for cake research; I highly recommend you not do the same) is a surly, mouthy teen, voiced by the show's creator. Questionable adult themes and lots of behaviors to caution young viewers about never doing the same. I find whenever my son is wearing a t-shirt from the show, it's the young 20-somethings that stop him on the street with 'I LOVE that show! Who is your favorite character?' I become quickly invisible and they bond as tweaked-cartoon watching peers (future post coming on 'planning for your child's therapy needs resulting from not applying appropriate censorship to their TV watching choices').
To my sheer luck, Lumpy Space Princess is an amorphous purple, lumpy blob of a chicklette who was not hard to manifest in cake form. That being said I ran into issues with the thickness of the initial frosting tearing off the gluten free cake edges, engraining chocolate crumbs into her lumps making it appear she had some sorted chocolate 'road rash'. I feverishly made up a second whipped cream frosting, coated her over (making her all the more floaty); applying the old 'if you can't fix it feature it' motto and no one was the wiser.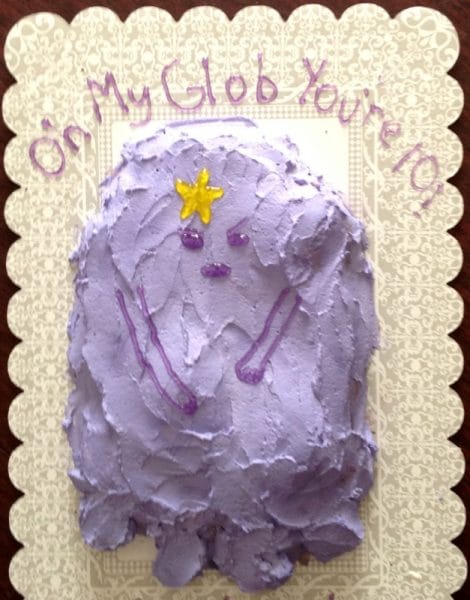 With this as a visual backdrop, you'll appreciate the horror when my (nice) teen daughter requested a 'vanilla cake with flowers on the side'. Still traumatized from the purple cake fiasco I turned to the internet for aid. I was terrified I'd need to learn how to make flowers from fondant or something equally beyond my capability. The first article I landed on was from a fellow blogging colleague, Amanda Rettke who writes the enchanting blog 'i am baker'. I've crossed paths with Amanda in social media circles on Google + and Facebook and have grown to greatly admire her jaw-dropping baked confections over the past few months. I felt confident though that there was nothing Amanda would make that I could touch without my family suggesting my next vacation be to an institution for the baking insane.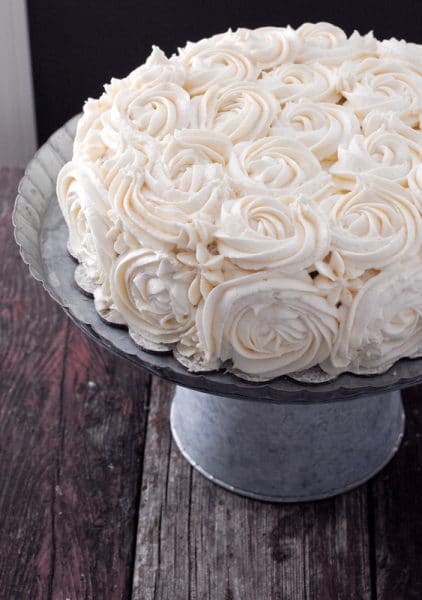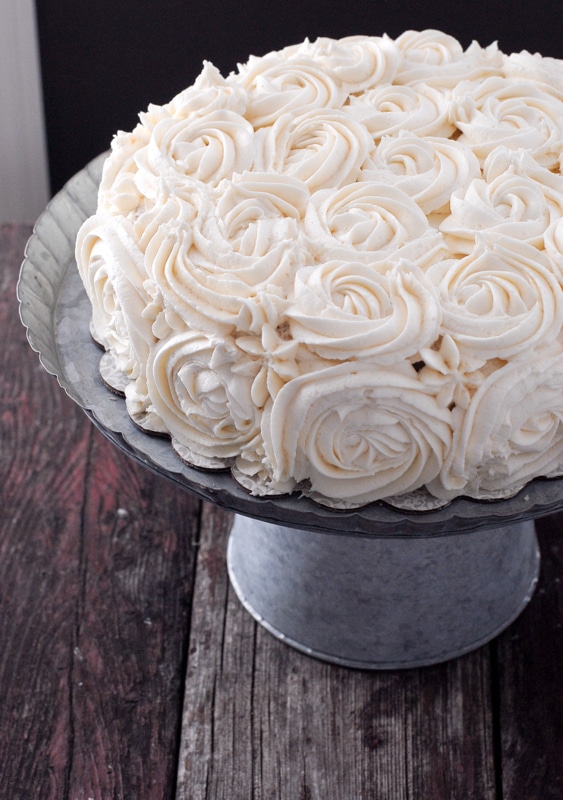 The post I landed on from my search was for an extraordinary cake. A fancy cake. A floral cake for someone with years of experience and no notes about pre-requisite skills being met by fashioning creatures from Adventure Time on Cartoon Network. I read on, mesmerized, watching a video of Amanda's lovely hand swirling away to produce perfection. Her calm demeanor assured, ANYONE could make this cake, and it would take less than 10 minutes to frost.
I set aside a full day; just in case.
I don't know what else to say other than Amanda-don't-lie. I made this cake.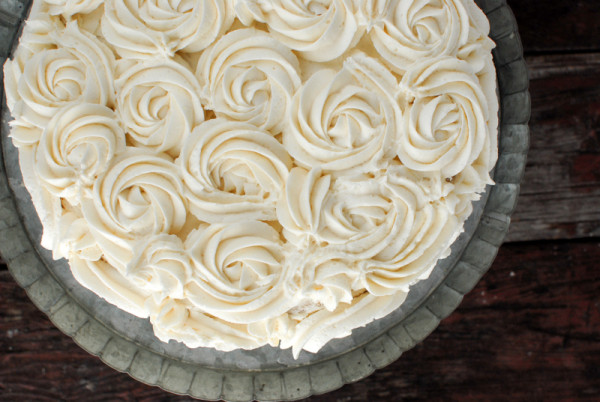 There are a few slip ups and I'm not going to challenge you to look for them. But I MADE this cake!
My daughter's birthday was long and full of friends, movies, gifts, dinner and by the time it was time for cake we were all full. The cake was in a refrigerator in a different part of our house so I pulled out my iPad to show her an interim photo. Her eyes became as wide as saucers (as my grandmother would have said) and she declared 'YOU made that?' 'I did'. 'By yourself?' 'Yes'. 'Wait…..YOU made that cake? Yourself?' 'YES! And would you believe it if I told you it was easy?' 'No. I would not'.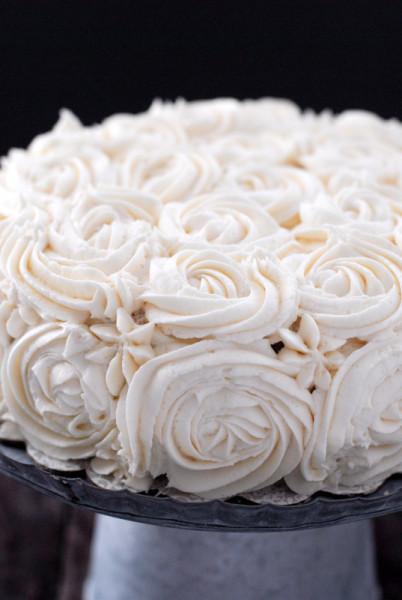 We went through the same stunned admiration when it was revealed live, decked with 6 inch rainbow candles, serenaded and cut into. It was the most beautiful cake any of us had ever seen. And I made it.
You can too.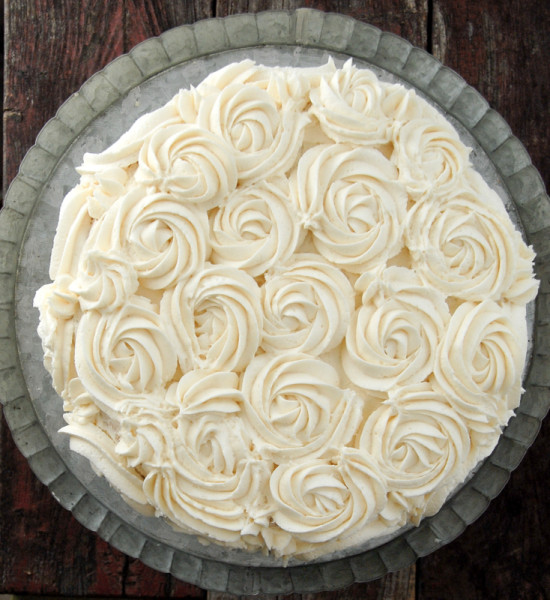 My Recipe notes: I used Pamela's Classic Vanilla gluten-free cake mix and frosting to put in between the layers. After reading the extensive debate in the comments section on Amanda's post, I opt'd for her half shortening/half butter buttercream frosting recipe which held up beautifully. I will echo her description that it is very sweet; and completely gorgeous too!