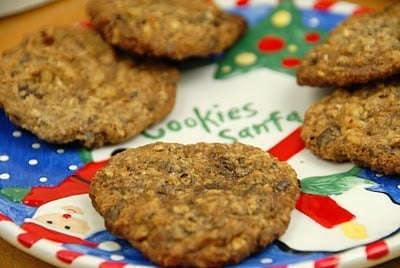 As I prepared to bake cookies for Santa, I perused my Grandmother's recipe box once again and felt nothing could be more apropos than a recipe for 'Good Cookies'.

I'm feeling pretty confident about my behavior over the past year landing me on Santa's list of choice but why risk it?

Whether merely an understated affirmation of a delicious cookie recipe or something that might bear a deeper meaning in the succinct recipe title, I've decided this is prophetic and I'm going for it.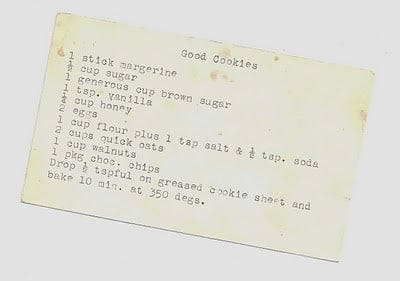 You'll note the gross absence of any instruction in the original recipe card (again these would be from last century any time after the invention of the typewriter which is my only clue with this one).

I've 'embellished' (seems like an oxymoron when there is nothing to expound upon) the instructions to reflect what worked for me.
·
1 stick margarine (I used butter), softened
·
1 generous cup brown sugar
·
1 cup walnuts (chopped)
·
1 package chocolate chips (to spice this up a bit I substituted 3 bars of chopped Chocolove Dark Chocolate with Chilies and Cherries.

Kept it local and gave it a regional twist)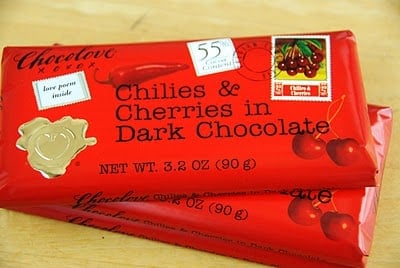 Gluten Free modifications:
Substitute gluten free flour.

Add 1 teaspoon xanthan gum.

Use gluten free instant rolled oats (I used Bob's Red Mill).
1.
Preheat oven to 350 degrees.
2.
Sift together the flour, salt, baking soda (and xanthan gum if you are making these gluten free).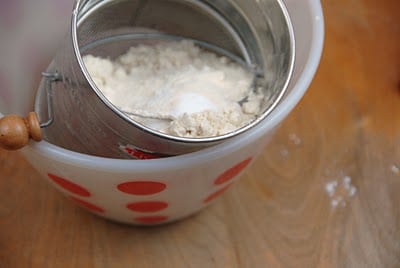 3.
In a separate bowl cream together the margarine/butter with sugars.

In another bowl combine the vanilla, honey and eggs.

Add the vanilla/egg/honey mixture to the butter/sugar mixture and beat until combined.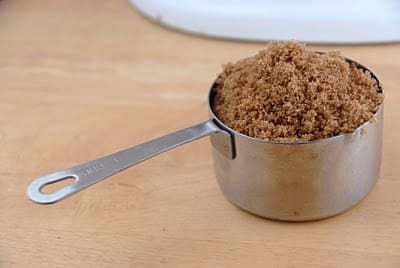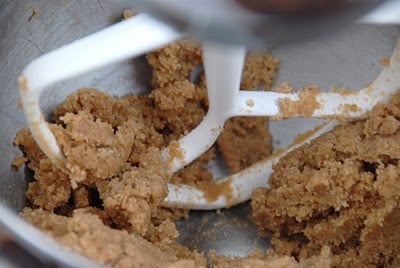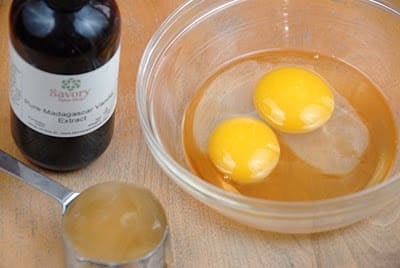 4.
Add flour mixture into the wet mixture a bit at a time while beating until fully mixed combined.
5.
Fold in oats, walnuts and chocolate chips.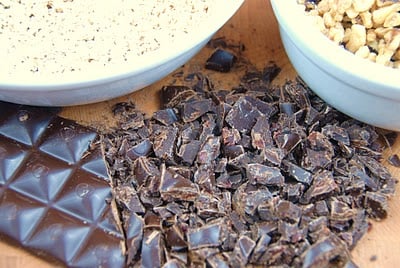 6.
Place tablespoons of the dough onto parchment paper or a Silpat and bake for 10 minutes.

This is how long it took for mine to bake completely.

Because ovens do differ I suggest monitoring them in your oven to decide if they need a few extra minutes.
These cookies really did turn out 'good' as the title promised!

They are a flatter more chewy cookie (in a good way) vs. a the more lofty, cakey type. Even more yummy the second day. I think they'll pass muster with Santa….if there are any left by the time he shows up!