Hasselback potatoes are beautifully styled, thin cut potatoes, or in this case, sweet potatoes. This recipe for hasselback sweet potatoes with creamed chipotle turkey is a hearty meal with robust smoky, spicy, sweet flavors you'll love! A gluten-free dinner recipe.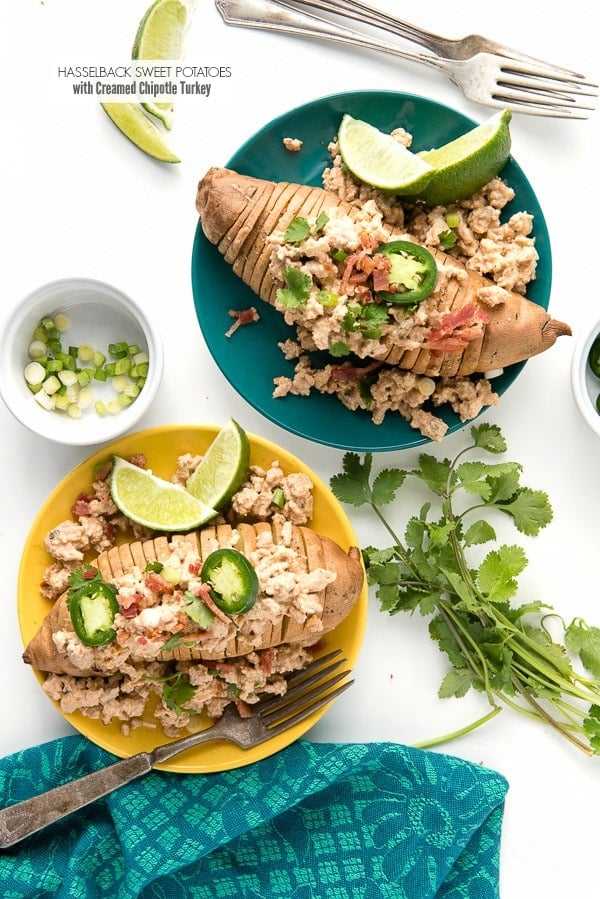 I have been fascinated with Hasselback potatoes for years now. I think I first saw them on Pinterest.
I had not run into them in the practical food world, only online, and I knew I eventually needed to make them when I conjured up a special recipe deserved of their unique style.
Well my friends today is that day! I'm delighted to share Hasselback Sweet Potatoes with Creamed Turkey. Smoky, slightly spicy sour cream turkey and chipotle, perfect with the slices of the Hasselbeck-style sweet potato.
These sweet potatoes are a far cry from Classic Sweet Potato Casserole!
What are Hasselback Potatoes?
The dish gets its name from Hasselbacken, the Stockholm restaurant where it was first served. Thinly sliced sweet potatoes are seasoned and baked, turning out crispy on the edges and tender on the inside.
The appearance is similar to thick-cut potato chips, but the slices aren't cut completely through the potato.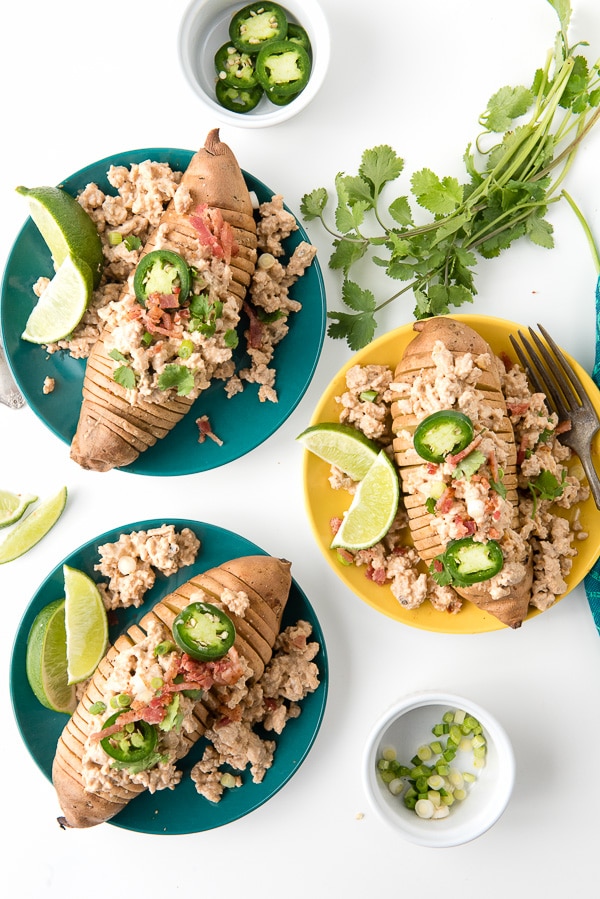 I will confess I have spent much of my life avoiding sweet potatoes. Traumatized by the Thanksgiving table of my childhood, when the 'orange juice potato' casserole with the little marshmallows was firmly deposited on the buffet followed by emphatic looks from my hosting relatives, leaving me to be sure I would not escape without a minimum of one heaping scoop on my plate.
This was of course the classic sweet potato with marshmallow casserole, which my little mind decided was white potatoes mashed with orange juice, leaving them the dense color and sweetness we all know of a sweet potato.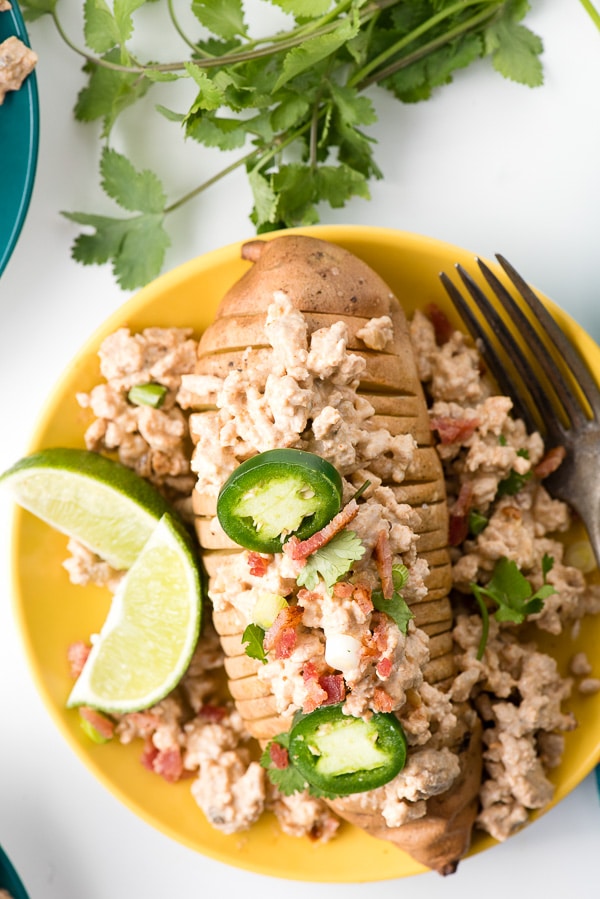 The moment that got me over the hump was a nontraditional Thanksgiving dish of my own: Chipotle Sweet Potato Gratin. I fell head over heels in love and realized sweet potatoes never were supposed to be married to marshmallows (at least in my mouth), which only intensifies their organic dense sweetness, but to something zippy, spicy and smoky like a chipotle chile pepper which would showcase their best qualities.
I love the combination of complimentary flavors like these as each component comes out tasting like a winner.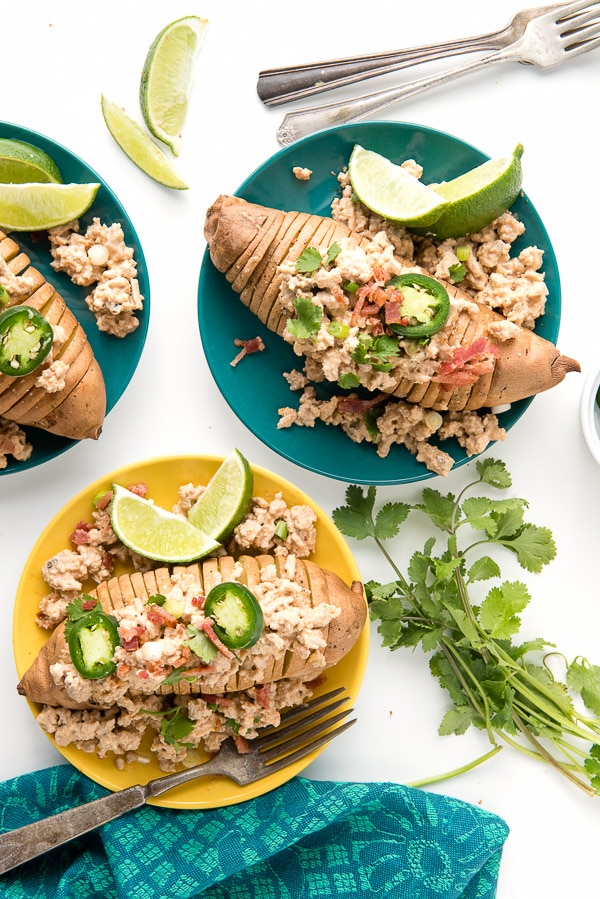 I wonder if you are looking at these pictures thinking to yourself 'wait! This poor girl doesn't even know what a sweet potato is; these are white!'. As I stood in front of the potato display at my grocery store, looking over the multiple sweet potato and yam options, I spotted this New Jersey Sweet Potato.
I was attracted to its more uniform shape and lighter coloration. I also have a no-vegetable-left-behind mentality and love the chance to try something new.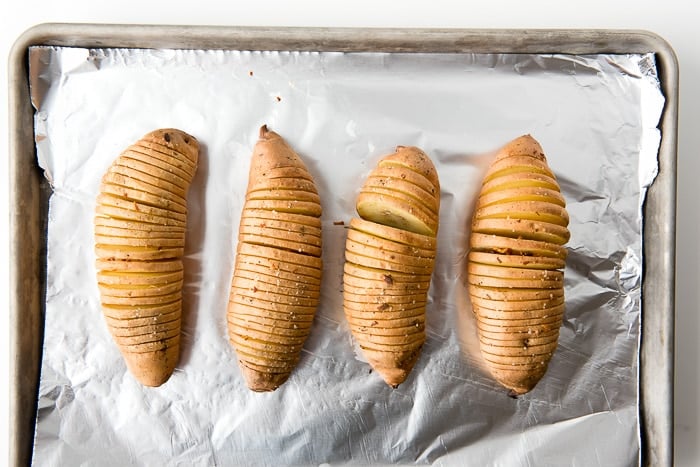 In researching a bit, I learned they are an heirloom variety which have been resurrected, finding their perfect growing climate to be New Jersey.
Instead of the jewel-tone orange of most sweet potatoes, their flesh is a yellowish color much more like a Yukon potato. They are said to be a bit less sweet than other sweet potatoes as well, however they definitely taste like a sweet potato.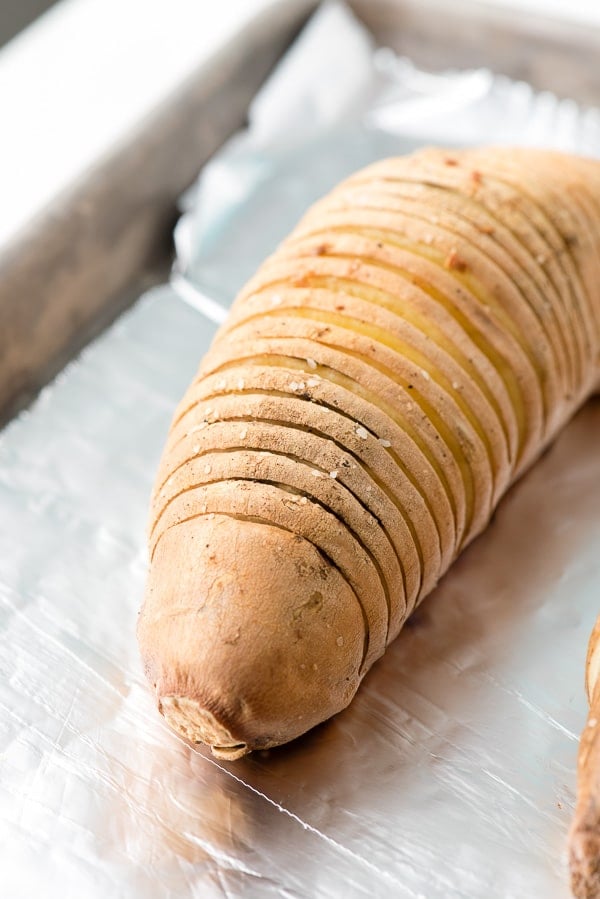 This coincidental choice turned out to be fortuitous since my children, like me when I was their age, have a bit of a sweet potato aversion. These sweet potatoes however presented themselves as a friendlier liaison into the world of the sweeter tubers.
The traditional potato appearance in the coloring coaxed them into trying the dish and actually loving it! This hasselback potatoes recipe can be made with any sweet potato of course but since this type was new to me I wanted to share my new found knowledge!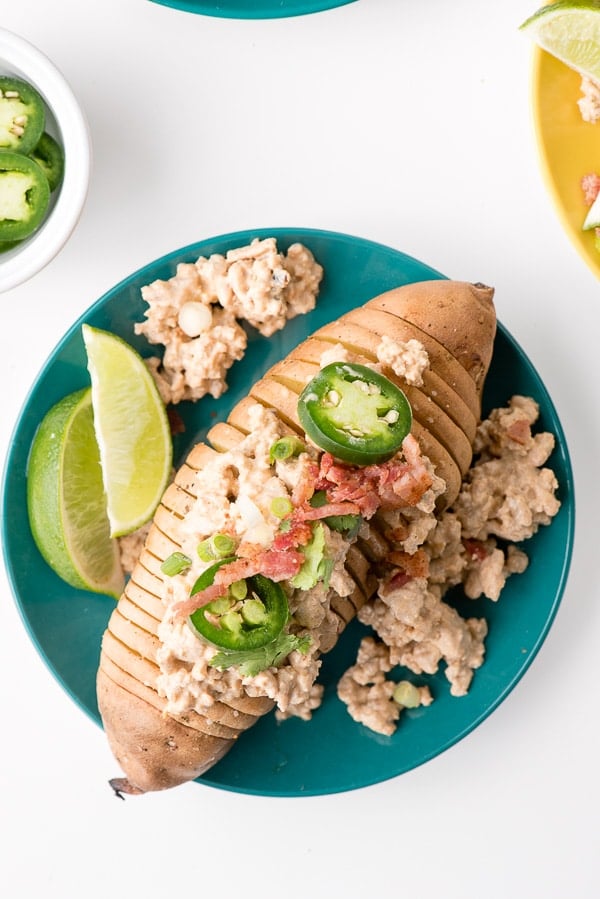 This is not a dainty recipe as you can see, but one to dig in and eat in your own style. I prefer to mix a bit of the crumbled chipotle ground turkey mixture on individual slices eating them almost like a type of nachos. The addition of jalapeno slices, scallion slices, and bacon bits allows different flavors in each bite too!
How to Make Hasselback Sweet Potatoes:
To cut a potato hasselback style, be sure you use a sharp 5-inch kitchen utility knife.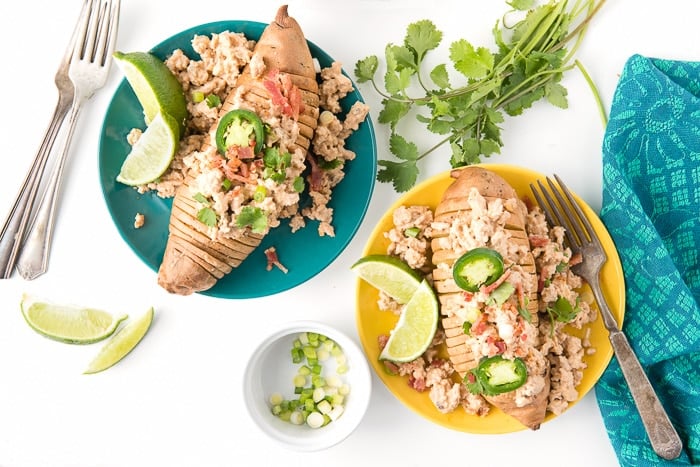 Recipe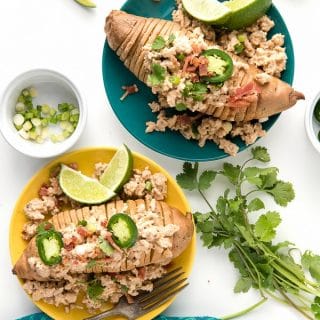 Hasselback Sweet Potatoes with Creamed Chipotle Turkey Recipe
These easy Hasselback sweet potatoes with creamed chipotle turkey are smoky, spicy, hearty comfort food that is naturally gluten-free.
Print
Save Recipe
Recipe Saved!
Pin
Rate
Ingredients
4

Sweet Potatoes

Medium to large, approximately 3 pounds total, scrubbed and unpeeled

2

tablespoons

Unsalted Butter

Melted

2

cloves

Garlic

Large, peeled and diced

2

teaspoons

Olive Oil

1

medium Shallot

Peeled and diced

1

pound

Ground Turkey

1

cup

Sour Cream

1

Chipotle Pepper in Adobo

1

teaspoon

Adobo Sauce

1

teaspoon

Ground Cumin

1/2

teaspoon

Smoked Paprika

1/2

teaspoon

Kosher Salt

1

teaspoon

Lime Juice
Toppings:
2

slices

Bacon

Cooked, drained, and chopped

1

Jalapeño

Seeded and cut into slices

3

Scallions

White and light green portions cut into slices

Fresh Cilantro

Torn
Instructions
Preheat the oven to 425°F. Line a baking sheet with foil, shiny side down. Place the diced garlic into the melted butter and allow to infuse while preparing the potatoes.

Slice the sweet potatoes across making 1/8-inch thick slices approximately 2/3 deep into the potato; do not slice all the way through the potato. Repeat for all the potatoes and place them onto the prepared baking sheet leaving room between them.

Brush the sweet potatoes with half of the garlic butter and place them in the preheated oven for 30 minutes.

At 30 minutes, brush the remaining garlic butter onto the sweet potatoes and allow them to complete cooking approximately 20-30 minutes more. When fully cooked the outside will be crisp and the inside firm but cooked.

While the potatoes are cooking, heat the oil in a large skillet over medium-high heat. When hot add the shallots to the skillet and sauté for 2 minutes or until the shallots become transparent.

Add the ground turkey meat and sauté, breaking up the meat as it cooks so it is finely crumbled. Cook until the meat is done with no pink color showing. Remove from heat and drain any extra fat.

In a blender combine the sour cream, chipotle pepper, adobo sauce, cumin, smoked paprika and salt. Puree the ingredients into a smooth sauce. Spoon the sauce into the cooked turkey and stir to fully combine. Add the lime juice and stir to incorporate.

When the potatoes are cooked, add them to individual serving plates with one fourth of the chipotle turkey. Top with bacon bits, scallion and jalapeno slices and cilantro leaves. Serve immediately.
Nutrition
Calories:
483
kcal
|
Carbohydrates:
31
g
|
Protein:
32
g
|
Fat:
26
g
|
Saturated Fat:
12
g
|
Cholesterol:
114
mg
|
Sodium:
857
mg
|
Potassium:
930
mg
|
Fiber:
4
g
|
Sugar:
8
g
|
Vitamin A:
19280
IU
|
Vitamin C:
8.4
mg
|
Calcium:
119
mg
|
Iron:
2.4
mg
This Hasselback Sweet Potatoes with Creamed Chipotle Turkey recipe is my second contribution as the Naturally Gluten-Free Fanatic for Food Fanatic.