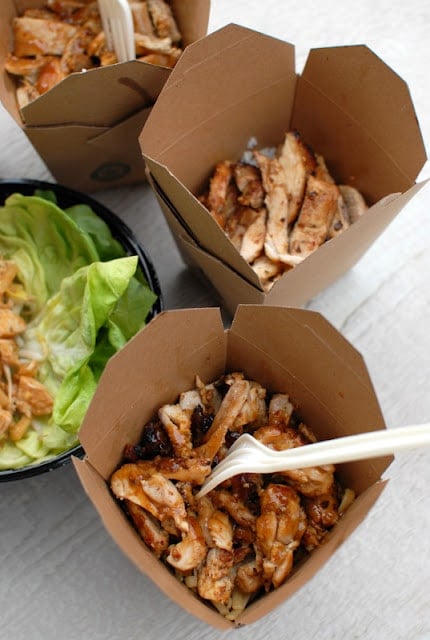 Let's be frank.

When one thinks of a zoo, the food is subordinate to all the other images that pop to mind.

It usually even falls behind reflections of parking.

I think it's a stereotyped given that the food resides in the 'Carnival' family of cuisine, offering a substantial dip into the saturated fat pond with lots of sugary options to chase it.
Despite all of this my curiosity got the best of me as the state-of-the-art new exhibit Toyota Elephant Passage readies for opening at the Denver Zoo after a several years of

planning and construction.

With such an upscale, attention-grabbing exhibit I was sure there must be a food story in there somewhere.

What I would discover was humbling and left me departing a visit in awe to say the least.
Last week I ventured to the zoo to meet the new 'Chef' and see the new 'restaurant'.

I had contacted Tiffany Barnhart, the zoo's PR manager, knowing most attention would be on the new exhibit wondering if there were any new food happenings I might write about.

She very enthusiastically invited me down for lunch to sample and talk.

I had a momentary spike of angst on my way down wondering what I'd do if her definition of 'chef and restaurant' differed markedly than mine. What would I do if I found us sitting on elephant head stools outside a thatched Snack Shack with a 17 year old braces-clad teen espousing the merits of various sundae toppings?

Fortunately my experience neared nothing of the sort.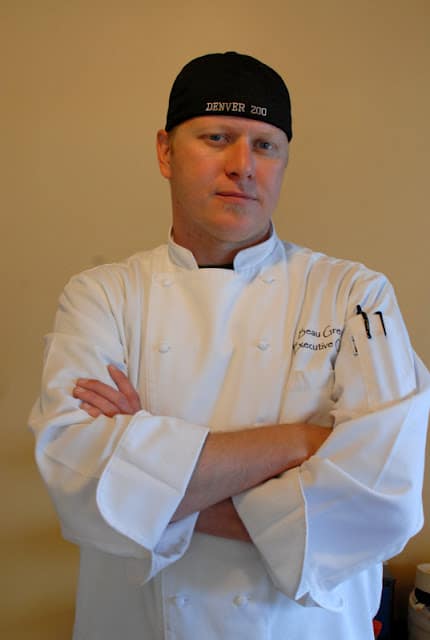 Denver Zoo's Executive Chef Beau Green.

This picture makes him look as fierce as his food.

He's a powerhouse, no question.

He did crack a big grin as soon as I'd taken the photo.
I met up with Tiffany, Jennifer Hale (the zoo's Sustainability Coordinator), Executive Chef Beau Green, and KM Concessions manager Tony Smith at the new Kamala Café which will service the Toyota Elephant Passage exhibit and is open now for dining for all zoo goers.

My first impression when walking into the sleek, Asian-themed café was that the red Dutch ovens they use are made by the same manufacturer as my personal cast iron skillets and who'd expect to see those at a zoo?

The food presentation is directly behind glass with no secrets and I was drawn to the clearly uber fresh lettuce for their famed wraps, freshly prepared edamame and a wok on the ready for a freshly prepared-to-order meals.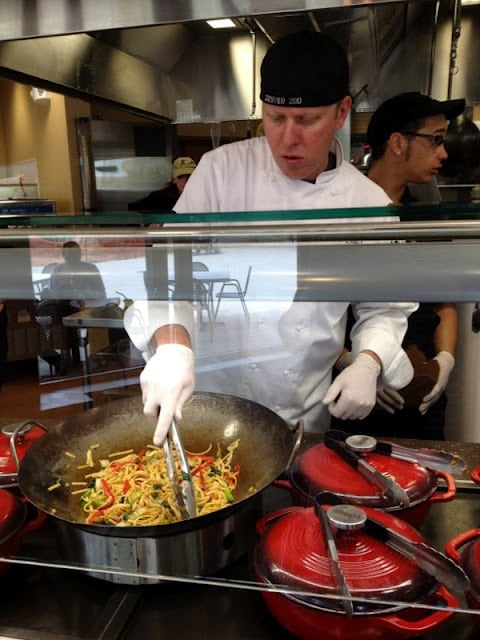 Chef Green spends his day on the move throughout the Denver Zoo's restaurants.

During our visit he hopped on the line to prepare-to-order Kamala Café's Stir Fry Noodle Bowl with Peanut Sauce.

At the zoo….who would believe it?!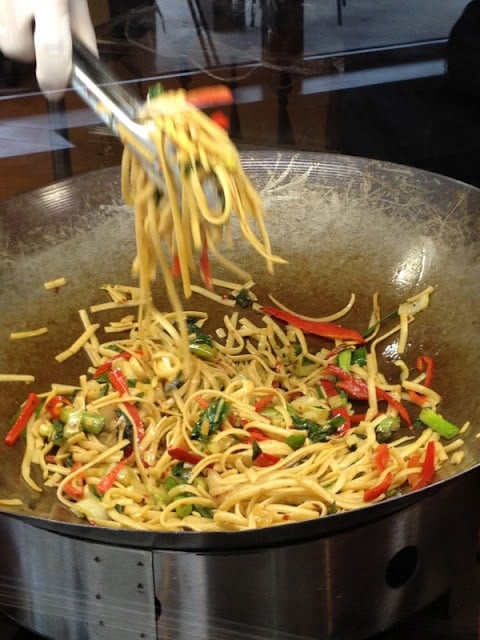 The zoo restaurants are owned by the concessions company KM.

If the word 'concessions' evokes an exclusive parade of cotton candy, kettle corn, fried cheese on a stick, check that at the door.

KM (or Service System Associates as it is known outside Colorado) manages the dining at zoos and aquariums across the U.S. as well as various museums and in Denver the National Western Stock Show.

Chef Beau Green works for KM though the partnership between the Zoo and the concessions company is obvious.

Their cooperative initiatives about fresh, clean dining and sustainability are tightly interwoven.
Chef Green was drafted to the Denver Zoo a few months ago after a successful tenure at the Cheyenne Mountain Zoo in Colorado Springs.

What became clear to me was that I had an unconscious partition in my mind between 'real chefs' and a chef you'd find at an attraction park.

Understandable but not valid in the case of Chef Green.

While in Colorado Springs his skills were tested against those of mainstream culinary chefs in local competitions where he won (most notable the Broadmoor's Colorado Springs Corral 'Chef's Gala').

He's raising the bar of the culinary experience regardless of where he is and certainly not taking down a notch because his platform is the zoo.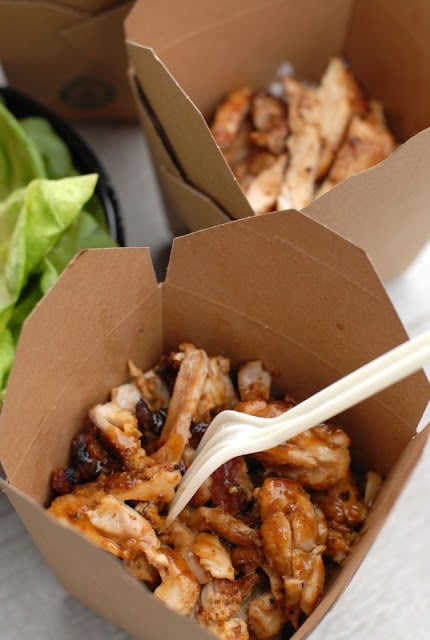 Teriyaki Rice bowl offered with the choice of Teriyaki Seasoned Sesame Ginger Chicken, Sea Salt Seared Beef or Crispy Asian Seitan (a wheat protein for a vegetarian option).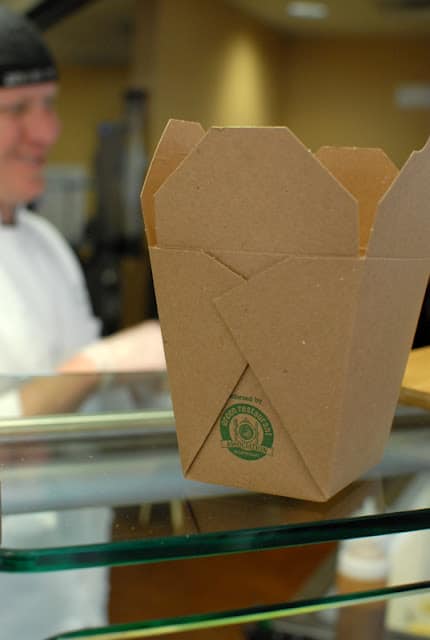 To listen to Chef Green speak it mirrors all chefs who are on fire about garden-to-table, flavorful without being unhealthy, inspired, seasonal, locally sourced cuisine.

And his food tows the line.

As we sat on the Kamala Café patio under charmingly thatched cone shade covers the food I tasted was not traditional zoo food.

I enjoyed a fresh Rice Bowl served in a charming brown craft take out container (which is of course environmentally friendly) topped with the most succulent, glazed chicken I've had at any Asian restaurant in a very long time.

The glaze was a perfect slightly sweet sauce that was applied with master skill leaving me completely sated as one feels in eating delicious, 'clean' food.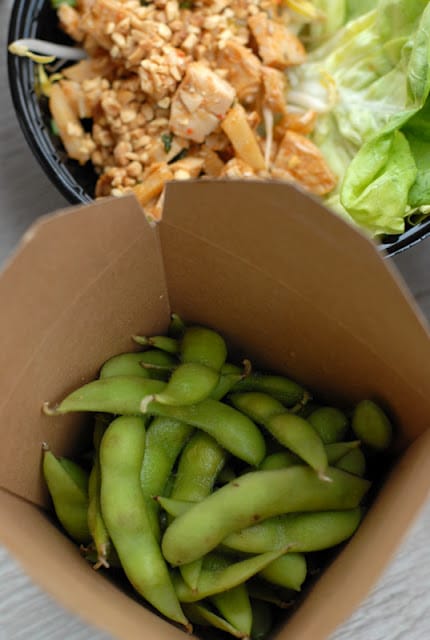 Freshly prepared Edamame, soy bean pods.

Traditional at most Japanese restaurants they hold flavorful young soy bean which are eaten by simply squeezing them out of the pod into one's mouth.

A healthy, flavorful, high protein snack food.
Working with the Zoo's 'Visitor Experience Team' (don't we love that there is such a thing?) Chef Green was clear they are striving to be leaders in the field of attraction dining.

His goal when working at the Cheyenne Mountain Zoo was to change customer's perception about eating at the zoo and from all accounts he accomplished that and more.

He would refer to his food style at the zoo restaurants as 'fast casual', built for speed but not sacrificing flavor or quality.

He's the only zoo in the nation with a Jet Wok, clearly a pride of the kitchen.

He showed me a photo on his cell phone of an industrial freezer he's reclaimed to convert into a roving smoker for zoo events.

He works with local farms and local food producers (one being a sauce company from

Castle Rock

which

makes a gluten-free Teriyaki sauce used across the board in the rice bowls).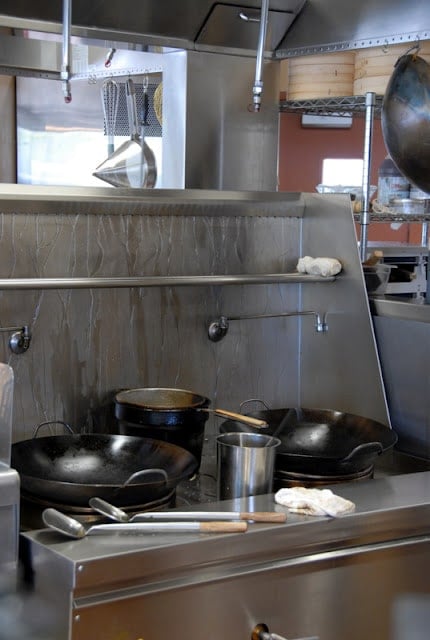 This photo is clearly 'only a face a Chef would love'; Chef Green's Jet Wok.

He powered it up to show me it in action.

It cooks so extremely hot the backdrop waterfall is necessary to manage the heat.
One of Chef Green's many goals is to provide a unique culinary identity for every restaurant at the Denver Zoo.

The Northern Shores café (by the seal exhibit) now features hand tossed pizzas fired at high temperature served with freshly made sauces done in house.

We can expect similar differentiation and quality in the other dining venues to take shape over the next year.
He spoke about the idea to develop a garden, hopefully roof top, on property.

At the Cheyenne Mountain Zoo Chef Green and his staff, used their own money to build a roof garden using pallets and other ordinary materials for the sake of having freshly grown produce and herbs at the ready.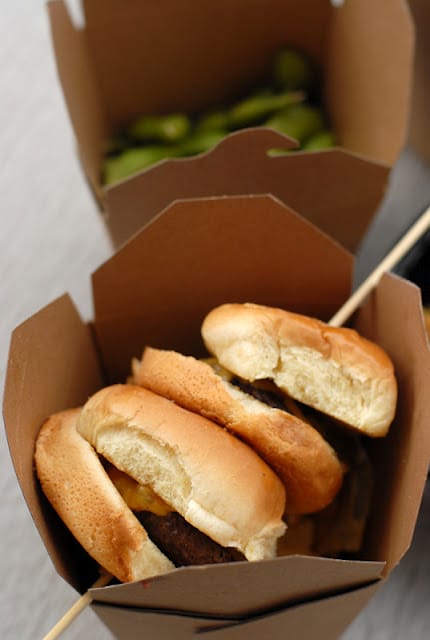 Wagyu Beef Sliders; served with or without cheese.

Love the presentation of two on a skewer!
What became so clear to me was Chef Green's devotion to providing a solid culinary foundation to his staff.

He works with young people giving them training in all the culinary basics allowing them to advance within KM or frankly hop into onto the traditional culinary path with a fully loaded tool kit.

He offers promise and progression for those with the drive and talent to exercise all he has to teach.

KM has forged a partnership with Johnson and Wales University (Culinary Arts department) to bring in talented students to be part of the team as well.

Chef Green's willingness to educate even carries forward to zoo comers who often stop him to talk about food.

He feels visitors to the zoo are open to learn and he's always happy to share his information with them.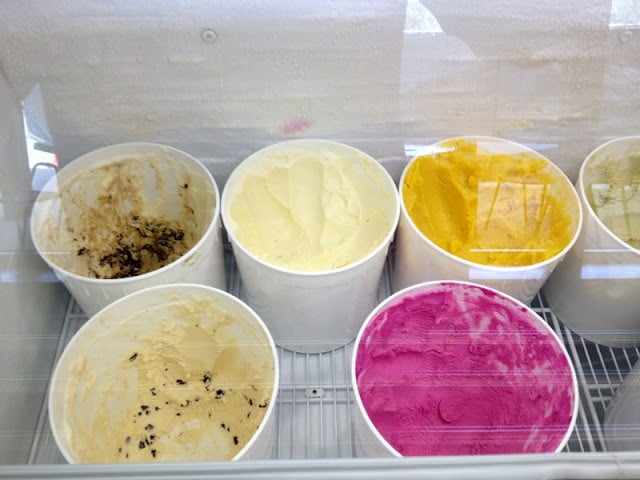 Despite not finding any Cotton Candy at the Kamala Café, they do serve ice cream.

Their ice cream is from Boulder Ice Cream; a high quality ingredient, local brand that I can personally vouch for after touring their Boulder factory and doing my share of personal taste testing!
Chef Green is a man on a mission.

A friendly powerhouse with a light sense of humor and a palpable drive.

I found myself uttering Valley Girl'esque phrases like 'that's

so

NOT zoo' at many junctures as Chef Green clearly blew my conclusions from past attraction dining experiences to smithereens.

His clear goal for the zoo's food is to bring the richest, quality experience to the visitors possible.

I believe his efforts will completely shift the zoo-going dining experience and serve as a gold standard for other attractions of how to update to current cuisine desires and health standards to deliver a premiere visit experience.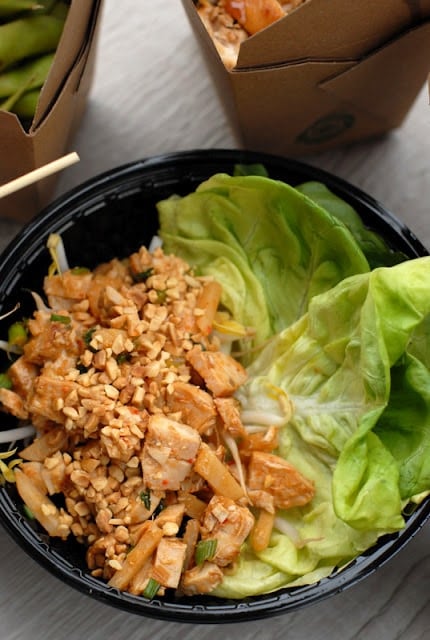 ASIAN BARBEQUE CHICKEN LETTUCE WRAPS
One of the specialties of the new Kamala Café and on par with any high end Asian cuisine.

Printed with the permission of the Denver Zoo.
·
1 tablespoon canola oil
·
1 tablespoon dark sesame oil
·
1 tablespoon rice vinegar
·
1 tablespoon low-sodium soy sauce (note:

gluten free diners can substitute GF Tamari sauce)
·
1 ½ teaspoon chili garlic sauce
·
½ cup Kim's* Asian BBQ sauce
·
4-6 ounce boneless chicken thighs
·
8 Boston lettuce leaves
·
1 lime, cut into 8 wedges
*A 'Colorado Proud' company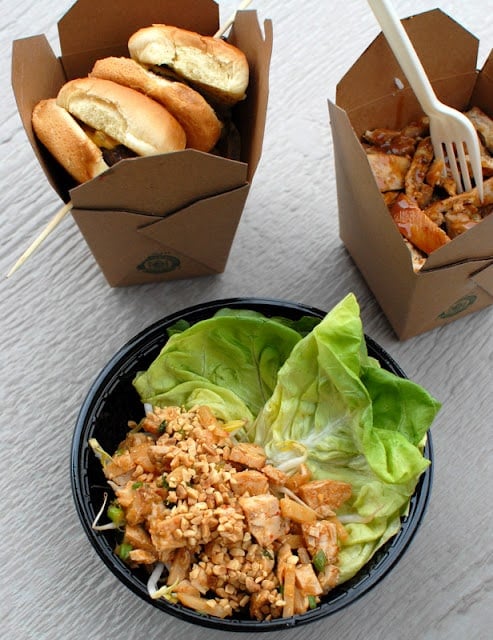 1.
Combine canola oil, sesame oil, rice vinegar, soy sauce, chili garlic sauce and Asian BBQ sauce in a small bowl.

Whisk to fully combine.
2.
Marinate chicken in the liquid above for 12 hours.

Remove chicken and discard marinade.
3.
Place the chicken on a hot grill or flattop; grill about 6 minutes or until chicken is done, turning once.

Let stand about 5 minutes and then slice.
4.
Divide chicken evenly on the lettuce leaves; top each leaf with additional Asian BBQ sauce, one tablespoon sprouts and one tablespoon water chestnuts.
5.
Serve with a lime wedge and garnish with chopped peanuts.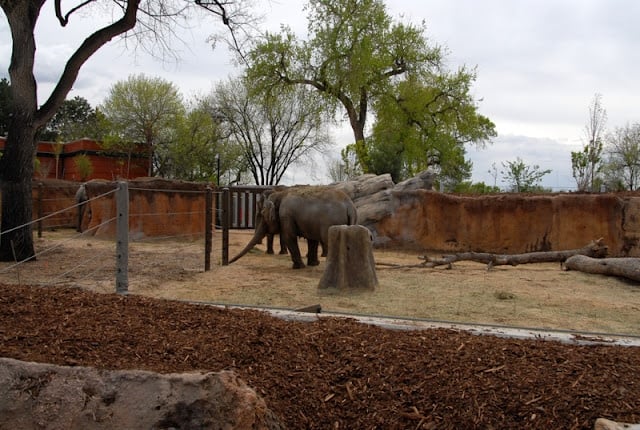 Mimi and Dolly, Denver Zoo's elephant Grande Dames who have been together nearly 40 years, now getting settled in their new digs in Toyota Elephant Passage.

The zoo's animal handlers began working with 'the girls' last summer to introduce them slowly to the large crates in which they'd eventually learn to enter and then be crane-lifted into their new enclosures.
This is probably the only article you'll read about the opening of the Toyota Elephant Passage exhibit that has spent so much time on the food there is little room for the splendor of the exhibit itself.

Following our lunch I did tour the exhibit and was again taken aback by the extreme level of thought about every aspect of the exhibit.

The goal of the exhibit is a full immersion experience where you might be strolling only to look overhead to a group of rhinos plodding along on a metal bridge on their way to the extensive watering hole.

You may be stopped a la railroad track style to massive cut out metal gates swung shut as you watch the Pachyderms stroll to another part of the exhibit.

Rare monkeys may be seen swinging on vines between selectively placed islands.
Everything you view has the foundation of world class, 'green' execution as well.

Reclaimed water in the watering hole.

A revolutionary new patent pending 'gasification process' where by 90% of park waste (from animals, dining, etc) will be converted into an 'energy pellet' which in turn can be used in a reactor to become power for the zoo's use.

I don't want to provide too many 'spoilers' so will conclude by saying this is definitely a 'must visit'.

The zoo has really stepped it up for this addition with stories and meaning nested in every detail.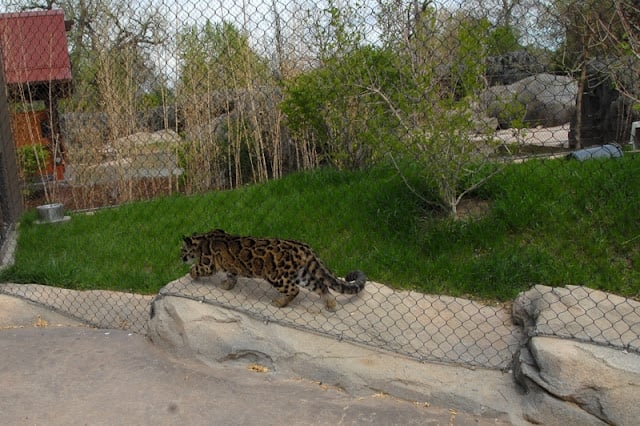 One of a hopeful breeding pair of Clouded Leopards, Taji, transferred from the Point Defiance Zoo in Tacoma Washington.

The mere click of my camera sent this less than one year old hightailing back indoors.

The story of the planning of the leopard pair is incredible.

Having been planned out in breeding programs of other zoos housing the Species Survival Plan, knowing mixed gender pairs do best long term when introduced as cubs.

Long in the planning the pair is getting to know each other and their new surroundings, also serving as yet another thoughtful, extensively orchestrated addition to the Toyota Elephant Passage exhibit.
A note about the new exhibit opening:

This truly is a long awaited event that will require thoughtful planning when visiting the zoo in the few months following the opening.

Watch the Zoo website for details.

There will be a member preview period when timed tickets are available for purchase to view the exhibit between May 19 and June 1.

The exhibit opens to the public June 1 and will still require timed tickets as well.

The cost is not incremental to your zoo admission but to ensure control of the expected visitor volume this is the current method the Zoo will employ to make the opening successful; timed tickets are expected to be used throughout the summer for the exhibit.
A NOTE ABOUT PARKING
:

I asked Tiffany Barnhart about parking.

Her suggestion is to allow plenty of time to locate parking before your timed ticket however to consider coming at different times of day.

Additionally there is a $2 admission discount if you've ridden RTD to the Zoo; bring in your transfer slip and present it at the admission s window.