Time to change up your dressing game with Gluten-Free English Muffin Sausage Dressing! Familiar fabulous flavors of sage, seasoned pork sausage, thyme, onions, celery and dried cranberries for a sweet bite. No reason to wait until Thanksgiving or Christmas; this stuffing is at home with any roasted meats any day!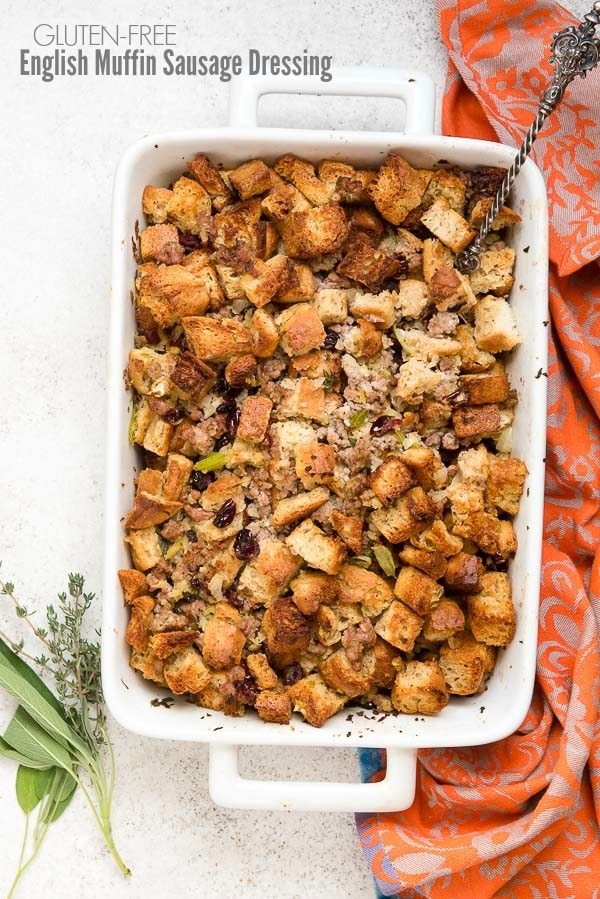 This post is sponsored as part of Boulder Locavore's ongoing partnership with Udi's Gluten Free. All opinions are my own.
I had a realization recently: I only make dressing/stuffing for Thanksgiving and Christmas. Why the heck is that?! My family loves 'stuffing' but somehow it has been assigned to holiday dining only. Time to change that! Gluten-Free English Muffin Sausage Dressing is a tasty compliment to any cool weather meal.
Let's talk terminology. 'Stuffing' is what most people call what is technically 'dressing'. The difference between the two is that stuffing is cooked inside a turkey and dressing is cooked outside of the bird. They generally have the same ingredients but the term stuffing is often the common name for either stuffing or dressing.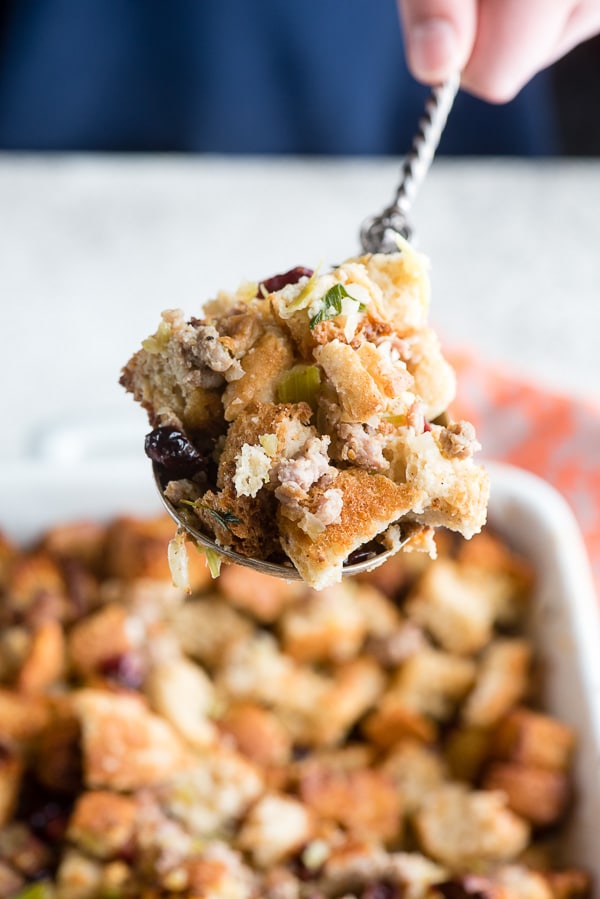 Since stuffing is cooked inside a raw turkey it needs to reach 165 degrees for food safety. This can be tricky both to achieve and to measure since it's inside the turkey. All of this makes dressing a great option. All the delicious ingredients can be prepared easily on the stovetop or in the oven without worries about food safety.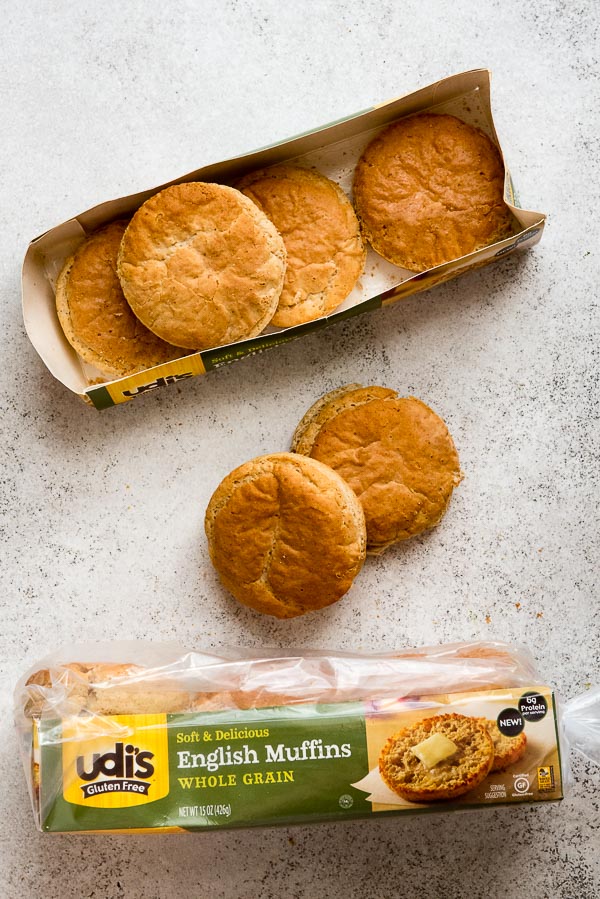 Our current favorite dressing is Gluten-Free English Muffin Sausage Dressing. Seasoned pork breakfast sausage is mixed with delicious whole grain Udi's English Muffin cubes, onion, celery, fresh thyme, sage and dried cranberries for a heady seasonal side dish with homey flavors of the holidays (but why wait?).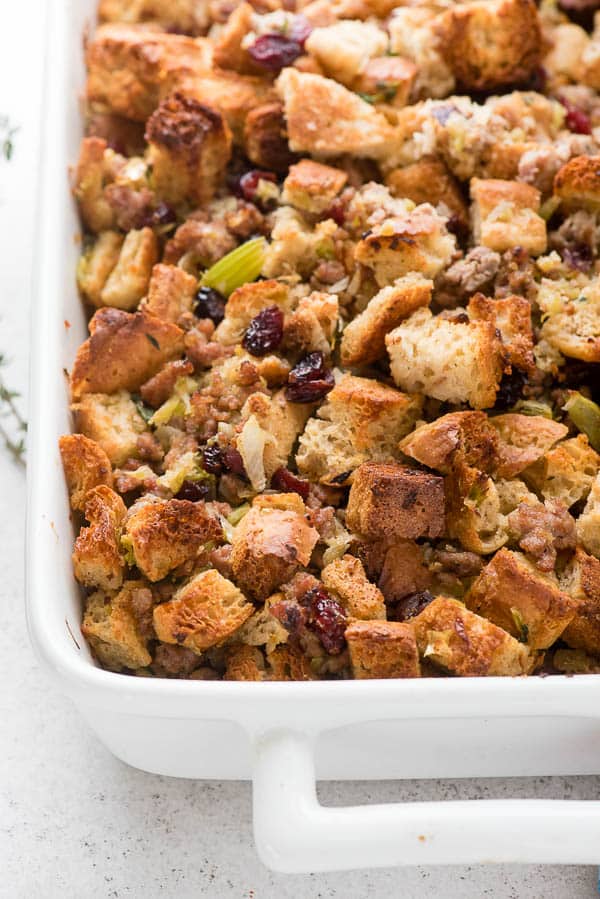 If you've made dressing you'll know the bread, or in this case English muffin cubes, need to be dried out before making the dressing. Dry bread holds its shape while cooking and is absorbent so soaks up the great flavors. I recommend oven-drying gluten-free bread or English muffins over allowing them to become stale as a means of drying them out. It will taste better and retain a nicer texture.
How to Make Gluten-Free English Muffin Sausage Dressing:
Recipe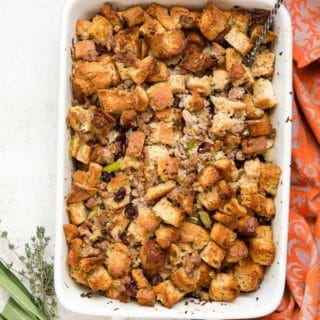 Gluten-Free English Muffin Sausage Dressing
This delicious dressing uses gluten-free English muffins instead of traditional bread for a fun twist. Familiar flavors of sage, thyme, pork sausage make this a cozy side dish for any roasted meats in addition to Thanksgiving and Christmas meals. Dried cranberries add a pop of sweet and tart to the warm savory flavors.
Print
Save Recipe
Recipe Saved!
Pin
Rate
Ingredients
2

packages

Udi's Gluten Free Whole Grain English Muffins

cut into ¾ inch cubes (16 cubes per muffin)

4

tablespoons

Unsalted Butter

plus additional butter to grease the baking pan

1 1/2

cups

chopped Yellow Onion

1

cup

chopped Celery

2

tablespoons

chopped fresh Sage

1

tablespoon

chopped fresh Thyme Leaves

1

pound

bulk Seasoned Pork Breakfast Sausage

1

cup

Dried Cranberries

1

cup

Low Sodium Chicken Stock
Instructions
To Dry English Muffin Cubes:
Heat oven to 250 degrees. Put English muffin cubes in a single layer on 1-2 large rimmed baking sheets and bake for 20 – 30 minutes, allowing English muffins to become slightly dry to the touch on the outside (do not allow them to brown). Remove and allow to fully cool (note: they will continue to dry out as they cool). Increase the oven temperature to 350 degrees.
To make Dressing:
While the bread is cooling, in a large skillet melt the butter and sauté the onions, celery, sage and thyme until the onions are softened and translucent (7-10 minutes). Add English muffin cubes and toss to combine; turn out into a buttered 13-inch by 9-inch baking pan.


Add the breakfast sausage to the same skillet and brown, breaking up the sausage into small pieces while cooking; about 5 minutes. Remove from skillet with a slotted spoon or spatula and add into the dressing in the baking dish along with the cranberries; fold into the dressing.

Drizzle with chicken stock and turn the dressing in the pan with a large spoon or spatula to coat. Bake for 30 minutes until thetop is golden brown. Allow to sit for 5 minutes and serve warm.
Notes
The recipe prep time includes drying of the English muffin cubes and cooling time.
The drying step may be done the day prior to making the dressing. If doing so, once the cubes have fully cooled, place them in a sealed plastic bag overnight until making the dressing.
Nutrition
Calories:
167
kcal
|
Carbohydrates:
11
g
|
Protein:
6
g
|
Fat:
10
g
|
Saturated Fat:
3
g
|
Cholesterol:
70
mg
|
Sodium:
256
mg
|
Potassium:
165
mg
|
Fiber:
1
g
|
Sugar:
7
g
|
Vitamin A:
200
IU
|
Vitamin C:
3
mg
|
Calcium:
30
mg
|
Iron:
0.8
mg