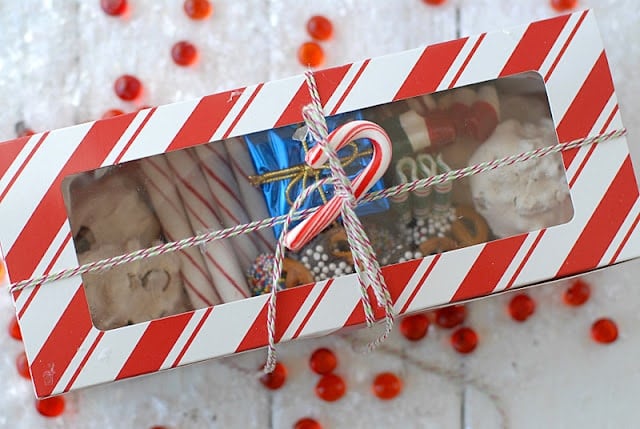 One of my absolute favorite things to do during December is to take a drive to look at holiday lights. I'm not sure exactly what makes them so magical but for me there is nothing better than setting out on a cold winter's night with a car full of holiday treats, hot chocolate or coffee to get lost in people's festive ingenuity (or 'illumination neurosis' in some cases).
Where we live I've found often getting a bit out of town can bring some of the most surprises.

There are roads where the homes or ranches are sprawling and the light displays commensurate with that.

The sort that makes you pull to the side of the road to take it all in.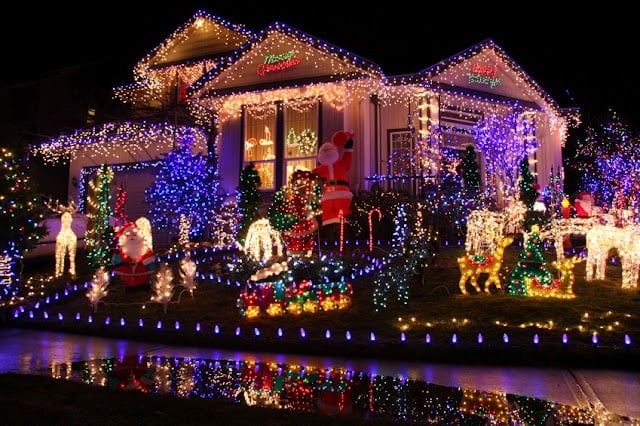 A favorite regular drive is 15 minutes north of Boulder to the small town of Lyons Colorado.

Being one with a serious case of wanderlust, getting out of town in any form excites me and Lyons feels completely different than Boulder.

Lyons has a definite small town vibe and throws one of the best Parade of Lights around.

All the local businesses festoon their company vehicles with more strands of lights than imaginable and throw candy to the chilled parade viewers.

There are local buses, fire trucks (usually toting Mr. and Mrs. Claus), police cars, the local welding company and more that partake.

The parade ends with a fireworks display to rival any found on July 4th.
The house light decorations in Lyons are the same.

In a small area one can find many, many homes having taken the entire month to set up their proud display.

There is one house in particular that is like nothing I've seen.

Imagine any holiday theme, figure, genre that could be lit up and they have it.

Disney holiday characters.

A full set of reindeer and Santa that start on the edge of their roof and end across the street on a phone pole.

Larger-than-life blow up electric snow globes with snow blowing in them.

I truly believe this house can be seen from outer space AND uses more electricity in the month of December than smaller countries in the world for an entire year.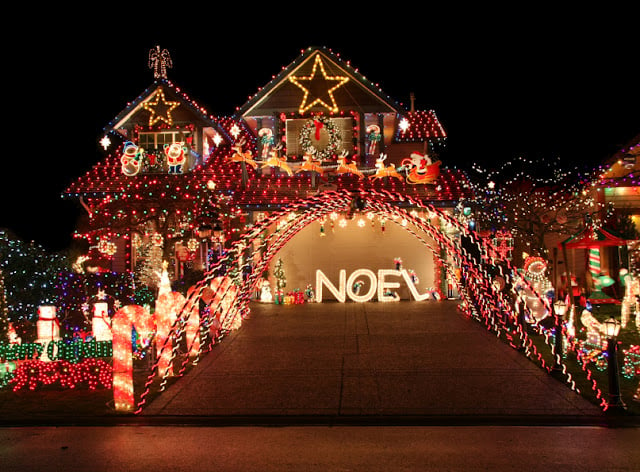 Having some sweets to nosh always adds to the fun.

I made up these treat boxes as a surprise for our car full.

They included mini candy canes, peppermint sticks (great for stirring hot chocolate though we usually have that in travel mugs), Forgotten Cookies (click here for the recipe), chocolate 'coins', vintage style ribbon candy made locally by Hammond's Candy and a

delicious and easy favorite: chocolate dipped pretzels. Chocolate dipped pretzels are so quick and simple to make and you can really make them to fit your personal tastes.

Everything in this box is easy and quick to prepare so great for outings or gifts.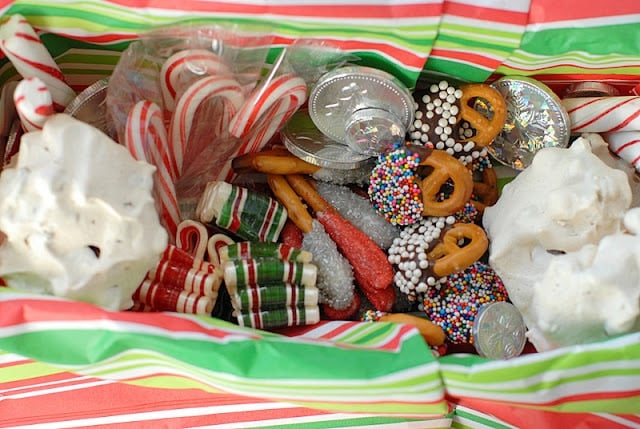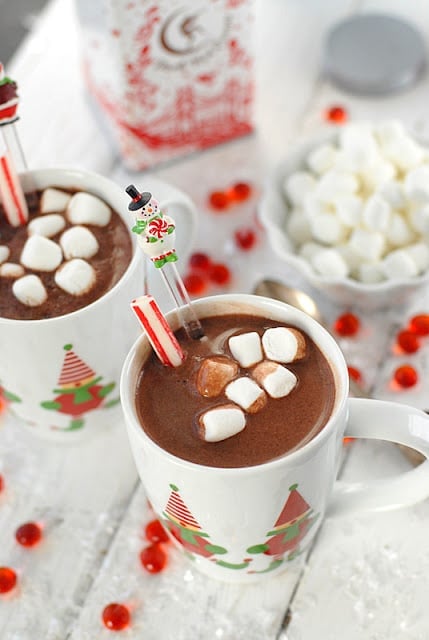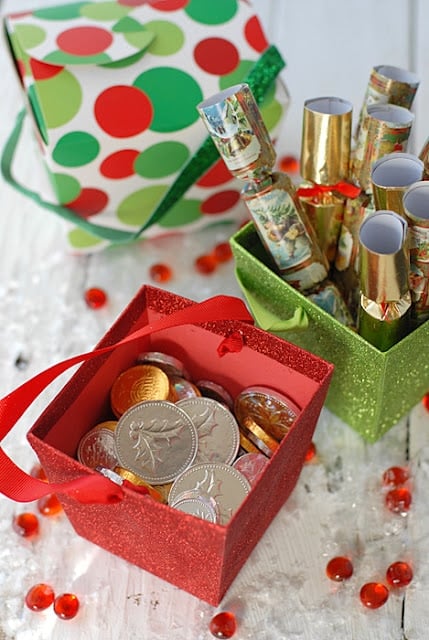 Christmas Crackers are a fun part of our holiday season.

They are paper tubes that are opened by pulling the opposite ends causing a 'crack' sound.

There are little trinkets, jokes and sometimes paper crowns in them.

I could not pass up on these mini versions.
SEMI-SWEET CHOCOLATE DIPPED PRETZELS
You can absolutely tailor this recipe to make fewer pretzels, or use a different type of chocolate that suits you.

I wanted them to look fun and festive so chose the type of chocolate based on that.
Yield:

approximately 100 1 inch size pretzels
1 bag quality semi-sweet chocolate chips
1 bag pretzels (I used gluten free pretzels from Glutino which come in at least three shapes)
Small cake decorating toppings (I used nonpareils and pearls)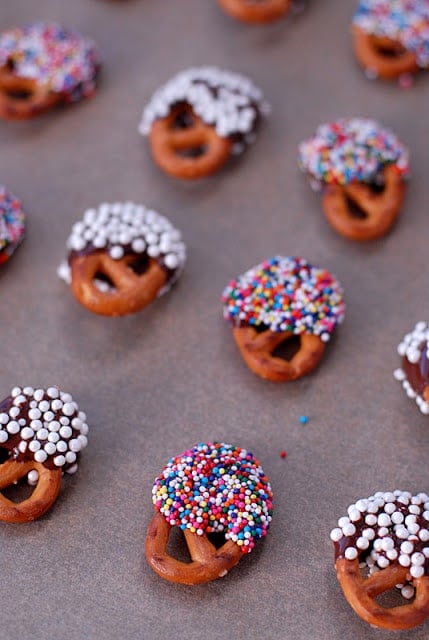 1.
In the top of a double boiler or in a metal bowl over a saucepan of boiling water, melt the chocolate chips, stirring occasionally.
2.
While the chocolate is melting, line a cookie sheet with parchment paper.

Place the cake decorating toppings on a plate or a flat-bottomed bowl.
3.
Once chocolate is melted, dip half of a pretzel into the chocolate, coating thoroughly and allowing any excess chocolate to drip off back into the pan.

Place the pretzel on its side in the desired decoration allowing the decoration to stick to the chocolate.

Turn onto the other side to cover as well.

Place on the parchment paper and allow to dry until hard (usually takes between 30-60 minutes); can be expedited by putting the tray into the refrigerator.
Part of the reason I like to only coat part of the pretzel is for mobile outings (in the dark) especially, it allows the pretzel to be eaten without chocolate melting all over.
A gourmet tip
:

one of my favorite (and local) chocolate bar companies is Choc-o-love.

They make a variety of wonderful flavors like Chilies and Cherries in Dark Chocolate.

Instead of chocolate chips, you can chop up a bar, melt it and proceed with the recipe, or omit the decorations and just let the chocolate do the talking.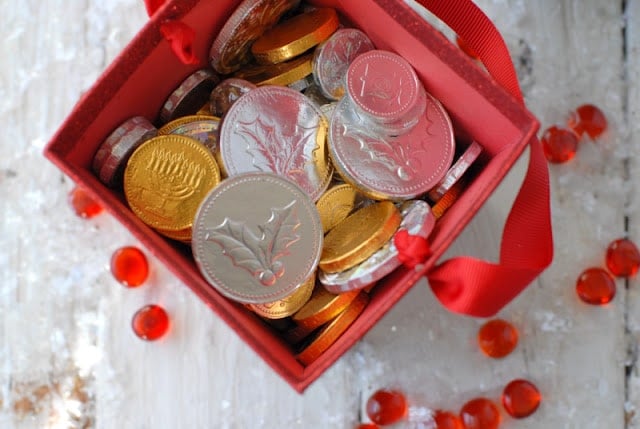 WHITE CHOCOLATE PRETZEL STICKS
I wanted a variation of both shape and textures in my treat boxes so made the same recipe above only with (gluten free) pretzel sticks and decorating sugars.

In particular I used a red sugar and a beautiful silver flakes I had not seen before.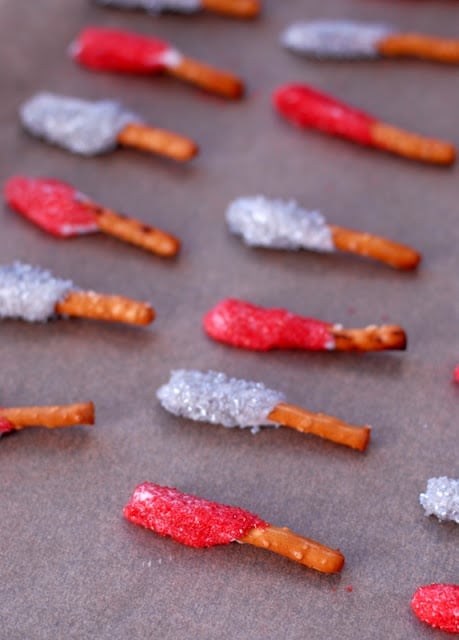 I followed the recipe above exactly only substituting the quality white chocolate chips and dipping into the sugars.

With the pretzel sticks I found allowing excess chocolate to drip off before essentially rolling the sticks in the sugars worked to give the best result.