Need a dessert to dazzle and don't have time to bake? This Fluffy Chocolate Mint Ice Box Cake is just the answer. Rich, luscious chocolate mint flavors in a cake that takes about 15 minutes to make and refrigerates to set. Gluten-free or with gluten options.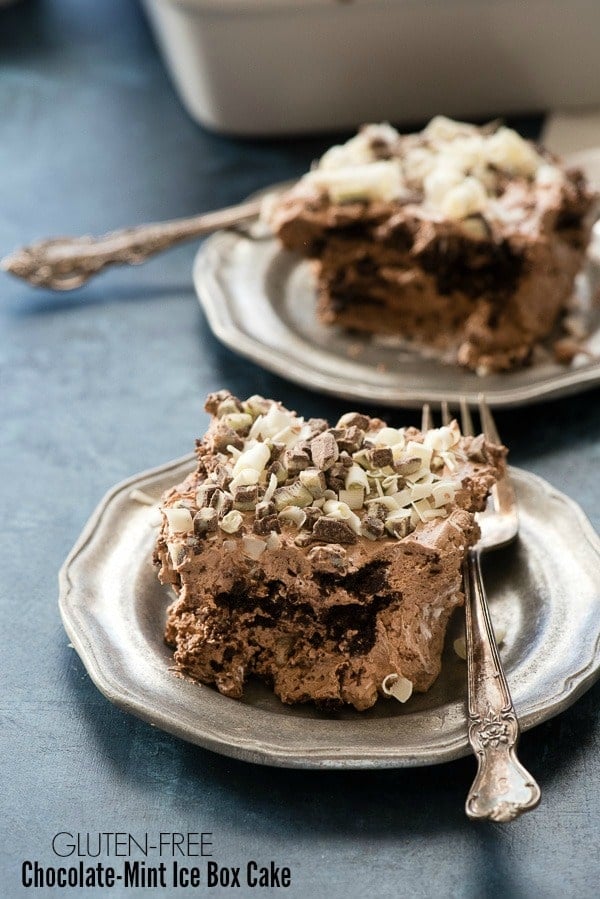 We are scrambling to catch up with holiday preparations in our house. Our internet has been out for the past two days leaving my husband running back and forth from our cable provider switching modems and routers. To say it's not how he planned to spend the pre-Christmas week would be a wild understatement.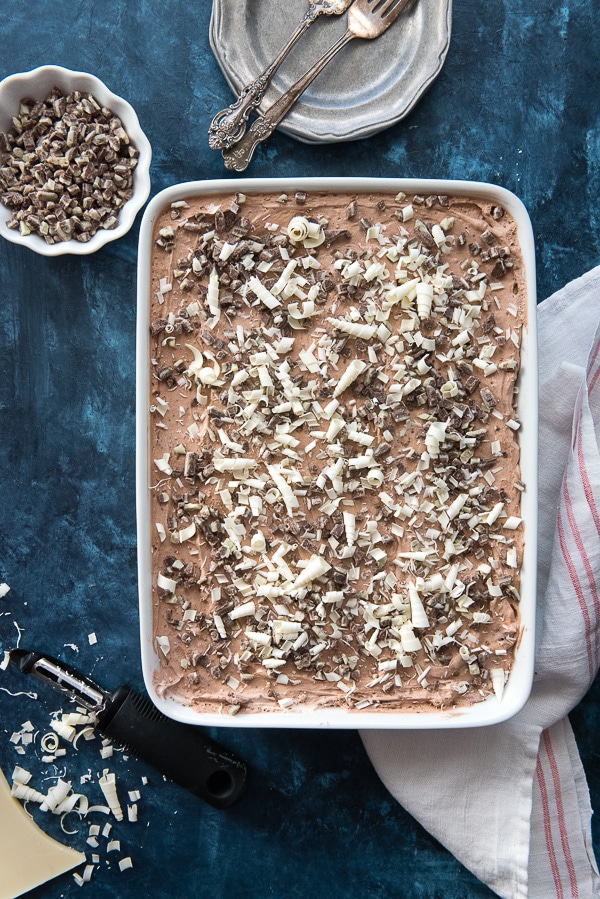 In the meantime, my daughter and I have been glued to the Amazon series The Man in the High Castle. Do you know it? Think history meets mind-bending science fiction. Very intriguing premise. We finally decked our Christmas tree last night which has been standing tall, proud and unfrocked for well over a week. Well, I did put the star on last week LOL.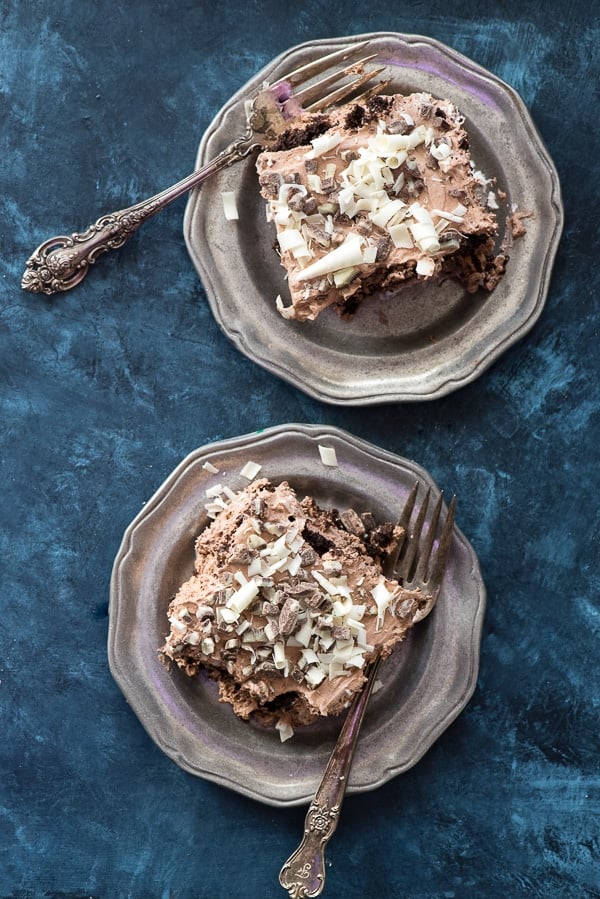 It's not too late for some holiday baking…..especially if there is no baking involved! Ever since I made my Snickerdoodle Salted Caramel Ice Box Cake I've been hooked on the ice box cake idea. If you haven't made one, they are a fluffy no bake option that layers graham crackers traditionally with a pudding-whipped topping mixture that is then refrigerated for multiple hours or overnight. This allows the graham crackers to soften and when the cake is cut into it has the most wonderful consistency of a fluffy, rich cake.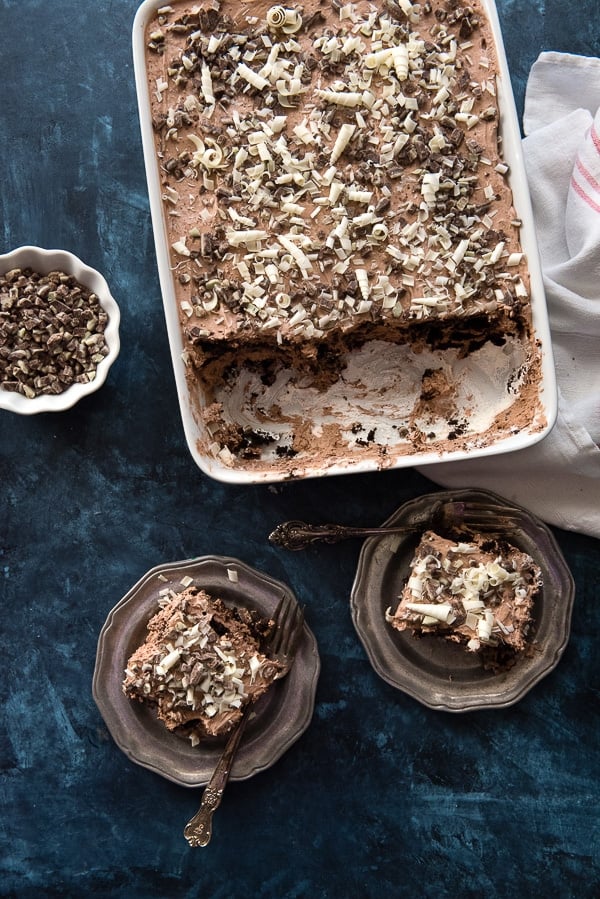 Chocolate and mint are two of my favorite holiday dessert flavors. Do you love them too? This cake is a combination of thin, crisp, gluten-free chocolate cookies, chocolate pudding with some peppermint flavoring added, whipped topping, chopped Andes mint bits, topped with white chocolate curls (any chocolate can be used). It's sort of like eating a luscious cloud. My family is mad for ice box cakes now and I love how effortless they are to make!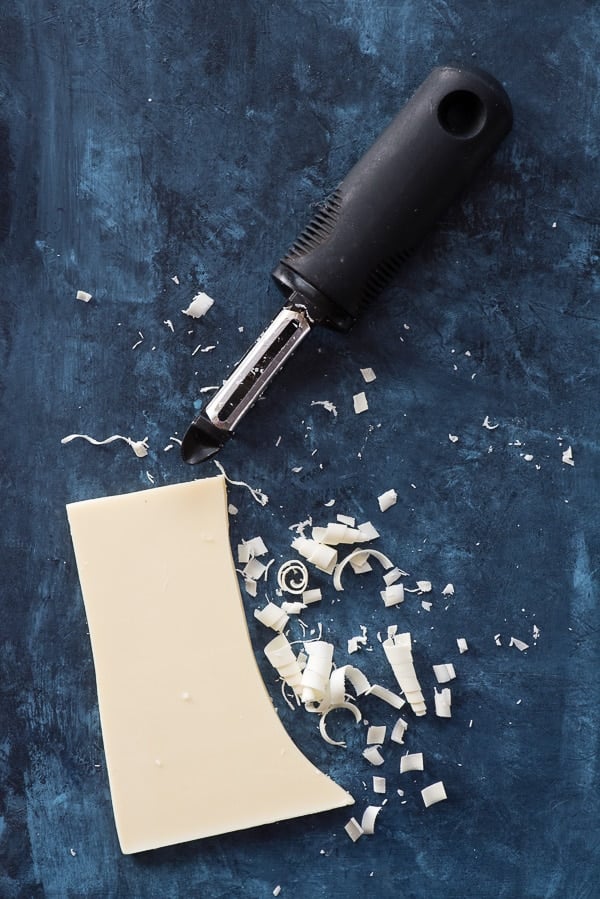 This is a very easy dessert to convert to a gluten version. Using chocolate wafers or thin chocolate cookies is the only substitution needed. The cake takes three layers of cookies so whatever cookie you choose you'll need to do some math or estimating to determine how many you'll need. Enough to make 3 layers in a 9-inch by 13-inch pan.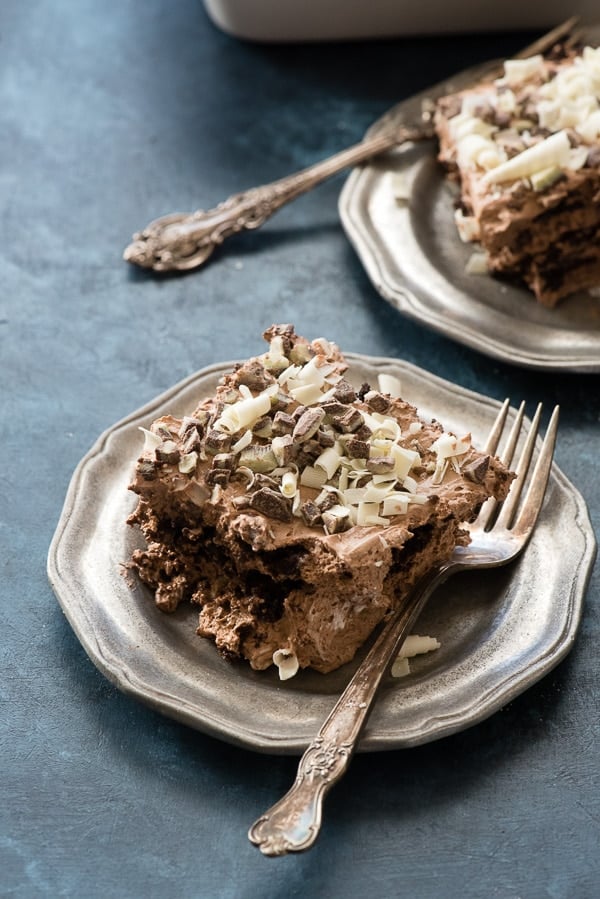 I'll add a note about prepared whipped topping too. I've seen riotous outbreaks on the internet over the use of a well-known prepared whipped topping. It seems to be a deeply divided topic. If you are in the 'no way' camp on this, there is an alternative called Truwhip which does not use high fructose corn syrup, no hydrogenated oils, 0 grams trans fats per serving, is gluten-free, certified kosher and non-GMO verified. I've used it, it tastes great. If that is more your speed you can find it at most larger grocery stores (certainly the natural food stores but I've seen it elsewhere too).
Recipe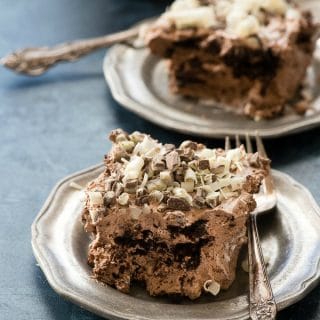 Ingredients
2 8-

ounce

containers Whipped Topping

(thawed per package instructions)

3

packages Glutino Gluten-Free Crispy Chocolate Cookie Thins

, or equivalent (36 3-inch diameter thin chocolate cookies; gluten-free or gluten dependent on your preference)

2 3.4-

ounce

packages Chocolate Pudding Mix

(instant pudding style)

2 ½

cups

Milk

1

teaspoon

Peppermint Extract

1

cup

Andes Crème de Menthe Baking Chips

(or Andes mints chopped), divided

4-

ounce

bar White Chocolate

(you won't use the whole bar but the larger size makes better curls; I used Lindt White Chocolate)
Instructions
Spread a very thin layer of the whipped topping to cover the bottom of a 9-inch by 13-inch baking pan.

In a large mixing bowl, combine the pudding mix, milk and peppermint extract. Hand mix to combine (can also use a mixer). Mix in the remaining whipped topping to fully combine.

Layer one package of cookies onto the whipped topping in a single-layer (or cover layer in single depth with the cookies you are using; refer to this

photo

). Broken cookie pieces may be used too.

Spoon one third of the pudding-whipped topping mixture onto the cookie layer. Add a second layer of cookies, sprinkle with ½ cup of the Andes Crème de Menthe baking chips.

Spread a second 1/3 of the pudding-whipped topping mixture on top of the cookies and baking chips. Add the final layer (package) of cookies covered by the remaining third of pudding-whipped topping.

Loosely cover with foil and refrigerate for a minimum of 6 hours or overnight.

Topping the cake: Sprinkle the remaining ½ cup of Andes Crème de Menthe baking chips on top of the cake. Making chocolate curls: Run a vegetable peeler the length of the chocolate bar to create curls. Do this over the cake so they fall on top of the cake (they are delicate so this works better than trying to pick them up and moving them onto the cake). Serve!
Nutrition
Calories:
320
kcal
|
Carbohydrates:
40
g
|
Protein:
4
g
|
Fat:
16
g
|
Saturated Fat:
12
g
|
Cholesterol:
7
mg
|
Sodium:
262
mg
|
Potassium:
154
mg
|
Fiber:
1
g
|
Sugar:
36
g
|
Vitamin A:
100
IU
|
Calcium:
119
mg
|
Iron:
0.3
mg