Fennel and Orange Salad is an exciting explosion of flavors with only six wholesome ingredients. It's sweet, spicy with faint flavor of anise from the fennel. A great winter salad perfect for Thanksgiving or Christmas meals too.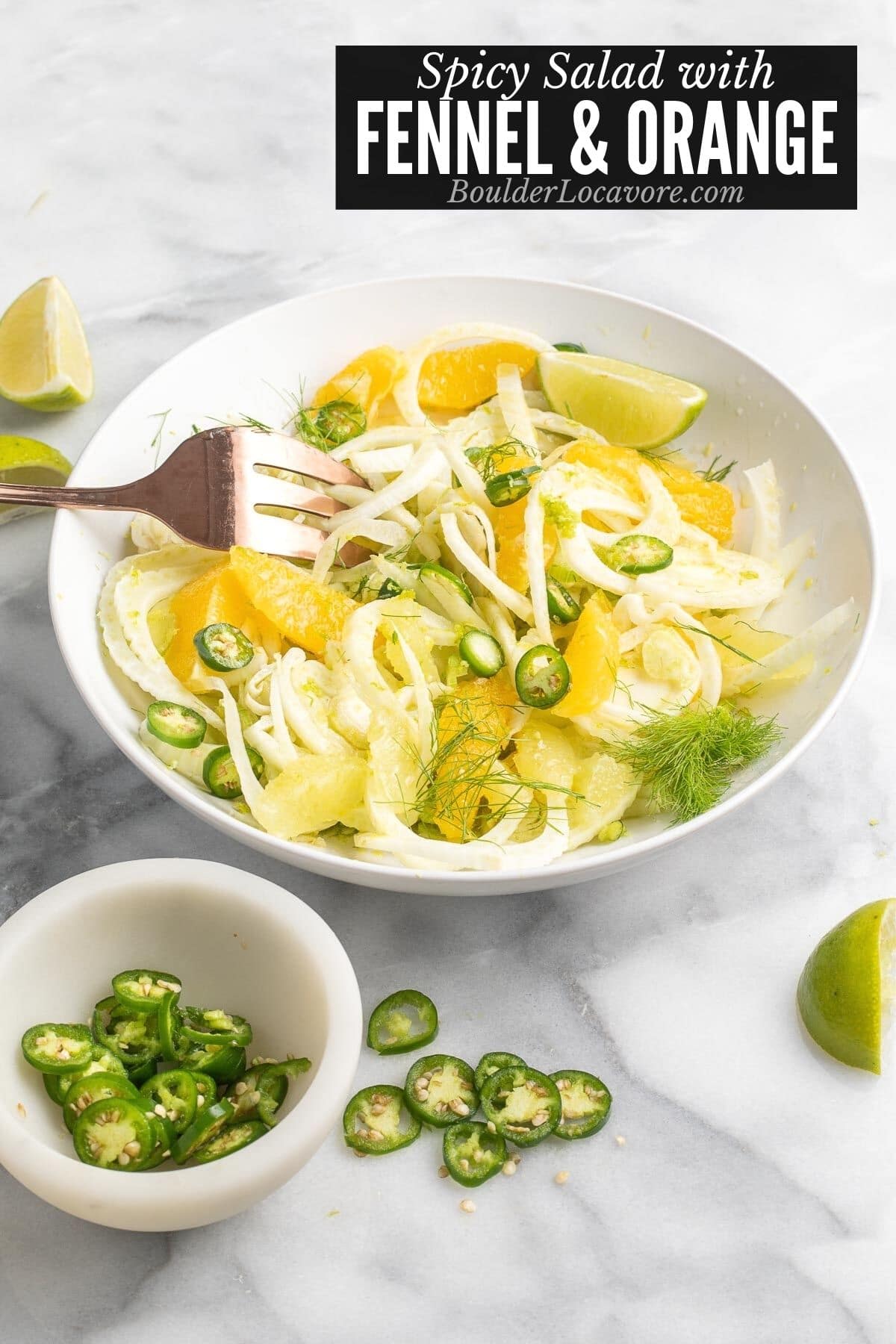 If you are looking for a colorful exciting side dish for the cold weather months you'll love this salad recipe.
Fresh sweet oranges, delicate fennel and spice serrano peppers will make you sit up and take notice!
A light white balsamic vinaigrette tops it all off.
Like our Winter Salad & Warm Cranberry Honey Dressing, salads aren't just for summer and this recipe proves that.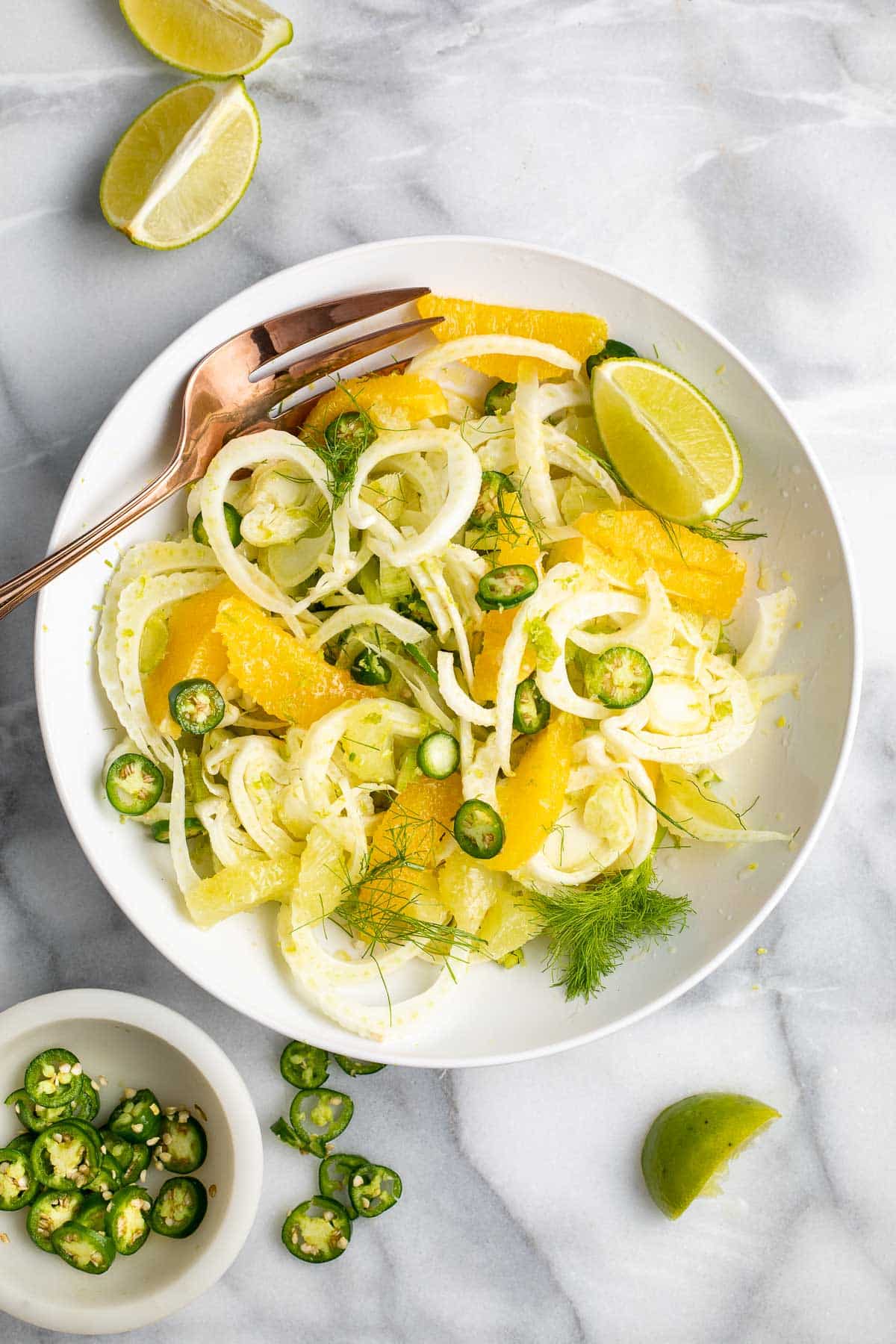 What is Fennel?
It's an herb with a large edible bulb, stalks (like celery) and delicate feathery leaves that look like fresh dill.
The bulb and some of the leaves are used in this salad.
What does Fennel taste like?
The closest flavor is anise or licorice. But the flavor is light and delicious. It doesn't taste like eating black licorice.
Fennel and Orange Salad
This salad recipe is simple and delicious. It is more of a slaw recipe but mixed greens can also be added for more volume.
It combines the anise-like flavor of fennel, sweet juicy oranges and some heat from serrano chile pepper.
It had bold flavors and can be put together easily. A simple vinaigrette pulls all the flavors together.
It's a more wintery dish based on the seasonality of fennel and oranges.
I love this recipe for a big holiday meal like Thanksgiving or Christmas. The flavor burst through and excites the palate.
Plus its always great to have something fresh.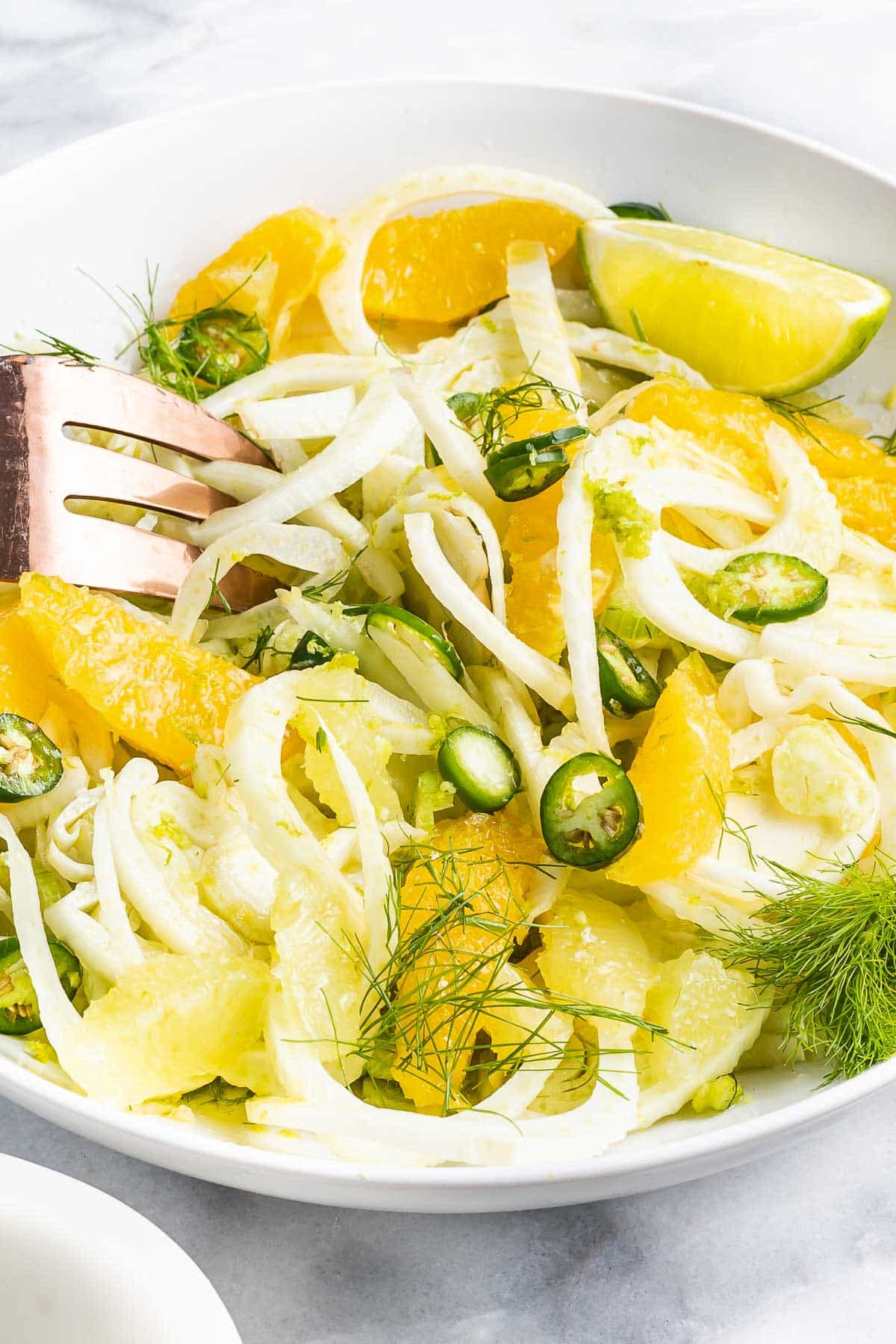 Recipe Ingredients + Notes
Fennel. This recipe will us the bulb and some of the leaves. The sliced fennel has a wonderful flavor and texture. Instructions on how to cut it are included below.
Oranges. Any oranges can be used or combine two different types. Blood oranges add a beautiful color and flavor. Mixing oranges adds a different sweetness and color to the recipe.
Serrano Pepper. Small and spicy, thin slices of the pepper dot the salad with a spicy bite! Be sure to wash your hands after cutting!
Do not touch your eyes, nose or mouth before washing your hands.
Olive oil. Will be used in the salad dressing.
White Balsamic Vinegar. White balsamic vinegar tastes very similar to regular balsamic vinegar but is slightly less sweet and syrupy.
The clean after taste and sweet-tart flavor make it a great choice for a salad like this one.
Lime Zest. Just a bit of lime zest adds some more citrus flavor to the dressing.
Flaked Sea Salt. This flaked finishing salt is sprinkled on the salad after it has been combined and tossed with the dressing.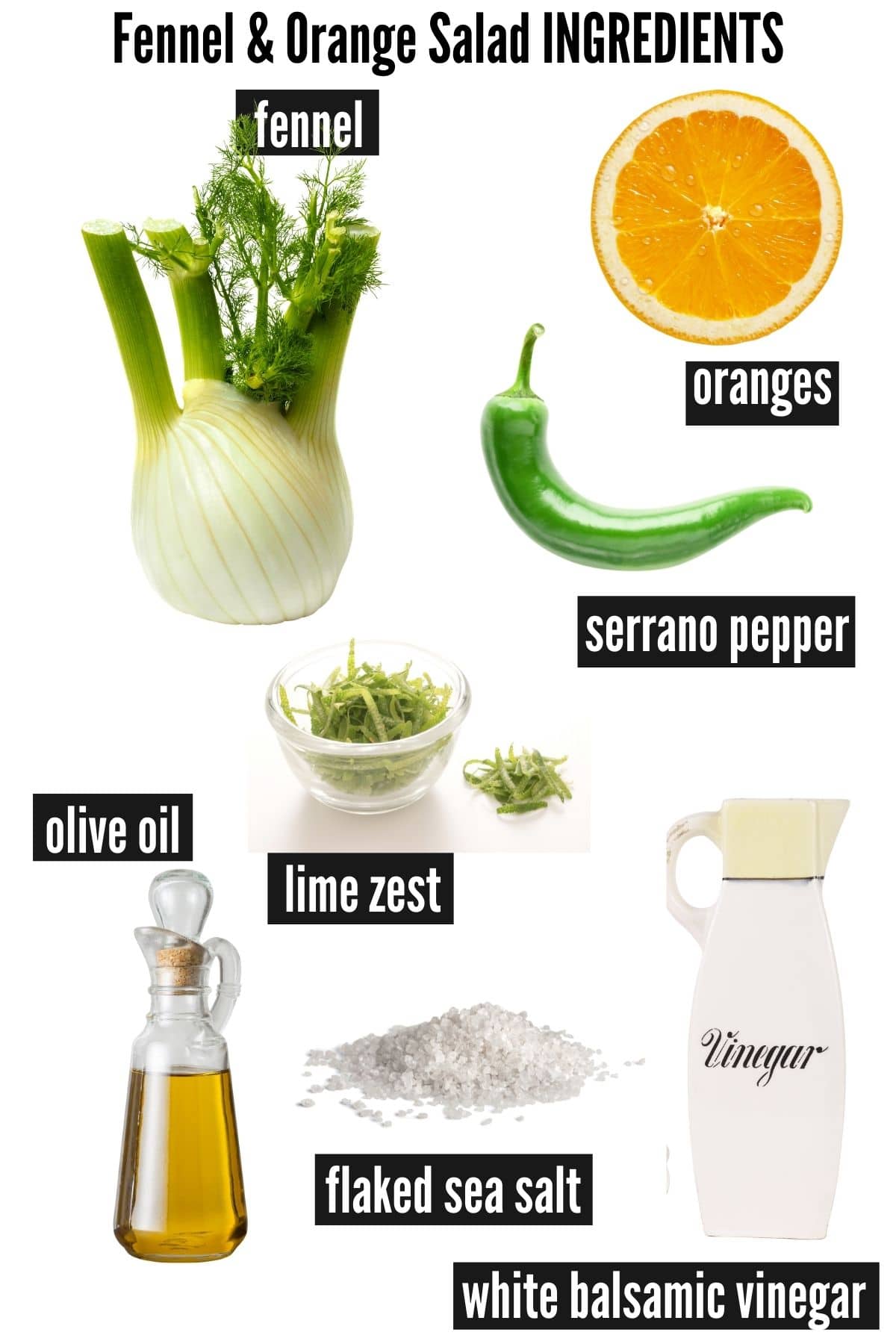 Variations
Add thinly sliced red onion or shallots. Raw onions add yet another flavor dimension. Shallots combine the flavor of onion and garlic in a mild form.
Add mixed greens or arugula. This can be added to the salad recipe to increase the quantity and add more flavors. Peppery arugula is a popular green used in fennel salad.
Try a different salad dressing. Our Meyer Lemon Salad Dressing is a great choice for more citrus flavors.
Kalamata olives are another popular combination.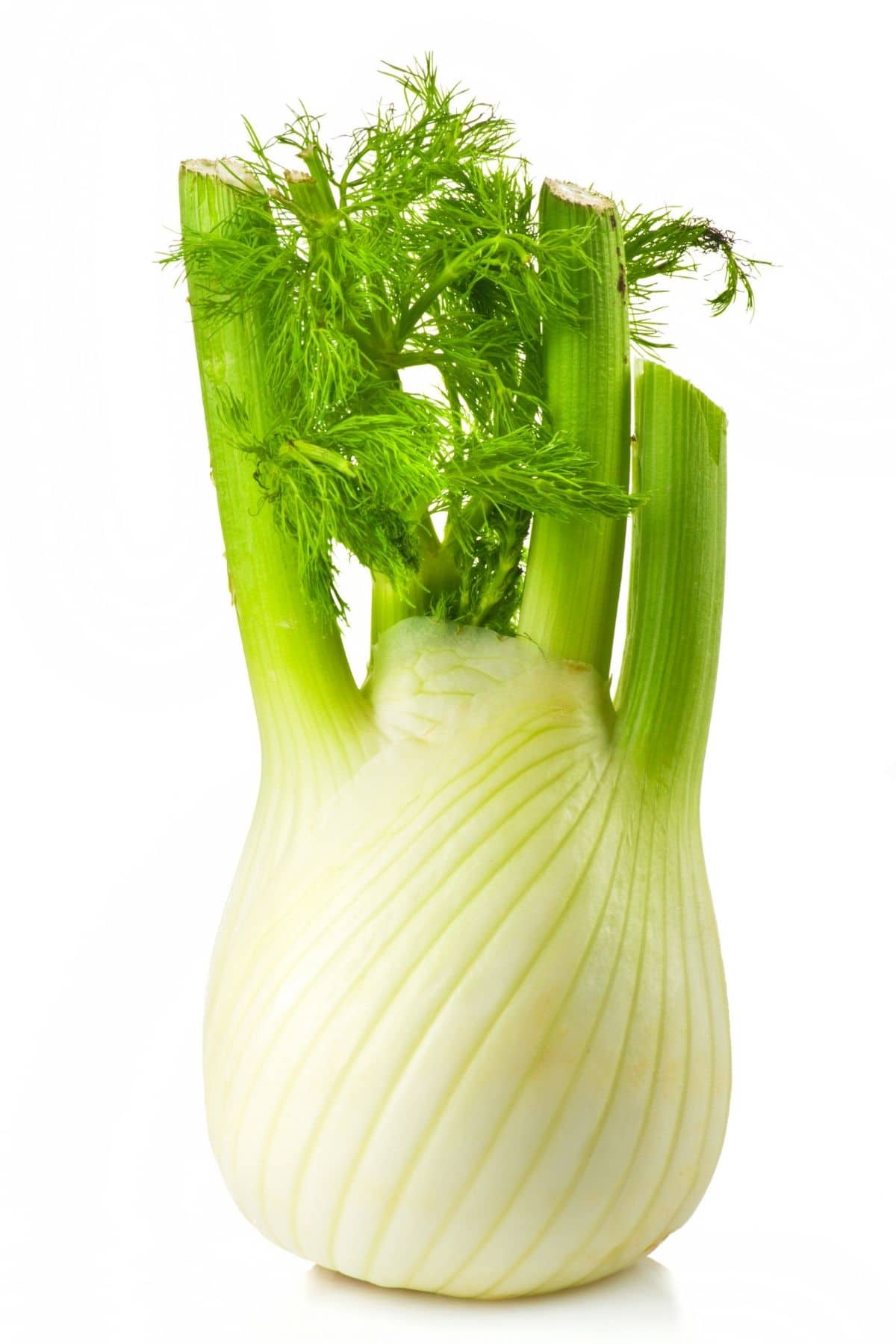 How to Cut Fennel
Using a large sharp knife cut the off the very bottom of the fennel bulb.
Next cut thin slices across the bulb (sliced crosswise) up until reaching the stalks.
For this recipe you'll cut some of the feathery fennel fronds and chop those to go into the salad.
How to Supreme an Orange
What does it mean to 'supreme' an orange?
If you've ever had a dish at a restaurant, salad in particular, with orange you'll notice they do not serve oranges with the membrane.
Unlike how at home we take off the peel and break the orange into segments with the membrane intact, supremeing the orange cuts through the outer membrane exposing the fruit.
It's prettier looking but the taste of the orange comes through more too.
How to Do it
What you'll need: large sharp knife and a cutting board
Using a sharp knife make a straight cut to remove the peel of each end of the orange. This allows the orange to sit flat, making the side cuts easier to do.
Cut under the peel on the sides of the orange using the contour of the orange as a guide. Cut away all the peel and outer membrane.
Once the peel is cut away cut the orange into segments.
This allows the flesh of the orange to be exposed versus pulling the orange into segments.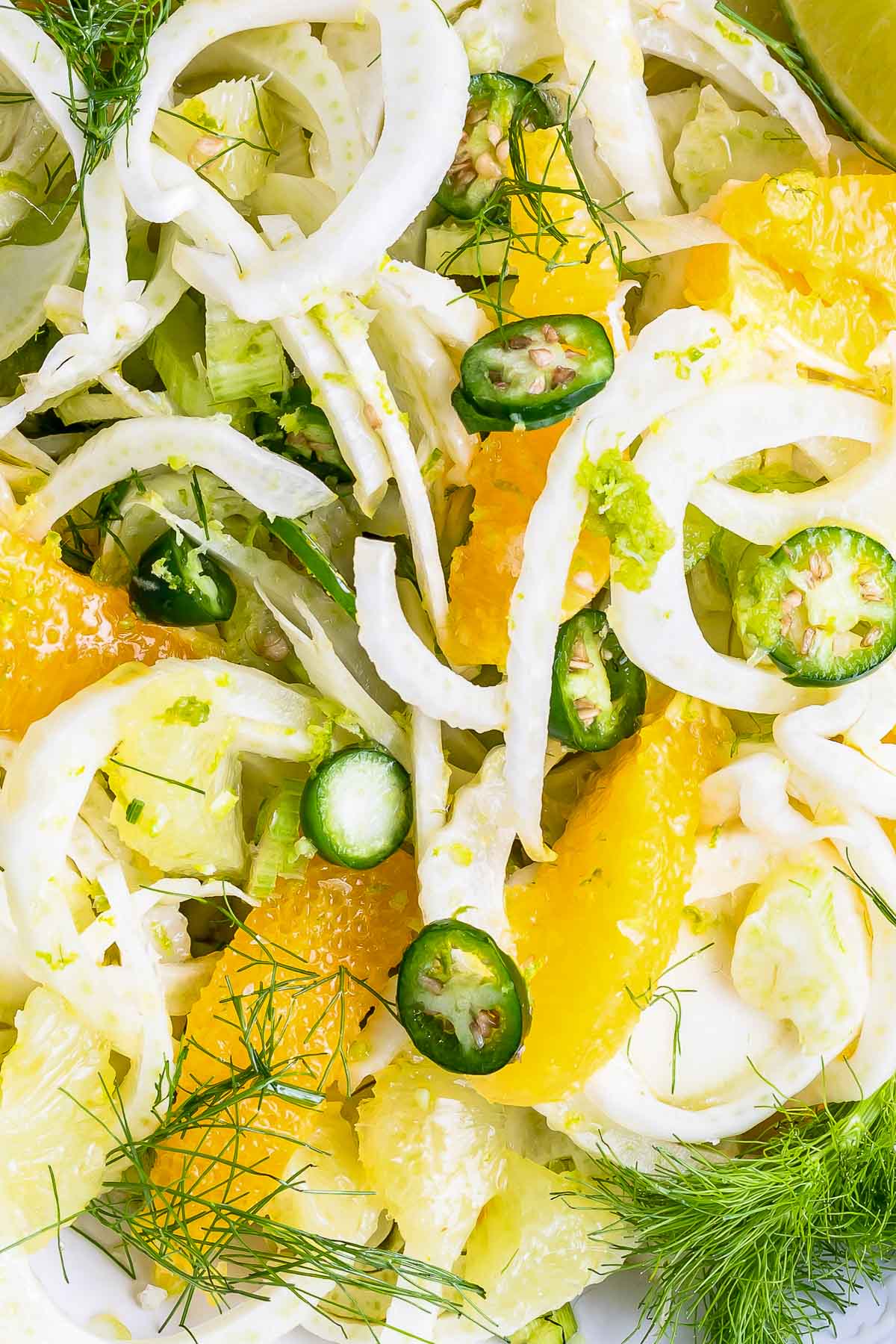 How to Make it – Step-by-Step
STEP 1. Prepare the ingredients.
Cut the fennel. Supreme the oranges. Slice the serrano pepper.
STEP 2. Make the Dressing.
Combine the olive oil and white balsamic vinegar in a small bowl and whisk together. SHORT CUT: add them to a jar, seal and shake to combine.
STEP 3. Making the Salad.
Add the fennel, orange slices and serrano pepper slices to a large bowl.
Drizzle on the dressing and toss to combine.
Finish by sprinkling on the sea salt.
Storing Leftovers
Leftover can be stored for up to 3 days tightly sealed in the refrigerator.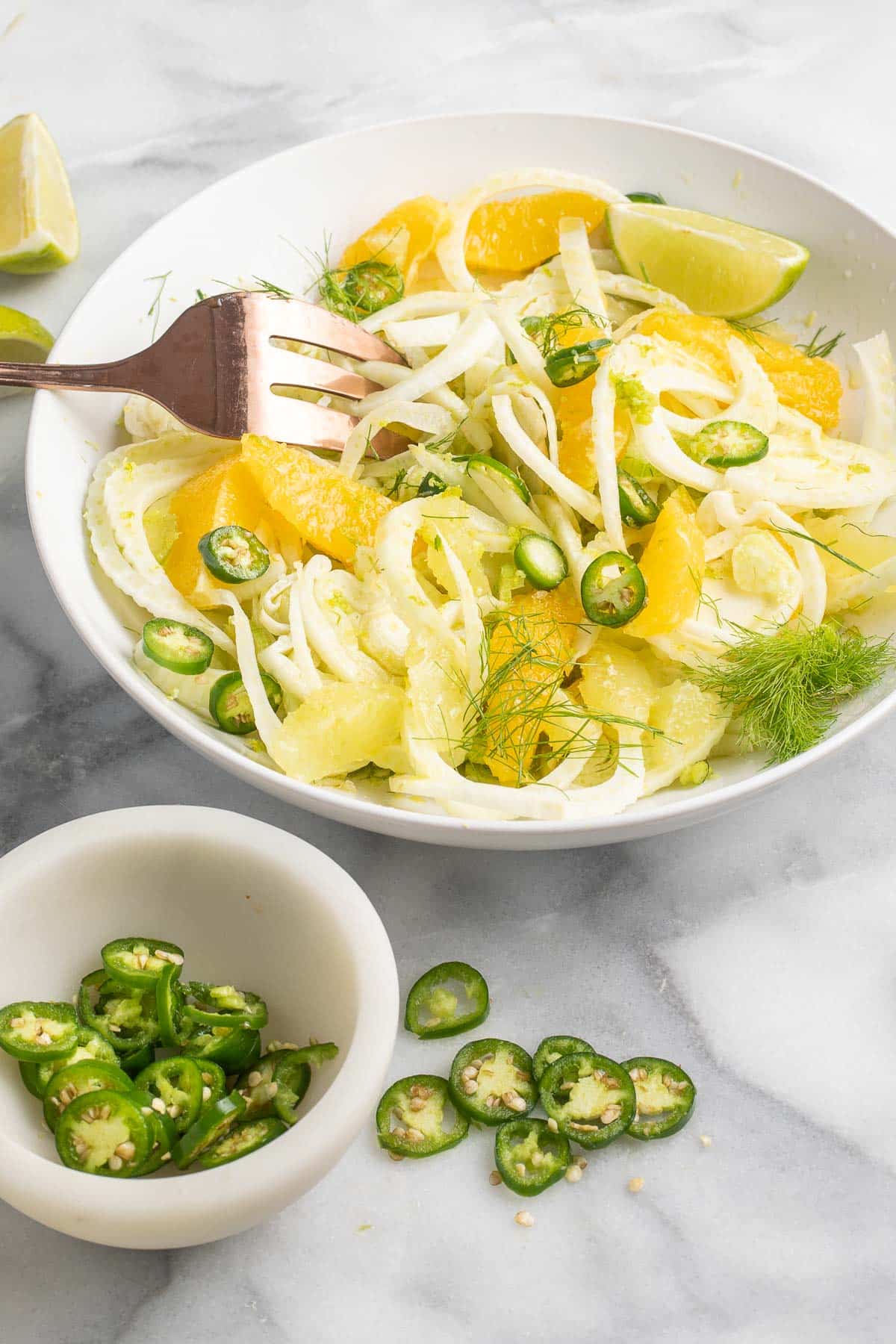 More Recipes You'll Love!
Did you make it? Please RATE THE RECIPE below!
Please SUBSCRIBE and FOLLOW ME on FACEBOOK , TWITTER , INSTAGRAM and PINTEREST !