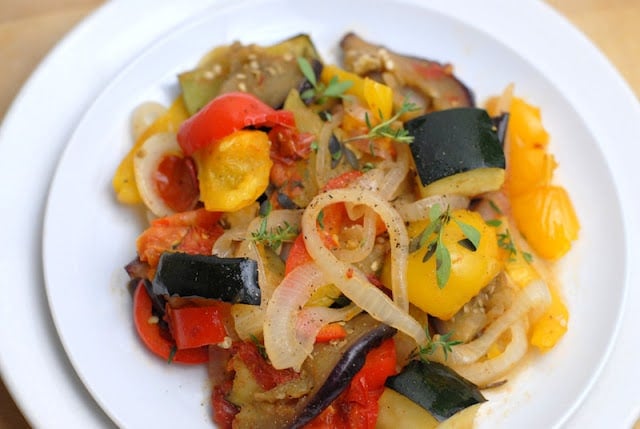 When I was growing up my maternal grandparents lived in San Francisco.

They lived on Russian Hill, (the home of Lombard Street, the 'twistiest street in the world' for any having visited The City), above Columbus and Bay streets, two blocks from the cable car turnaround station by Fisherman's Wharf.

A favorite thing to do when we visited them was to board the cable car and take it to the end of the line downtown.

We'd be dumped out at Union Square, the urban mecca of soaring luxe department stores and bustling business people.

We'd walk from there through North Beach, which at the time was exclusively the Italian section of the city, and through Chinatown to arrive back at their flat.
When I was about 11 I became obsessed with fortune cookie fortunes. On a particular visit that year I bought them everywhere we went, and would gingerly open them, savoring the prophetic wisdom on the little paper within.

I saved every single one.

Mid trip I bought a large bag at a fortune cookie factory in Chinatown on one of our walks and spaced out the opening of the cookies to last the rest of the trip.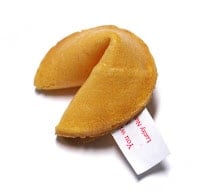 With all the little fortunes tucked safely away, I had one last cookie I'd saved for the plane ride home.

Brimming with the positive omens in my pocket, I had every confidence each one would come true.

I joyfully opened my last cookie to find this fortune:
"IGNORE ALL PREVIOUS FORTUNES"
"IGNORE ALL PREVIOUS FORTUNES" (insert the soundtrack of cartoon tires screeching to a halt here).
I would not say it

completely

robbed me of seeing any magic in the world after that but it did take some big wind out of my fortune-seeking sails.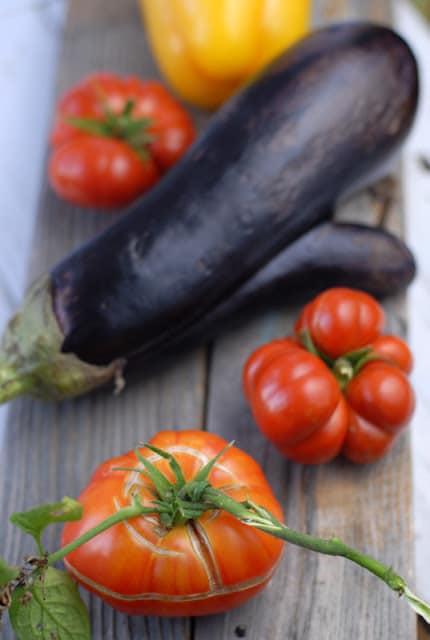 So when I selected this mitten-shaped eggplant at my CSA pick up last week I did NOT jump to the conclusion it would definitely be snowing that night but the symbolism did not escape my sense that seasonal change might be afoot.

And truth be told within a few days the temps dropped significantly, signaling fall was on its way.

We are now hearing rumors of our first freeze coming, firmly instilling some cold weather food on my table.
Full confession?

I have only begun to eat eggplant in the past two years.

Each time I tried to sample it prior I found it so slimy I could not get passed that to even consider the taste.

I've since learned how to cook it so it is a favorite vegetable of this time of year.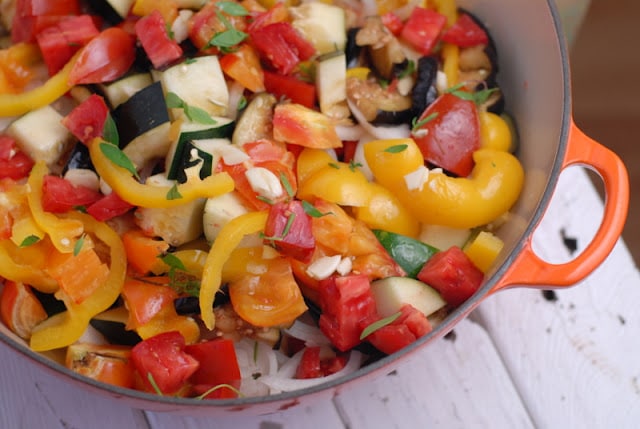 Along with eggplant I'm bursting at the seams with local, seasonal produce between my Cure Organic Farm CSA share and my own garden.

I cannot keep up.

This dish is the perfect celebration of our late summer/early fall vegetables that are in their prime now.

It is a simple, rustic dish bursting with flavor and great texture (not scary, slimy, I'll-kill-myself-if-I-have-to-eat-that-stuff texture).

Lots of garlic only highlights the best of all the vegetables while filling your kitchen with the most heavenly aromas it slowly bakes
.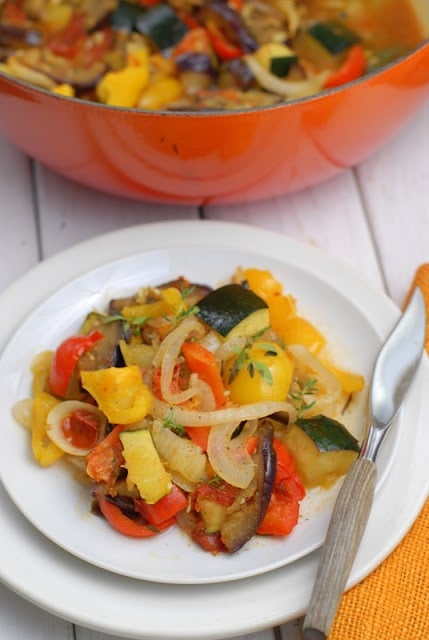 Pronounced 'rat-a-two-ee', you can change this dish up in several ways.

Add other vegetables you have on hand.

Add potatoes.

I used fresh thyme and Mexican oregano (for its citrus overtones) from my garden.

Use any herbs you enjoy.

I wanted this to be rustic and casual so used large, rough chopping.

If you are cooking for a 'vegetable phobe', smaller more discrete bites might be good!
There are a variety of opinions about salting eggplant before cooking it.

The intent is to draw out any bitterness, more commonly found in larger eggplant.

I never salt smaller varieties like my beloved Fairy Tale or Twinkle.

Not wishing to leave anything to chance, I do salt larger eggplant.
1.
Cover sides of sliced eggplant with salt (heavily coated).

Set aside for an hour if possible.
2.
Rinse the eggplant slices well to remove the salt.

Pat dry with a kitchen (not paper) towel.
3.
Proceed with recipe preparation.
Ratatouille instructions:
1.
Preheat the oven to 350 degrees.
2.
Pour 2 tablespoons of the olive oil into a heavy casserole dish and rotate the casserole to spread the oil.
3.
Add all the vegetables, herbs, garlic, salt and pepper

into the casserole.

Drizzle remaining two tablespoons of olive oil on the top.
4.
Place in the heated oven, uncovered, and bake for 1 hour.

During the cooking time, stir the vegetables once or twice so they are sure to cook evenly.
5.
Garnish with fresh herbs and serve as a side dish or over rice!
Post Script:
Serving ideas!

When I picked up our weekly CSA share today I mentioned to Farmer Anne Cure that I'd made this Ratatouille with our farm proceeds and from my garden.

Anne commented this is such a versatile dish it can be used in a number of ways:

as a pasta sauce, over risotto, over rice.

I would add over polenta (click here for a recipe), over a frittata (clickhere for a recipe) or even over mashed potatoes.