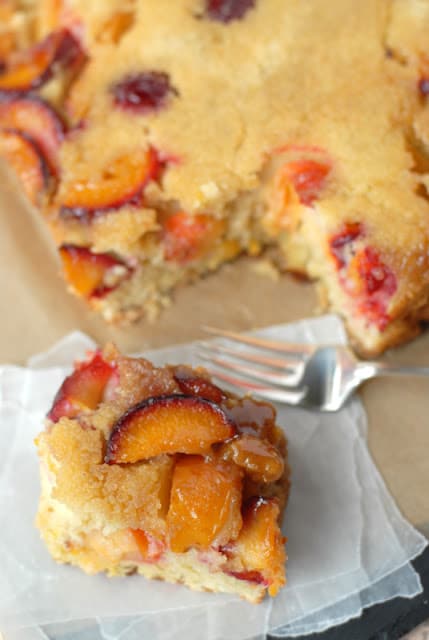 Of late peaches have been the fruit to talk about. We have exceptional peaches which are grown on the Western Slope of the Rocky Mountains and at this time of year they are a hot topic, rightly so. However a more subtle fruit that shines right now are plums. I had no idea there were so many varieties until I became a locavore a few years ago. Through our local Farmer's Market I've enjoyed learning about many new varieties, each available only for a few weeks time.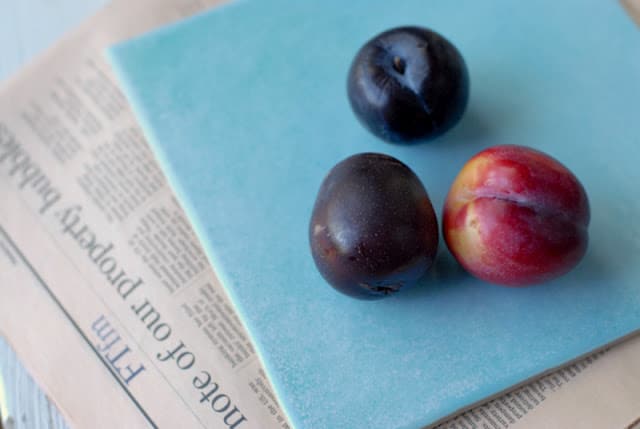 Different plum varieties:

Elephant Heart (front left), Red Amber (front right), Black Beauty (back)
As our weather has cooled significantly (bringing 48 hours of pounding rain this week) I wanted to bake something with plums. While pondering ideas I came upon a group of recipes I had cut out of magazines five years ago and completely forgot about. I thumbed through them to see if anything was still of interest and found this beautiful upside-down cake, the first I've made. It is easy and a bit rustic which I love. When making it I noted the cup of sugar (in addition to the brown sugar) and was worried it would be overly sweet; not so. It has a great light flavor allowing the plums to take center stage.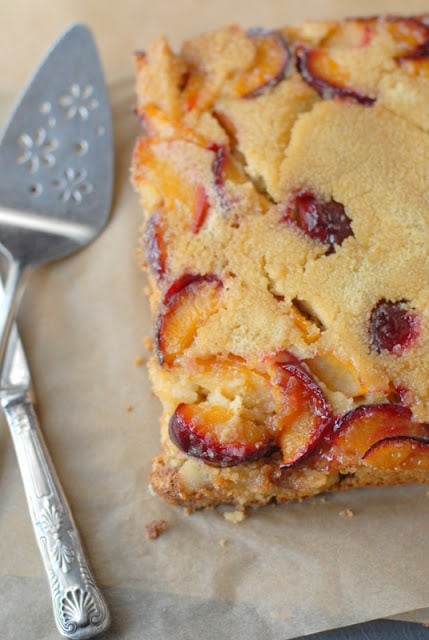 A note about plums. Like peaches there are freestone varieties (those varieties in which the pit comes away from the fruit with ease) and not. I chose to use a mixture of plums I had on hand. I found using plums that were slightly under ripe (more firm) worked well. I sliced the wedges, inserted a knife in between the wedges, and rotated the handle to the right and left, allowing the wedge to twist off the pit which it did with ease. With very ripe plums (non freestone) I was unsuccessful removing them from the pit without completely mashing the fruit).