Succulent, lemony Chicken Souvlaki is a classic Greek recipe of marinated chicken grilled on skewers. The chicken is full of delicious Mediterranean flavors from an easy, quick lemon, olive oil and herb marinade.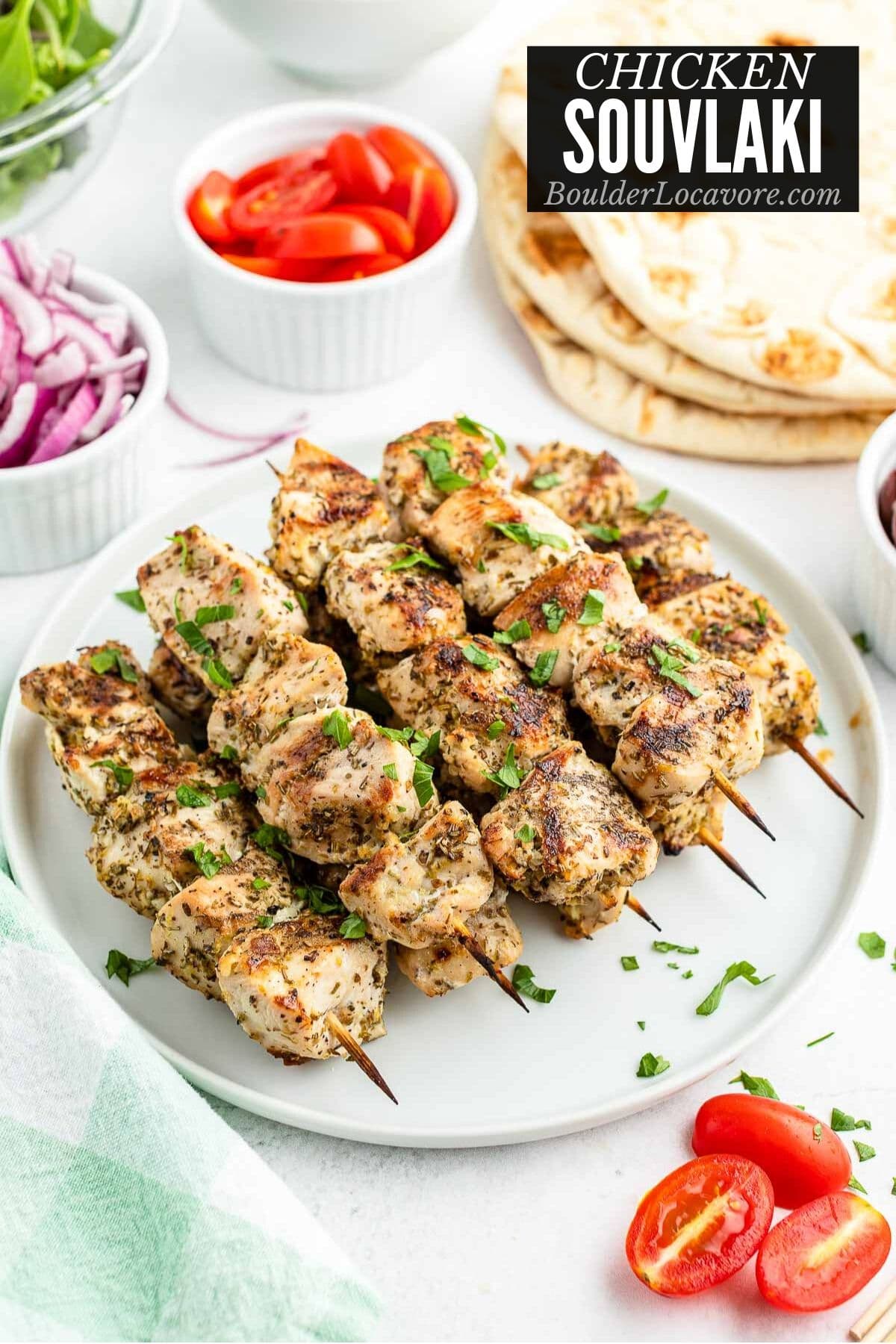 Big flavor with little effort is a perfect description of Chicken Souvlaki. Authentic chicken souvlaki are exciting skewers threaded with plump, juicy flavorful chicken great to eat hot off the grill.
This Greek chicken souvlaki recipe is perfect for an easy main dish. Serve it over rice or in as chicken gyros (in a sandwich). No matter how you serve it this Greek classic will become a favorite. And it's naturally gluten-free too.
Traditionally Greek souvlaki would be cooked on an outdoor grill but you can also use a grill pan indoors or broil the skewers with equally delicious results!
Jump to:
What is Souvlaki?
This Greek grilled meat dish is a classic. It's classic Greek street food or 'fast food'. Small pieces of marinated meat (pork, chicken, beef or lamb), sometimes with vegetables, are grilled on wooden skewers and eaten hot off the grill.
There are various ways to serve it and things to serve with it, but Souvlaki itself is the meat on the skewer. The word souvlaki is a derivative of the word 'souvla' which means skewer.
Today's recipe is for a delicious marinated Chicken Souvlaki skewers.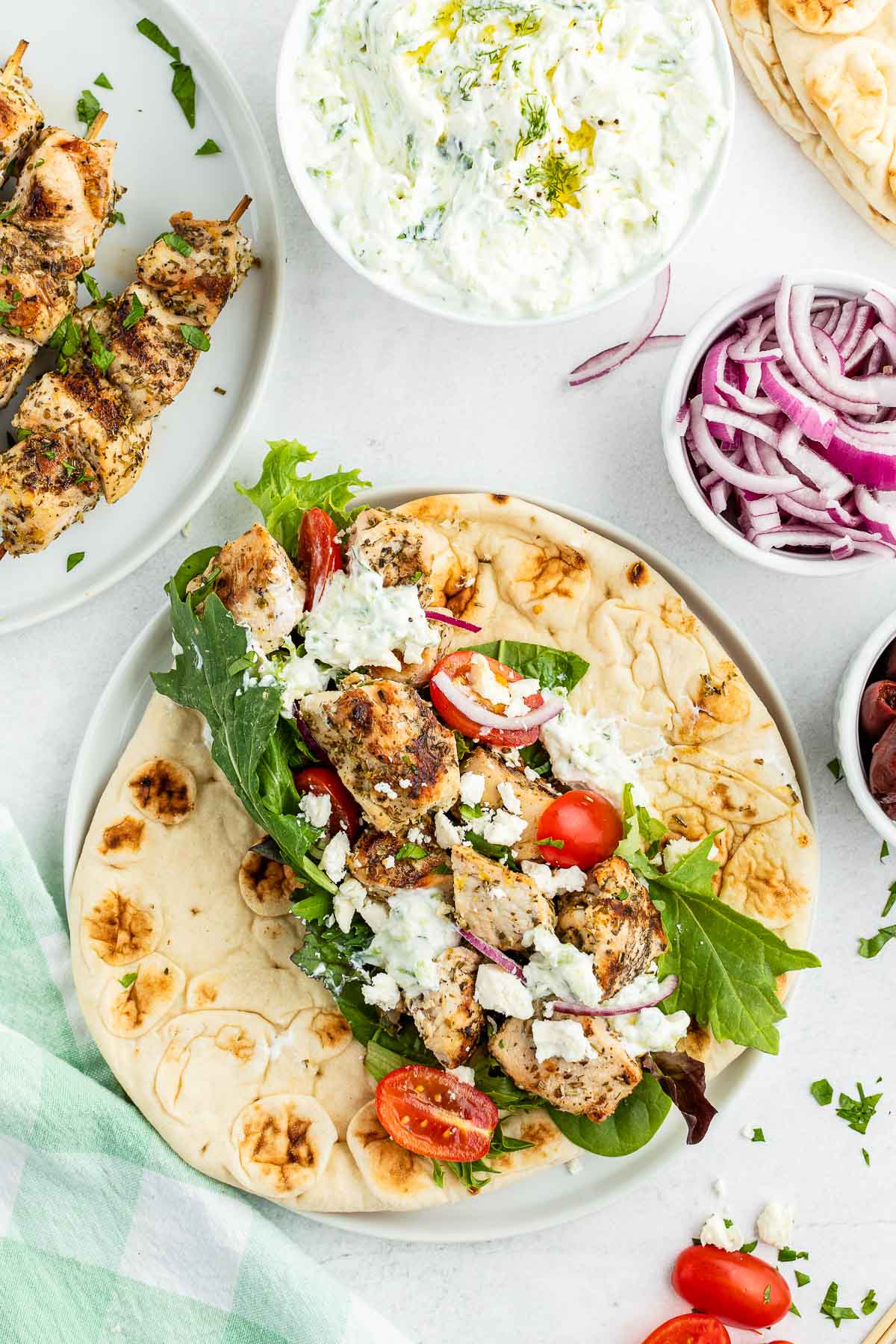 How to Pronounce It
Soov-lah-key.
Recipe Ingredients Notes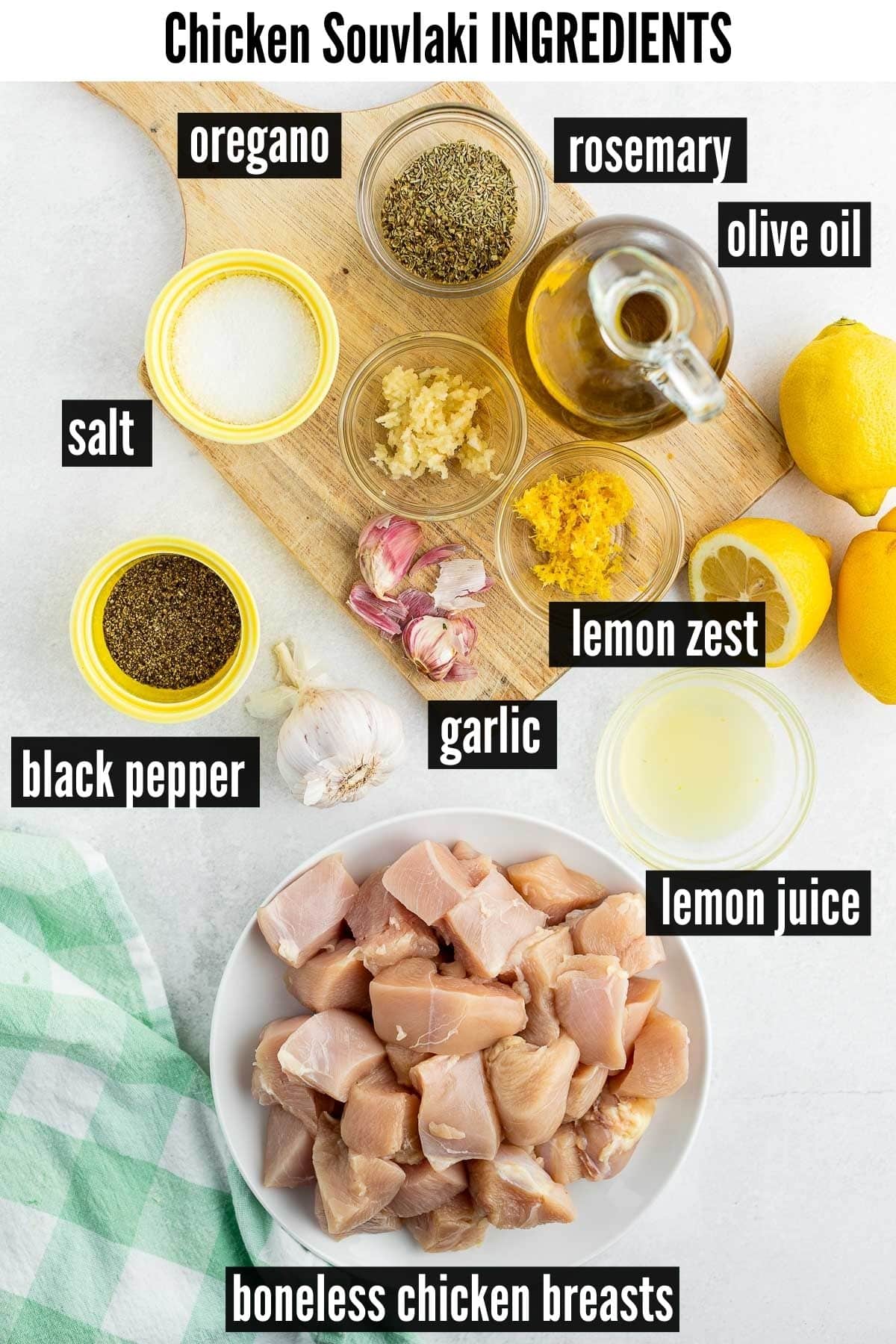 Boneless skinless chicken breasts. You'll use 1 1/2 pounds cut into 1-inch cubes.
The simple marinade is what delivers the signature flavor!
Chicken Souvlaki Marinade
Olive oil
Fresh lemon juice and lemon zest. When using both the zest and juice from a lemon, always zest the lemon first. This is my favorite lemon zester. It zests quickly, effortlessly and only takes the outer skin not the bitter pith underneath. I prefer hand held juicers though any juicer or even hand squeezing works.
Garlic cloves
dried Oregano
dried Rosemary
Salt and Pepper
How to Make It – Step-by-Step
STEP 1. Making the Marinade
Combine the marinade ingredients (olive oil, lemon zest and juice, garlic, oregano, rosemary, salt, and pepper) in a large bowl or a gallon ziploc bag. Mix to fully combine (photo 1).
Add the bite-sized pieces of chicken. Stir to fully coat.
TIP: Place the top oven rack down one position. Though that may make the broiling take a bit longer it's easier to monitor for any overcooking.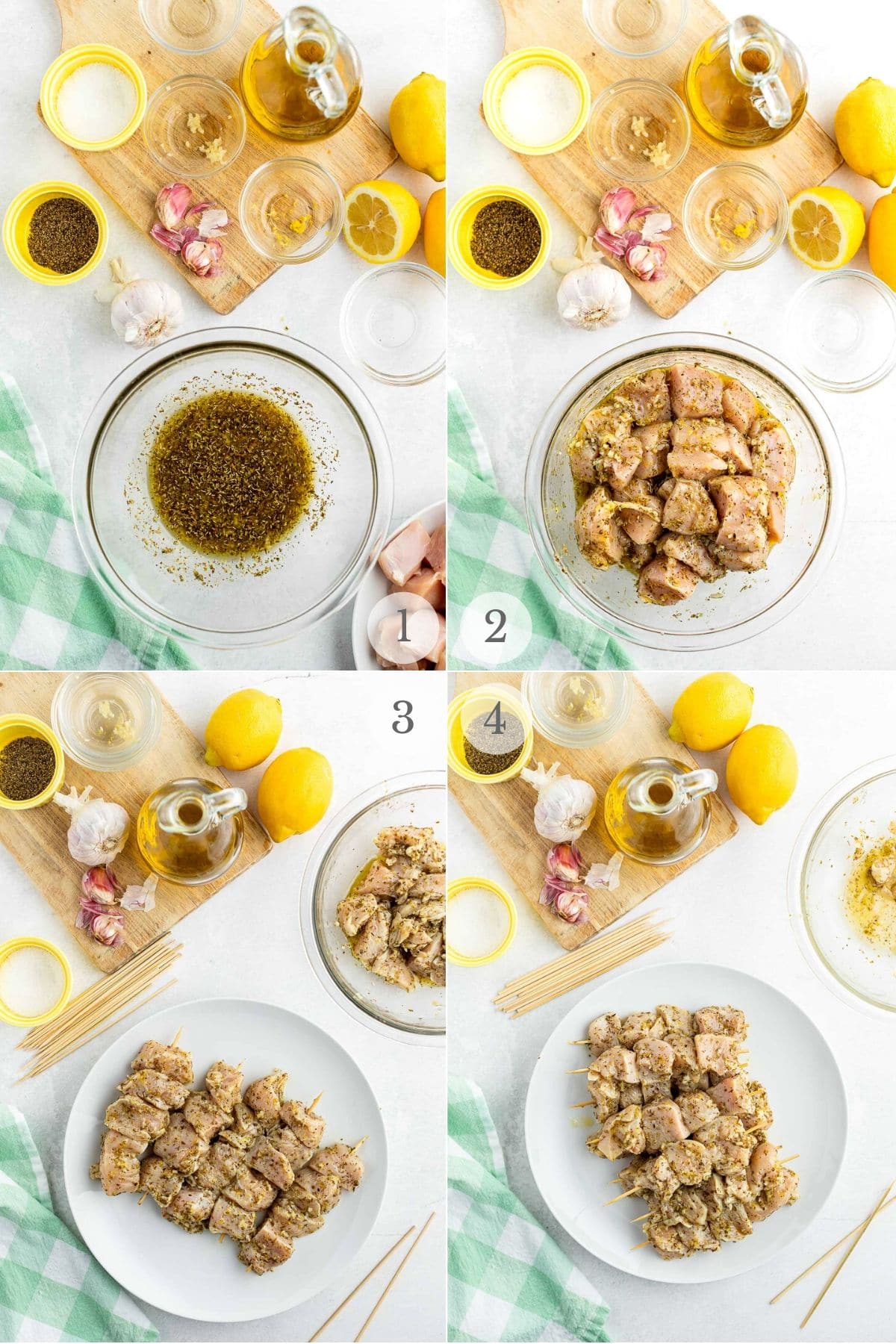 STEP 2. Marinate
Seal or cover and refrigerate for a 30 minutes (photo 2).
STEP 3. Grill
Thread the marinated chicken pieces onto skewers (see Expert Tips below)(photos 3-4).
Place chicken skewers on a clean, oiled grill at medium-high hot grill the skewers for 2-3 minutes per side; 5-6 minutes total. Check a piece of chicken for doneness before removing the skewers; (internal temperature registers 165 degrees). There should be no pink remaining but the chicken should be still moist.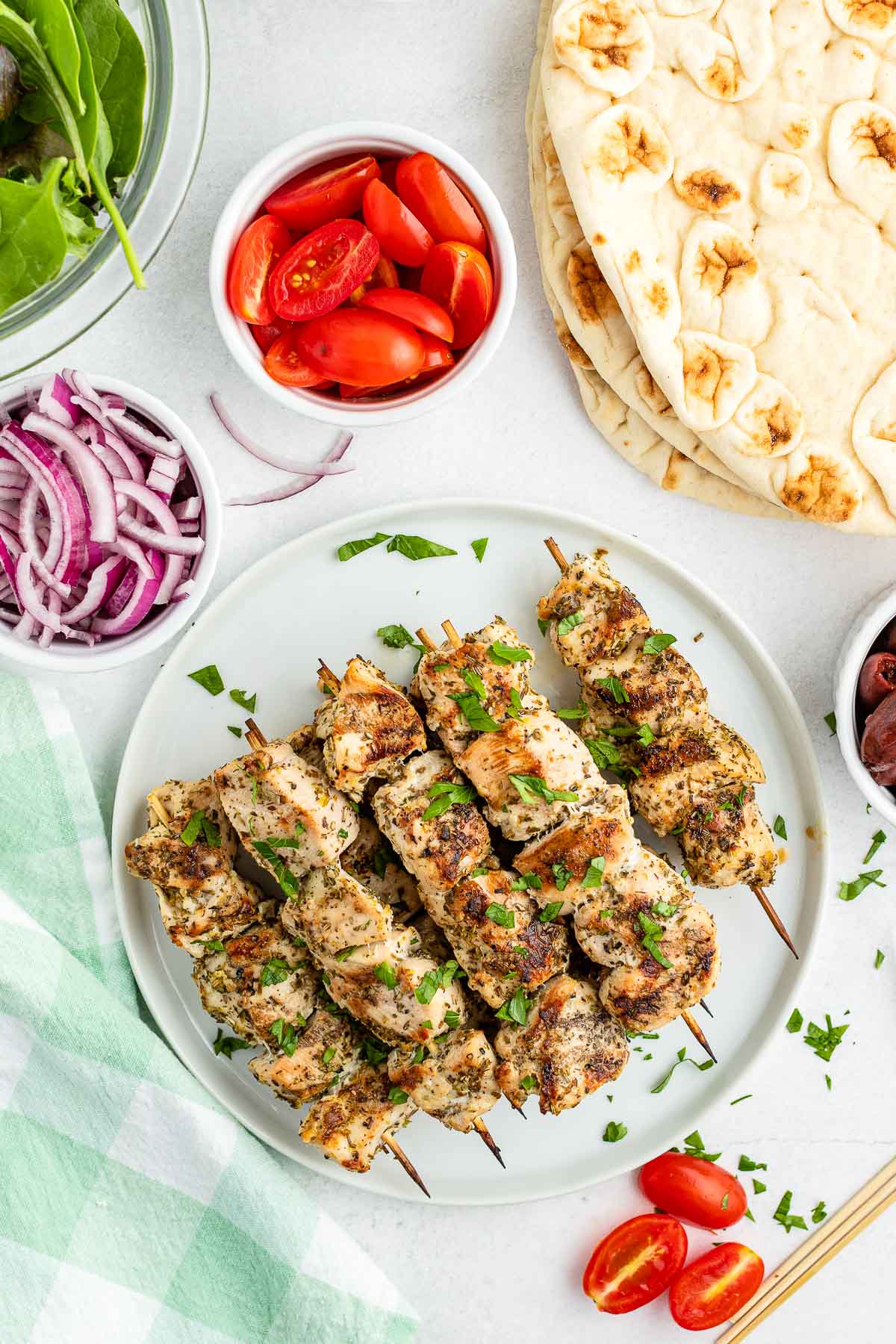 How to Broil the Skewers
As an alternative to grilling, the skewers can be broiled.
Place the skewers on a foil-lined rimmed large baking sheet sprayed lightly with non-stick spray.
Broil for 8 minutes rotating the skewers once.
Check for doneness to determine total broiling time needed.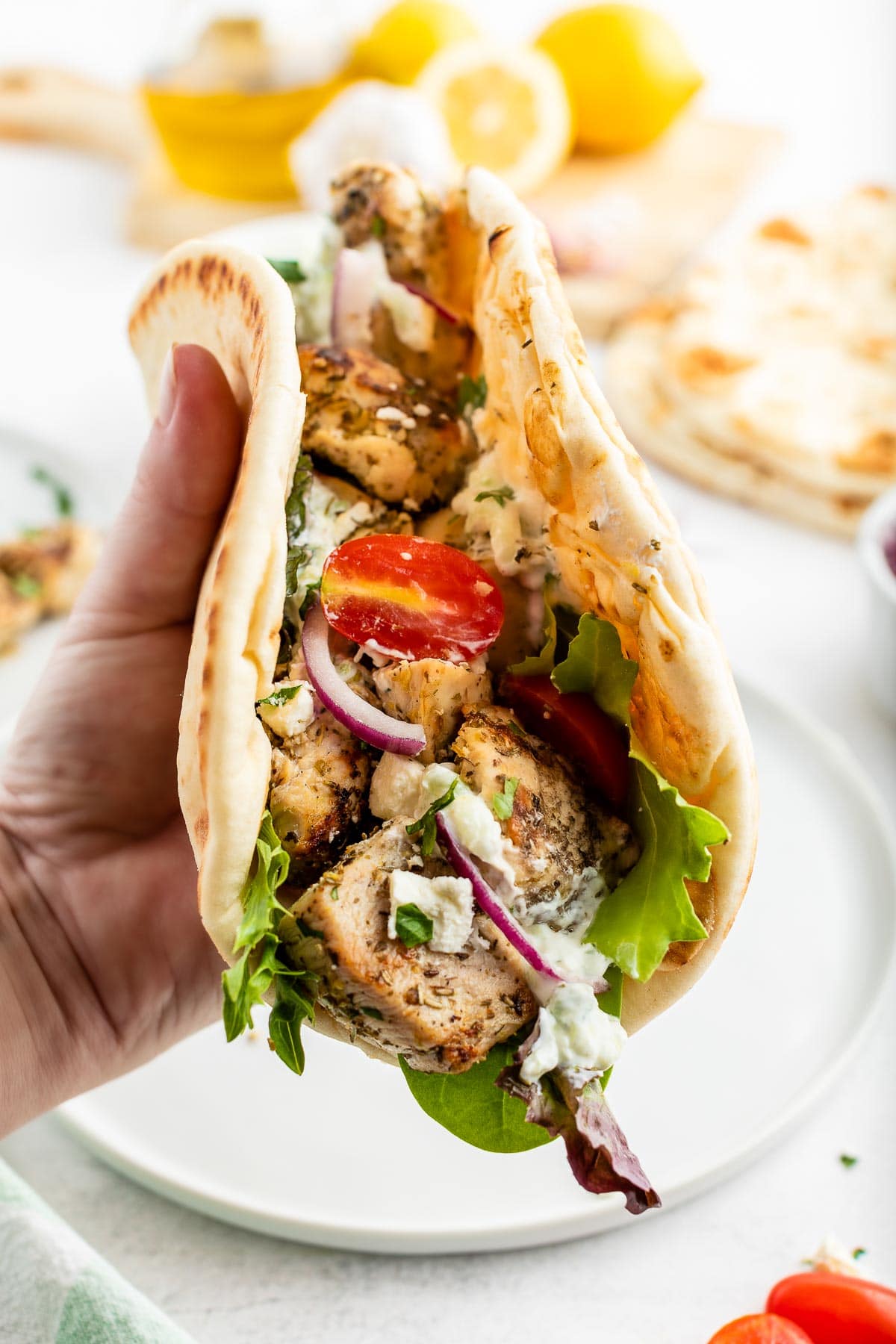 How to Eat it
The marinated grilled chicken may be eaten 'as is' right off the grill. Serve with Tzatziki Sauce (cool yogurt sauce) for dipping.
It's common to serve Souvlaki in a type of sandwich with favorite toppings (think chicken souvlaki pitas). Use a soft flatbread or warm pita bread, sliced tomatoes, sliced or grated cucumber, red onion, feta cheese and creamy Tzatziki Sauce.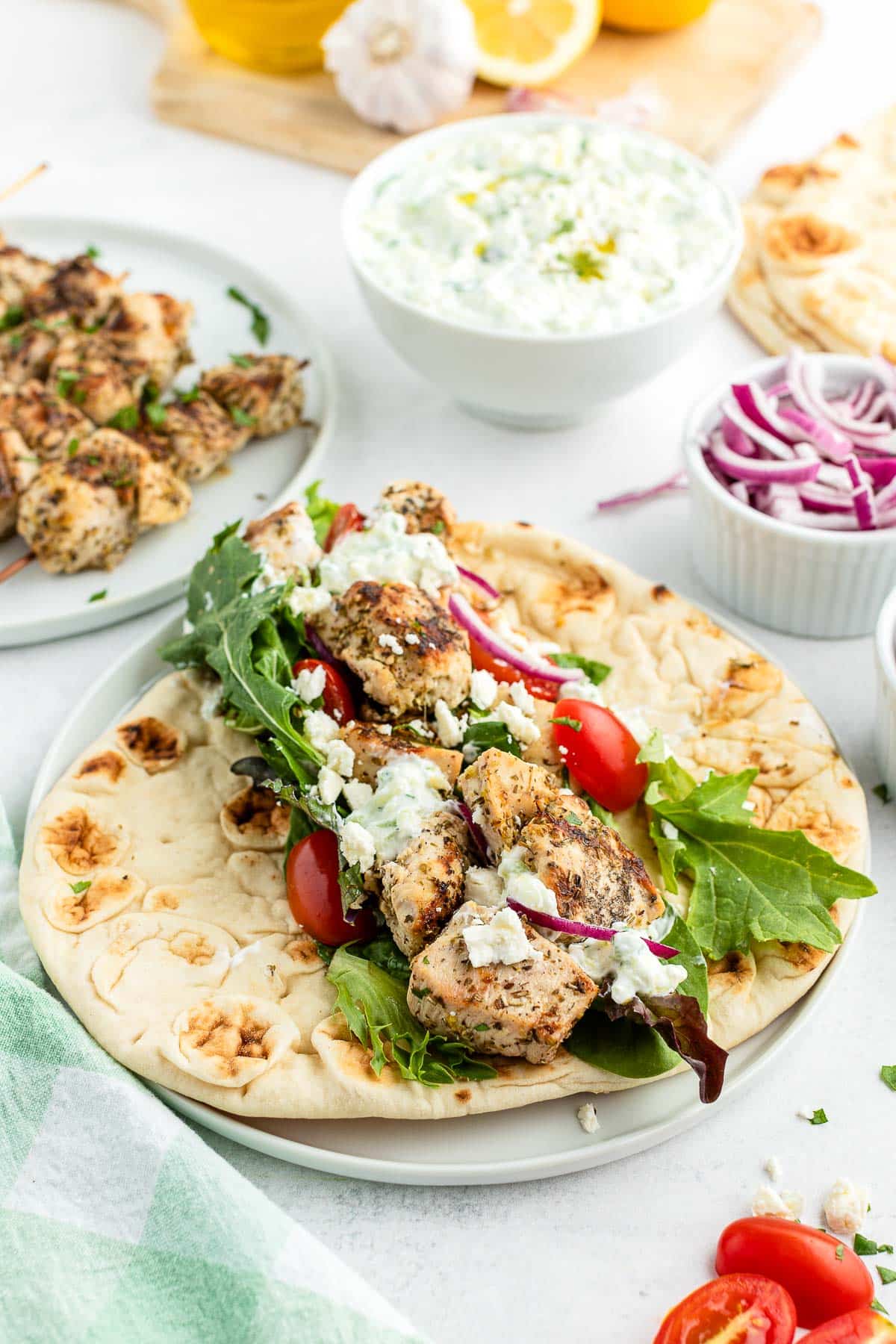 Expert Tips
Use a Grill Guard for Bamboo Skewers. It's not necessary to soak bamboo skewers before use. However using a grill guard protects the end from burning while grilling. It's easy to make one in a seconds at home too.
Fold a piece of foil to be long enough to sit on the grill underneath the exposed ends of the skewers.
If both ends of the skewers are exposed, do this for both ends of the skewer.
You can see this in use on this Chicken Kabobs recipe.
Consider Using Flat Skewers. A frustrating experience for kabob recipe makers is spinning ingredients. It makes it difficult to grill skewers on all sides. Because these Souvlaki skewers are only chicken, that's not as big a concern.
However a great solution is using flat skewers. They allow turning the skewers once and all ingredients stay in place. They are available in metal (multiple use) or bamboo (one use).
Microwave the Lemon before Juicing it. To render more juice, put the lemon in the microwave for 10 seconds before juicing it. Always zest before juicing.
If using a hand held juicer, juice the lemon twice. Once in each direction. Meaning the rounded side aligned with the rounded side of the juicer. Then flip it over and juice from the opposite side. You'll get more juice!
Frequently Asked Questions
What Type of Skewers to Use?
Typically bamboo skewers are used but metal skewers work just as well.
If using bamboo skewers care needs to be taken to not have the ends burn during grilling. I do NOT soak my skewers. It's not necessary when using other precautions. Refer to the Expert Tip below.
How Long to Marinate the Chicken?
The chicken only needs to marinate for 30 minutes. It can be left in the marinade up to overnight.
How Long to Grill the Chicken Skewers?
Over medium-high heat the chicken will cook quickly. They only should take 2-3 minutes per side for 5-6 minutes total. Do not overcook or the chicken will be dry. Check for doneness before taking them off the grill.
How to Store
Store any cooked leftover chunks of chicken in an airtight container in the refrigerator for up to 3 days (remover from skewers before storing). Reheat to serve or add to a traditional Greek salad.
More Recipes you'll love!
Recipe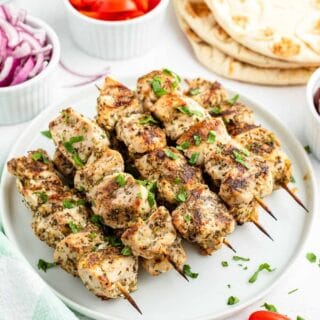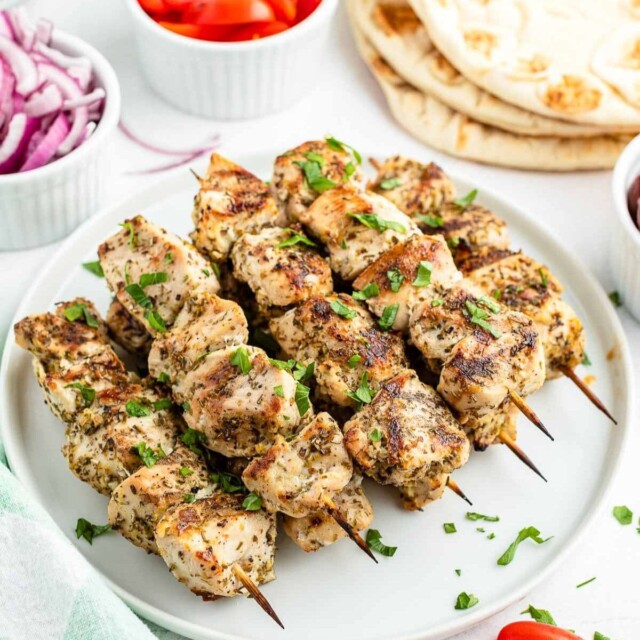 Chicken Souvlaki
Chicken Souvlaki is a delicious Greek dish made of marinated chicken grilled or broiled on skewers. Serve as is or in a sandwich with Tzatziki sauce.
Print
Save Recipe
Recipe Saved!
Pin
Rate
Ingredients
3

Tablespoons

olive oil

Juice of 1 Lemon

Zest of 1 Lemon

3

Garlic Cloves

minced

1

tablespoon

dried Oregano

1

teaspoon

dried Rosemary

1

teaspoon

Kosher Salt

1

teaspoon

ground Black Pepper

1 ½

pounds

boneless skinless Chicken Breast

cut into 1-inch cubes
Serving Suggestions
4-6

pieces

flat bread

tomatoes

red onion

lettuce

Feta cheese
Instructions
Combine olive oil, lemon zest and juice, garlic, oregano, rosemary, salt, and pepper in a medium bowl or a gallon zip lock bag. Add cut up chicken and toss to coat.

Marinate the chicken for at 30 minutes. NOTE: the chicken can be marinated up to overnight.

Thread the chicken onto skewers.

Heat the grill to medium-high. Clean and oil the grill.

Grill the skewers for 2-3 minutes a side until the chicken has browned and juices are clear. Check for doneness before removing the skewers. Do not over cook the chicken.

Broiling: If broiling instead of grilling, place skewers on a foil-lined rimmed baking sheet. Broil with top rack one position down for 8 minutes flipping once. Monitor for burning and doneness.

Serve skewers with Tzatziki Sauce. Or in flat bread with lettuce, onion, tomato, tzatziki sauce, and feta cheese or your favorite toppings.
Notes
Nutritional calculations are for the souvlaki only (not extra serving suggestion ingredients).
Bamboo Skewers: if using bamboo skewers place foil on the grill under any exposed bamboo to prevent it from burning. Soaking of the skewers is not necessary.
Metal or bamboo skewers may be used. Flat skewers prevent the chicken from rotating on the skewer and make it easier to cook.
Do not overcook the chicken or it will become dry.
How to store leftovers
Store any cooked chicken leftovers in an airtight container in the refrigerator for up to 3 days. Remove from skewers before storing.
Nutrition
Calories:
295
kcal
|
Carbohydrates:
2
g
|
Protein:
36
g
|
Fat:
15
g
|
Saturated Fat:
2
g
|
Cholesterol:
109
mg
|
Sodium:
780
mg
|
Potassium:
654
mg
|
Fiber:
1
g
|
Sugar:
1
g
|
Vitamin A:
72
IU
|
Vitamin C:
3
mg
|
Calcium:
33
mg
|
Iron:
1
mg
Originally published: January 16, 2020