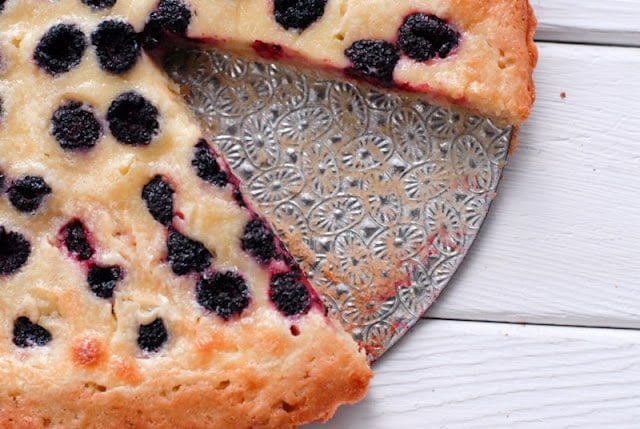 I realized a five year goal this summer of picking Black Raspberries at Berry Patch Farms.

Black Raspberries (which are a variety of raspberry, not a blackberry) are only available for a few weeks a summer and I've missed them annually until now.

I braved the brutal summer temps in mosquito repellent and SPF-embedded long sleeves and long pants, as though I was trekking through the Amazon River valley.

Despite looking like an escapee from a Glamour DON'T magazine campaign, I was satisfied with my combat-like appearance when hearing other complaining pickers being eaten alive and having flesh ripped from their arms when reaching deep into a bush for that perfect berry.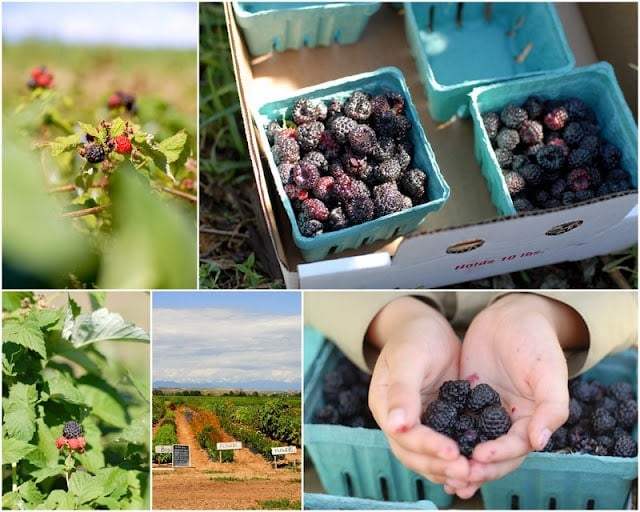 A brisk hour produced 5 containers of berries, many of which lay deep within the bush, requiring nimble manipulation of heavily thorned branches to reach a ripe cluster.

The blood, sweat and tears (well I did not cry but I heard plenty of that around me) left me committed to my berries in the most celebrated of ways.

Their gentle berry flavor could be easily overwhelmed by other ingredients.
One of the things I decided to make is this lovely soft shelled tart.

The flavors are a perfect compliment for this gentle-tasting purple beauty and it's a cinch to make.

I've made mine gluten free though you can also make it gluten-filled with an easy swap of the flour type.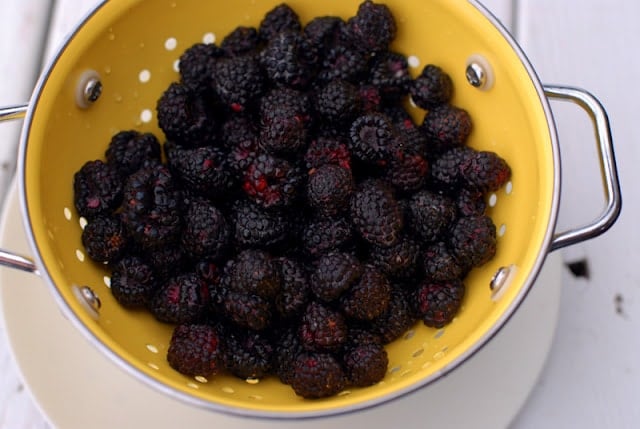 A brief food soapbox moment: I have found when procuring my own food, as in this arduous berry picking session, it does give pause to fully consider the use of every last berry.

The food becomes elevated for me due to the effort.

I feel that way as well with my weekly farm CSA share.

Somehow putting more thought into procuring my food, makes me appreciate it more consciously as well as celebrate its consumption fully!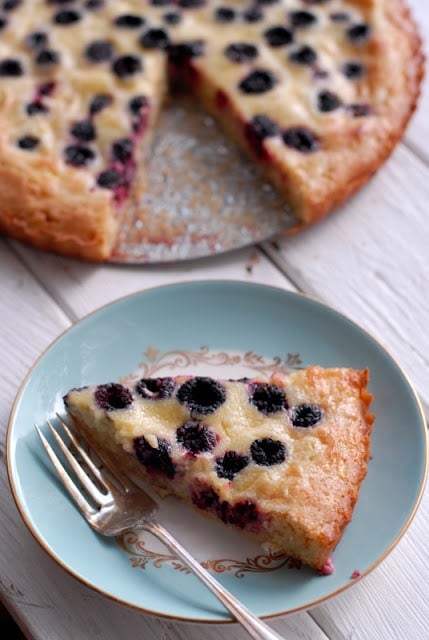 BLACK RASPBERRY CRÈME SOFT SHELL TART
This recipe is adapted from Deborah Madison's 'Seasonal Fruit Desserts' to be gluten free.

If you do not require it to be gluten free you can simply replace the flour with the gluten free flour type you use when baking. It really is a simple, fast and delicious dessert.

The shell does not require rolling and bakes to a firm outer crust.

Though I've used my precious hand-picked black raspberries, any berry could easily be substituted for a delicious end result.
·
I stick of unsalted butter, room temperature
·
3 eggs, room temperature
·
½ teaspoon vanilla extract
·
1 cup gluten free flour (I used King Arthur's Gluten Free Flour blend)
1.
Butter a 9 inch round tart pan.

With a stand or handheld mixer, beat together the butter, sugar and salt until fluffy (about a minute).
2.
Add eggs one at a time, mixing each in fully before adding the next one.

Scrape sides of bowl if needed during mixing.
3.
Add the vanilla extract and orange zest and mix in.
4.
Add flour and mix just until combined; do not over mix.
5.
Using a spatula, scrape the sides and bottom of the bowl to ensure all ingredients are mixed together.

Pour the batter into the prepared tart pan, scraping all batter from the bowl.
6.
Spread batter in tart pan to cover the bottom and up on the sides to the top of the pan creating a cavity.

It will not be stiff batter and will not stay fully up on the sides though the cavity will remain intact.

Place in the refrigerator while you prepare the filling.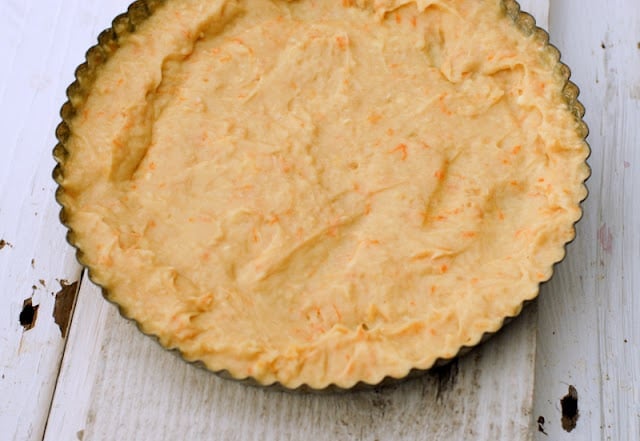 ·
½ teaspoon vanilla extract
·
1 cup black raspberries or berries of your choice
1.
Preheat oven to 350 degrees.
2.
Whisk together crème fraiche, egg yolks, vanilla, sugar and salt.

Pour into the cavity of the crust batter.

Smooth out with a spatula allowing a border of crust batter to be between the side of the tart pan and the filling which will form a bit of a rim.
3.
Place the berries in the filling.

I found one cup to be all the room there was though you may add more if you feel you need to.
4.
I suggest putting the tart on a cookie sheet to bake to stabilize getting it into and out of the oven (I also used a tart pan with a removable bottom so there was a bit of leakage).

Place the tart in the oven and bake until slightly golden, about 35 minutes.

Serve warm.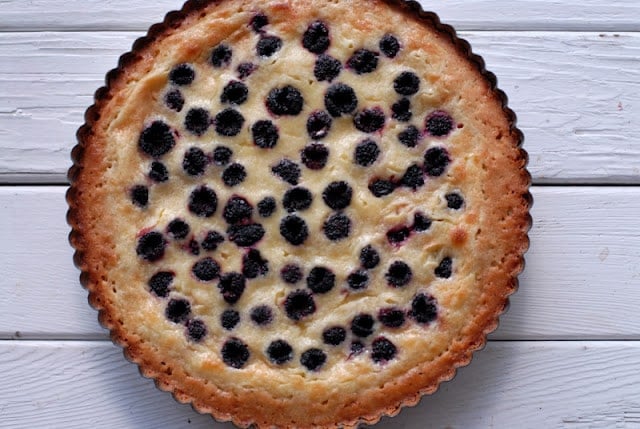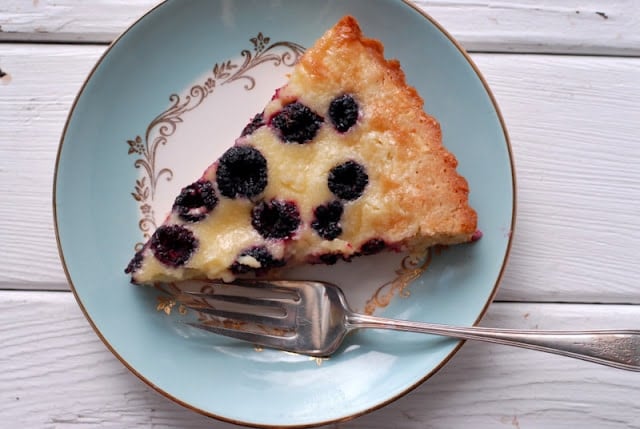 FREEZING BERRIES FOR WINTER.

I did a post last fall about the best way to freeze berries for winter.

If you click here you can check it out (be kind, it was very early on; the font is too small, the photos are simple) along with a fun family story about freezing berries for winter.

If you use this method, your berries will be readily accessible all winter long.