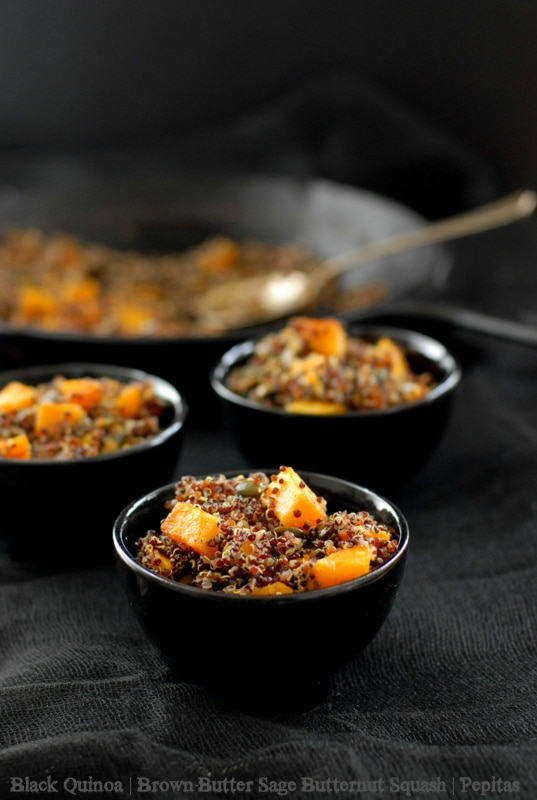 With Halloween being a mere two weeks away I wanted to come up with some healthier options to serve at parties and to celebrate the holiday.  I found myself stalking the produce section of the grocery store admiring all the brilliant orange and yellow vegetables that could be whipped into a chromatically complimentary dish to go along with all the treats filling the current recipe air!
I was raised with the basic dinner formula of meat, starch and a vegetable.  Sadly the vegetable preparation was highly over cooked often leaving wimpy, nutritionally-defeated options lying impotently on the plate most likely to be snuck under the table to the awaiting dog or somehow otherwise avoided.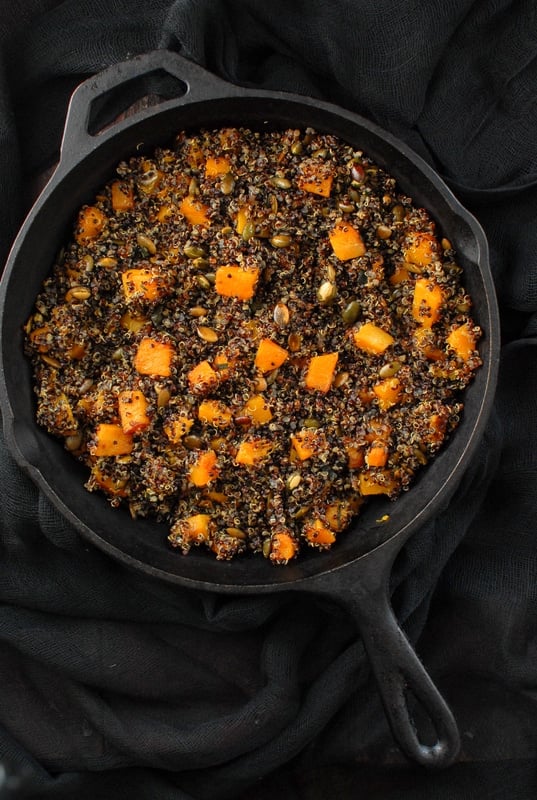 Times have changed and along with that a steering away of meat being a 'must have' to round out a dinner plate.  I find when conjuring up a meal, that old carnivorous tendency to be my fall back but try to explore meatless options that offer equal nutrition and sport taste-appeal to the younger diners in my family.
An absolute favorite grain of ours is Quinoa (pronounced 'keen-wah').  It originates in South America and is a complete protein.  It is quick to make (about 20 minutes total) with a light flavor and nice texture (think soft crunch).  I decided it would be a perfect foundation for a healthy Halloween-worthy dish!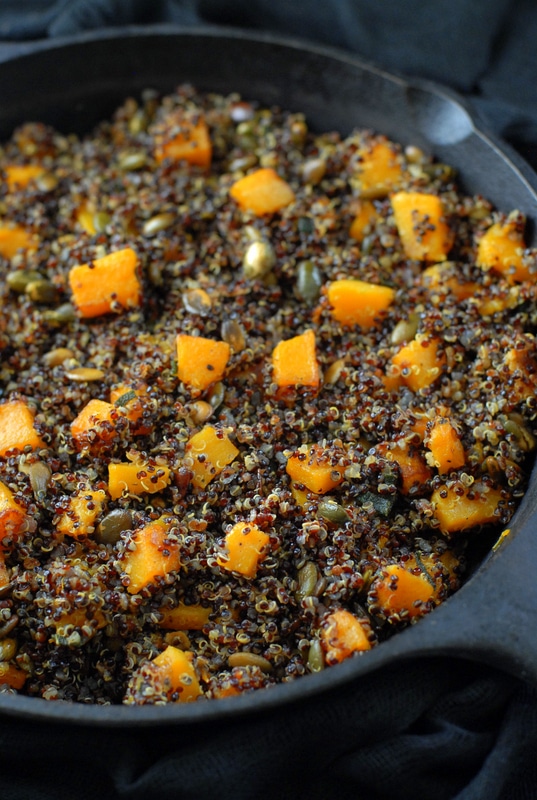 Quinoa is available in multiple colors and I tracked down a black version.  When cooked, quinoa sprouts a curly germ giving the appearance of a little white stripe.  I love Butternut Squash and being orange, was a perfect Halloween combination with the quinoa.  The squash is simply prepared in some brown butter with shallots and fresh sage.  Once all combined the dish is dotted with roasted, salted pepitas for the perfect cold weather touch.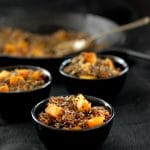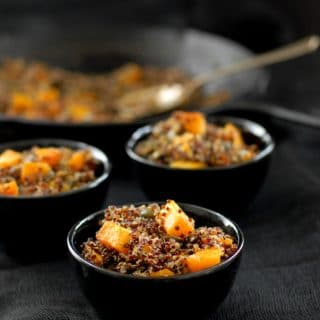 Black Quinoa with Brown-Butter Sage Butternut Squash and Pepitas
This dish is a perfect side or main dish, celebrating the flavors of the season. It's healthy and easy to prepare.
Servings
6
side servings or 4 main dish servings
Ingredients
3

cups

prepared Black Quinoa

3

cups

Butternut Squash

, peeled and cut into 1/2 inch pieces

4

tablespoons

unsalted Butter

1 1/2

tablespoons

diced Shallots

1

tablespoon

fresh Sage

, diced

1/2

teaspoon

Kosher Salt

1/2

teaspoon

Black Pepper

, ground

1/2

cup

Pepitas

, roasted and salted
Instructions
In a large skillet over medium-high heat, melt the butter stirring often. After melted allow butter to cook for 2-3 minutes while stirring.

Add the shallots and stir for 2 minutes. Add the sage and stir for an additional minute. The butter should foam slightly and begin to turn a deep golden color.

Add the butternut squash and stir to fully coat with the butter mixture. Sprinkle in the salt and pepper over the squash.

Move squash to ensure a single layer only. Let squash sit undisturbed for about 4 minutes to brown slightly (check to be sure they are not over browning).

Once the squash has browned on the bottom, stir them, turning the browned side up. Reduce heat to medium low, cover and allow to become soft (5-7 minutes). Check for doneness; the squash should still retain their form but not be hard in the middle.

Add the cooked quinoa to the squash mixture and using a spatula, fold in the quinoa. The quinoa will absorb any remaining butter mixture. Serve immediately.
Recipe Notes
To prepare Quinoa: Rinse 1 cup of quinoa until water is clear; drain. Combine the rinsed quinoa and 1 1/2 cups of water in a medium saucepan. Heat to boiling; reduce to a simmer, cover and cook for 20 minutes until the germ has spiraled out and the water is absorbed.