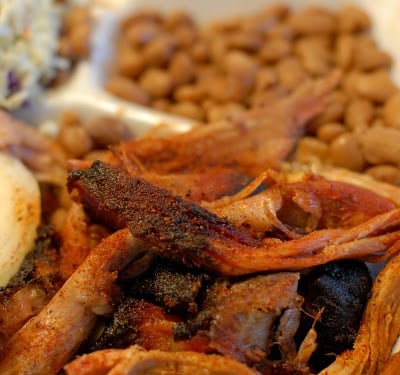 Carlsbad New Mexico is less than an hour from the Texas border and barbeque has made its way into the mainstream of this little town as a staple. After shaking off the alien invasion of Roswell we enjoyed a few hour drive to our day's resting spot of Carlsbad.
En route one place did catch my eye, The Red Chimney Pit Barbeque 'real bbq', housed in a building constructed from New Mexican wood that smacked of authenticity. On my third call with the hotel trying to find them I asked the attendant on the phone about the place, was it good? '(Long pause)….Well, we have two barbeque places in town. The other one is closed today so if you would like barbeque that would be your only choice'. Not a GLOWING recommendation but no mention of potential hospitalization or Gordon Ramsey's 'Kitchen Nightmares' so I was game.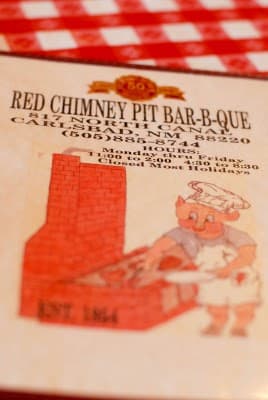 And speaking of game…..I was overcome by the vast opportunity of viewing taxidermied specimens of pretty much every North American mammal I could think to name were I on a Guns and Ammo game show, which decorate The Red Chimney. The inside of the restaurant was spacious with red and white oilcloth tablecloths, and said mammals hung on or climbing the walls. We were cheerily greeted by Margie whom I'd spoken with on the phone when inquiring if they could accommodate gluten free diners (she'd spryly informed me everything had sugar in it, but we straightened out glucose and gluten were not in the same family; loved that she tried and showed follow on interest to clarify more).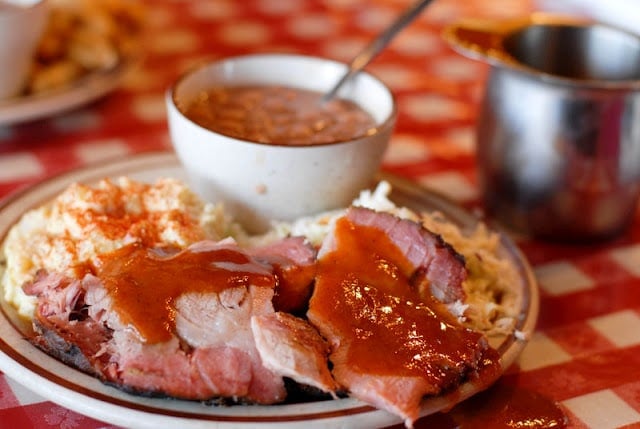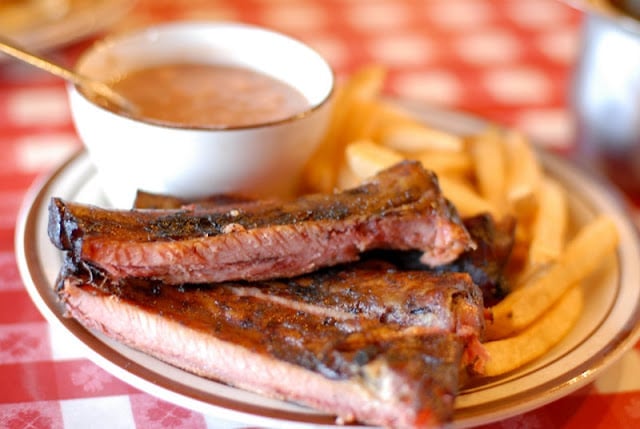 The restaurant was started by a family who had made their way up from Kentucky to Carlsbad with roots in authentic southern barbeque. They've maintained their commitment to their original recipe to this day. The menu was straight forward; you pick the meat of your choice, 2 sides and a dinner included Texas toast (if you are not familiar with that, it is a thick cut of white bread, following the 'everything is bigger in Texas' motto). Their signature barbeque sauce, which they also sell, comes in a pitcher on the side for you to decide your level of dousing.
Our table had turkey, pork and spare ribs. All were delicious with meat perfectly cooked. The place was quickly swarming with locals and I'd suspect not solely due to the other place being closed for the night!
The Red Chimney: 817 North Canal Street, Carlsbad NM 88220. 808.885.8744
After a great night's sleep at a new Hampton Inn in Carlsbad (they do have the best beds AND a fabulous hot breakfast which changes daily and is included in your room rate) we set out for Carlsbad Caverns National Park. I heard tell one could dine 750 feet below the earth which dovetailed perfectly into a food road trip. This fact was reiterated by a glowingly happy woman on several billboards along the route however I guessed it was dated from her offer we could also buy Kodak film and flashbulbs.
Carlsbad Caverns is about 20 minutes south of Carlsbad the town. It's a straight shot on good roads. Once at the turn off, the road winds up into some hills and the visitor center. There are a few self guided tours and also ranger lead tours you can schedule. Our group opted to do the self guided tours and a ranger lead tour in the afternoon.
There are elevators going in and out of the underground epicenter of the caverns. We decided to hike in. The warning for the on foot entry is that it is steep and 'rigorous'. We were not concerned about it personally though I will say for anyone with sensitive knees or unsure footing the elevator might be a better choice. It is quite steep in spots and dimly lit though paved with railings.
From the parking lot you can look as far as the eye can see into a flat expanse of land in every direction. There are no landmarks to speak of and this was originally a sea floor. The surroundings make it all the more stupefying how someone would have ever discovered these vast caverns.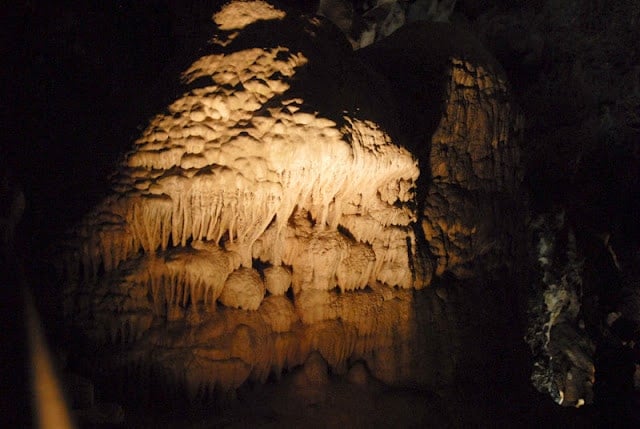 Once arriving at the base of the hour plus walk down it was like having landed at a space station. We were in the beginning of what is referred to as 'The Big Room', a single layer room in the cavern featuring a mile level walk and structures like you could not imagine. The level also houses restrooms, a dining area and souvenir kiosk. The 1960's vibe satellite gift shop 'pods' cast an eerie glow in the pitch black of the cave. It was incredibly quiet (and apparently unusually vacant per the snack bar attendant) with a tinny sounding radio in the background. I really felt I was on Mars….and I did buy a small flashlight to take the edge off the long dark stretches of walkway.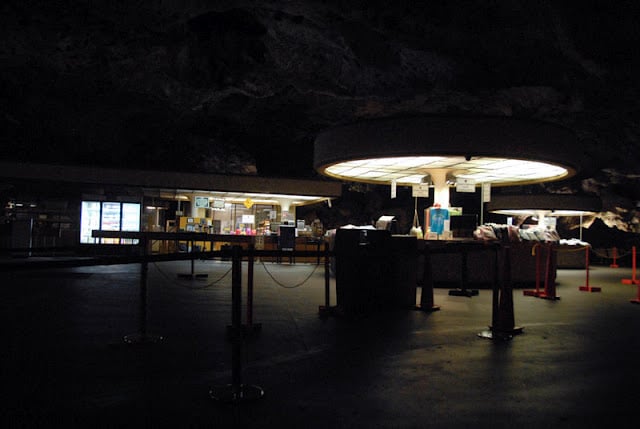 We were hot from the walk down which we'd done at a brisk pace, faster than the numbers on our audio tour could keep up. We'd followed the suggestion to bring winter coats due to the cave's natural temperature and moisture and could not shed them fast enough. Something to drink sounded perfect. What is now really a snack bar was formerly a full service restaurant with burgers and other hot prepared foods. After some time of operation it was realized cooking such foods was damaging the cave habitat as well as drawing animals into the cave that did not belong. Now freshly prepared boxes salads and sandwiches are available we well as hot and cold drinks.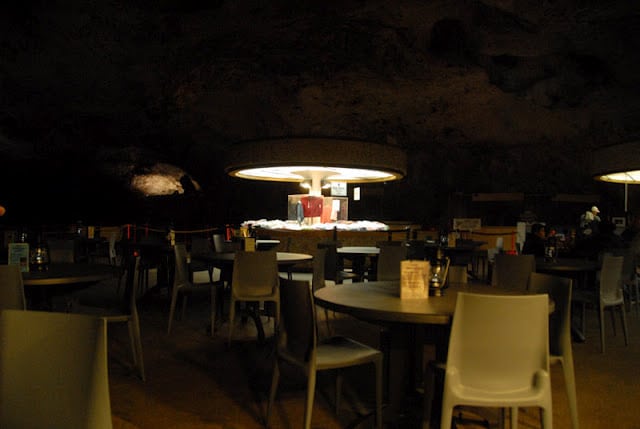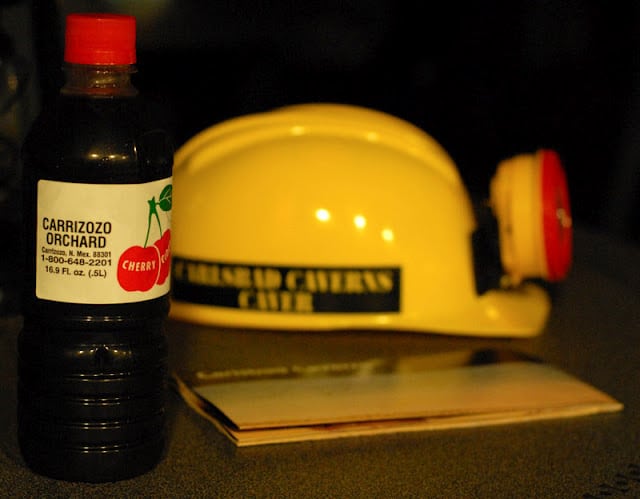 I was of course delighted to find amongst the large brand sodas, locally sourced Cherry Cider from Carrizozo, a town we'd pass on our trek back north famous for cherries in the summer. I did buy and try though admittedly there were three ingredients before the cherry listing (sugar, water, citric acid) leaving me feeling I'd had a Slushie with none of the slush. Love that they are supporting the local though. In the Visitor's Center back at the entry point, there is a full service restaurant with some interesting dishes featuring local flavors but noting hot for gluten free dining. We opted for our picnic we'd brought along once back at ground level.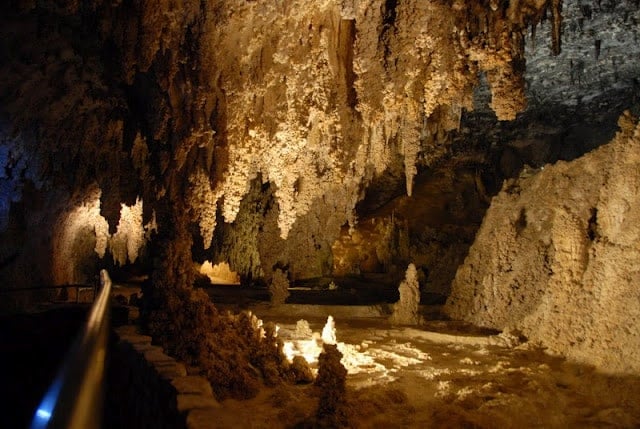 After four hours of caving we were done. We passed on the afternoon scheduled tour for fresh air and more local exploration. When returning to the hotel I asked the desk attendant about recommended local dining. 'Danny's Place', the other barbeque place, was first on the list. My friend Colleen (mentioned prior, who has been my go to trip co-pilot from afar, having been a New Mexican resident) had also eaten at Danny's and loved it.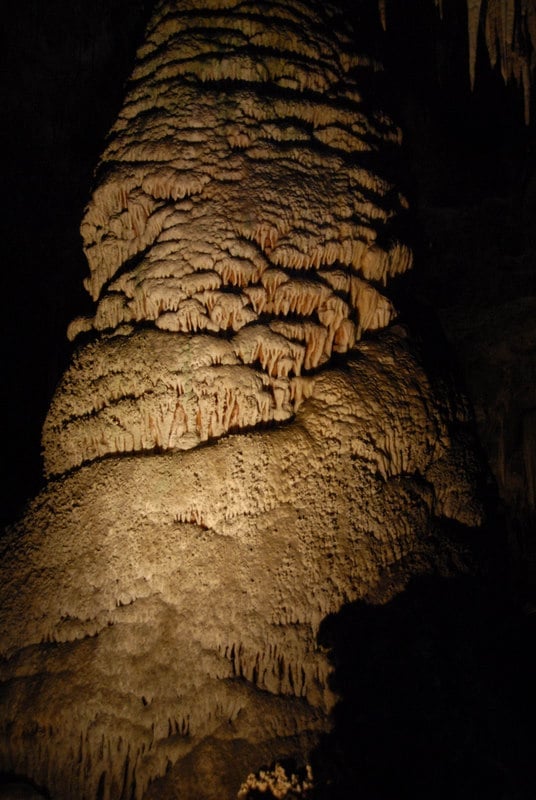 We wedged in a quick tour of the
Living Desert Zoo and Garden State Park
which is on the top of the ridge overlooking Carlsbad featuring well marked natural plants and animal species of the region and then headed to Danny's Place for takeout. The restaurant is full of award plaques (in years alternating the plaques seen at The Red Chimney), confident staff and great food. I ordered their recommended selections (they had some sandwiches too but not for the gluten-free) of brisket and pulled pork. Their meals also came with two sides. I'd done my research and asked the server if these would be served with
Danny's Secret BBQ
Sauce
(which is on his website so not so secret) and she said yes though they were using a newer sauce too they do not make themselves. She gave me some of each.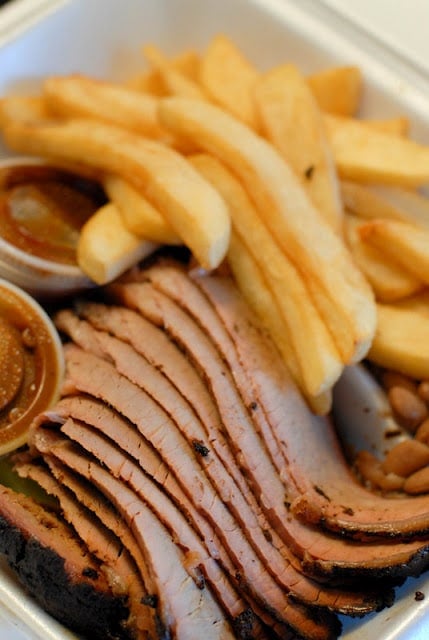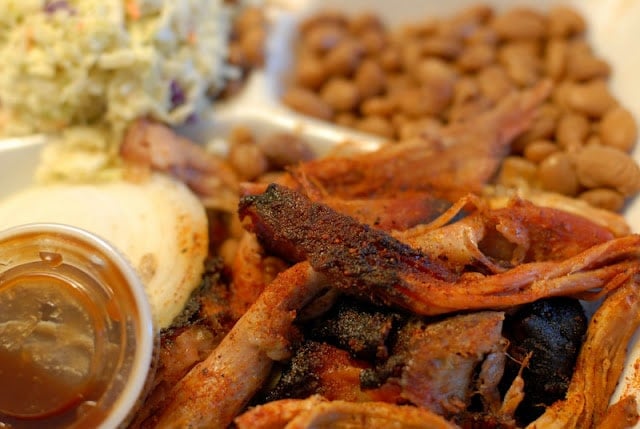 As with The Red Chimney the meat was cooked perfectly. Great seasoning on its own but loved Danny's Secret Sauce. Barbeque sauce is one of personal taste but I love the tang in it. Of the three sauces (The Red Chimney and the two at Danny's), Danny's Secret Sauce was definitely my favorite. If you are to visit Carlsbad, you won't go wrong at either place. If going to Danny's request his personally made Secret Sauce. If going to The Red Chimney, request Margie for your server. She's a peach.
Danny's Place BBQ: 902 South Canal Street, Carlsbad NM 88220. 575.885.8739. www.dannysbbq.com
Click here for Danny's Secret BBQ Sauce Recipe!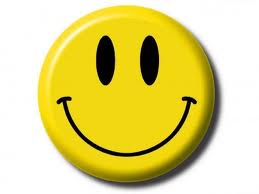 Ever wonder where all the happy face tchotchkes from the 1970's went? They joined every M&M figurine and beanie baby ever made and can be found at Happy's, an authentic local diner in Carlsbad. I discovered it on a group milkshake hunt heading out of town toward the caverns past any mainstream fast food joints. There is an outside seating area featuring weathered button tufted Naugahyde benches and peeling Formica tables. The inside bears a similar motif. The place was populated by locals only, kind enough to prompt us as to the diner's process to order. The milkshakes were huge, served in Styrofoam cups with loads of whipped cream and a maraschino cherry. They were generous but hard to take for those of us used to organic, pure ingredient ice cream. They have a great vintage pie case which has been repurposed to house some of the happy face memorabilia. Very friendly folk.
Happy's: 4103 National Parks Highway, Carlsbad NM 88220. 575.887.8489