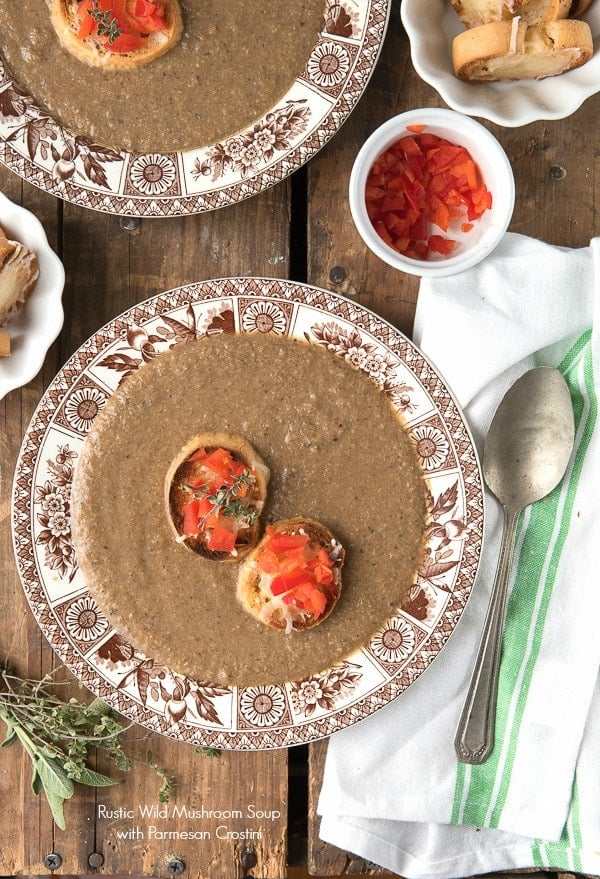 I recently shared a peek into a long weekend I enjoyed earlier in October with some food blogging colleagues in Breckenridge, Colorado. Before I went some non-blogger friends were intrigued, wondering how we'd spend our time, what it would be like to weekend with people I'd never met live and how forthcoming we would actually be, thinking if one gives away their top tips isn't that the wrong thing to do?
It was a bit of a life changing weekend for me on many levels. Connecting with online friends in the flesh creates a completely different dimension to a relationship. Four of us live in Colorado but candidly it would take a trip like this to get together. The hour in between us might as well be a several hour flight for the difficulty in meeting up. We are all busy moms and bloggers making it difficult to see each other. Add in the rest of the 'girls' who flew in from all around the country and it was time to really buckle down and saturate ourselves with the time available.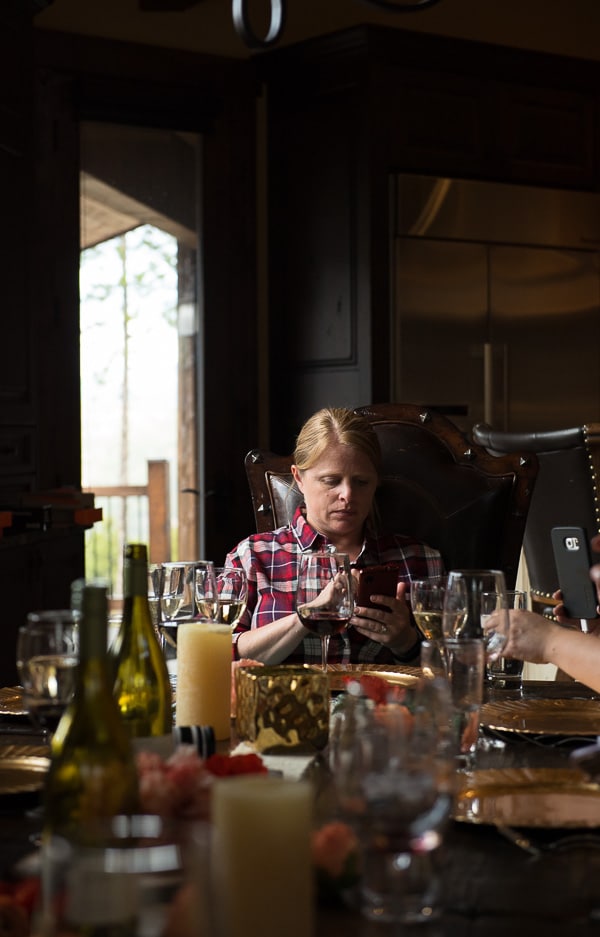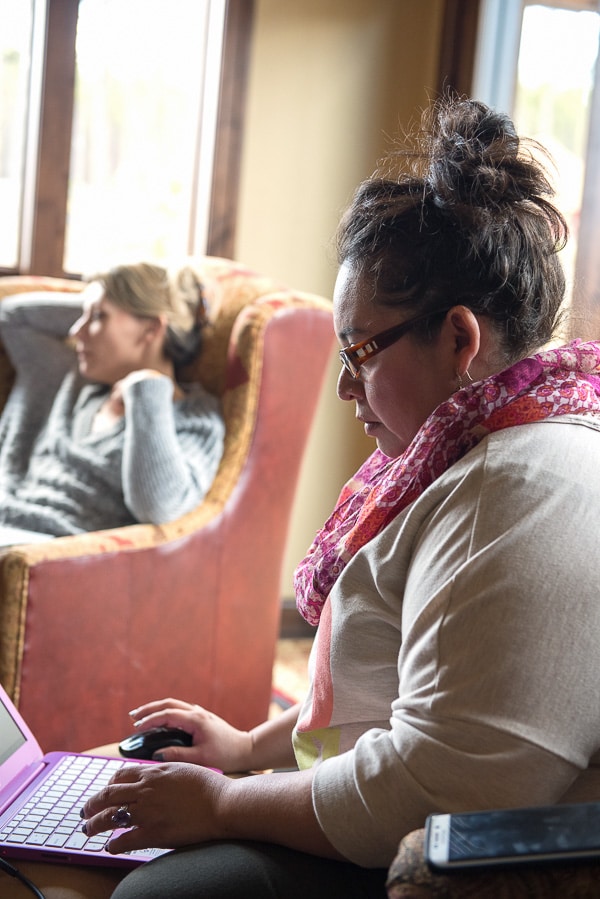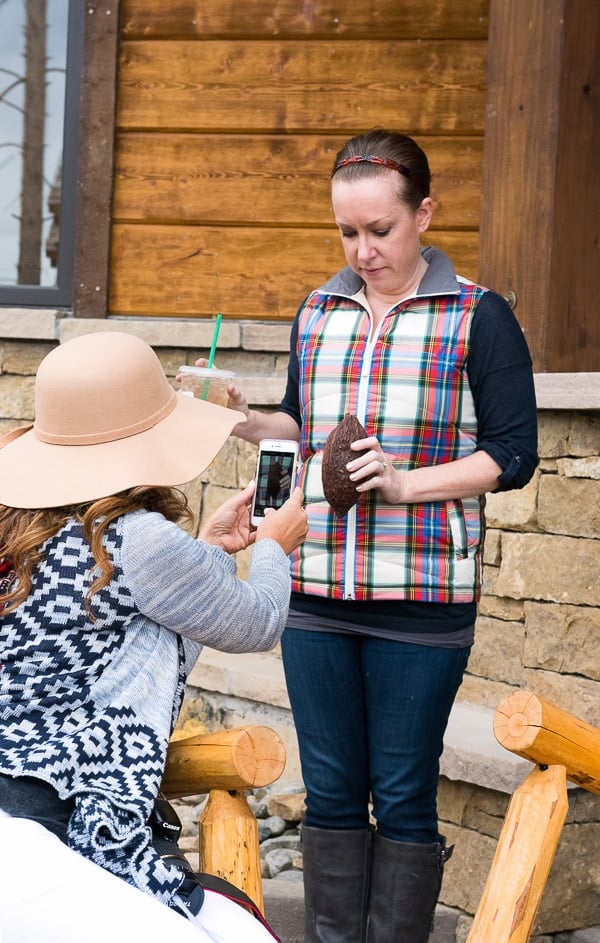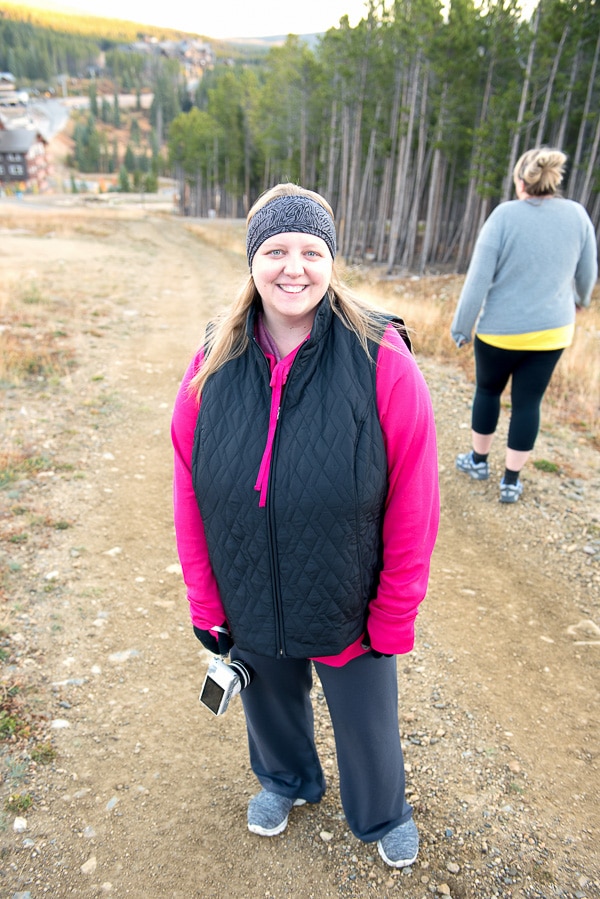 We had loads of fun in between working hard to leverage each other's successes and find ways to support each other going forward. Between the educational sessions, exploring downtown Breckenridge and taking long overdue personal photos for many of us (we are all behind the camera most of the time) there were few spare moments to be had.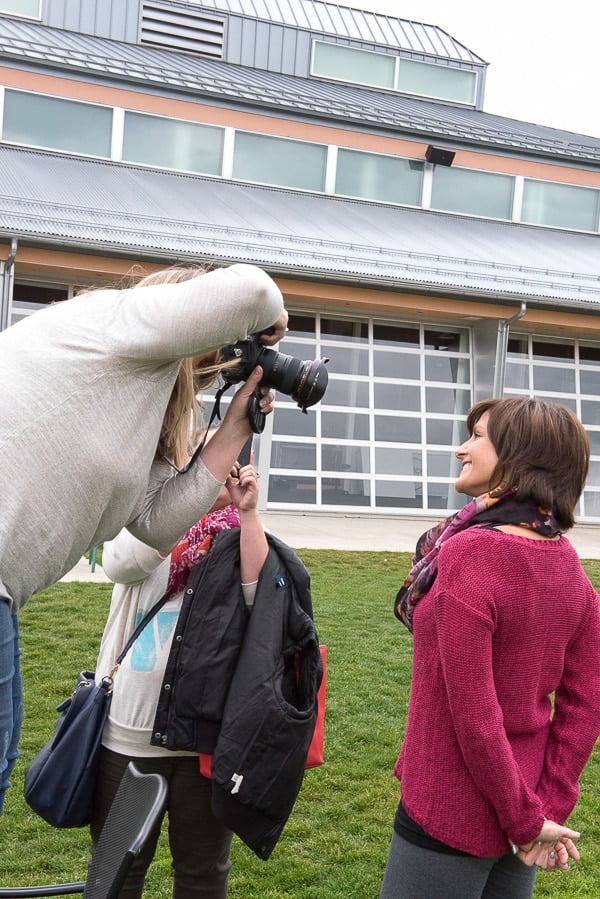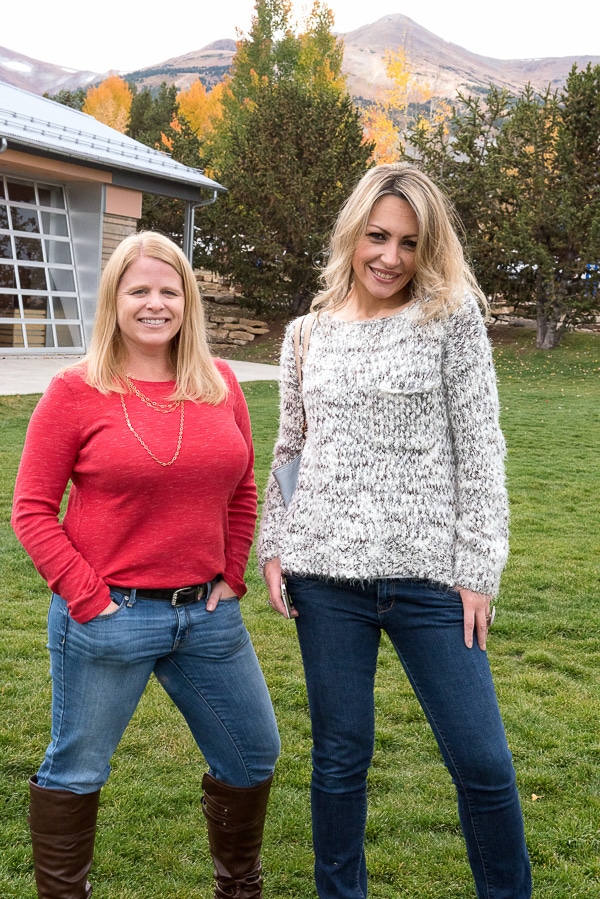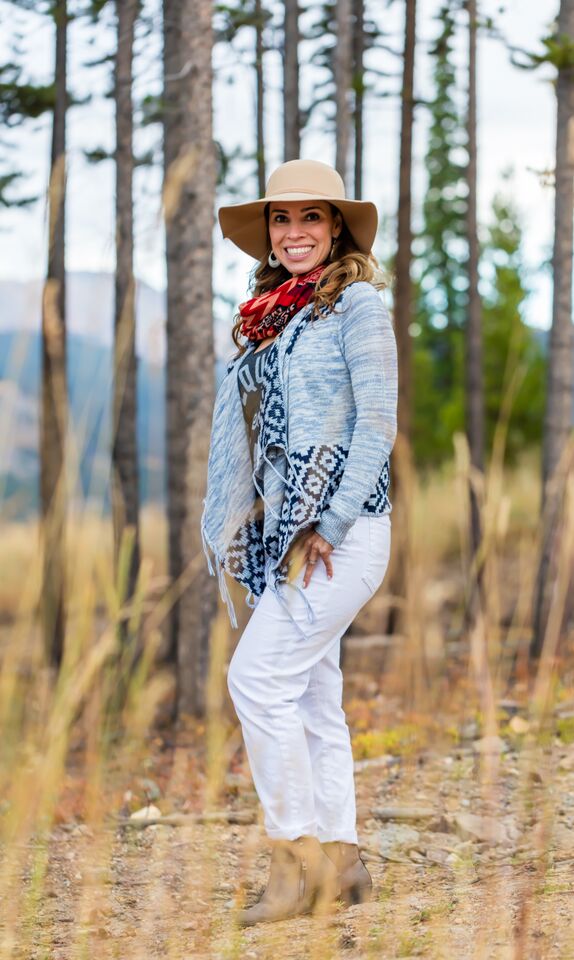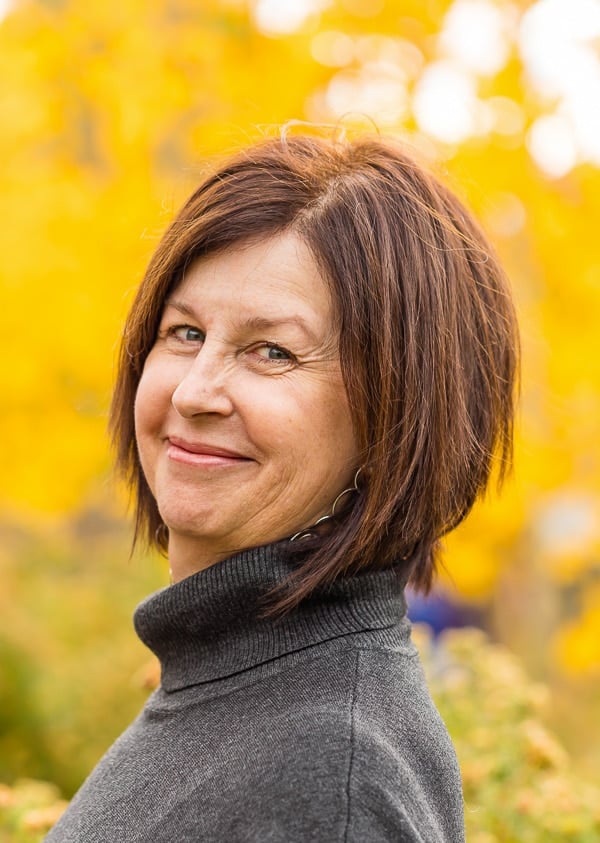 We prepared all of our meals for the weekend with the exception of one. Chef Ian Truxton Buchanan came to our house to prepare a Colorado-inspired meal with local ingredients. He both teaches at Colorado Mountain College and does private classes for groups featuring a variety of cuisine types. His easy nature and bright personality folded him easily into the madness of our household over the hours he was with us. As you can imagine a gabby group of girls who all blog about food left us with our cameras in his dishes, peppering him with constant questions and snapping cell phone pics of his every move as though we were creating a documentary (rightly so it seems as one of the pics I posted on my Instagram feed garnered a 'hot chef' with an ok emoji).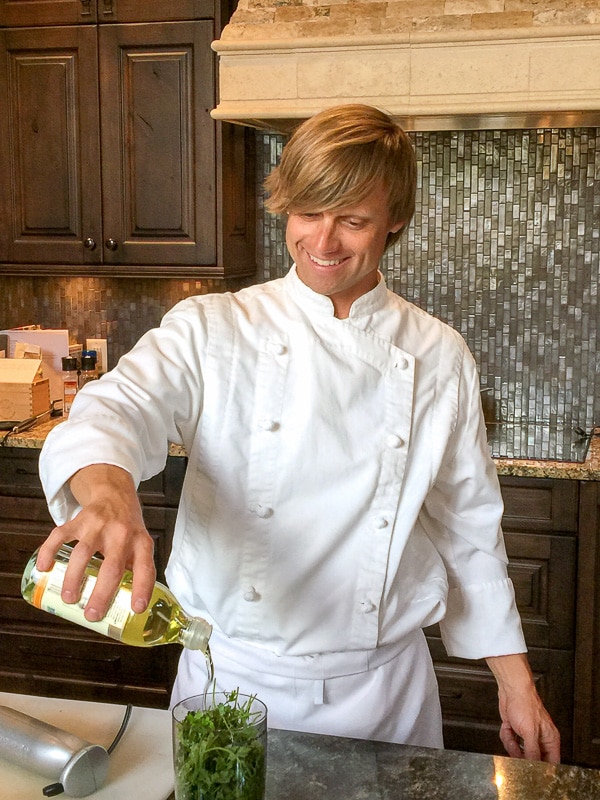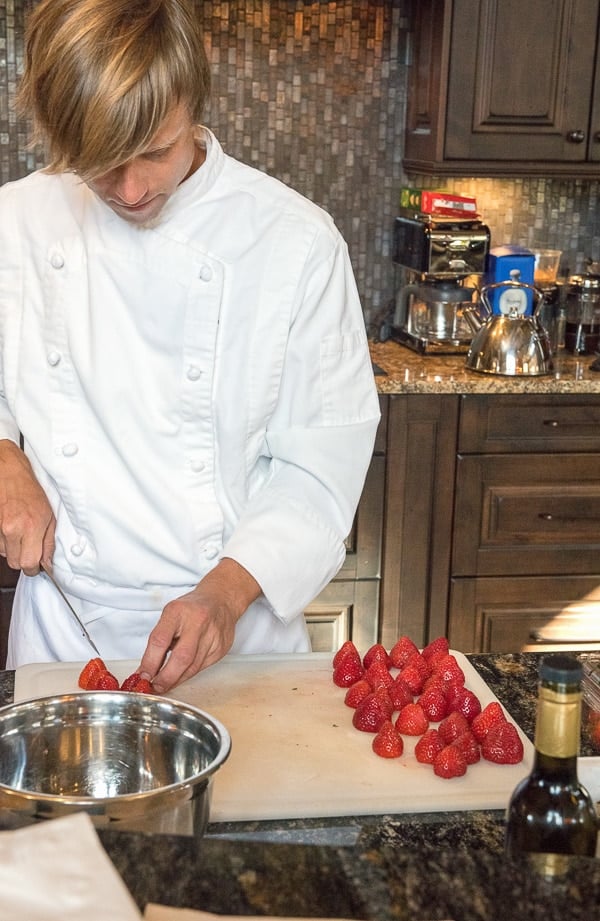 Our dinner menu included Wild Mushroom Bisque with Parsley Oil, Black Truffle Oil and Parmesan Crostini, Fresh Green Salad with Shaved Fennel, Strawberries, Goat Cheese, Toasted Macadamia and Fresh Herb Vinaigrette, Assorted Breads, Sage Rubbed Pork Chop with Caramelized Shallot, Blueberry and Port Marmalade, Oven Roasted Potato Medley, Sautéed Garlic Green Beans and Seasonal Fruit Cobbler.

As you might imagine, the food was fantastic; thoughtful, layered with flavor and showcasing the chef's sensibilities. He even kindly ensured mine was gluten-free. We ate well on our trip but I will admit Chef Ian's mushroom soup stayed on my mind long after I returned from the weekend. So much so that I made my own version to enjoy at home and am sharing with you today!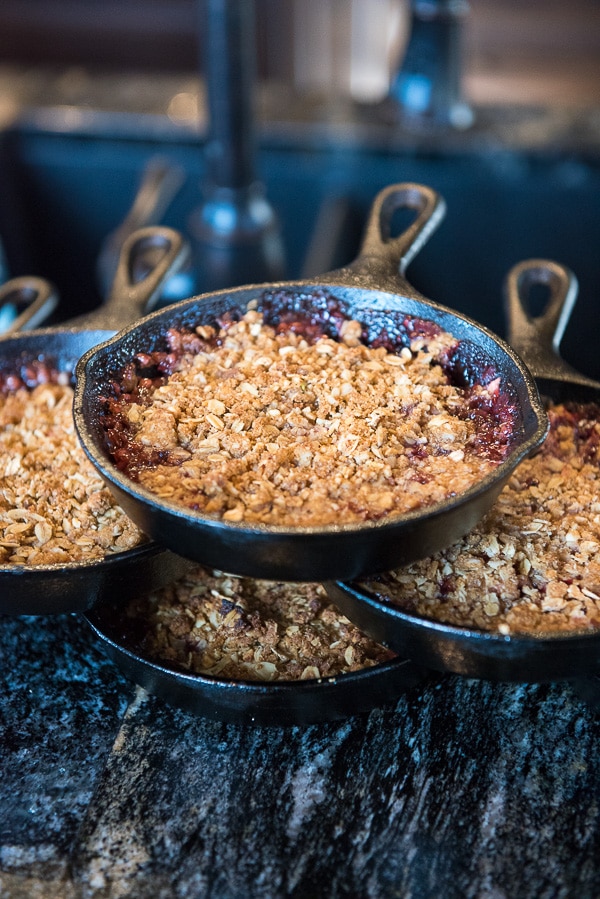 Growing up I really did not care for mushroom soup. It was prepared from a can and had little flavor. It wasn't until I was an adult that I began to appreciate the flavors from combining mushrooms. A recipe I shared early on Boulder Locavore for Simple Mushroom Sauté and Rustic Pasta still remains a favorite. Farmer's Markets often carry varieties of mushrooms (as well as stores like Whole Foods) that are perfect to blend together in a sauté, or soup, to achieve a deep flavor that I find irresistible.
While cooking the soup base I was struck by the earthy smells and appearance as though I'd gathered ingredients from the woods fresh for the soup. I loved watching the ingredients transform into the final rustic textured soup. The parmesan crostini are a must to be paired with the soup as well; they are irresistible! This is definitely a soup for the season, would be great for Thanksgiving and really tastes like what a mushroom soup should taste like. If you've never made mushroom soup from scratch, you owe it to yourself and you'll never look back. I promise!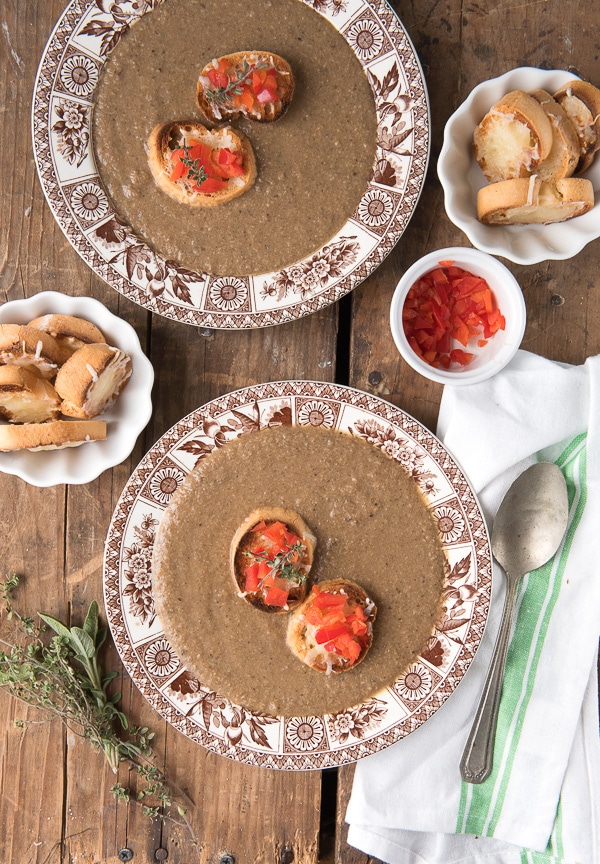 Recipe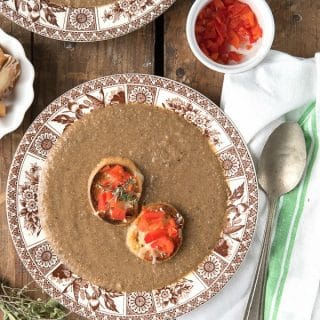 Rustic Wild Mushroom Soup with Parmesan Crostini
This rustic mushroom soup is made with three types of mushrooms offering a depth of earthy flavors that can't be beat. It is a non-dairy soup with a thick soul-satisfying texture. Paired with broiled parmesan crostini, the combination is irresistible and can be made with gluten or gluten-free bread. This is a soup that makes you long for cold weather!
Print
Save Recipe
Recipe Saved!
Pin
Rate
Ingredients
1

ounce

dried Porcini Mushrooms

3

tablespoons

Unsalted Butter

2

tablespoons

Extra Virgin Olive Oil

2

large stalks Celery

, trimmed and sliced

1

medium Yellow Onion

, peeled and rough chopped

3

large Garlic Cloves

, peeled and diced

10

ounces

fresh Cremini Mushrooms

(baby bellas), cleaned and sliced

6

ounces

fresh Shitake Mushrooms

, sliced

1

tablespoon

fresh Thyme

(leaves only)

2

teaspoons

fresh Sage

, sliced

1

tablespoons

Flour

(gluten-free or regular depending on your dietary needs)

¼

cup

Madeira wine

2

cups

Low Sodium Chicken Stock

Liquid from soaking the Porcini mushrooms

(see instructions below) (1 ¾ cups)

Kosher Salt and Black Pepper

(freshly ground)
Ingredients for Parmesan Crostini:
3-4

French Dinner rolls or a small baguette

(I used Udi's Gluten-Free French Dinner rolls), sliced into ¾ inch thick slices

2

tablespoons

Unsalted Butter

, melted

½

cup

grated Parmesan Cheese

Suggested garnish: finely chopped red pepper and thyme sprigs
Instructions
Place the dried porcini mushrooms in a medium mixing bowl and add 2 cups lukewarm water. Allow to sit for 20 minutes to reconstitute. Remove mushrooms and rough chop, reserving the soaking liquid. Pour the soaking liquid through a strainer to remove any sediment; set aside.

Fifteen minutes into soaking the porcini mushrooms, melt (over medium-high heat) the butter and olive oil in a large saucepan or stock pot. Add the onions, celery and garlic; sauté stirring periodically until softened about 5 minutes.

Add the mushrooms, thyme and sage. Sauté over medium heat for 5 minutes. Lower the heat to low and allow mushrooms to sweat for 5 additional minutes.

Dust the mixture with the flour, stir to fully coat and allow to cook on low 2 additional minutes.

Add the Madeira, chicken stock and strained porcini soaking liquid into the pot. Bring to a simmer and simmer on low for 30 minutes, stirring periodically.

Using an immersion blender, blend the soup (it will not be a smooth puree but rather a rustic texture). Alternatively a traditional blender may be used however pulse the blender so the soup has texture rather than a smooth puree. Salt and pepper to taste.
Instructions for the Parmesan Crostini:
While the soup cooks, preheat the broiler and place an oven rack in the top position (or close to the broiler).

Place the bread slices on a baking sheet and lightly brush both sides of the bread with the melted butter. Place underneath the broiler and toast until just turning golden (30 seconds to a minute; watch closely as bread can get overdone quickly).

Remove the baking sheet and using tongs flip the bread slices to the opposite side. Sprinkle with the parmesan cheese and return to the oven. Broil just until the cheese has melted and the exposed bread is a light golden color (30 seconds-1 minute; watch closely to avoid burning). Remove from the oven and allow to cool.
Nutrition
Calories:
288
kcal
|
Carbohydrates:
21
g
|
Protein:
9
g
|
Fat:
18
g
|
Saturated Fat:
8
g
|
Cholesterol:
32
mg
|
Sodium:
282
mg
|
Potassium:
558
mg
|
Fiber:
2
g
|
Sugar:
3
g
|
Vitamin A:
480
IU
|
Vitamin C:
4.9
mg
|
Calcium:
161
mg
|
Iron:
1.7
mg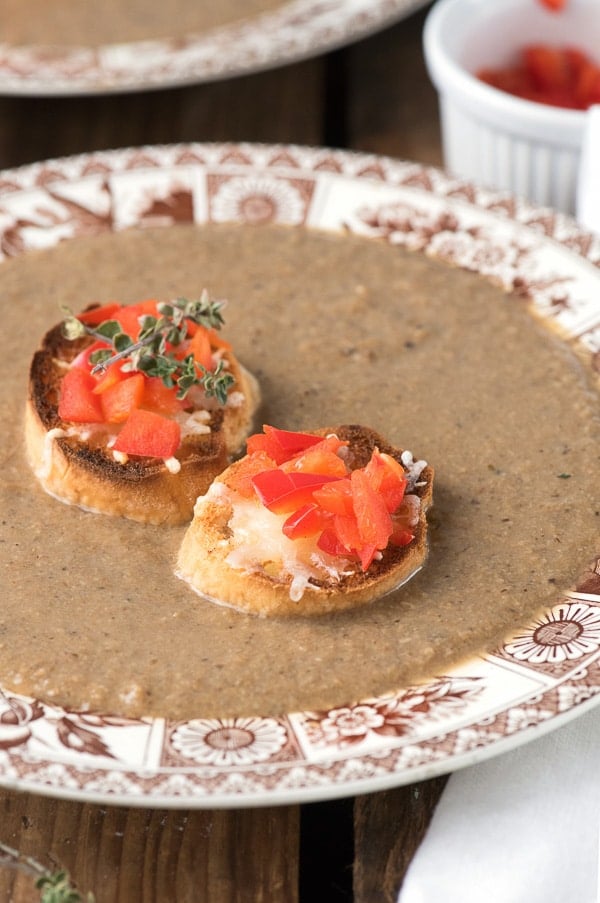 For more sights and sound bites from our weekend in Breckenridge check out our hashtag #breckblogretreat on Instagram and Facebook. Also our group Pinterest board 'Recipes You've Gotta Make' includes great recipes from all the retreat bloggers. Please follow and let us know if you cook some of them up!