These 15 gluten-free post workout snacks are great for exercise recovery and inexpensive to make yourself. Why buy expensive energy bars or snacks when you can make these healthy snack recipes at home using wholesome ingredients?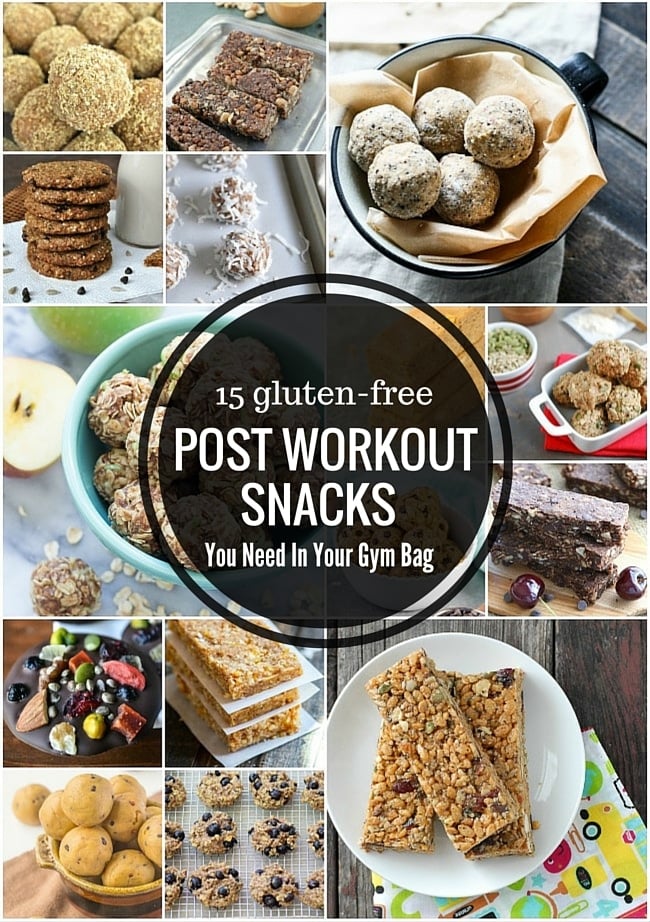 Happy New Year! It's that time of year when we attack our dreams and goals with a fervor, usually around our physical state of being. We all want to shed lazy pounds from holiday over-eating, or make this the year we really drop those lingering 10 pounds we can't seem to part with. Maybe you want to develop better eating habits? To 'eat healthier' or at least get off the almost daily sugar intake offered by holiday celebrations.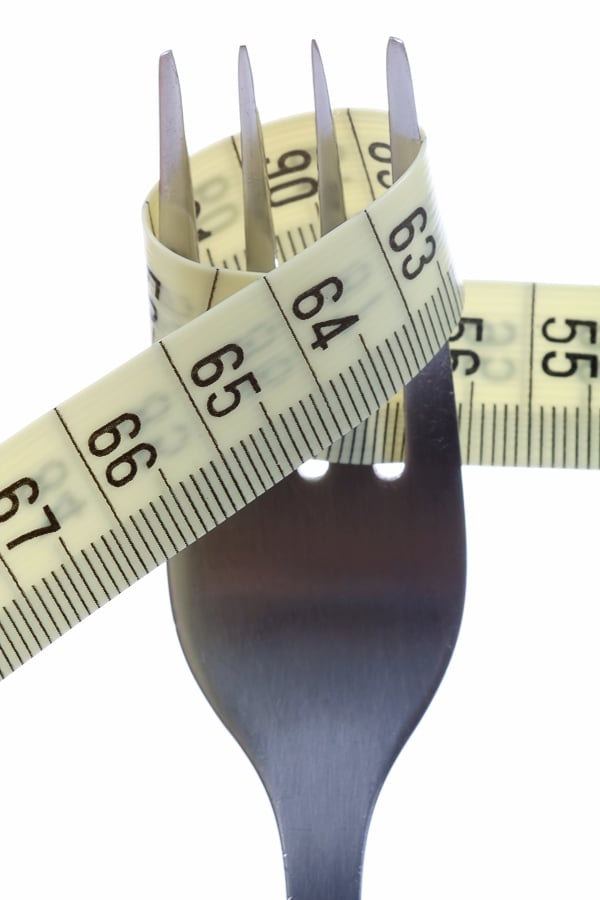 Working out is certainly top on many lists. If you've ever joined a health club in January, and stuck with it, you'll notice the crowded cardio machines and the need to work out in off hours usually wanes by late February, which is when many people lose their drive and quit going.
I had not belonged to a fitness club for some time, enjoying out of doors endeavors to keep in shape. Hiking and walking are great options where I live with many open space trails. Unfortunately, I developed a hip injury last year and all the things I normally would do became things I needed to avoid.
I found I really couldn't motivate myself to do workout videos so decided to join a small club by my house. It was just what I needed. Five minutes from my house, I could hop out of working for a short break to cycle or do the elliptical trainer. Going somewhere helped motivate me too.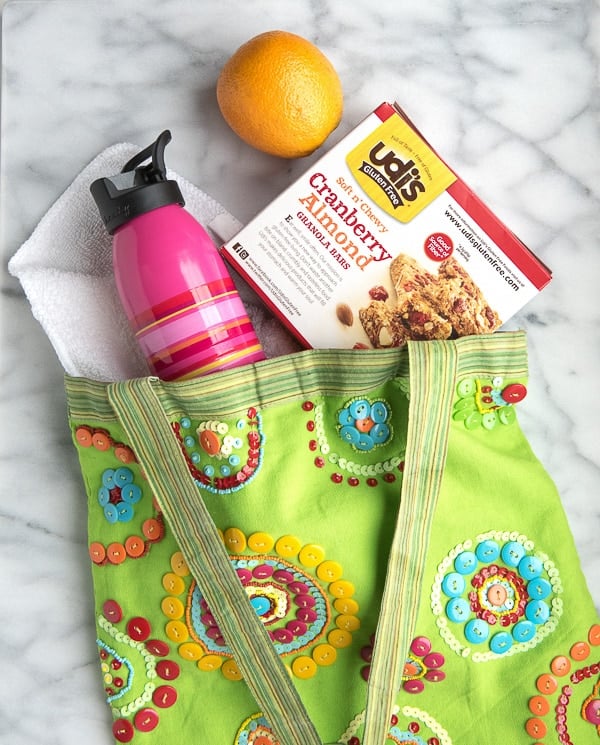 After a month of dedicated attendance, I went out of town for a business trip and though I was active while gone, I couldn't get myself to get to the club when I was back home. I'd lost my mojo. I realized for me the mental hurdle was as great as having to lift 1000 pounds. Images of new bathing suits or a smaller dress size didn't do anything to get me to the club. All the traditional motivation wasn't working. As silly as it sounds, I got over the inertia by mentally reframing what I was doing.
Instead I told myself I was going to watch TV. Each elliptical trainer has a personal TV screen and I love home improvement programs. I would go 'to watch TV' and there was no way I could bear to leave before seeing the final reveal. I would happily stay on the trainer well over 30 minutes and continue a slow cool down walk on a treadmill until I saw the delighted homeowners now in the home of their dreams. I'm not saying this will work for everyone but sometimes changing how you see things will get you over the hump.
Another trick is to take each day at a time. Tell yourself you are going to work out today; that's all, just commit to do it today. And then repeat that the next day. Eventually you'll find yourself in a pattern and looking forward to it. Overly aggressive workout goals inevitably lead to disappointment and quitting. Start small.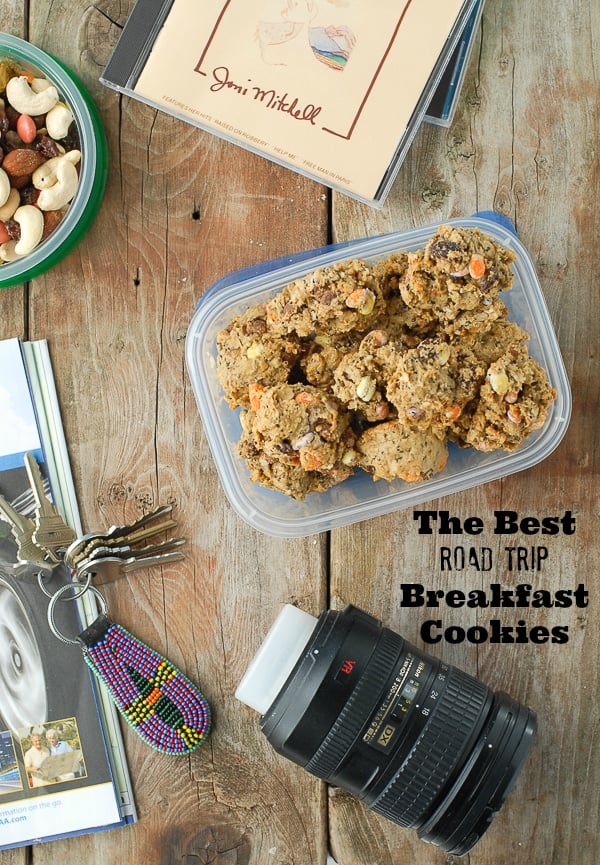 A key thing to remember is after working out you need a good post workout snack for recovery. A good source of protein and some carbs will make a difference not only in your energy levels but how your body recovers from the exercise.
I often carry Udi's Gluten Free Granola Bars in my gym bag or my car so when I'm done I can eat one with a good helping of water. There are some fantastic homemade energy bars and 'bites' that also make excellent post workout snacks for exercise recovery, or a better snack choice any time of day (great snacks for kids too).
Great Water Drinking Tip: If you have a difficult time drinking water, buy yourself a nice double wall insulated water bottle to remind you to drink water regularly.
Why are these Homemade Post Workout Snacks "Better"?
By 'better' I mean they have a combination of ingredients that give your body some good fuel rather than just getting something into your stomach that might toy with your energy levels unproductively; leading you toward over-eating or a crash, tempting a big sugar intake. These pack easily into a small food container to be on the go. My kids love them too!
I'm sharing a collection of favorite post workout snack recipes I'm sure you'll love! They are all gluten-free post workout snacks too! NOTE: For any recipe calling out 'oats', remember to use gluten-free oats!
Gluten-Free Post Workout Snacks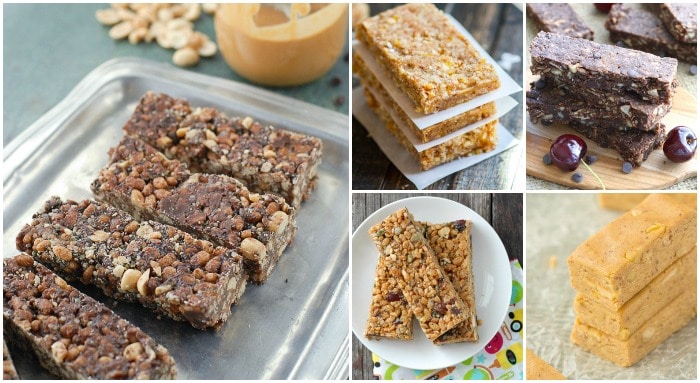 Chocolate Peanut Butter Snack Bars (Boulder Locavore); Paleo Mango Coconut Almond Protein Bars (Cotter Crunch); Low Carb Chocolate Cherry Granola Bars (All Day I Dream About Food); No Bake Banana Bread Protein Bars (The Big Mans World); Supersonic Peanut Butter Energy Bars (Boulder Locavore)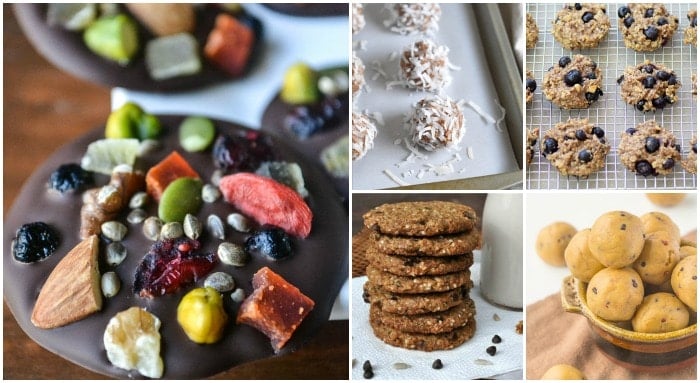 Dark Chocolate Detox Bites (The View From Great Island); Clean Eating Banana Blueberry Cookies (Tasting Page); Healthy No Bake Berry Bliss Bites (The Big Mans World); Protein Packed Monster Breakfast Cookies (Allergy Free Alaska)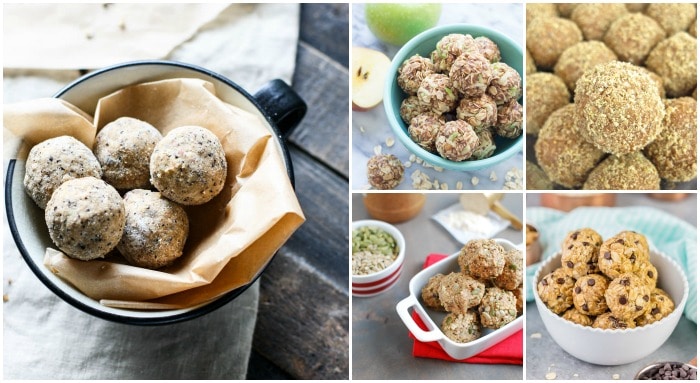 No Bake Maple Vanilla Nut Latte Protein Bites (Cotter Crunch); Apple Cinnamon Cookie Energy Bites (Kristine's Kitchen Blog); Protein Packed Energy Bites (Tasting Page) ; Peanut Butter Banana No Bake Energy Bites (The Cookie Rookie); Almond Butter Protein Balls (The Lean Green Bean)
Which of these gluten-free post workout snacks do you think you'll make first?