Nothing tastes more like summer than this Zucchini Ribbon Mediterranean Salad!  Fresh ribbons of zucchini, vine-ripened grape tomatoes, yellow peppers, feta cheese, fresh basil and a delicious sun-dried tomato vinaigrette.  You'll want it every day!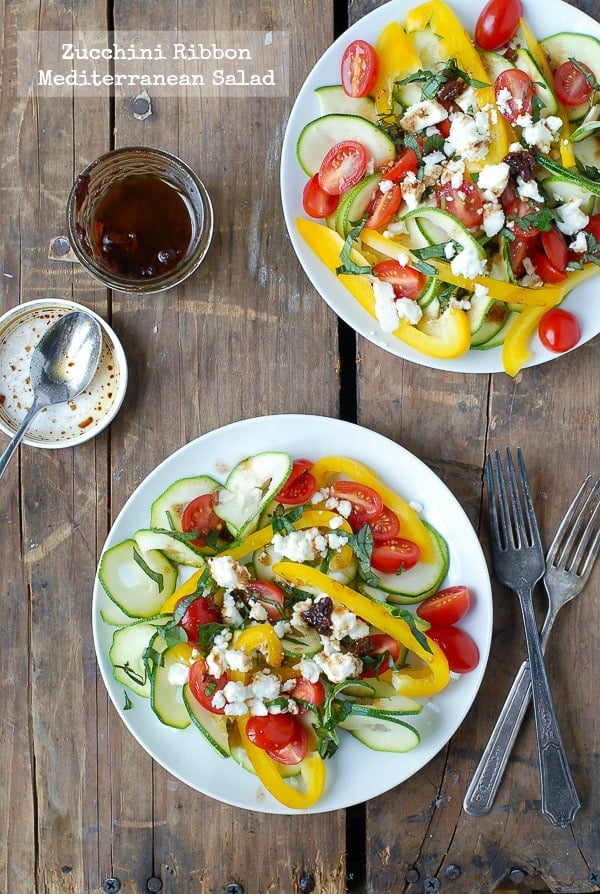 We are in the heart of the summer's bounty.  Beautiful tomatoes adorn Farmer's Markets with their truest flavor, reminding there really is nothing like those farm grown or home grown.  Varieties of peppers are ripening thanks to the heat, offering sweet and hot in all colors and shapes.  Summer squash also graces every grocery store and we are teetering on the time of the season where zucchini left unmonitored in the garden quickly become primitive looking vegetable clubs or 'gifts' to unsuspecting neighbors so they might make two dozen loaves of zucchini bread from one squash.  I have a solution: Zucchini Ribbon Mediterranean Salad!
May I confess?  I like zucchini, but truly only love it raw.  I suspect I'm traumatized by my youth when my mother would begin to boil the slices of zucchini before the meat was put in the oven to cook, rendering slimy, gag reflex inducing, flaccid squash.  It really was terrifying each time we spotted a poor, innocent zucchini primly waiting next to a boiling pot.  My brother and I pretended they post-boiled slices were monocles (because you could see through them) when my mother was out of the room which was the only upside to that vegetable dish.  It was the method of the time.  Thank goodness that's over.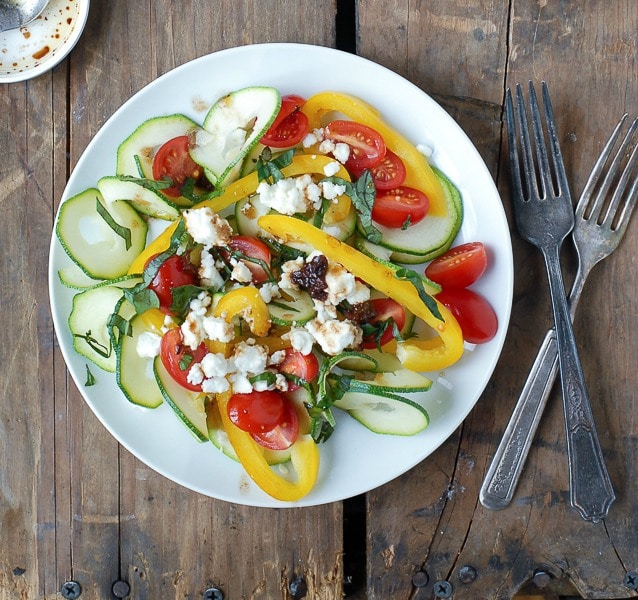 I shared a fun, refreshing salad recently (Cucumber Melon Spa Salad) which represented the fruits of my maiden voyage with my new Spiralizer.  For those unfamiliar, a spiralizer turns firm fruits and vegetables into thin or fat 'noodles' or lovely ribbons providing an alternative 'pasta' with light steaming, or a fun bed to layer other produce on raw.  I felt this might be the perfect tool to transform zucchini into something more interesting slices or sticks which is what I tend to do with it.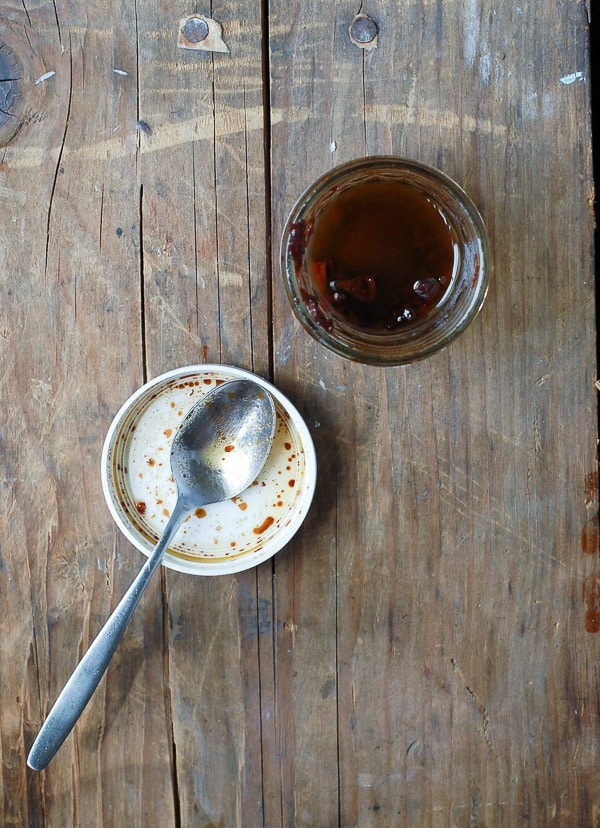 This beautiful salad uses some of my favorite things of the summer season: yellow sweet Bell Peppers, sweet diminutive Grape Tomatoes, torn fresh Basil leaves and of course abundant ribbons of fresh zucchini (which took mere seconds to create).  A sprinkling of feta cheese crumbles and drizzle of homemade Sun Dried Tomato Balsamic Vinaigrette makes round out the salad with color, texture and most importantly fresh summer flavors.  One eats first with their eyes, I have no doubt, and everything about this salad is an irresistible temptation!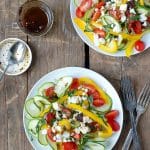 Zucchini Ribbon Mediterranean Salad with Sun Dried Balsamic Vinaigrette
This salad is truly a celebration of summer bursting with flavor and color. Simple to make it provides a delicious variety of sweet and salty flavors on a bed of delicious fresh zucchini ribbons!
Ingredients
1

medium Zucchini

, cut into ribbons (preferably with a Spiralizer)

1/2

Yellow or Orange Sweet Bell Pepper

, seeded and cut into thin strips lengthwise

3/4

cup

Grape Tomatoes

, cut in half lengthwise

8

large fresh Basil leaves

, torn into pieces

2

ounces

Feta Cheese crumbles
ingredients for the Sun Dried Balsamic Vinaigrette:
1 1/2

tablespoons

Extra Virgin Olive Oil

1

tablespoon

aged Balsamic Vinegar

1

teaspoon

chopped Sun Dried Tomato

Pinch of Kosher Salt
Instructions
Instructions for making Sun Dried Tomato Balsamic Vinaigrette:
Combine all ingredients into a small jar, seal and shake vigorously to combine. Adjust flavors by adding more vinegar or olive oil if desired.
Instructions for making the salad:
One two side serving plates, layer the zucchini ribbons (divided evenly between the two plates) to form a bed for the other ingredients.

Evenly layer the sweet pepper slices, grape tomatoes, basil leaves and feta cheese on the zucchini ribbons.

Drizzle desired amount of vinaigrette and add a few grinds of fresh black pepper. Serve!