Things to do in Vancouver never end! This travel guide shares great places to eat, a fantastic hotel and things to do!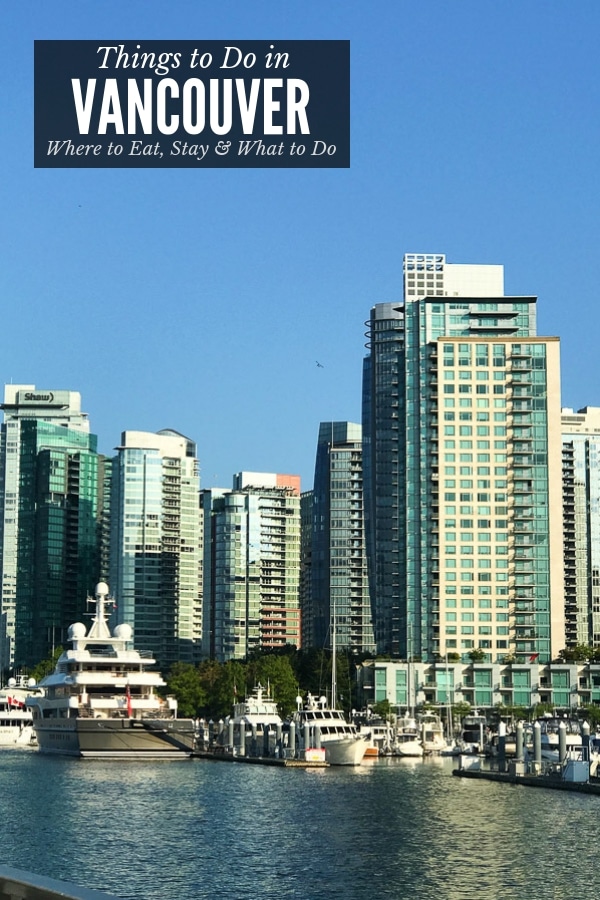 As one of Canada's busiest and most vibrant cities, Vancouver is well worth a visit.
Boasting stunning natural views, an impressive skyline, one of the best food scenes in the country; there is no shortage of things to do in Vancouver.
It can be impossible to experience everything the city has to offer on a single vacation.
Jump to:
Instead, you'll need to put some thought into your trip and determine what attractions and experiences you don't want to skip.
With a bit of research, you'll find a seemingly endless array of activities, attractions and experiences you could add to your 'things to do in Vancouver' itinerary.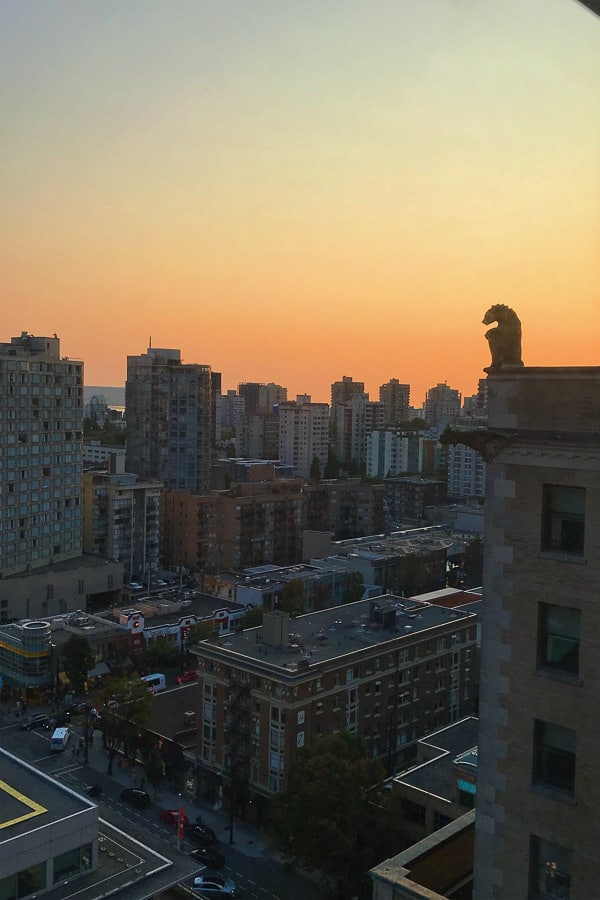 Where to Stay in Vancouver
There are many great options for where to stay in Vancouver. We stayed at the Fairmont Hotel Vancouver right in the downtown area. It was a perfect location with easy access to great restaurants, activities downtown and transit to activities farther afield.
Originally built in 1928 and fondly referred to as the Castle in the Sky, the Fairmont Hotel Vancouver has undergone extensive renovation and provides every imaginable amenity.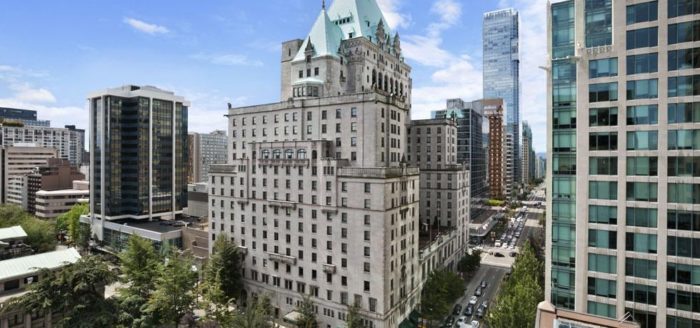 It's a luxury hotel without pretense.
We found the Concierge invaluable from recommending great restaurants featuring local ingredients and gluten-free options, to selecting excursions, providing discount vouchers and more.
TIP: Join their Le Club AccorHotels Loyalty Program before staying and the daily Wi-Fi fee will be waived as part of your (free) membership.
Things to Do in Vancouver BC
You'll want to consider the places that dominate the "Best Of" lists, like Stanley Park, Grouse Mountain, and the Vancouver Art Gallery, but it's also worth including some places that are off the well-traveled tourist path too.
After spending a week scouring the city and surrounding area, we wove together a vacation full of exciting exploration, fantastic food finds and a great place to stay (and a 'don't do this' recommendation as well). These are my recommendations of things to do in Vancouver.
A Great Easy Way to Tour: Hop On and Off Tour
We've begun to take Hop On and Off Tours in new cities and love them for their easy overview of a city with insights from the tour guide. It's a fast way to get your bearings.
If you are unfamiliar, Hop On and Off bus tours take visitors around a specified route with either a recorded guide or live guide providing insight about the area.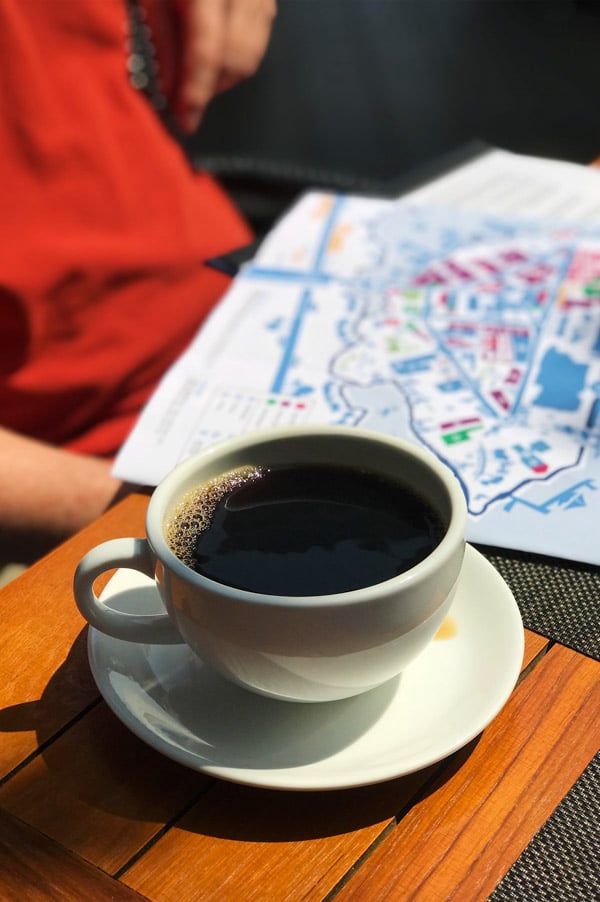 Usually having an exposed upper roof deck and an enclosed riding area below, it's a fantastic way to see the high points of a city to decide where to venture back and explore further.
As the name of the tour suggests, you can get on and off the bus as many times as you like during their operating hours (OR just stay on the whole time). Once finished exploring at your stop, wait for the next bus to continue the tour.
It's totally self-paced, and your choice what you want to do and see along the route. Buses are available every 20 minutes.
Vancouver's Park Tour
Vancouver has two routes which intersect in multiple areas. We took the 2-hour Park Tour.
We stopped at the Vancouver Museum seeking a specific exhibit which sadly had left. I'd probably skip the museum for more exciting stops, maybe even its neighbor the Space Museum.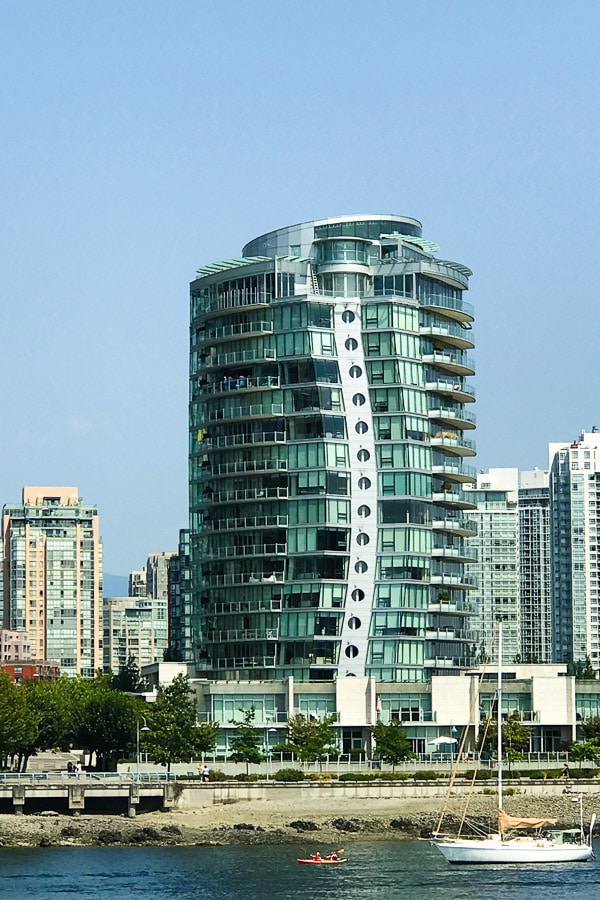 Our next stop was Gastown which is a very cool neighborhood full of brick shops and eateries. We had lunch at The Flying Pig enjoying a mixed salmon plate (all from the area).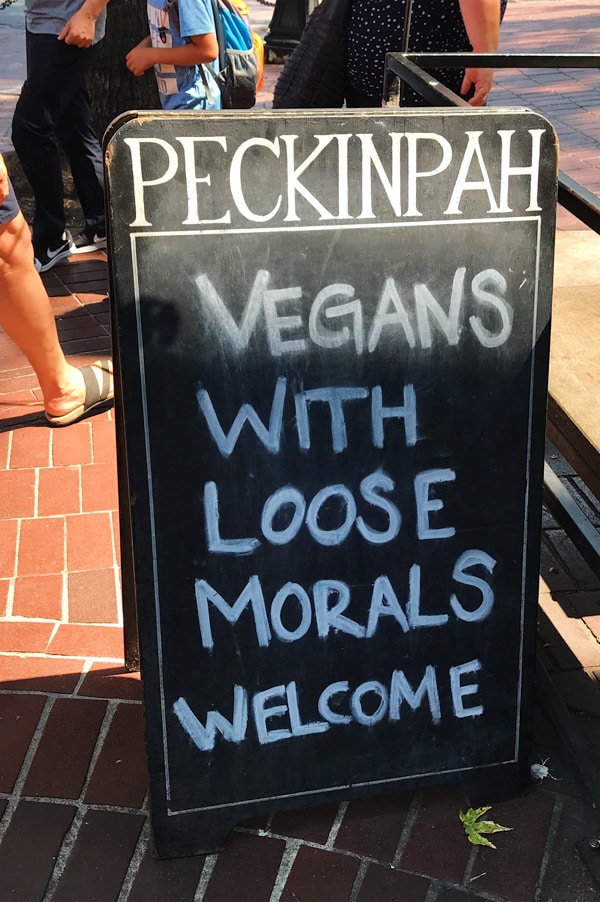 We grabbed some local maple syrup ice cream and headed on.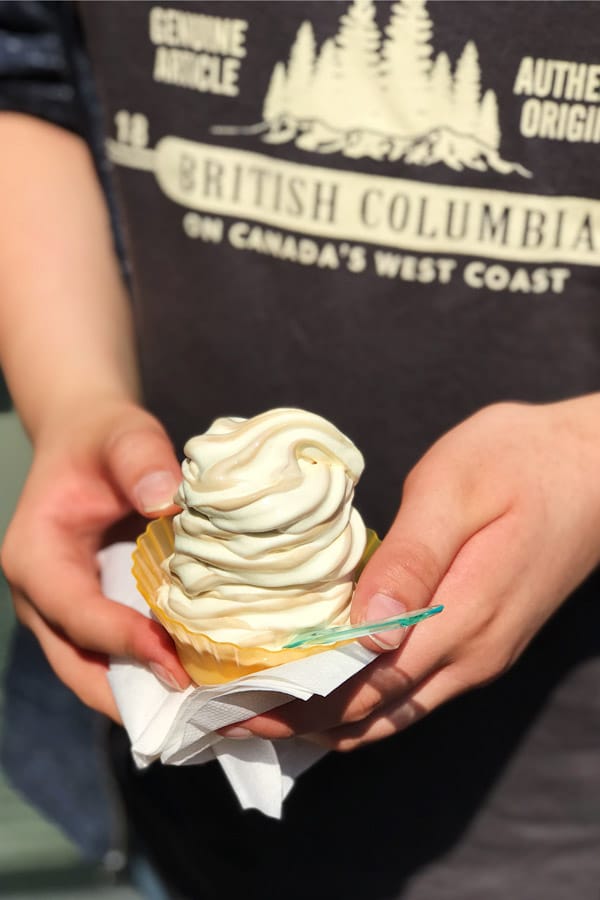 Our last deboarding was at the cruise terminal to go on Fly Over Canada. If you've visited Disneyland's Soarin', it's the same concept.
Visitors are strapped into a chairlift seat, lifted into the air for a 'flight' over an IMAX type tour leaving you feeling you've actually visited.
Another great way to 'see Canada' without driving all over the country.
The Hop On and Off Tour has multiple stops in Vancouver. You can pre-purchase tickets online or when boarding your first stop.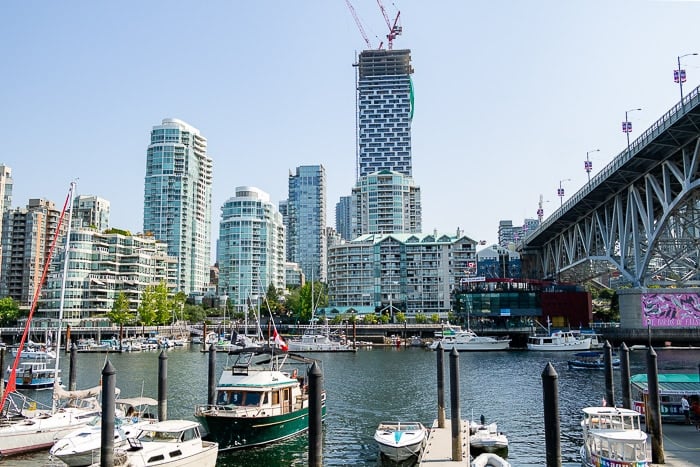 See what you can find in Granville Island Public Market
Granville Island is one Vancouver neighborhood you can't miss checking out while you're in the city. Granville Island Public Market is a gem that shouldn't be overlooked!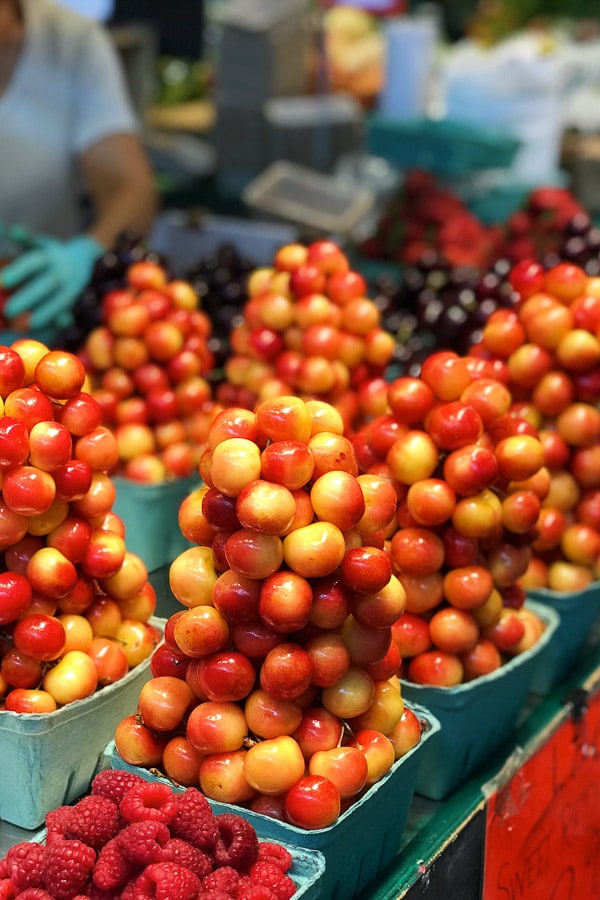 You'll find everything from artisan sweets and gourmet meats to locally-produced pottery, prints and jewelry.
Spend an hour or so browsing the various shops and stalls, then grab a snack or sandwich to enjoy outdoors while you watch local buskers perform.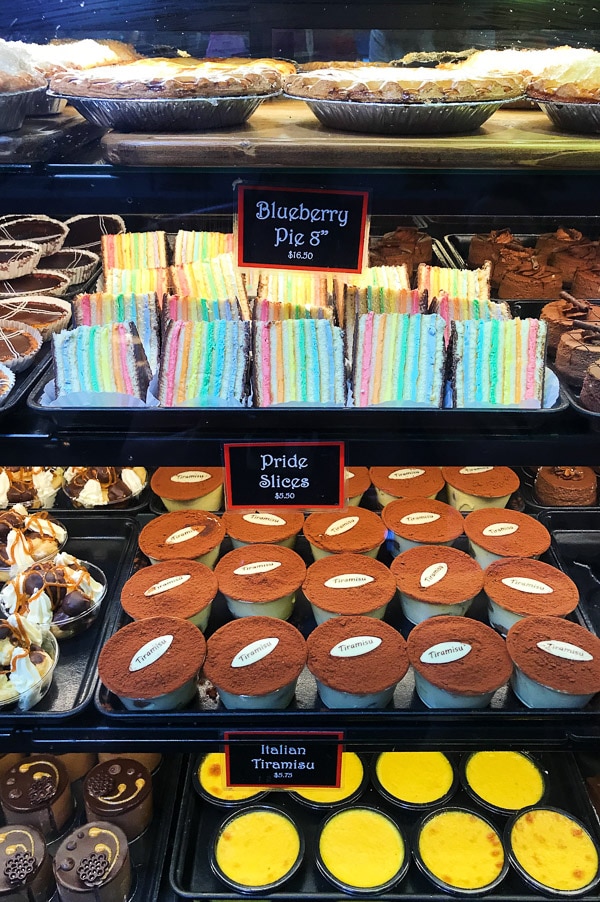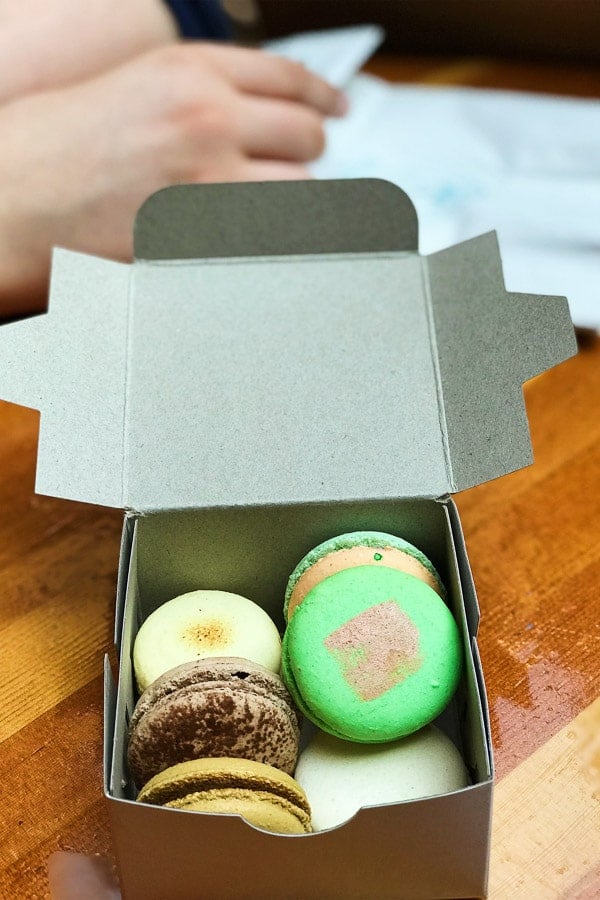 You can take a water taxi for a few dollars or a traditional taxi to get there. We loaded up on fresh fruit and artisan macarons then headed off for a few hours at the Science World center.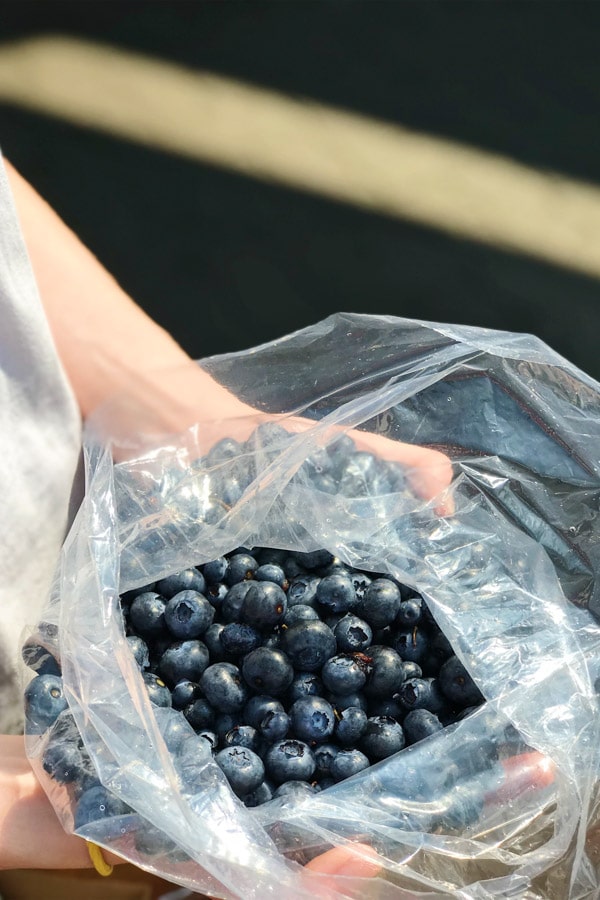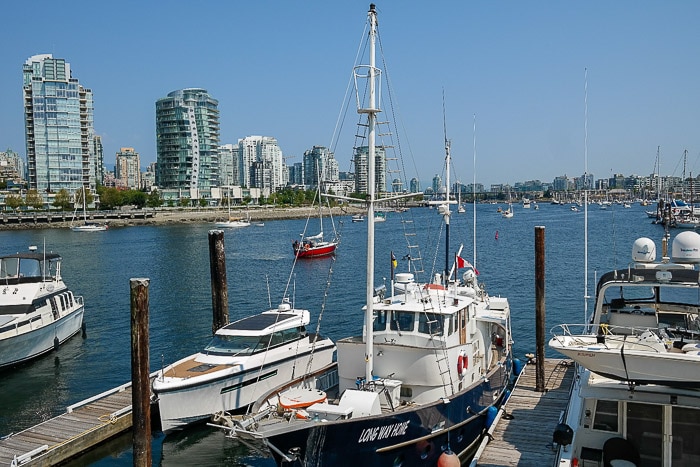 Brave the Capilano Suspension Bridge
This one might be tough if you're afraid of heights, but if you're in Vancouver, you can't miss your chance to experience Capilano Suspension Bridge Park.
The park's namesake bridge, which spans 450 feet and crosses high above the Capilano River, is a thrill absolutely worth experiencing.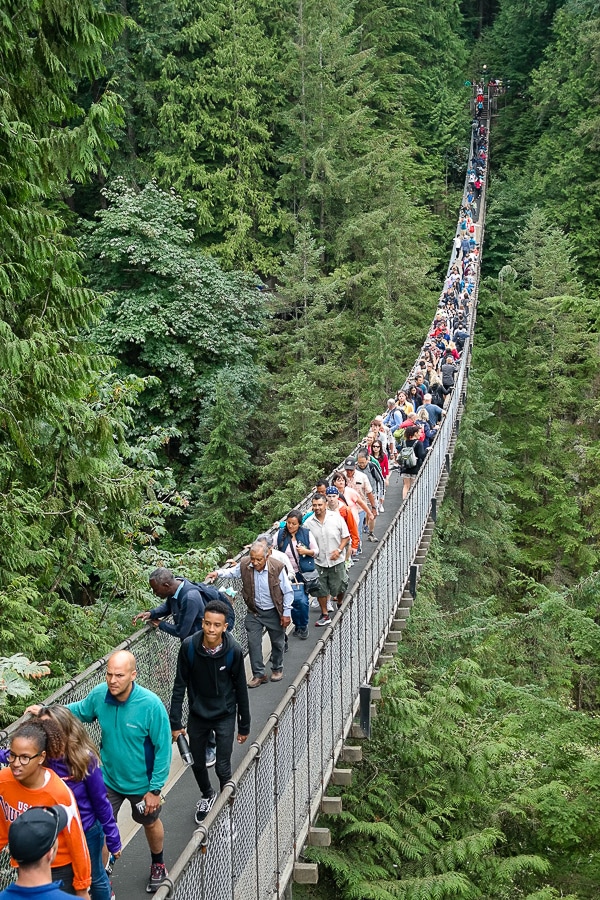 Home to several other suspension bridges, guided nature walks and educational talks, and some of the best photo ops in the area, it's well worth the fifteen-minute drive from downtown Vancouver.
There are free shuttles that run from downtown Vancouver regularly.
As with other summer excursions we arrived late morning and it was packed with visitors. We loved the setting and found the old growth trees beautiful and calming.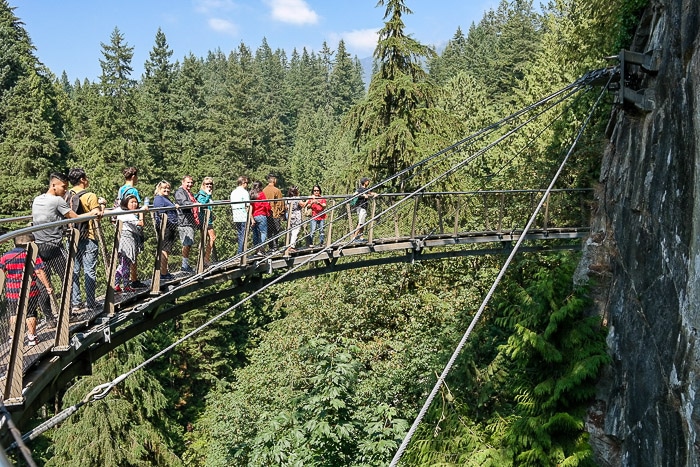 We had a great lunch at the Cliff House Restaurant onsite around 2 p.m. when the wait was very short.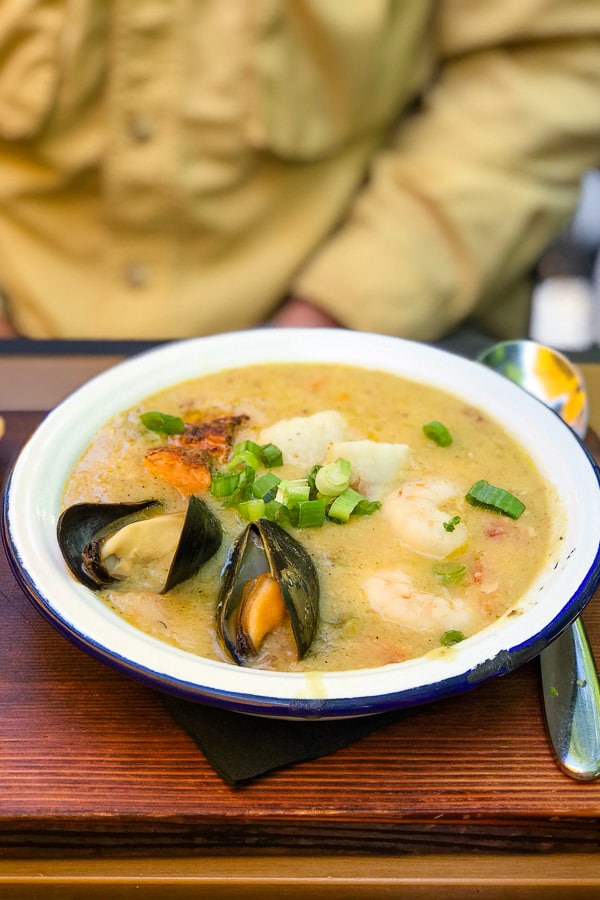 TIP: Hit this one when it first opens in the morning or later in the day when the summer crowds thin out.
Stanley Park – A Nature Escape in the Middle of the City
This enormous park that borders the ocean has old growth woods and beach walks, with many activities in between.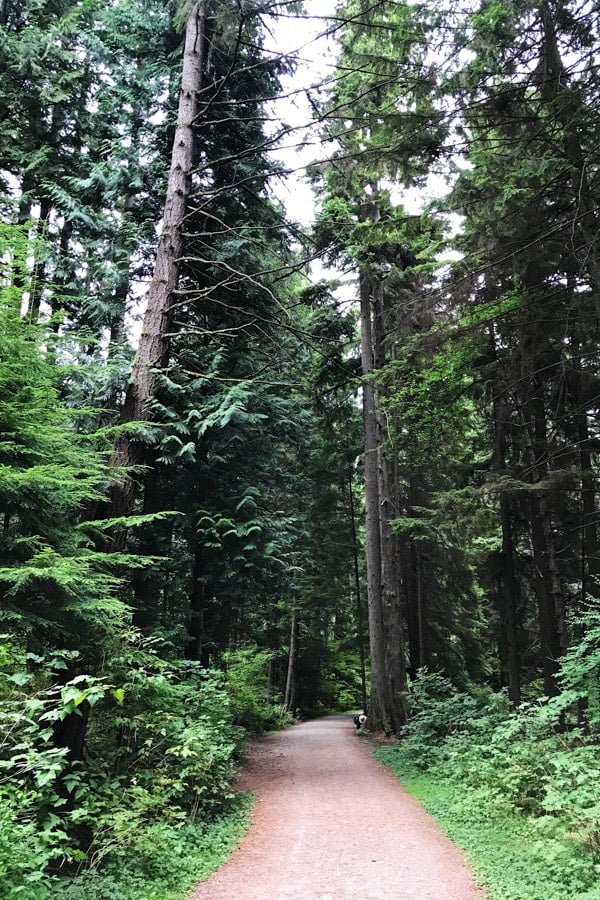 After cruising through it on the Hop On and Off Tour we headed back to visit the Vancouver Aquarium, have lunch at The Tea House and walk back to our hotel through the woods; stopping first at low tide to peek in the tide pools along the paved beach walkway.
It's an extraordinary location right in the city. There are beaches and swimming pools for those so inclined.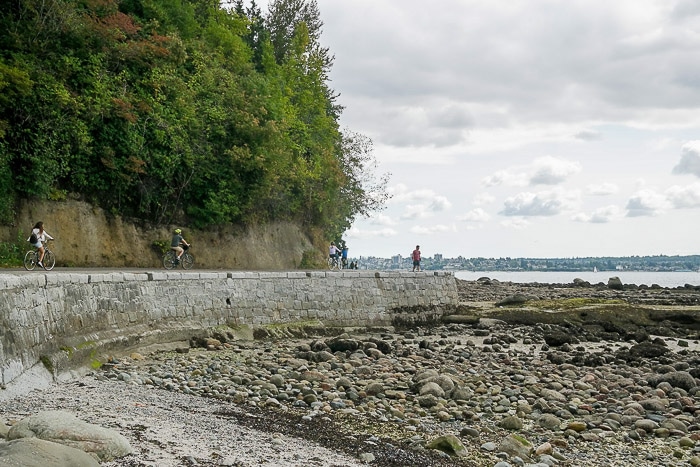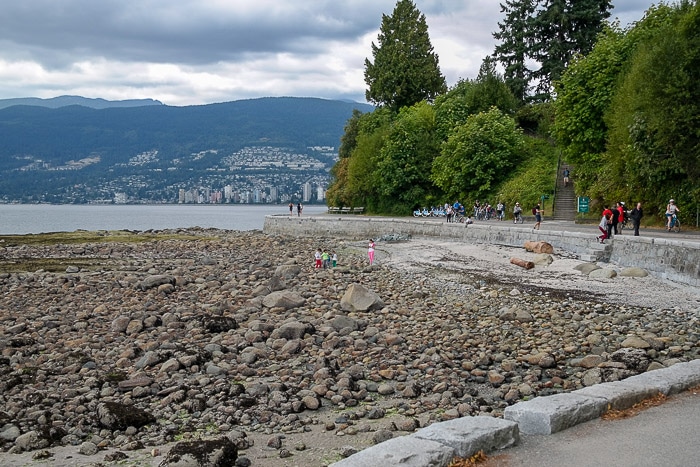 Our lunch at The Tea House was fantastic. Great food served at a leisurely pace so we could really enjoy sitting on the patio with a view of the water.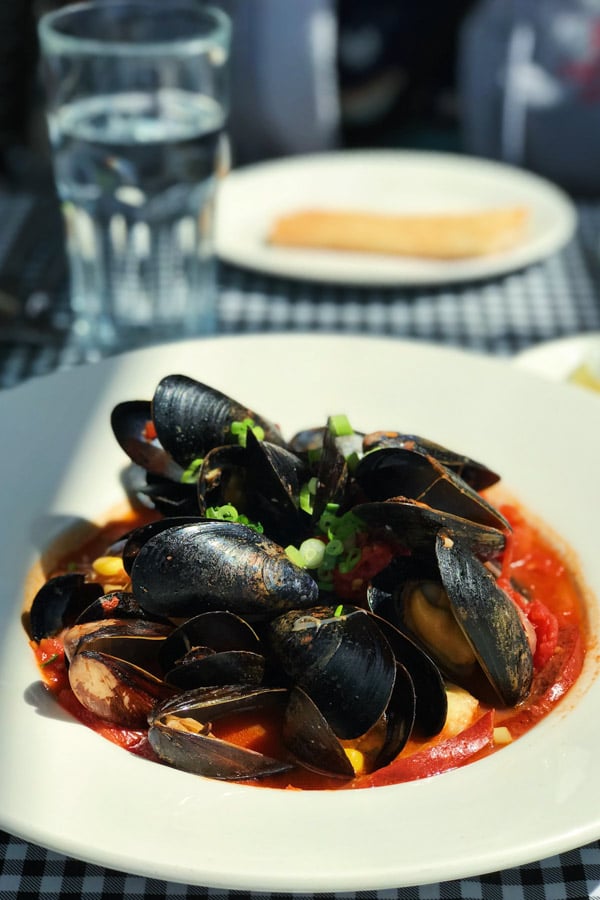 This was uniformly our favorite day in Vancouver.
Whale Watching Trip to Victoria and Butchart Gardens
This is our 'don't do it' recommendation.
Typically, I only share suggestions of what TO do however our experience left us feeling strongly that this is not a good excursion choice for multiple reasons.
This is essentially a full day excursion offered through the Prince of Whales with 4 hours of whale watching on a boat on the way to Victoria, a few hours in Victoria and in the Butchart Gardens, followed by a 2-hour boat trip back to Vancouver.
The main reason for not suggesting it is there simply is not enough time and it's not cheap.
In our case, despite being in the peak of Orca season our tour was unable to spot any. The captain got a lead on a humpback whale which he pursued.
It was the right call and we did see a few (they are discreet in terms of barely coming out of the water) but we were late into Victoria which already was compressed for time.
We had enough time to inhale lunch and take the 45-minute shuttle to the Butchart Gardens which was packed with tourists.
We took an abbreviated route through the Gardens to make the return pick up time for the boat trip back only to have the boat be late.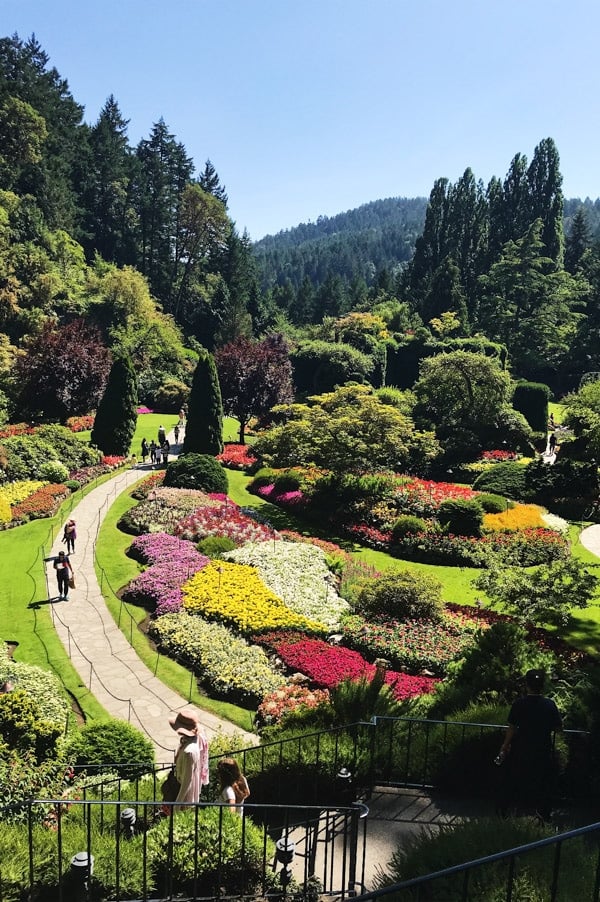 My Recommendation:
Instead I'd recommended going to Victoria, take a whale watching trip from there.
It is where the whales are so you'll nix the long boat ride that was both uneventful and so blistering cold that we were miserable despite it being a heat alert day in Vancouver.
Prince of Whales also leads tours out of Victoria as I'm sure other companies do too.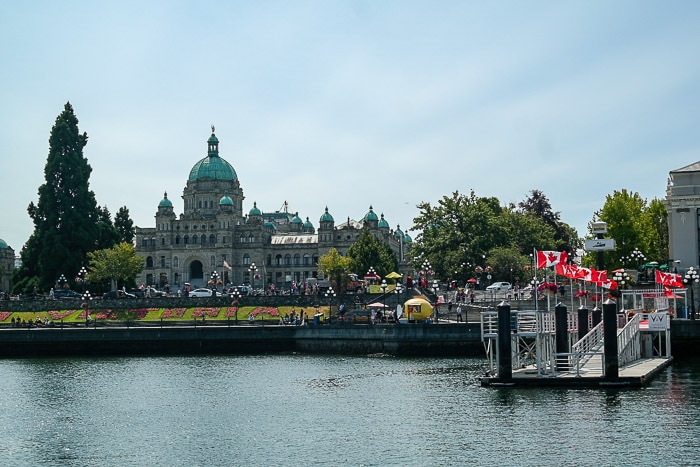 Stay Overnight in Victoria if you have the time so you can enjoy a walk around the charming city (and the capital of British Columbia).
Head out to the Butchart Gardens first thing before it's too crowded to enjoy the beauty with a bit more space. This 100 year old property boasts a variety of gardens that are breathtaking to behold.
Explore Chinatown– the Aberdeen Center (Richmond)
There are two locations considered 'Chinatown' in Vancouver. One is a residential area you will drive through if you take the Hop On and Off tour.
We did not visit other than passing through and if you read sites like Trip Advisor, it does not get great reviews.
The second which is known as one of the largest Asian populations outside of Asia is in Richmond, a city in the Vancouver metro area near the international airport (about 20-25 minutes from the city center).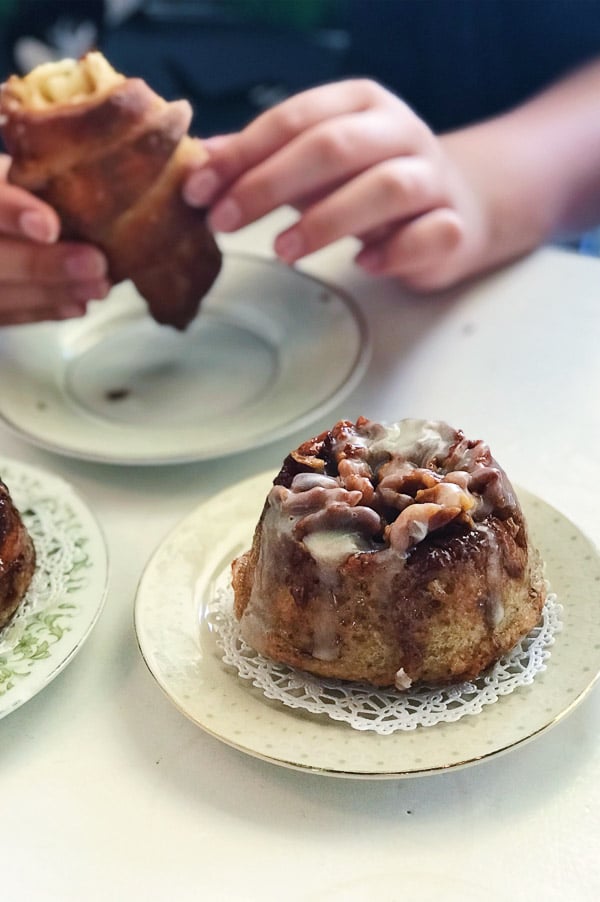 Having lived in San Francisco as well as Asia, we hopped out to visit after a stop at a divine gluten-free and vegan bakery, The Gluten-Free Epicurean.
We headed to the Aberdeen Center, a multi-story shopping and dining mall. We were among few Caucasians (which I always take as a good sign) in this shiny high-end complex and spent a few hours prowling through shops with authentic wares from kitchen to pop culture items.
The Japanese dollar store, Dasio, was incredibly fun and shouldn't be missed.
Vancouver Restaurants: Where to Eat in Vancouver BC
During our stay we had fabulous food. Vancouver is a great place for seafood thanks to the clean waters. We ate it daily, usually multiple times!
Most of the restaurants are also OceanWise certified, a program to prevent over fishing of the seafood industry. The logo will be posted on menus of restaurants participating in the program.
NOTE: All the restaurants listed accommodated gluten-free diners with great options!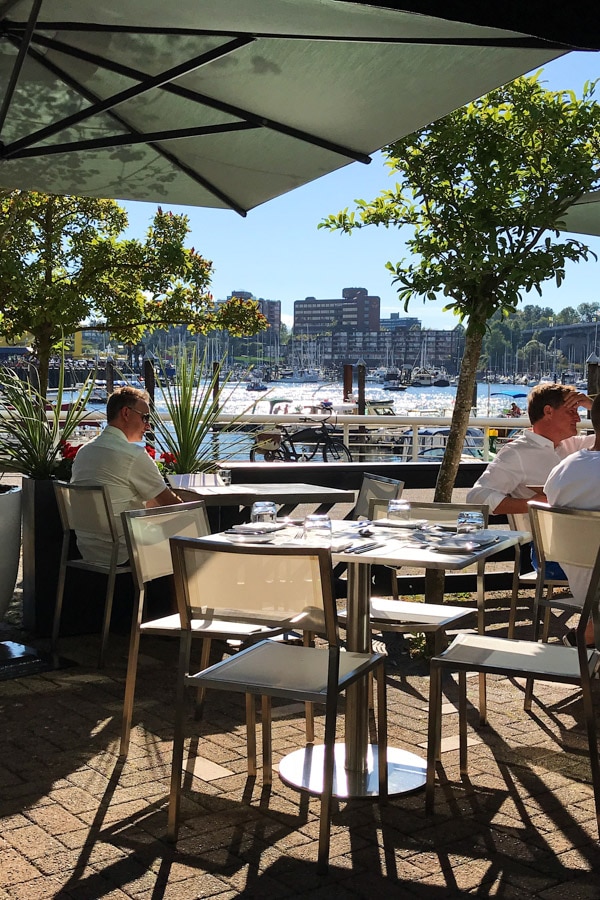 Ancora. Absolutely my favorite Vancouver restaurant of the whole trip. Gorgeous restaurant and outdoor dining by the water. The menu features a mesh of Peruvian and Japanese dishes focusing on the local food sustainable food of Canada's west coast.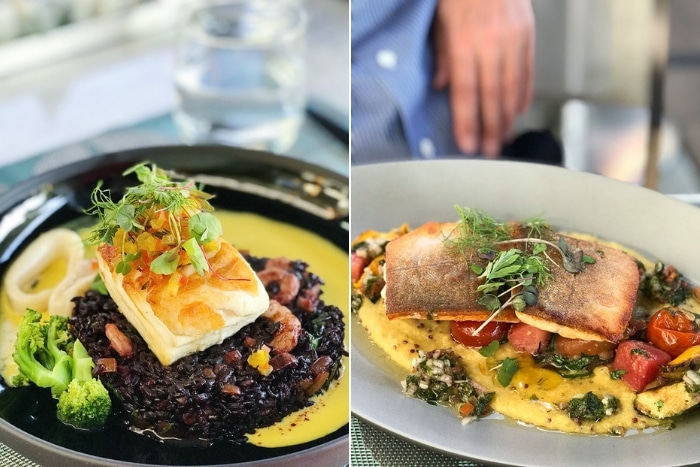 The seafood was fresh and delicious. The entrees thoughtful and inspired. The desserts unique with a mix of sweet and savory ingredients; untraditional. This ended up being our last meal and was a perfect way to say goodbye. $$$.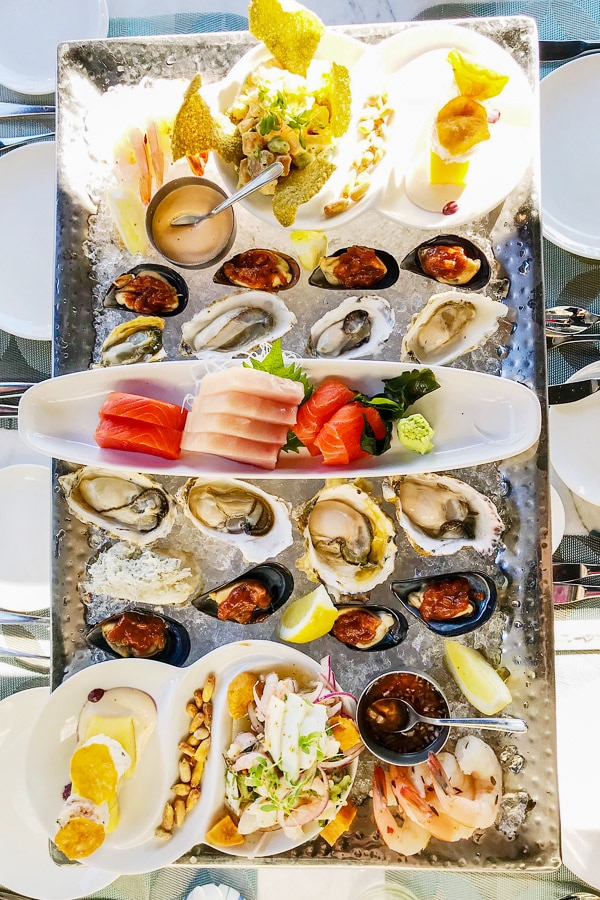 Cactus Club Café. Great casual atmosphere in the downtown area (a few blocks from our hotel). The Ceviche and Chimichurri Guacamole were excellent.
Dockside Restaurant (Granville Island). Great waterside dining for meals all day long. They brew several beers in-house. We loved the Smoked Salmon Seafood Chowder and the Coconut Milk Cheesecake in particular!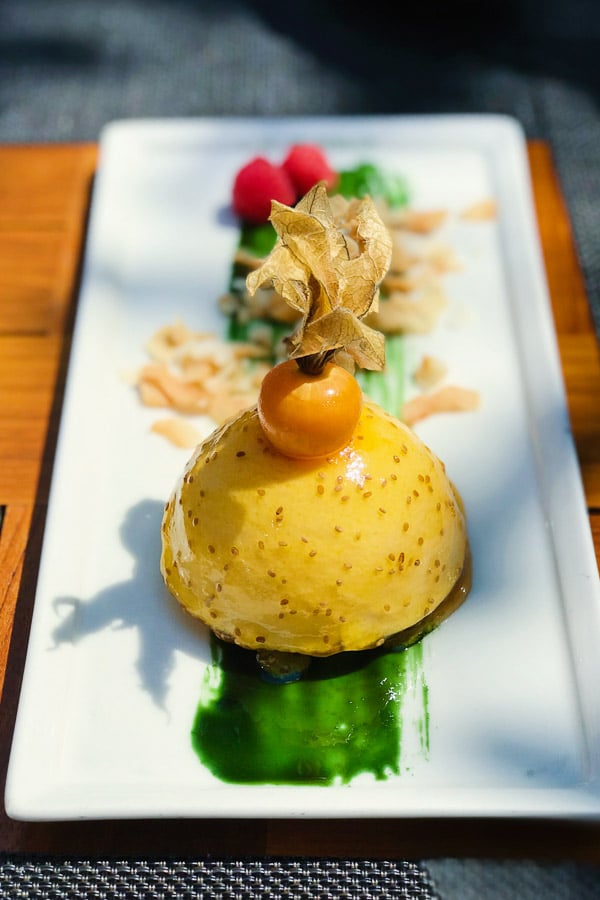 The Flying Pig (Gastown). A great stop on the Hop On and Off Tour. The food was fresh, the vibe was hip. We loved the West Coast Salmon Sampler from the 'Appies' menu which included a candied salmon that was out of this world.
Twisted Ice Cream (Gastown). Who can resist a soft twist ice cream? Especially with toppings like coffee beans and pink peppercorns. We opted for Vanilla and Maple Syrup Swirl.
Salam Bombay. A lovely restaurant on the second floor of a building across from the Fairmont Vancouver Hotel. We went early which was smart. It was hopping with mainly Indian patrons (a good sign). The food and service were fantastic. They also offer a take-out menu.
Shizen Ya. We hit up this Japanese restaurant three times for take out to eat dinner in our hotel. The food is fresh and 'clean'. Was a great healthy, flavorful bite.
Sala Thai. A great Thai restaurant where we grabbed take out to eat at the hotel just a few blocks away. We loved the Pad Thai!
Cliff House Restaurant (Capilano Suspension Bridge). Gorgeous setting. We ate outside on the patio under patio umbrellas with a view of the park. The food was good although a bit pricey as you'd expect eating at an attraction. It was nice to take a break and enjoy the surroundings.
The Bard and Banker (Victoria). We really enjoyed the food and service at this cozy Scottish-pub style restaurant. Admittedly this was on our mad whale watching-Victoria-Butchart Gardens tour so we had about 1 hour to inhale food. The server asked if we were on 'THAT tour from Vancouver' remarking people are always under the time gun. If you can, go, have a pint and RELAX at this restaurant.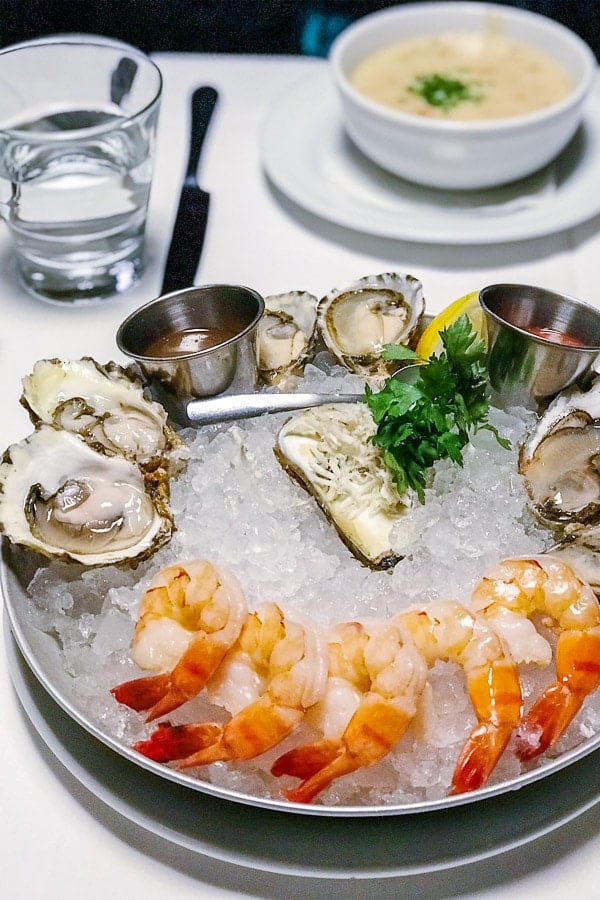 Coast. We went to coast seeking oysters and sushi and we found it there! A higher end, metro-vibe eatery, Coast has a great assortment of seafood, all fresh and fabulous. Easy to order smaller bites as well as a full meal.
The Tea House (Stanley Park). I mentioned it above as part of our outing but this restaurant is really special. It's a charming house with indoor and patio dining and view of the water. Our food was great (Mussels and Chorizo were fantastic) and it was a nice leisurely meal. Great service. Make a reservation online before going in the high season.
What Vancouver attractions do you consider must-do's? If I left your favorite spot off of the 'things to do in Vancouver' list, leave a comment and let me know what I absolutely must experience in Vancouver!
Please SUBSCRIBE and FOLLOW ME on FACEBOOK , TWITTER , INSTAGRAM and PINTEREST to see more delicious food, travel and what I'm up to!
[ratemypost]