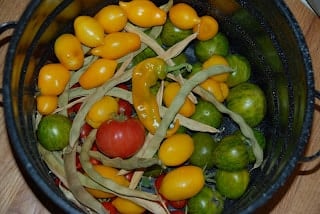 The entry of the next season in the Rockies is never straightforward.

It's more like a perverse game of multi-directional leap frog.

Bounding ahead two seasons, back one and then back and forth until settling generally into the season coinciding with the calendar.

The only predictability is that the element of surprise will be at play…and that it will probably snow on Halloween.
We've been clicking away with a protracted summer; not even an Indian Summer.

Then the frost fire drill hit mid last week.

Danger Will Robinson Danger.

When checking Weather.com, the Frost Alert lit up.

I had not banked time in my day for this potential catastrophe.

Despite frustration that Mother Nature had clearly not consulted my Outlook calendar I made some calls tracking down some insulating row covers at a local hardware store.

After failing to calculate the height of my garden with bean poles and double high tomato cages, I'd taken two separate trips and swathed the two garden beds in the fiber making it look like a ghost float for an obscure Halloween parade that does not exist.
Before doing so I carefully picked all ripe tomatoes, peppers and drying bean pods in the event my scheme failed.

The volume of my harvest left me wondering what to do to celebrate this probable end to the summer growing season.

I decided to make a simple tomato soup.

I combined the beautiful Green Zebra heirlooms with the Yellow Plum, San Marzano romas, cherry tomatoes from an elementary school experiment into a gorgeous mélange of color and flavor.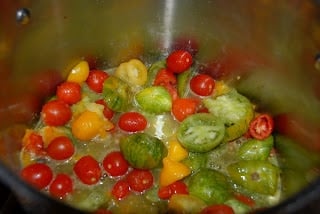 I basically cut up the tomatoes and heated them to release their juices.

I let them simmer and when very soft I put them through a food mill back into the pot to simmer more.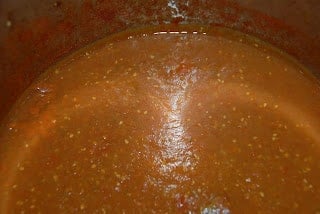 I had thought to add more vegetables but the flavor was so complex I decided against it. I did add some Aurora Peppers and a few lingering serranos for a bit of heat. That was it!
I envy the chef who throws seemingly random ingredients to create a delicious masterpiece as that is not my forte. However in the case of this luscious soup, it worked.