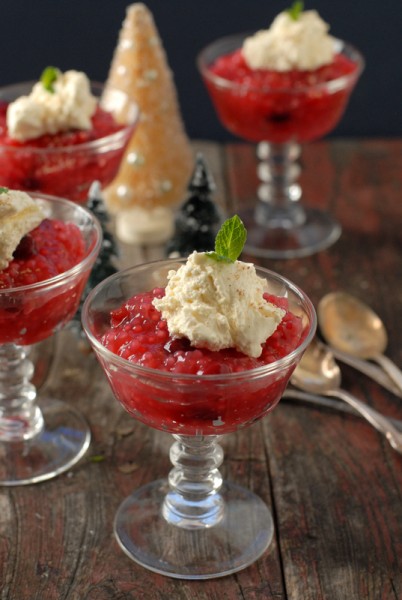 My favorite childhood dessert was definitely tapioca pudding. I don't have a memory of dessert being a mainstay of our family dinners and certainly when we had it, it was more simple. Tapioca pudding and Lemon Custard with a Pillow Top are the two desserts I really remember. And a three layer parfait creation from Jello. Never extravagant two layer cakes or pies; those were reserved for more special occasions.
I'm not sure what has happened to tapioca pudding. We buy it occasionally at our neighborhood market where they sell a wholesome, clean ingredients version that is thick, rich and creamy. Somehow it seems tapioca's simplicity has been left in a bygone era of desserts and has been overtaken by sexier confections boasting Salted Caramel, Nutella or Dulce de Leche.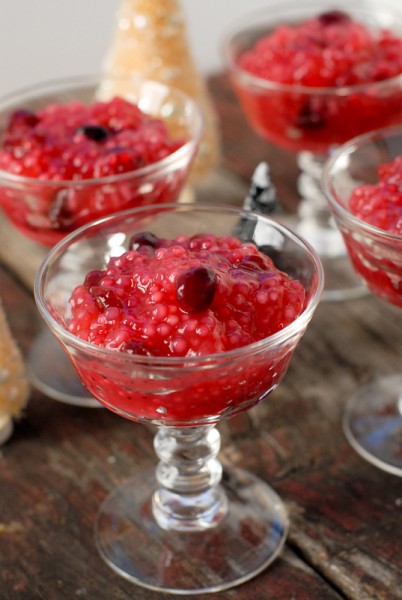 Last year around this time I purchased a collection of vintage recipes on eBay. I have a soft spot for vintage recipes as regular readers will know. I feel there are always treasures to be found usually using whole ingredients with straight forward preparations. I hate the feeling of all the ladies diligently recording their family and dinner party favorites on decorative recipes cards will be left behind in the cyber era. I think what caught my eye with this particular collection was a recipe for Vinegar Pie pictured in the auction. Curiosity piqued, I bid and won.
When I got the box it was unimpressive. Wooden with hardware store stencil letters in traditional black and gold hand applied to the top of the box spelling 'RECIPES'. When opening the box I could immediately see interspersed between stock recipes cut outs that came with 'Cool Whip' and Knox gelatin, several very brown newspaper recipes, gingerly cut out with care and stored. The paper, whisper thin, felt it could disintegrate in my hands. I found several recipes showing vintage graphics causing me to guess they were from mid last century until I came upon dates in the 1930's on many. There is something humbling for me to be handling someone's recipes choices from nearly 100 years ago with the proposition of making them in my own kitchen.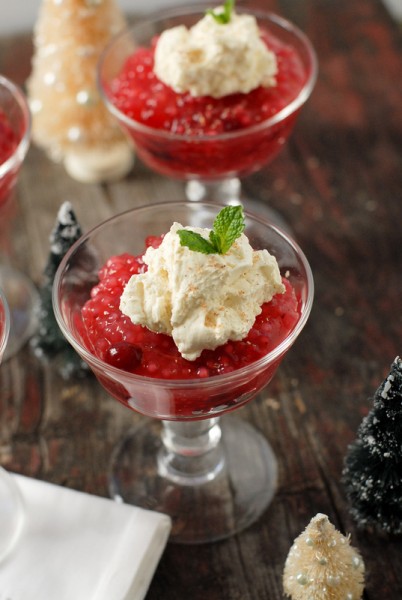 Don't get me wrong, in these collections are usually a number of duds. As soon as the late '60's hit, the canned soup and mod, new fangled processed foods moved in creating things Michael Pollan devotees just would not entertain. However in sorting through this particular box, (which I surmise is from the St. Louis area) for the ads on the back of the newspaper cut outs, I found some gems. One that I pulled to make at this time of year was for Cranberry Tapioca. My favorite dessert coupled with a clear seasonality. I've been waiting almost a year to make it!
I followed the recipe exactly wanting to understand the end result. I opted out of placing it in a mold which was suggested but rather serving it free form with a whipped cream I made to compliment the flavors. Tapioca pudding is usually dairy based, using milk or cream to make it creamy. This recipe is a non-dairy recipe leaving it the consistency of a soft jello in a fabulous shade of garnet with the whimsical orbs of the prepared tapioca pearls. The flavors are simple with the cranberries slightly sweetened but not over the top. It is by no means a heavy rich dessert, but delivers more of a light, bright ending to a meal. Paired with the flavored whipped cream it has the perfect creaminess without making it heavy in the least. I suspect it would be most welcome chilled in hotter climates as well.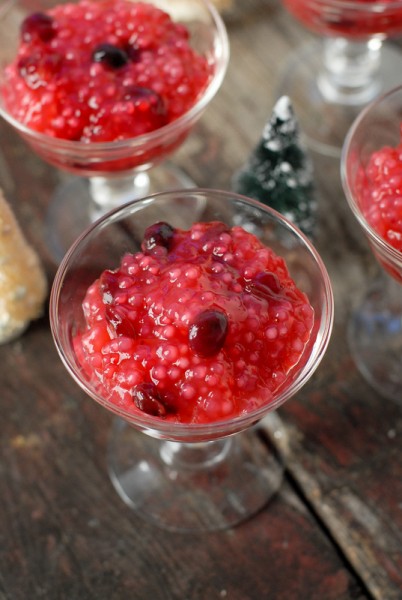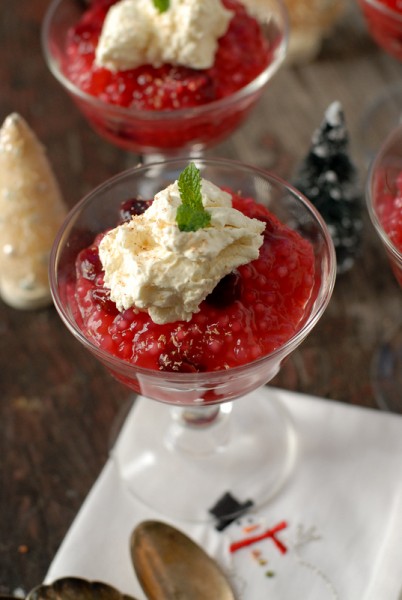 Recipe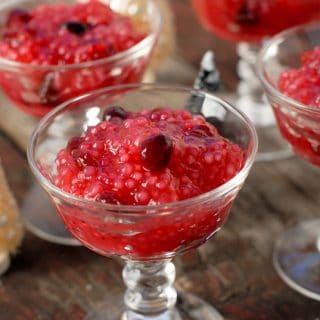 Cranberry Tapioca with Orange-Nutmeg Whipped Cream
A refreshing, seasonal cranberry tapioca made with water instead of milk. Offers a fresh, bright, light end to any meal when served chilled or room temperature. A dollop of Orange-Nutmeg Whipped Cream gives a perfect finishing touch.
Print
Save Recipe
Recipe Saved!
Pin
Rate
Servings:
4
Yield: 4 ½ cups Cranberry tapioca and 1 ¼ cups Orange Nutmeg Whipped Cream
Ingredients
For the Tapioca:
¾

cup

Tapioca pearls

(uncooked)

½

teaspoon

Kosher Salt

3 ½

cups

boiling Water

2

cups

fresh Cranberries

½

cup

water

½

cup

granulated Sugar
For the Orange-Nutmeg Whipped Cream:
1

cup

heavy Whipping Cream

½

teaspoon

Vanilla extract

½

teaspoon

Orange extract

1

tablespoon

granulated Sugar

1/8

teaspoon

ground Nutmeg

Garnish: grated Whole nutmeg and mint leaves
Instructions
For the Tapioca:
In a large saucepan over medium-high heat, combine tapioca, salt and boiling water. Cook, stirring constantly, until the mixture is clear and thickened (about 5 minutes).

In a second medium saucepan, combine the ½ cup water and granulated sugar. Bring to a boil, stirring to dissolve sugar.

Add cranberries to the sugar-water mixture and cook, stirring frequently, until cranberries are softened and have popped (about 5 minutes).

Add cranberry mixture to the tapioca. Stir to combine and cook an additional 5 minutes on medium heat; stirring constantly to avoid sticking to the pan. Remove from heat. Serve room temperature (my favorite) or chilled.
For Orange-Nutmeg Whipped Cream:
Combine all ingredients (other than garnish) into the bowl of a standing mixer* and whip until forming soft peaks.
Serving Tapioca:
Place desired amount of tapioca in serving bowl or glass. Add a dollop of the Orange Nutmeg whipped cream and garnish with a grating of fresh nutmeg and mint leaves.
Notes
*can be made in a mixing bowl with a handheld mixer
Nutrition
Calories:
440
kcal
|
Carbohydrates:
61
g
|
Protein:
1
g
|
Fat:
22
g
|
Saturated Fat:
13
g
|
Cholesterol:
81
mg
|
Sodium:
316
mg
|
Potassium:
87
mg
|
Fiber:
2
g
|
Sugar:
31
g
|
Vitamin A:
905
IU
|
Vitamin C:
7
mg
|
Calcium:
48
mg
|
Iron:
0.6
mg