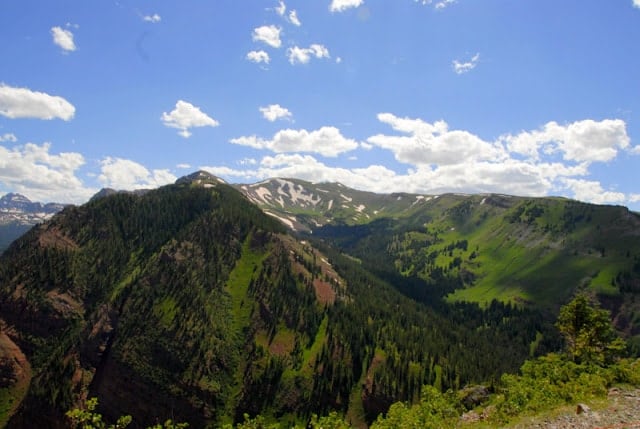 I question whether there is a more beautiful venue for a culinary festival than Snowmass Colorado.

Perched high atop a mountain in Snowmass Village, with the purest of cerulean skies, verdant green peaks and vistas as far as the eye can see, I embarked on a three day extravaganza at the Snowmass Culinary and Arts Festival.
I came to this event with my eye on some known chefs and discovered rising stars, an inspired pillar in the culinary community and food I'd never conceive of.

Only in its second year this festival has a winning formula no one should miss.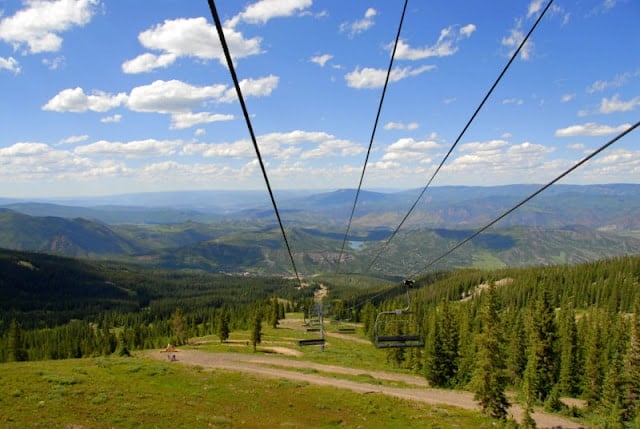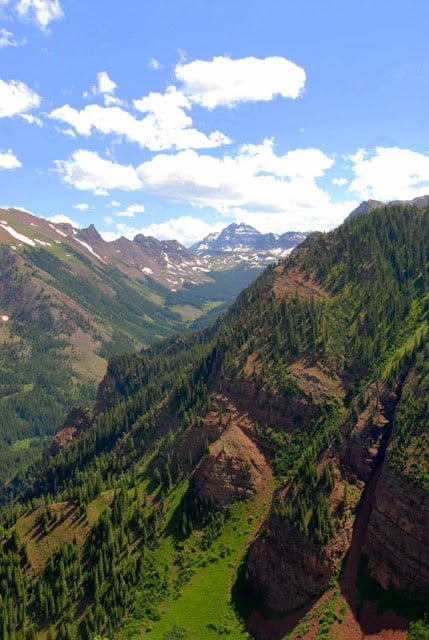 And no, these colors have not been retouched in Photoshop.

Unbelievably beautiful.
I arrived Thursday afternoon to a near perfect day.

A respite from the alternating triple digit temps and flash flooding from rain.

The first event to kick off the festival was a culinary demonstration by Diane Henderiks (culinary nutritionist and personal chef) and Chef Barry, Executive Chef at famed Venga Venga, Chef Richard Sandoval's recently opened Mexican Catina and tequila bar in Snowmass Village.
I'd read about Diane Henderiks.

Chef/RD for Prevention magazine, regular guest presenter on Good Morning America, featured in innumerable publications

with a TV show in the works.

All laudable accomplishments but definitely not telling the whole tale about this wildly vibrant personae.

Think your best girlfriend, with some sass and infectious passion for her craft.

Anyone who follows me on Twitter will have felt 'fed with a fire hose' as I pelted the

twittersphere

with clever tips from Diane to make meals healthy without sacrificing flavor or pizzazz (you can access loads of great information from the festival and media attendees with the hash tag #SMCAF on Twitter).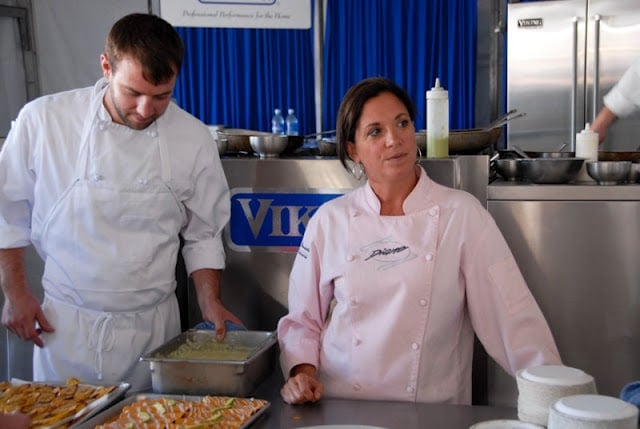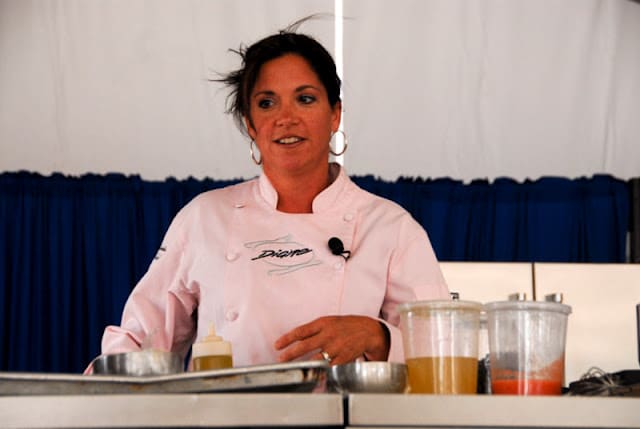 The focus of the demonstration was a cook off between Chef Barry with the original recipe of Jalisco Shrimp Enchiladas (a Venga Venga specialty made with Oaxaca cheese, corn, rajas, crema fresca, served with plantains and cilantro rice) and Diane employing her 'Saturday food meets Wednesday' approach to 'healthifying' dishes.

Not to say the original dish is NOT healthy, but Diane exercises tweaks as a demonstration in taste comparison.

The demonstration was dynamic and exciting, leaving

me sure Diane is my new favorite person.

The food was delicious and the audience 'blind testers' were unable to discern the difference of which chef made which dish.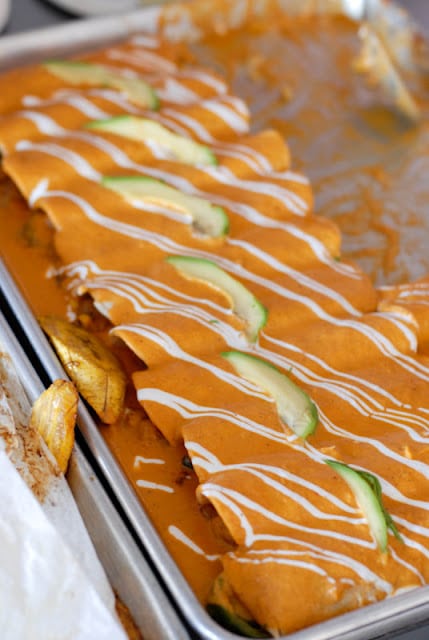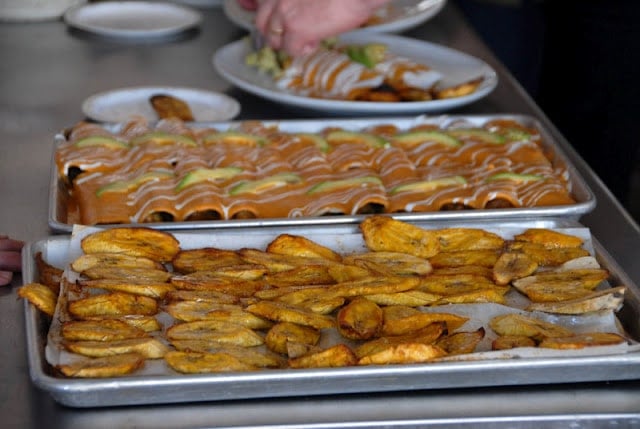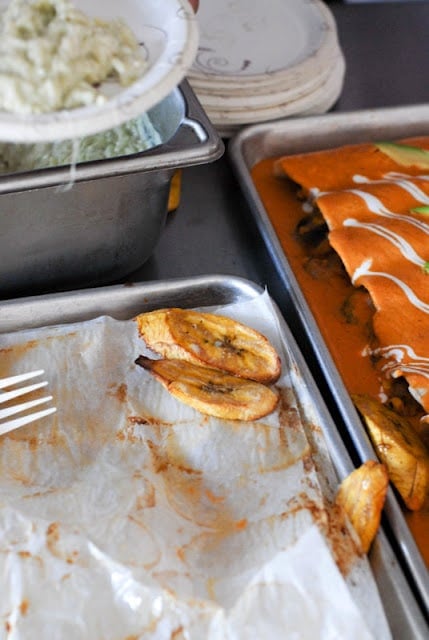 Friday, day 2 of the festival, kicked off with a Meatless Monday cooking demonstration again with Diane Henderiks.

Though the title tempts fear of a potentially tired and overused concept,

Diane did not disappoint.

She's personally a bit like a metaphorical sprinkling of ancho chile powder on a dish: she makes your engagement appropriately spicy, perks it up without being overwhelming but commands rapt attention with her unending information and energy.

She's fun, funny and a rising star to keep your eye on.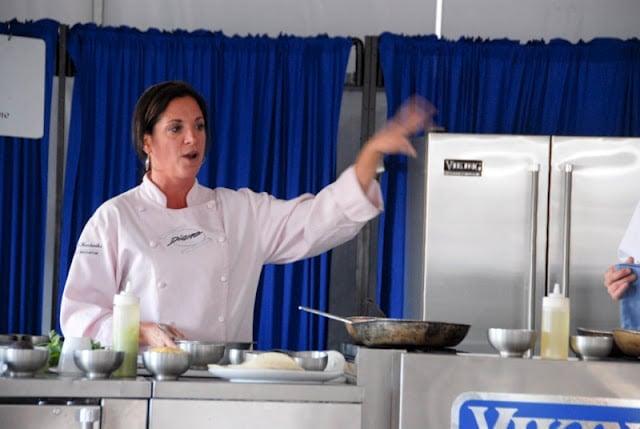 Clearly in her element when cooking and teaching, this feisty chef does not stand still!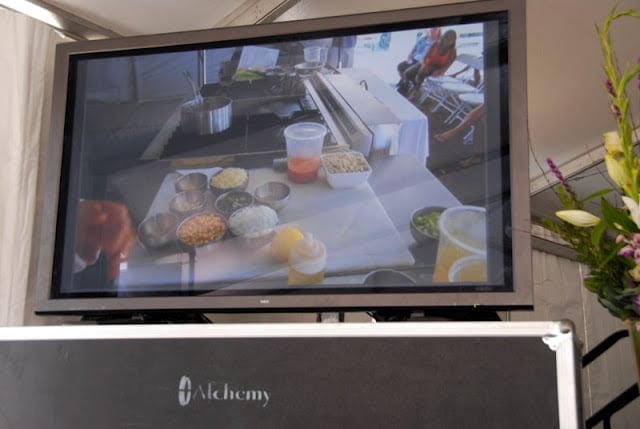 A 60 inch plasma screen projecting the chef's work area ensured no demonstration views would be left out regardless of their seating location
Diane whipped up something I found unimaginable:

Grilled Romaine Salad.

Truth be told, I was secretly skeptical and intrigued simultaneously.

I was seated with Kimberly Lord Stewart, Food and Wine Editor for Denver Life magazine who leaned over to whisper she'd recently made a similar recipe.

What rock have I been living under to not know of this idea?

If you gave me

a chance to list 453 things to do with lettuce, 'grilling' would not have been on the list.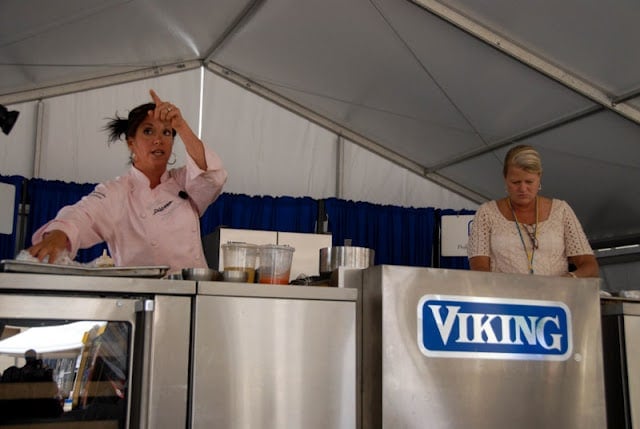 Diane quickly recruited Kimberly Lord Stewart, Food and Wine Editor of Denver Life magazine, as her (willing) sous chef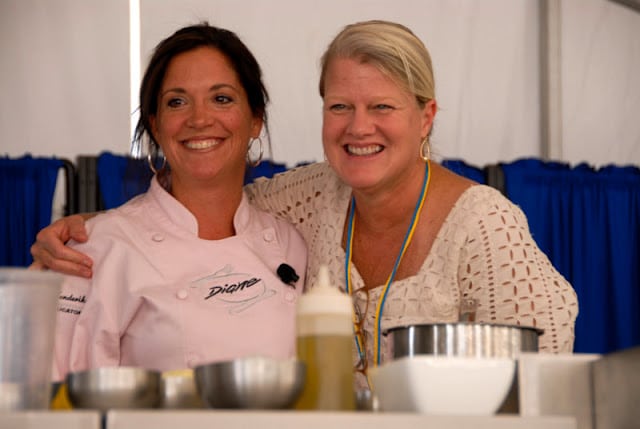 The flavor was simply incredible.

It bore a smoky highlight to the best of the romaine flavor with a satisfying crunch in its chopped form.

A life changing culinary moment for me.
DIANE HENDERIKS' GRILLED ROMAINE LETTUCE SALAD
Printed with express permission of Diane Henderiks
Serve: 4-8 depending on main dish or side salad
·
2 heads of romaine lettuce
·
Olive oil: a few tablespoons to drizzle lettuce and ¼ cup for the dressing
·
2 tablespoons red wine vinegar
·
1 tablespoon minced red pepper
·
¼ cup chopped fresh herbs or 1 tablespoon dried herbs
·
¼ cup grated Parmesan cheese
1.
Turn grill to medium high heat.
2.
Slice heads of romaine in half lengthwise.

Drizzle sliced side with olive oil.

Sprinkle with salt and pepper.
3.
In a separate bowl mix the olive oil, vinegar, red pepper, herbs (note: Diana is very flexibly about herbs: my guess is she'd advise use anything you have or love as well as don't be afraid to experiment), garlic and Parmesan cheese.
4.
Place lettuce sliced side down on the grill.

Grill for about 3 minutes until lettuce is charred.
5.
Chop lettuce into large chunks or cut the lettuce head half into spears.

Sprinkle with dressing (toss if making the chopped version) and serve warm.
Some of my favorite Diane tips from the demonstrations:
·
The more color on your plate, the more nutrition
·
You can make pesto from any greens or herbs.

She'd just made a tarragon pesto.

Sometimes she uses cashews instead of pine nuts.
·
For a quick and simple risotto, substitute barley.

It's quick and creamy like risotto.
·
Popcorn made in coconut oil is 'to die for'.
·
Be mindful when 'drizzling' oil.

You can use far more than needed, adding unneeded calories and too much oil for the dish (texture wise).
·
Dry roast grains (such as rice) in the pan before adding the liquid to cook them in.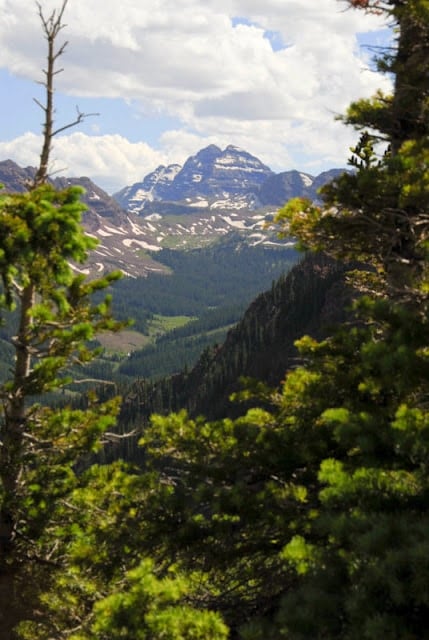 The backside of the iconic Maroon Bells can be viewed from a short gondola and chair lift ride from Snowmass Village