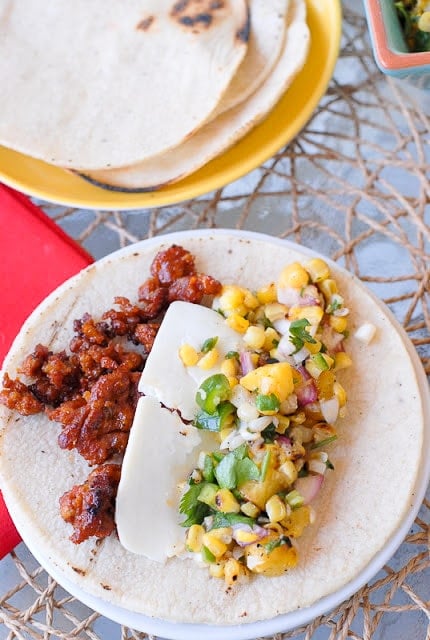 If we were playing summer food word association, 'grilling' clearly would top the list. Along with fresh, simple food, casual dining and a host of seasonal ingredients that define the season's flavor palette. My personal food choices in the hotter months focus much more on the vibrant flavors and less on the laborious preparation that seems to suit when there is a chill in the air.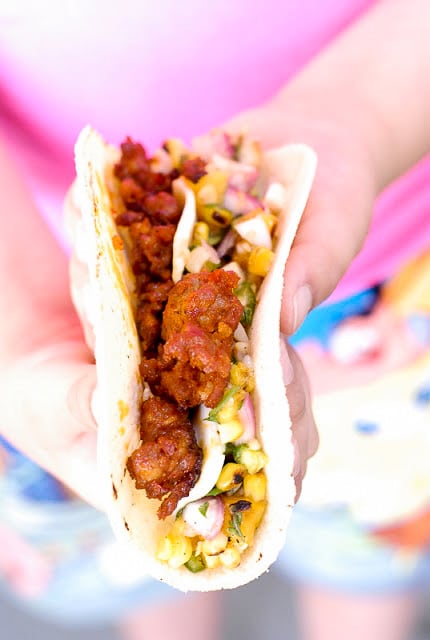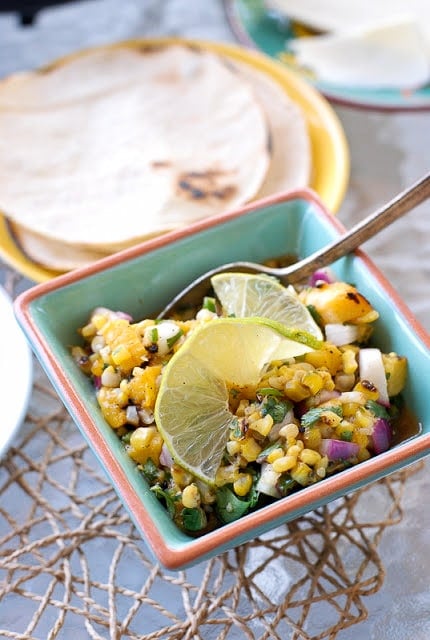 I love the chance to think outside the 'recipe box' if you will. I wanted to make something simple, yet innovative. I decided to make Smoked Chorizo Soft Tacos with Grilled Salsa feeling it highlights the preferred summer cooking method, signature summer flavors and the ease we enjoy about summer dining. Though I own a smoker, I chose to smoke some chorizo sausage in a manner anyone with a grill, gas or charcoal, could repeat themselves. It's definitely a method that could be used with many other foods.
There are many methods to add special wood to grilling to enhance the flavors of whatever is being cooked. With a charcoal grill, it's very simple to put the wood in with the charcoal. A gas grill is a bit trickier although there are inexpensive options to buy, or DIY fixes as simple as creating a smoker packet out of heavy duty foil. In my case I married my desire to do something unexpected with the chance to try out a new grill accessory: a cast iron smoking box. Purchased for $10 online, I loaded the box with apple wood. As the box gets hot, the wood inside begins to smoke. Since I used loose chorizo, I places it in a cast iron skillet to cook and smoke it in the closed grill. It created a wonderful smoked flavor that was delicious in the soft tacos with grilled peach and corn salsa, as well as light flavored Mexican cheese! Smoking sausage on the grill is a fun alternative to regular grilling and does not take much effort.
Recipe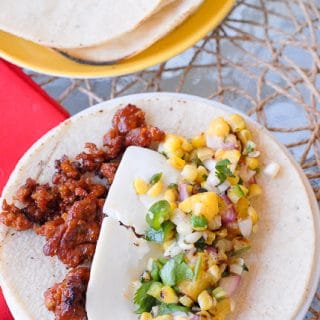 Smoked Chorizo Soft Tacos with Grilled Peach and Corn Salsa
These tacos are simple and casual but far from ordinary. The smoked heat of the chorizo coupled with the cool, sweet salsa makes for a flavorful summer celebration! Queso Fresco cheese is a light, mild Mexican cheese that blends perfectly with the flavors. It does not melt in the same way as traditional cheese but softens with the heat of the grill-smoked chorizo.
Print
Save Recipe
Recipe Saved!
Pin
Rate
Servings:
8
Aproximately 8 tacos
Ingredients
14-

ounce

package Fresh Chorizo Sausage

(14 ounce), loose form*

Apple wood

(can be purchased wherever barbeque supplies are sold), about 2 cups (unsoaked)

1

package of 6 inch soft corn tortillas

(usually 12 in a package)

Queso Fresco cheese

(a mild Mexican white cheese), sliced

One recipe of Grilled Peach and Corn Salsa

Smoking box or heavy foil
Instructions
Preheat half of the grill to high heat. Leave other side of grill turned off. Keep hood lowered.

In an oven proof skillet (I used cast iron), lightly brown the chorizo on the stove top or on a grill burner if your grill has one. Drain any grease (mine did not have any).

Prepare the smoking packet I used a cast iron grill smoking box I purchased for about $10 on Amazon.com. You can also make a smoking packet by placing the apple wood in a large square of heavy foil. Close packet by folding over edges. Pierce the top of the foil in several spots.

Place the smoking packet on the heated side of the grill. Close grill lid and allow to heat up and begin to smoke (about 10-15 minutes).

Leaving smoking packet on the grill, add the chorizo in the oven proof skillet on the side of the grill that was not heated. Close grill hood and allow to smoke for 15 minutes.

Remove chorizo and allow to cool slightly. Drain any fat or use a slotted spoon to dish chorizo into tacos. Remove smoking packet and allow to cool fully before discarding (or discarding the wood if using a smoking box).

To warm tortillas: Place tortillas in heavy foil and seal. Place packet on the grill to warm for a few minutes after removing chorizo and smoking packet.

To assemble tacos: In a warm tortilla, add two spoonfuls (soup spoon size) of chorizo, a slice of queso fresco and a large spoonful of the Grilled Peach and Corn Salsa. Enjoy!
Nutrition
Calories:
232
kcal
|
Carbohydrates:
2
g
|
Protein:
12
g
|
Fat:
19
g
|
Saturated Fat:
7
g
|
Cholesterol:
43
mg
|
Sodium:
614
mg
|
Potassium:
203
mg
|
Fiber:
0
g
|
Sugar:
0
g
|
Calcium:
7
mg
|
Iron:
0.8
mg