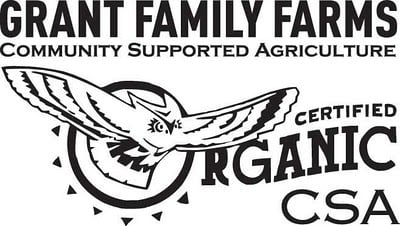 Truth be told I've been stalling on writing this post.

Grant Family Farms has so much to offer I am unsure how to even scratch the surface in a blog post to do justice to them.

I'll start with my discovery of them.
Last year at this time, amidst my hardcore locavore challenge, I went on a quest for free range chicken eggs.

I did a lot of research and online sleuthing.

There were only two sources in the Boulder area.

One was not offering the eggs at the time and the other had an eccentric availability scheme where when there were eggs they'd raise a flag by their mailbox.

They had no given schedule and cautioned the eggs sold out almost immediately.

They were a 20 minute drive minimum drive from me which does not seem long but is in the winter and when one would be worried to be arrested for stalking, just sitting across the road waiting for chickens to lay the entire prospect seemed flawed.
I stumbled upon Grant Family Farm.

They are in Wellington Colorado (just north of Fort Collins) and deliver everywhere it seems.

They were within my self-prescribed 100 mile preference and ironically delivered to a spot 2 minutes from my house.

They offered several egg CSA's (differing quantities) which would tide me over until June.

I went on to research more to find they were offering a winter once-monthly vegetable and fruit CSA (as well as artisan bread, though not being able to eat gluten that would not be something for me).

I found them in January after they'd made the first winter delivery but in looking at what they had to offer, and at the prospect of a 'new food' delivery before April, I signed up.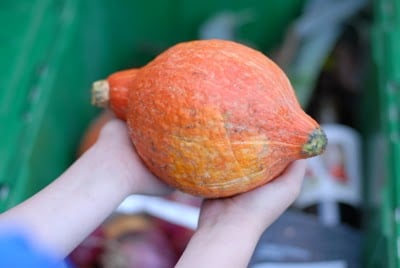 The biggest impression I have had of them as a farm is their 'can do' attitude.

I kid you not.

Everyone, and I literally mean EVERYone, is always nice, always helpful, always creative and always willing to make things a positive experience.

And it is all with genuine intent; you can feel it.

These are happy people, excited about what they do and bearing a strong appreciation for their customers AND the sense of community being woven through their CSA engagement.
I was fortunate to be able to order additional products during my CSA as well.

They offer a variety of meats and poultry, from their farm or other farm partners upholding the same food standards for organic, humane, free range, animal rearing.

They have a number of partnerships with local food purveyors.

You could get Hazel Dell mushrooms from them.

MouCo cheese through them.

Duck eggs.

Chicken eggs.

I love how they promote and support new farms or businesses that may not have the legs to start up their own customer base as readily.

Their generosity of spirit is pervasive and authentic.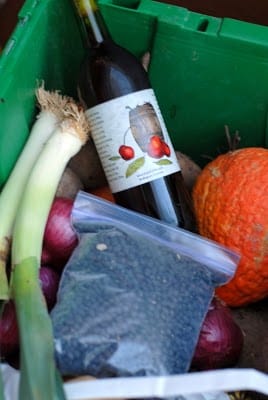 I had a situation last year where I was leaving town the day of one of the monthly pickups.

They quickly accommodated by allowing a Boulder resident friend who would be near the farm to come on a different day to pick up our goods.

Everything feels easy with them.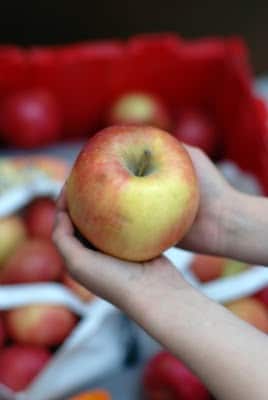 I had the utter delight of visiting the farm itself last fall for their Harvestival event.

They had arranged that Joel Salatin of Polyface Farms (the farmer made famous in Michael Pollan's book the Omnivore's Dilemma and his segment in the documentary film Food Inc) would speak about our food system.

The day was made all the sweeter for me by my personal friend Robyn O'Brien , author of The Unhealthy Truth (a dynamic, passionate and thoughtful woman/mother, changing life for people everywhere by breaking down the reality about food allergies, the food system and what one can do) opening for him.
The event was wonderful.

Grant Farm had posted signage around a number of their fields and duck pens sharing information with visitors.

We took a wonderful 1 mile plus walk around the fields seeing where everything grows and frankly overwhelmed at the scale of their operation.

The incredible man-hour contribution necessary for them to manage this size farm especially with the organic tenants they practice, was not lost on us.

The event also featured a number of fun activities for children: making whimsical creatures out of vegetables, painting flower pots, face paint, hay maze, petting some of the farm animals.

There were local food providers, local businesses, and a spot to leave your permanent mark with paint inside one of their barns.

It was charming, exciting and offered the best way I could imagine spending a day.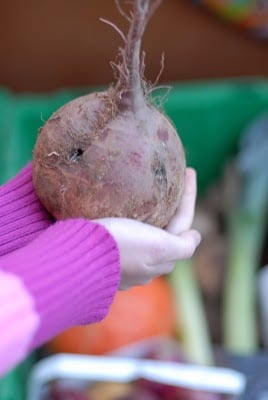 Fast forward to this winter and I have signed up again for a vegetable and fruit CSA.

Though the items in the deliveries are pretty much what I've stored for winter, getting it 'new' is thrilling.

They send out an email detailing what we should expect and I try not to read it.

I love the feeling of opening the bin to be met with the abundance inside.

This month we enjoyed beets the size of a small child's head, and apples of that stature as well (though there were a variety of heirloom types included, most of the familiar scale).

Leeks, fingerling potatoes, russet potatoes, purple onions, cippolini onions (which I've only found from one local farmer during the summer), fresh horseradish root, dried black beans and more.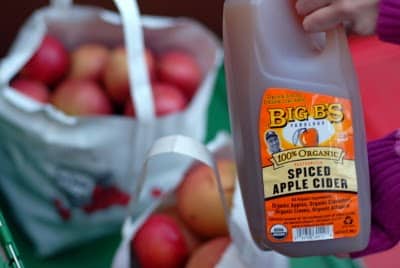 In addition to the apples, our fruit share included spiced apple cider from a local maker that is beyond delicious.

You truly have not tasted cider until you've had it pressed fresh.

I substitute it for water when making hot cereal in the winter which brightens the flavor of the cereal immensely and requires no sweetener to be added.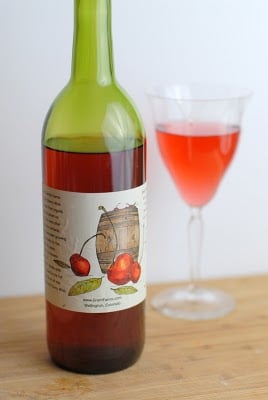 This year we've enjoyed a more civilized addition
to our fruit share:

farm bottled cherry wine.

Some of you may remember the excitement of discovering a toy in the bottom of a cereal box or Cracker Jacks.

Can I confess?

Finding a few bottles of cherry wine underneath your pounds of delicious apples is heart-stopping fun for an adult.

The wine is beautiful too.

The color is a ruby red.

The label charming in its graphics and the imprecise angle at which it's applied.

The flavor is luscious, not strong cherry but a tease of it and totally refreshing.

I have been over the moon about that.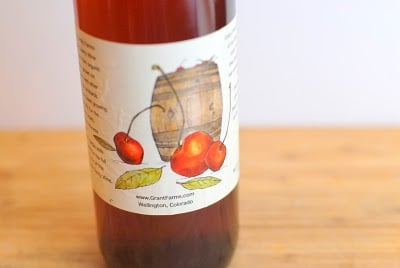 I have not had the pleasure of meeting Andy Grant personally though did listen to him and see him from afar at the Harvestival.

He's a sweet and earnest soul who has been around forever in the Northern Colorado farming community (though you'd never know when looking at his tanned, youthful face and with the alive sparkle in his eyes).

He's passionate about his farm and his role in the community.

The information from the farm steps outside of mere business engagement and strives to inform and support proper farming practices, extending the future of farming integrity for our region and beyond.
I encourage you to look at their website.

If you are local, they are beginning to offer summer CSA's now and I feel confident there will be a pick spot near you wherever you may be in Colorado.

If you are not local, a quick look would give you insight to a farm excited about their food and desire to engage you as well (maybe it will provide a portal into what you might find in your own area's farm CSA opportunities).

Their website has recipes, food preservation info, CSA information, and gives you a strong sense of their support of other local farms.

You can also find them on Twitter and Facebook (where updates, news and the latest in the agonizing local GMO controversy can be sure to be found).
·
Website:

http://www.grantfarms.com/