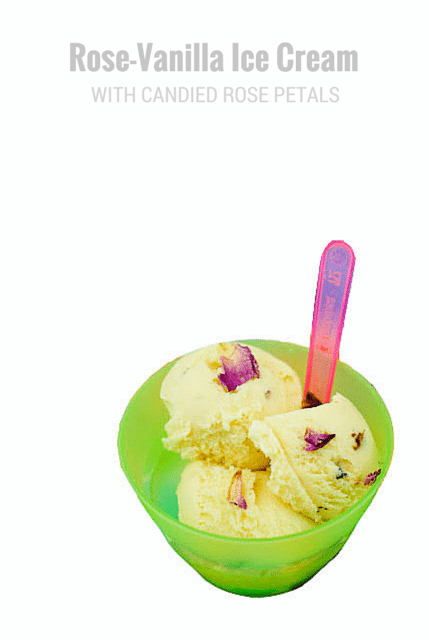 The discovery of one little product on an idle shopping trip last week has unleashed days of recipe experimenting, the outcome of which I cannot wait to share!
Rose Extract. Go figure. Never heard of it. Never imagined there would be such a thing but after finding it, I had to try it. The first thing I made using it was Rose Vanilla Ice Cream with Candied Rose Petals. This ice cream tastes how roses smell. Sounds bizarre but since the nose and mouth are connected, these two senses enjoy such interplay. I wanted to make candied rose petals to add to the ice cream which prompted more research on edible plants. I have had consistent feedback that roses are one of the most highly sprayed flowers making it imperative when eating them to ensure they are organic.
After some experimentation I found an easy method to candy the rose petals. I think if using fresh rose petals the methodology would differ with a need to dehydrate them in some way at the end of the sugar coating.
Recipe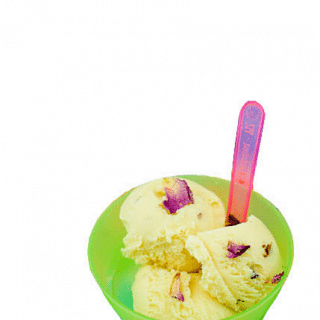 Rose Vanilla Ice Cream with Candied Rose Petals
This delicate rose-vanilla ice cream is a sure whimsical surprise. Only a small amount is needed to flavor the ice cream. The Candied Rose Petals add a fun touch and may be used for decoration or flavor in other recipes. Be sure to use organic rose petals to ensure they have not been sprayed with pesticides.
Print
Save Recipe
Recipe Saved!
Pin
Rate
Ingredients
Ingredients for Candied Rose Petals:
Ultra fine sugar

(or Baker's Sugar)

A pasteurized egg white

Organic rose petals

Parchment paper or Silpat

Tweezers or long nose pliers used only in the kitchen

Pastry or other delicate kitchen brush
Ingredients for Rose Vanilla Ice Cream:
2

cups

whole milk

4

egg yolks

1

14-ounce can

sweetened condensed milk

1

tablespoon

vanilla extract

½-1

teaspoon

rose extract

2

tablespoons

crushed candied rose petals
Instructions
Instructions for Candied Rose Petals:
Preheat the oven to 140 degrees.

Pour some of the rose petals in a shallow bowl of warm water. Don't pour too many or they will stick together. Allow to reconstitute for about 10 minutes.

Create an assembly line: a bowl with the egg white whipped just a bit to be foamy, a bowl of ultra fine sugar (not too much), a pan with the Silpat or parchment paper.

Pick up a petal with tweezers or long nose kitchen pliers, shake off water but do not attempt to dry (petal will rip).

Brush some of the egg white on both sides of the petal.

Holding the petal over the sugar....

sprinkle sugar over the petal on both sides.

Place petals on the parchment or Silpat. Place in the 140 degree oven for about an hour or until dry. This allows a crisp petal and no raw egg.
Instructions for Rose Vanilla Ice Cream:
Place egg yolks in a heat resistant bowl and whisk together. In a medium size, heavy saucepan, warm milk to a simmer.

Pour warm milk into egg yolks. Whisk to mix thoroughly. Pour milk/egg mixture back into the saucepan.

On low heat, warm the mixture stirring constantly until it begins to thicken. It will NOT thicken like traditional custard so just look for a slight thickening. Be sure to keep the heat low or the eggs can begin to scramble.

Remove from heat and pour the custard into a strainer on the top of a metal bowl. Press custard through strainer with a spatula and be sure to wipe the underside of the strainer with a spatula to get all the custard into the bowl.

Place bowl into an ice bath to cool (a second bowl with ice). See below. Once cooled, stir in the sweetened condensed milk, vanilla and rose extract (I suggest adding a ½ teaspoon first, taste the mixture and add more if desired). Place into the refrigerator until cold or overnight.

Pour mixture into your ice cream machine and process based on manufacturer's instructions. When almost done add 2 tablespoons crushed candied rose petals. Though the ice cream is edible when done I usually place it in a container overnight in the freezer before eating to allow it to become hard versus the soft texture coming out of the ice cream maker.
Notes
Base ice cream recipe adapted from The Ultimate Ice Cream Book
Nutrition
Calories:
57
kcal
|
Carbohydrates:
2
g
|
Protein:
2
g
|
Fat:
3
g
|
Saturated Fat:
1
g
|
Cholesterol:
83
mg
|
Sodium:
24
mg
|
Potassium:
72
mg
|
Sugar:
2
g
|
Vitamin A:
185
IU
|
Calcium:
64
mg
|
Iron:
0.2
mg