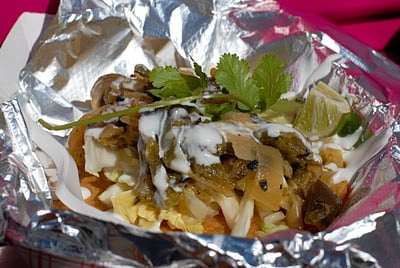 Onion and Poblano Tostada, a Comida specialty
Someone near and dear to me once lovingly told me 'you are like a monkey; you like shiny things'.

In all seriousness, this IS a true statement.

However I'm not a 'dripping in diamonds' kinda gal.

It's more beguiling pink food trucks with perfect vintage-vibe Mexican graphics and fonts that cause me to rubber neck to the point of potential accident while driving.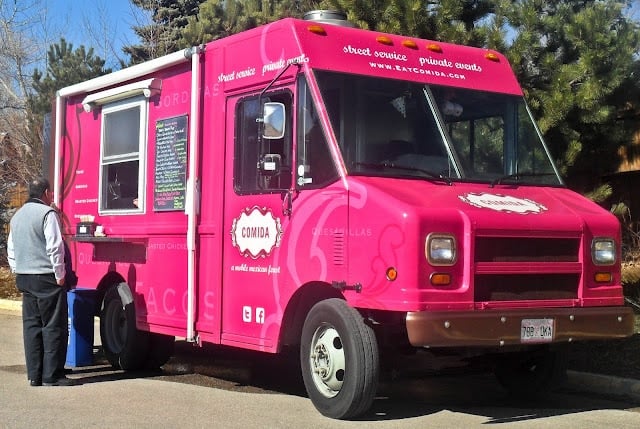 Comida
(which means food in Spanish) really is one of these 'shiny things' that turns me into a heat seeking missile.

I've had chance spottings around town.

Always took my attention wondering who they were, what they sold.

Finally I drove right passed them last week, bee lined home, found them on the web and wrote a barely restrained email beginning with how I was totally enchanted by their truck.

Fortunately Rayme, who I now know to be the totally cool down-to-earth owner, responded equally enthusiastically to my interest and never mentioned thinking perhaps I might be a freak based on my confessed obsession with her truck.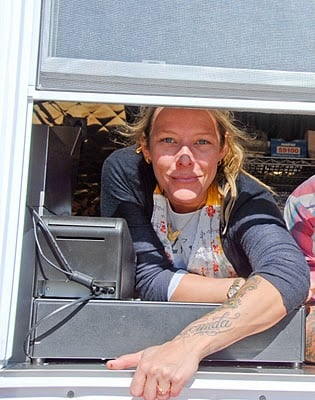 Rayme, Comida's owner, Mistress of Cool (check the comida tat on the forearm), Kindness and Good Eats
Some obsessions are worthy of myopic focus.

This truly being one of those.

I tracked down Comida to meet the people and try the food.

I am a food truck virgin.

Until seeing Comida I did not even have 'eating at a food truck' on my culinary Bucket List.

Not purposefully, just hadn't thought of it as an end result goal (and if I'm being honest I'm never drawn to trends or 'what everyone is doing', in fact usually avoid it).
In reading over Comida's website it popped off the page that their approach is fresh, locally sourced when possible and seasonal.

My passion in a nutshell.

It's not hard to find a big pink food truck and I'd say the color is not only happy-making but visionary from an identification perspective.

One's spirits are immediately lifted by the playful color and you feel a party must be coming your way.
As we neared the truck, Jovee, Rayme's food 'partner in crime', greeted us from the front window and invited us to come in and have a peek.

I do watch Top Chef so had seen the innards of a food truck but it was far more impressive in person.

Unbelievably three people made their way back and forth cooking and preparing food, seeming to have perfected the dance of it all, allowing no food to land on the ground in the process.

Jovee opened the oven to let us view four gorgeous trussed chickens roasting away.

LOVED that.

I did not spy one can, one pre fab package, anything plastic wrapped; they are making and serving real food.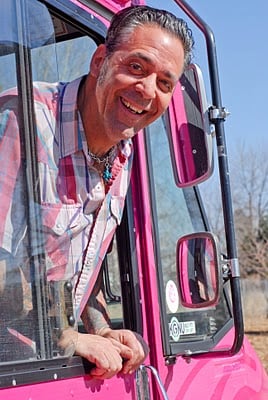 Jovee, Rayme's food 'Partner-in-Crime'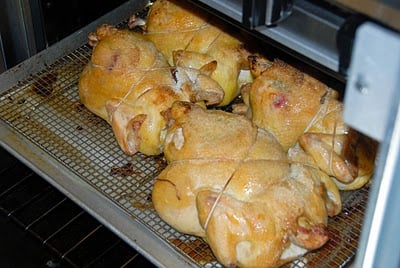 Gorgeous chickens roasting fresh in the truck for their chicken dishes
We arrived starving and wanting to try everything.

We settled on three tacos:

The Situation (slow braised top sirloin, sweet potato mash, roasted onions, crema), Marinated Fish Taco (grilled fish of the day, House Slaw and 'the business') and Pork Carnitas (slow braised pork, sweet potato mash, fresh pineapple salsa).

I asked Rayme if there was a specialty or something she particularly loved we should try and she suggested the Onion and Poblano Tostado which she felt we'd not find elsewhere.

All the tortillas were soft corn, perfect for gluten free dining.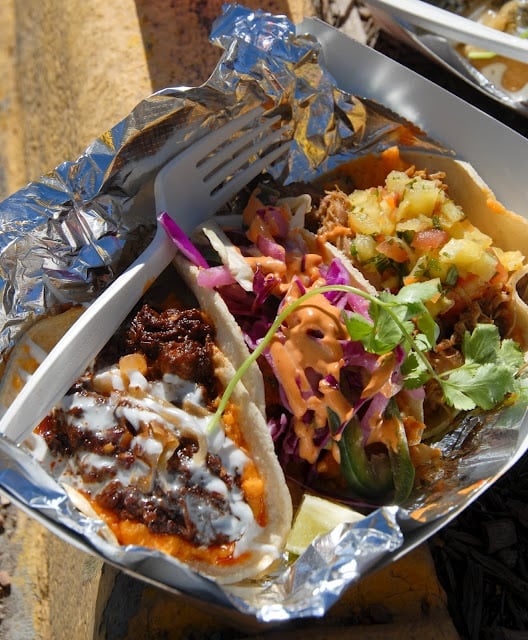 My mouth is beginning to water as I take pause to best articulate the food.

Everything tastes fresh and high quality.

You could discern every flavor component of each taco.

The flavors intertwined with perfection.

Nothing was overly seasoned, and there was no grand standing in the heat department causing smoke to blow out of your ears.

Crunchy vegetables were integrated into each dish which I loved.

At this time of year I am craving fresh food and this absolutely delivered.

Each taco had a distinct signature of flavors and meshing of salty, sweet, and savory.

Soft and hard textures in each bite.

And the glorious part?

When we were done, we were sated.

Not stuffed, not feeling sick as one can do with lard-laden heavily fried Mexican food (which admittedly I like the taste of but not the feeling from eating it).
It was 50 degrees and sunny.

I really cannot think of anything better than sitting on a street curb eating messy Mexican food.

The kind that makes you ignore your napkin because you WANT to lick every finger twice so as not to leave behind one morsel of flavor.

I enjoyed our food with a bottled Guava drink (you know, the authentic kind you can find at a Mexican market in old school thick glass bottles) and my companion, a Mexican Coke.

He's not been to Mexico nor ever had a coke of any sort so it was a very satisfying cultural foray for him.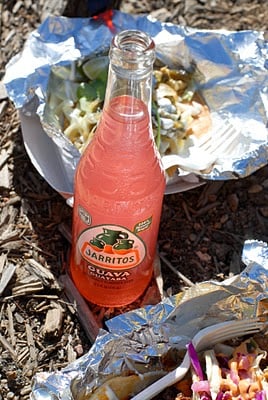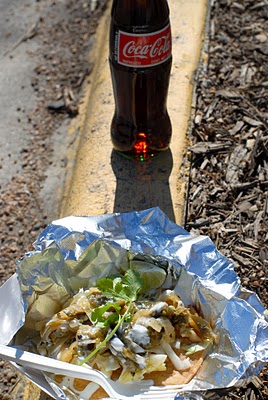 We wanted to eat more.

We wanted to stay longer.

We will track them like bloodhounds on a scent this summer as they embody the feel of summer.

They are friendly, cool people.

They are people who SHOULD be dealing with the public.

They set a tone of you having just walked into their home kitchen and they can't wait to serve you their latest delicious, inspired creation.

As we gobbled we noted how warm and friendly they were to everyone who approached.

You want to be their friends.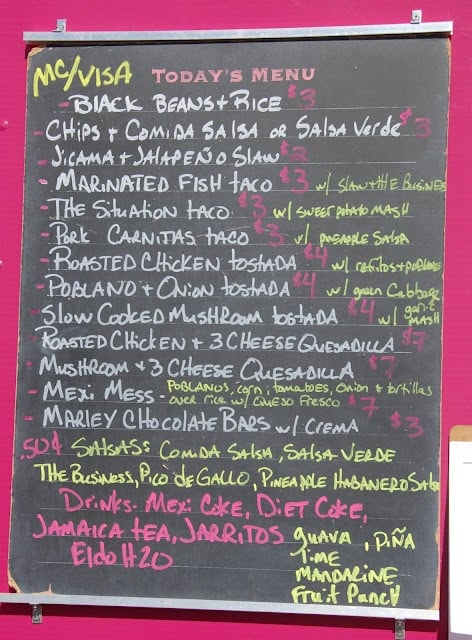 Comida has been in business since May 2010.

I was curious how being part of the food truck revolution is shaking out for them.

It seems to be going well.

I think they are on the cutting edge of this genre and as all first born children are weighted by their parent's learning curve, food trucks like Comida are working the kinks out of the process for all up and comers.

They seem to have it down.

The winter has been tricky as one could imagine in Colorado.

They are looking ahead to spring and summer.
How does one find Comida? They have a website where you can find their daily times and location as well as learn more about them.

They are on Twitter (@EatComida) with over 1000 followers, tweeting updates on their daily whereabouts and deliciousness for the day.

They take Visa and Mastercard.

And they drive a big pink truck.

Can you be any hipper than that?

I think not.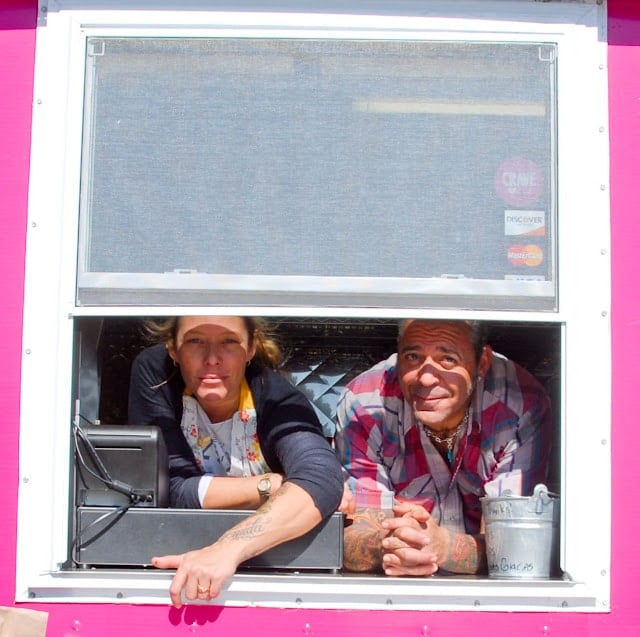 Go find them!

It's exciting to track a food truck, especially a big pink one named 'Tina'.

You'll find your new best friends and your new favorite street food.