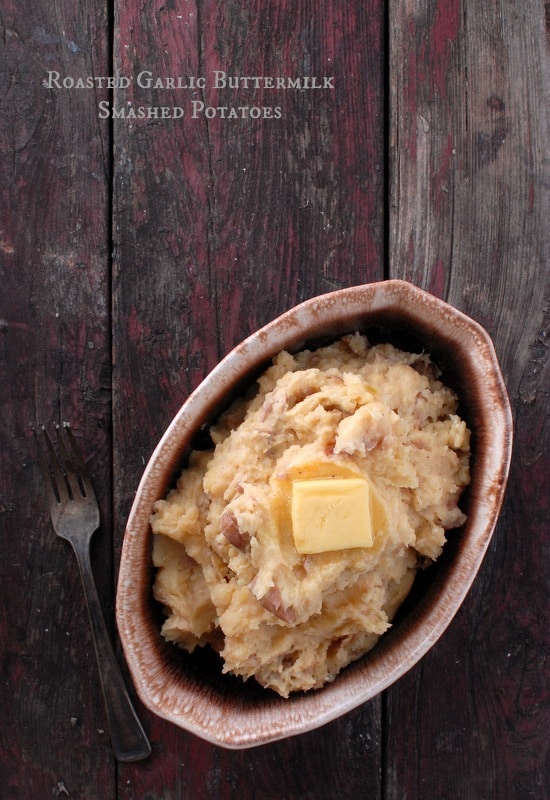 I believe it was in the 1990's when Roasted Garlic first came into vogue.  Much like fashion trends, food trends blast onto the dining scene, executing a culinary coup e'tat of every hip restaurant ripe for the next new thing.  Roasted garlic was one of those trends, and one for which I have no complaint.  I think every Happy Hour had roasted garlic with toasted baguette or a protein dish featuring the soft, easily mushed sophisticated form of our favorite natural seasoning.
When first encountering roasted garlic it can be baffling what to do with it.  It would be served as it is roasted, fully intact as a head with the tops of the cloves sliced off.  That gave little to no clue what to do next so usually one would wait for a more experienced in the dining party to go first.  When roasted, the garlic cloves soften and mellow, creating a more full-bodied garlic that is almost nutty flavored and spreadable.  The tony angle about it is a dip of a knife into the clove reveals a spreadable delight to transform mere bread into something exciting and exotic.  All the cool kids were doing it.
It was so popular specialized terra cotta Garlic Roasters were developed and I was given one as a gift.  They consisted of a small glazed dish with a domed lid (usually embossed with 'Garlic Roaster' in case you forgot what it was).  You'd prepare the garlic head, douse it with olive oil, and put it in the oven and 'voila' you'd have home-roasted garlic.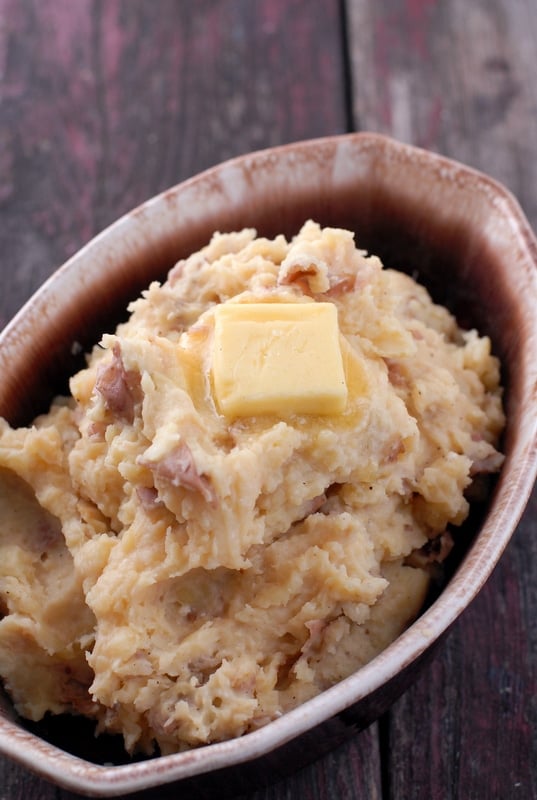 My garlic roaster is in moth balls in my culinary gadget archives along with my terra cotta white wine cooler and about 14 abandoned immersion blenders which predate my current model.  Roasting garlic is easy and does not require any special accoutrement.  Some foil, olive oil and of course garlic and you are all set.  It is the simplest dish and is so useful for other recipes.  It is a great appetizer with crusty bread and does perk up other dishes.
In the spirit of the cozier foods of the season I wanted to make a side dish rich in flavor, rustic, comforting but without a lot of effort:  Roasted Garlic Buttermilk Smashed Potatoes.  With Thanksgiving on the horizon I always try to come up with side dishes filling out the traditional recipes but with a twist.  I'm unsure we'll ever abandoned our traditional mashed potatoes but these spuds offer a different texture, and flavor profile to brighten up the main holiday dishes.  Any new potatoes can be used, as well as other potato varieties, though since the skins are left on a thin skinned potato variety works best.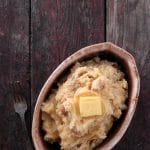 Roasted Garlic Buttermilk Smashed Potatoes
Roasted Garlic is a quick fabulous addition to spread on crusty, toasted baguettes and to enhance many other dishes. It's mellow flavor and spreadable texture make it very easy to work with and prepare. The addition of them to these rustic Buttermilk Smashed Potatoes is a perfect addition to make the dish a bit unexpected. The flavor of the garlic does become more muted and almost nutty when roasting to do not fear the amount in the recipe!As the garlic roasts the potatoes may be boiled to time out when the garlic is done which leaves the cooking time to be 30 minutes total.
Ingredients
Ingredients for Roasted Garlic:
1

medium-large head Garlic

1-2

teaspoons

Olive Oil
Ingredients for Roasted Garlic Buttermilk Smashed Potatoes:
1 ½

pounds

New Red Potatoes

, unpeeled and scrubbed

1

teaspoon

Kosher Salt

1/2

cup

Buttermilk

, room temperature

1

head Roasted Garlic

(cloves scrapped from the outer skin)

4-5

tablespoons

unsalted Butter

(to taste), cut into tablespoon-sized pieces

Salt and freshly ground Black Pepper to taste
Instructions

Instructions for Roasted Garlic:
Preheat oven to 400 degrees F.

Remove outer papery skin on garlic head. Using a sharp serrated knife, slice the top of the garlic head off exposing the tops of the majority of the cloves. Using a smaller knife, slice off the very top of any cloves remaining unexposed.

Place garlic head on a piece of foil. Drizzle the olive oil over the exposed tops of the garlic cloves.

Seal the garlic in the foil to make a fully closed packet. Place the foil packet in the oven and cook for 30 minutes or until the garlic cloves are very soft. Remove from oven.
Instructions for Roasted Garlic Buttermilk Smashed Potatoes:
Cut scrubbed potatoes in half or quarters depending on size (about 1 inch cubes). Place them in a cooking pot, cover with water plus one inch above the top of the potatoes. Add 1 teaspoon salt and bring to a boil over high heat.

Lower heat to medium bringing the pot to a simmer and allow potatoes to simmer for 20 minutes until fully soft. Drain and return to the cooking pot.

Add the butter, buttermilk and the garlic cloves. Smash using a hand-held potato masher or back of a wooden mixing spoon. Salt and pepper to taste; serve hot.