Summer is the time to get your salad on and make it exciting! Red Grape Jicama Walnut Salad with Mango-Jalapeno Poppy Seed Dressing is just the ticket to get you excited about healthy summer salad!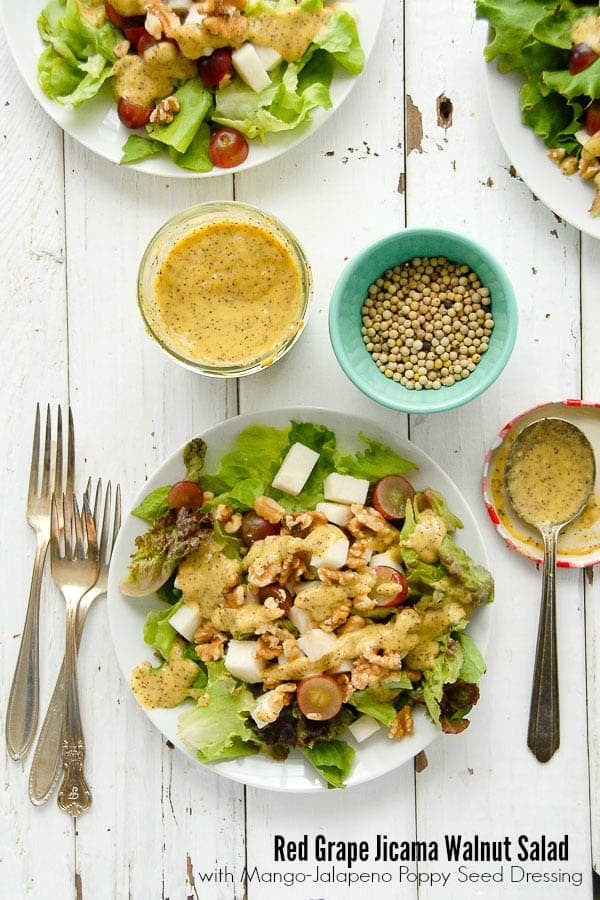 Salad is probably the most popular summer food staple. It makes sense. The abundance and variety of fresh fruits and vegetables at their prime provide a perfect reason to feast on salads of all sorts. I'm reviving a summer favorite from a few years back that is bursting with vibrant flavors, sweet and toasty, crunchy and some spicy goodness too: Red Grape Jicama Walnut Salad with Mango-Jalapeno Poppy Seed Dressing.
What Is Jicama and How to Use It
Out of the entire oh-so-long recipe title the one thing you may be unfamiliar with is Jicama (pronounced hee-ca-ma). It's the brown tuber you have seen at the store or Farmer's Market and may have walked by thinking to yourself 'what was that and how on earth would someone eat it?" Jicama has become popular in the past decade or so for it's crunchy texture and lightly sweet flavor. It is almost 95% water and originates from the Mexican penninsula! Jicama is most often eaten raw and adds a wonderful refreshing crunch and sweetness to salads and is a great chip substitute for dips too. It has a thin peel which may be removed with a vegetable peeler or a paring knife, than sliced as needed for whatever you are making.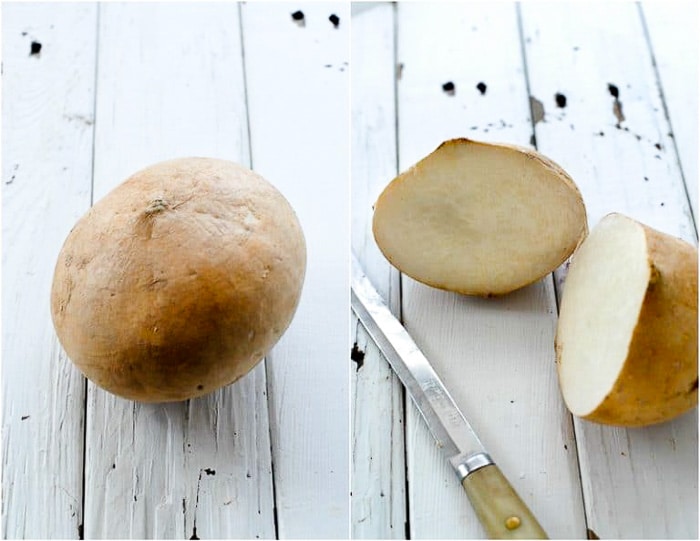 The other thing that is fantastic about summer, and a great reason to visit your local Farmer's Market, is the availability of so many types of fresh lettuces. For those who have ventured no further than iceberg lettuce you are in for a real treat. Candidly I too did not realize how much flavor lettuce can have until starting a CSA share with a local farm. I always looked at lettuce as a low calorie salad staple but never counted on it for true flavor.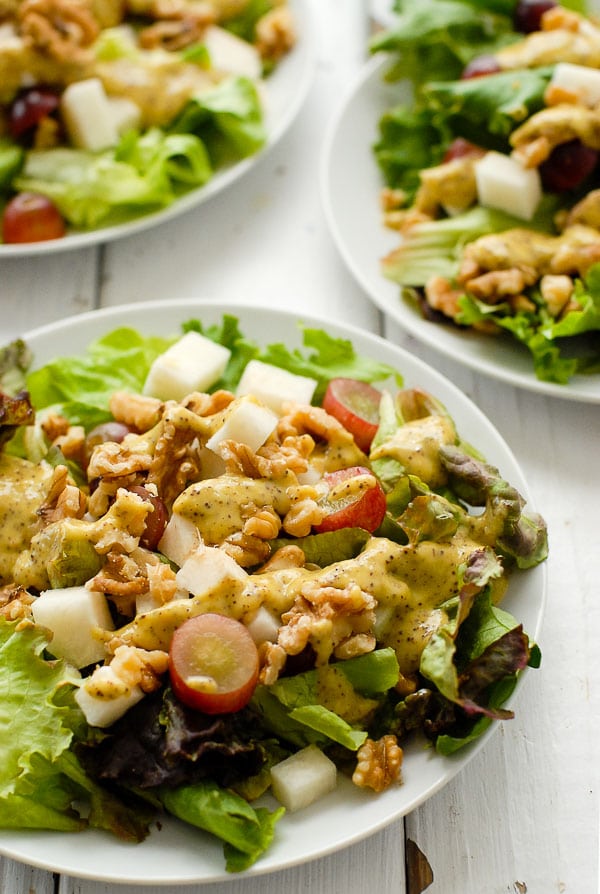 Varieities of leaf lettuces, Romaine lettuce, mixed spicy greens, mixed spring greens, Butter lettuce, arugula and spinach, or a mix of them are now how I start a green salad at home. Often the greens bear so much flavor, the other ingredients are just icing on the cake! For this salad a milder leaf lettuce is perfect.
One can't talk about salad without talking about the dressing. For me the dressing often makes or breaks the salad. I had shared a collection of 15 Salad Dressing Recipes to Get You Excited About Salad Again this year and frankly I often start with the dressing and work backwards to pair it with the right salad. I'm simply mad for Mango-Jalapeno Poppy Seed Dressing. It is a perfect balance of sweetness and tanginess without being heavy. My current warm-weather favorite dressing.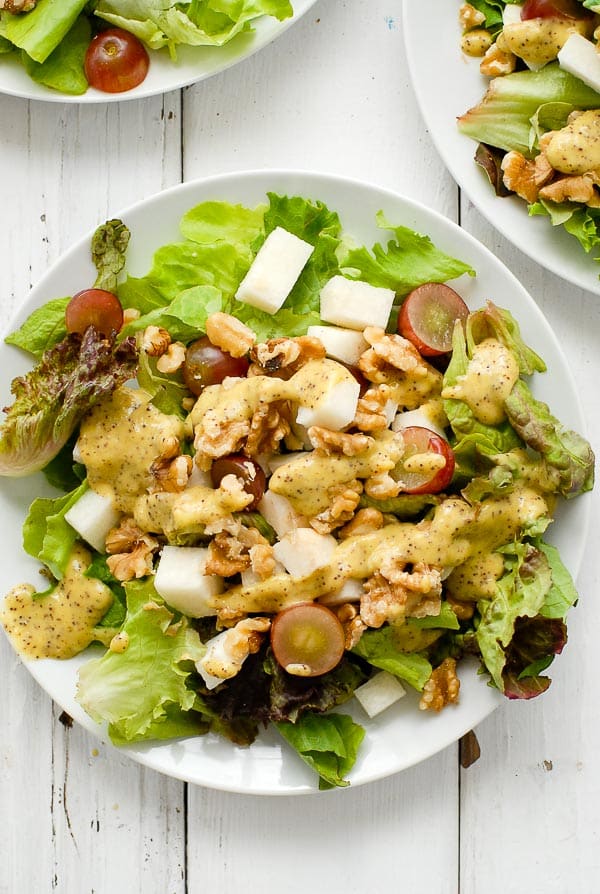 Red Grape Jicama Walnut salad is a perfect example of breaking out of the norm to mix and match fruits AND vegetables for a refreshing, sweet, tangy, spicy, crunchy salad. Never be afraid of combining ingredients you woudn't think to normally. You could be making your next favorite salad!
How to Make Red Grape Jicama Walnut Salad with Mango-Jalapeno Poppy Seed Dressing
Recipe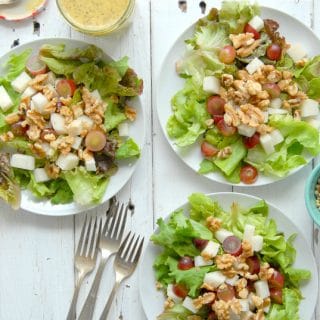 Red Grape-Jicama-Walnut Salad with Mango-Jalapeno Poppy Seed Dressing
This simple, refreshing salad of red grapes, jicama and walnuts provides flavor, texture and visual appeal while showcasing the beautiful lettuce of spring. The Mango-Jalapeno Poppy Seed Dressing will surely become a favorite for many warm weather salads as well!
Print
Save Recipe
Recipe Saved!
Pin
Rate
Servings:
6
side salads or 2-4 personal size entree salads
Ingredients
Ingredients for ngredients for Mango-Jalapeno Poppy Seed Dressing:
1 ½

tablespoons

Poppy Seeds

½

cup

Yellow Onion

, peeled and rough chopped

¼

cup

Turbinado Sugar*

(regular granulated sugar may be substituted)

¼

cup

Rice Vinegar

1

teaspoon

dry Mustard

½

teaspoon

Kosher Salt

½

teaspoon

White or Lemon Pepper

, ground

1

cup

Mango

(about 1 ataulfo or champagne-variety mango), peeled cut into large pieces

1 ½

teaspoon

Jalapeno Pepper

, seeded and diced

¼

cup

plus 2 tablespoons Canola Oil
Ingredients for Red Grape-Jicama-Walnut salad:
1 ½

cup

Red Grapes

, halved or cut into thirds if very large

1

cup

Jicama

, peeled and cut into small cubes

¾

cup

Walnuts

(raw), roughly crushed by hand (keep pieces large)

4-8

cups

baby or spring Lettuce

, washed and torn into bite-sized pieces
Instructions
Instructions for the Mango-Jalapeno Poppy Seed Dressing:
In a small, heavy dry saucepan add poppy seeds over medium heat. Stir frequently allowing them to begin to toast (3-4 minutes) at which time you will be able to smell them toasting.

Add the onion, turbinado sugar, rice vinegar, dry mustard, kosher salt, pepper, mango, and jalapeno to the saucepan; stir to fully combine and bring to a light simmer. Immediately reduce the heat and allow the pan to hit on low heat for 3-4 minutes just to combine the flavors.

Remove the pan from the heat and pour contents into a blender. Pulse on 'blend' to liquefy the mixture.

With the blender on low, slowly pour the canola oil through the top of the blender lid allowing the mixture to emulsify (fully combine). Remove from blender and either place in a sealed container in the refrigerator until using, or allow to cool to room temperature before dressing the salad. Note: there will be leftover dressing to use on other salads.
Instructions for Red Grape-Jicama-Walnut Salad:
In a bowl, combine the grape slices, jicama cubes and walnut pieces. Mix to combine. Note: if wishing to serve chilled, this mixture may be made beforehand, sealed in a container and refrigerated.

On individual plates, cover the plate with a good portion of lettuce. Mound the grape-jicama-walnut mixture on the lettuce and spoon on dressing. Can be served chilled or at room temperature.
Notes
*I prefer Turbinado Sugar for this recipe as it is less refined and not as intensely sweet as regular granulated sugar. If substituting granulated sugar, add a bit less than called for and taste for your preferred sweetness before adding more. Note: overall time may vary due to cooling of dressing or salad ingredients.
Nutrition
Calories:
288
kcal
|
Carbohydrates:
26
g
|
Protein:
3
g
|
Fat:
20
g
|
Saturated Fat:
1
g
|
Cholesterol:
0
mg
|
Sodium:
202
mg
|
Potassium:
318
mg
|
Fiber:
4
g
|
Sugar:
20
g
|
Vitamin A:
575
IU
|
Vitamin C:
19.6
mg
|
Calcium:
68
mg
|
Iron:
1.2
mg