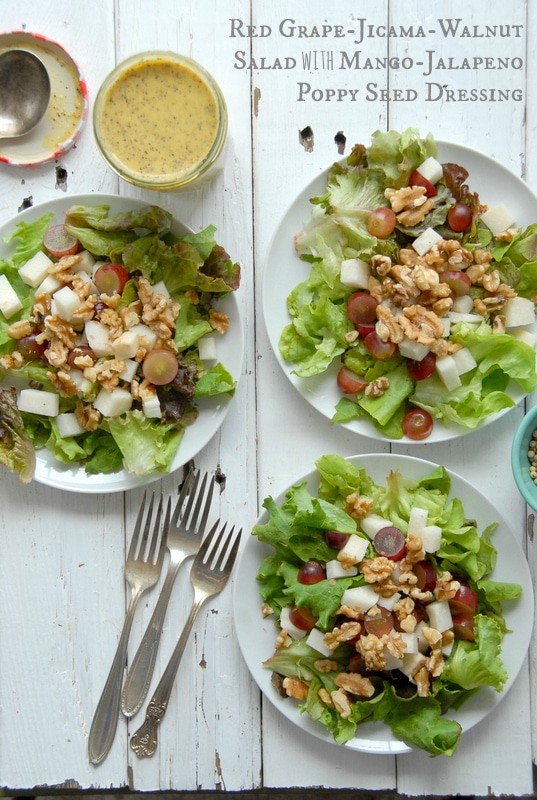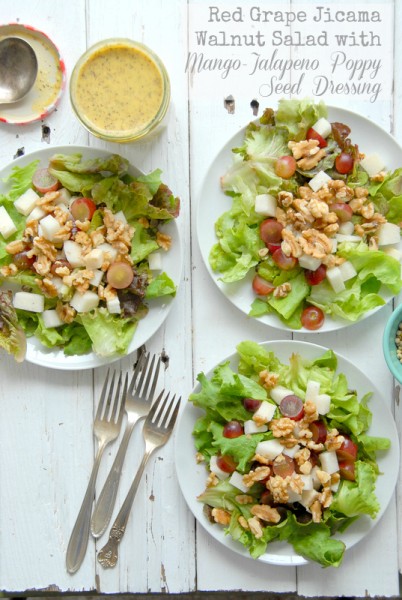 All lettuce is not created equal.  I'm going to completely 'out' my mother as an example, as she represents most lettuce-eaters, including me before having a CSA in a local farm.  A couple summers ago we were getting together at her house to have a meal.  She shared the menu which had no vegetables and being the height of summer I was overflowing with fabulous fresh (and very large) heads of lettuce.  Our CSA farm (Cure Organic Farm) grows a number of lettuce varieties, each with a wonderful, unique flavor.  I told my mother I'd bring some lettuce and make a salad.
I brought a beautiful head of spring green, ruffle-leaved lettuce and a favorite mysteriously speckled variety that is heat resistant and whose looks would charm even the most ardent vegetable-hater into eating a large mound on the spot.  We sat down for our meal and after taking a bite of the salad my mom said 'I never knew lettuce had flavor!'  Who does if they are only eating iceberg lettuce (which in her defense is probably all that has been readily available for most of her lifetime)?
I sometimes feel sorry for Iceberg Lettuce now when I'm shopping.  It's usually sitting alone with other perfectly round bowling-ball shaped kin while the Romaine lettuce, mixed spicy greens, mixed spring greens, Butter lettuce, arugula and spinach fly off the shelf destined for an exciting salad.
I do a lot of volunteer work and by far one of my favorite projects to date has been founding a school garden at my children's elementary school.  With the drive of another passionate foodie mom and the resources of the local Growe Foundation our school installed a Garden-to-Table program three years ago.  It has been a completely enriching experience for our school community and for those involved to watch the children meet new vegetables they've never had and gobble up lettuce like it's candy.
My CSA farm grows all the lettuce starts for 18 elementary schools gardens to be planted in March by first graders regardless of the weather.  Sheltered by hoop houses against our unpredictable spring weather, the lettuce is picked in early May by second graders and folded into a 'Rainbow Day' in the school cafeteria where any children who want a salad may have as many helpings from the salad bar as they choose including the delicious lettuce.  Several varieties are planted creating a beautiful canvas of greens and burgundy, ruffles and speckles.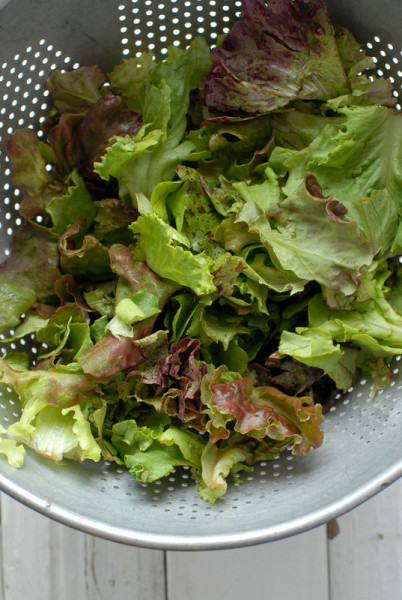 I was fortunate this year to end up with a bag of extra lettuce from the Rainbow Day.  There is no better treasure from the spring line up of fresh produce.  The texture is soft and forgiving; the bite sweet and full of flavor.  And I can unequivocally say, when you know the person (or people, big or little) who have grown your food, it IS more special.  One puts more thought into preparing it, and it is more satisfying when eating it.  Though I could easily sit down and eat mindlessly from the lettuce bag as one does with popcorn at a movie, it truly deserved so much more.
With the backdrop of near record breaking temp's in the mid 80's I created this refreshing, thirst-quenching, bounding-with-flavor Red Grape Jicama Walnut Salad with a Mango-Jalapeno Poppy Seed Dressing and was instantly smitten feeling I may eat it every day until December 15th.  The grapes are juicy and sweet, the jicama sweet in its own way adding a fabulous crunch along with the raw walnuts, and the dressing is out of this world.  I think you too will find it perfect for hot summer days when the idea of eating anything that is not a popsicle or watermelon sounds unbearable (and frankly any other time!).  AND it's a perfect opportunity to pass by that iceberg lettuce waiting for someone to make tacos and explore the options of beautiful spring lettuce that abounds right now.  Contrary to popular experience, lettuce should be the star of a good salad not just a required ingredient.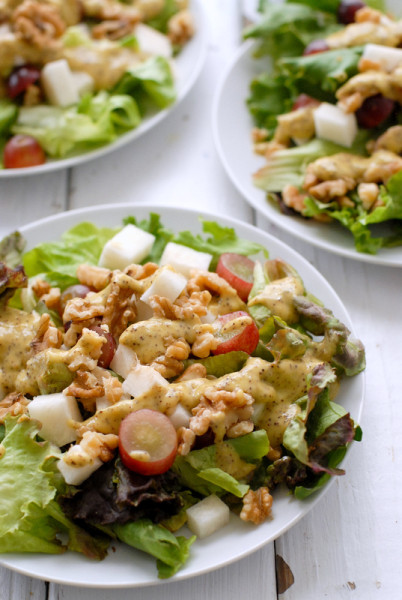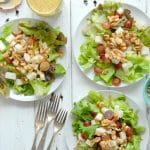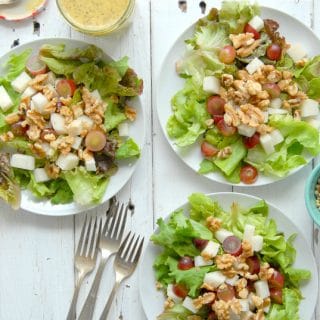 Red Grape-Jicama-Walnut Salad with Mango-Jalapeno Poppy Seed Dressing
This simple, refreshing salad of red grapes, jicama and walnuts provides flavor, texture and visual appeal while showcasing the beautiful lettuce of spring. The Mango-Jalapeno Poppy Seed Dressing will surely become a favorite for many warm weather salads as well!
Ingredients
Ingredients for ngredients for Mango-Jalapeno Poppy Seed Dressing:
1 ½

tablespoons

Poppy Seeds

½

cup

Yellow Onion

, peeled and rough chopped

¼

cup

Turbinado Sugar*

¼

cup

Rice Vinegar

1

teaspoon

dry Mustard

½

teaspoon

Kosher Salt

½

teaspoon

White or Lemon Pepper

, ground

1

cup

Mango

(about 1 champagne-variety mango), peeled cut into large pieces

1 ½

teaspoon

Jalapeno Pepper

, seeded and diced

¼

cup

plus 2 tablespoons Canola Oil

(preferably organic, non-GMO)
Ingredients for Red Grape-Jicama-Walnut salad:
1 ½

cup

Red Grapes

, halved or cut into thirds if very large

1

cup

Jicama

, peeled and cut into small cubes

¾

cup

Walnuts

(raw), roughly crushed by hand (keep pieces large)

4-8

cups

baby or spring Lettuce

, washed and torn into bite-sized pieces
Instructions
Instructions for the Mango-Jalapeno Poppy Seed Dressing:
In a small, heavy dry saucepan add poppy seeds over medium heat. Stir frequently allowing them to begin to toast (3-4 minutes) at which time you will be able to smell them toasting.

Add the onion, turbinado sugar, rice vinegar, dry mustard, kosher salt, pepper, mango, and jalapeno to the saucepan; stir to fully combine and bring to a light simmer. Immediately reduce the heat and allow the pan to hit on low heat for 3-4 minutes just to combine the flavors.

Remove the pan from the heat and pour contents into a blender. Pulse on 'blend' to liquefy the mixture.

With the blender on low, slowly pour the canola oil through the top of the blender lid allowing the mixture to emulsify (fully combine). Remove from blender and either place in a sealed container in the refrigerator until using, or allow to cool to room temperature before dressing the salad. Note: there will be leftover dressing to use on other salads.
Instructions for Red Grape-Jicama-Walnut Salad:
In a bowl, combine the grape slices, jicama cubes and walnut pieces. Mix to combine. Note: if wishing to serve chilled, this mixture may be made beforehand, sealed in a container and refrigerated.

On individual plates, cover the plate with a good portion of lettuce. Mound the grape-jicama-walnut mixture on the lettuce and spoon on dressing. Can be served chilled or at room temperature.
Recipe Notes
*I prefer Turbinado Sugar for this recipe as it is less refined and not as intensely sweet as regular granulated sugar. If substituting granulated sugar, add a bit less than called for and taste for your preferred sweetness before adding more.Note: overall time may vary due to cooling of dressing or salad ingredients.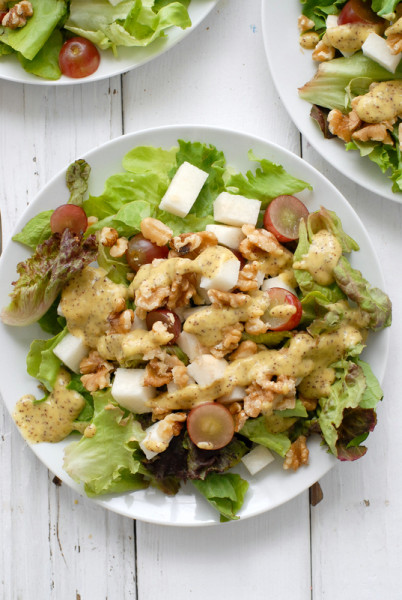 The Growe Foundation is a fantastic local organization dedicated to integrating Garden-to-Table programs in local elementary schools therein facilitating core curriculum learning using the garden as an experiential opportunity for math, science, writing and more.  To learn more or donate, click here.