Summer is the time to get your salad on and make it exciting! Red Grape Jicama Walnut Salad with Mango-Jalapeno Poppy Seed Dressing is just the ticket to get you excited about healthy summer salad!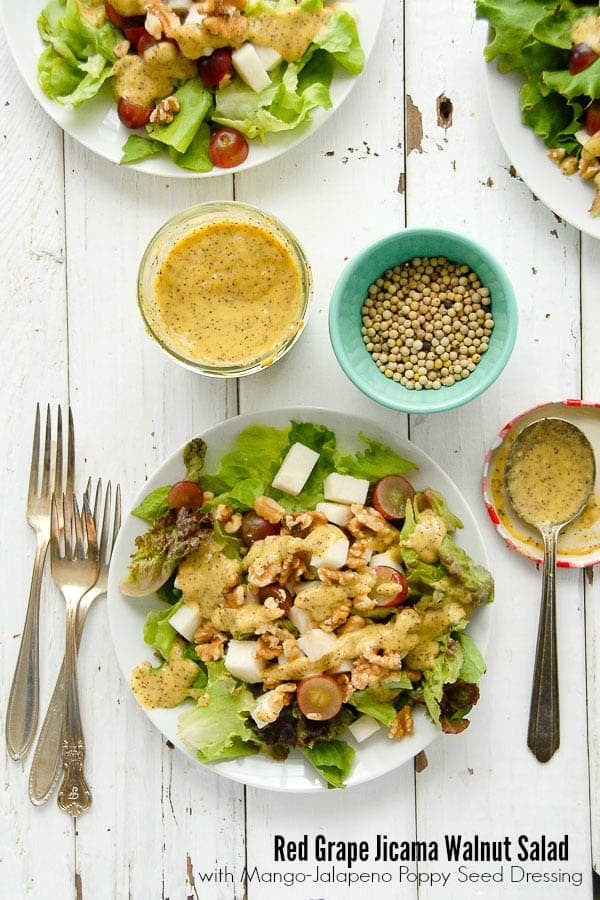 Salad is probably the most popular summer food staple. It makes sense. The abundance and variety of fresh fruits and vegetables at their prime provide a perfect reason to feast on salads of all sorts. I'm reviving a summer favorite from a few years back that is bursting with vibrant flavors, sweet and toasty, crunchy and some spicy goodness too: Red Grape Jicama Walnut Salad with Mango-Jalapeno Poppy Seed Dressing.
What Is Jicama and How to Use It
Out of the entire oh-so-long recipe title the one thing you may be unfamiliar with is Jicama (pronounced hee-ca-ma). It's the brown tuber you have seen at the store or Farmer's Market and may have walked by thinking to yourself 'what was that and how on earth would someone eat it?" Jicama has become popular in the past decade or so for it's crunchy texture and lightly sweet flavor. It is almost 95% water and originates from the Mexican penninsula! Jicama is most often eaten raw and adds a wonderful refreshing crunch and sweetness to salads and is a great chip substitute for dips too. It has a thin peel which may be removed with a vegetable peeler or a paring knife, than sliced as needed for whatever you are making.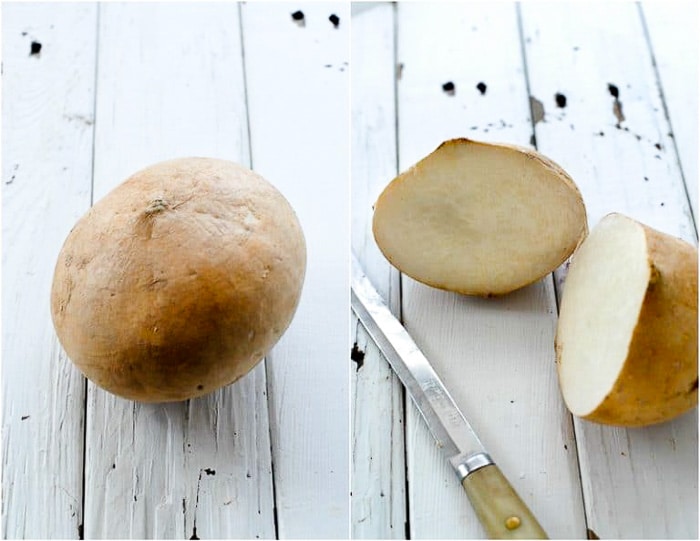 The other thing that is fantastic about summer, and a great reason to visit your local Farmer's Market, is the availability of so many types of fresh lettuces. For those who have ventured no further than iceberg lettuce you are in for a real treat. Candidly I too did not realize how much flavor lettuce can have until starting a CSA share with a local farm. I always looked at lettuce as a low calorie salad staple but never counted on it for true flavor.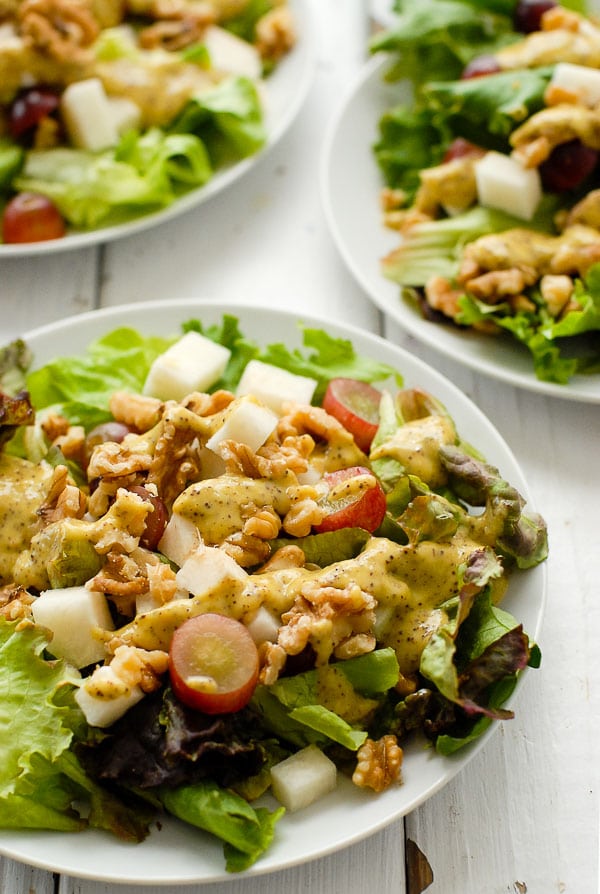 Varieities of leaf lettuces, Romaine lettuce, mixed spicy greens, mixed spring greens, Butter lettuce, arugula and spinach, or a mix of them are now how I start a green salad at home. Often the greens bear so much flavor, the other ingredients are just icing on the cake! For this salad a milder leaf lettuce is perfect.
One can't talk about salad without talking about the dressing. For me the dressing often makes or breaks the salad. I had shared a collection of 15 Salad Dressing Recipes to Get You Excited About Salad Again this year and frankly I often start with the dressing and work backwards to pair it with the right salad. I'm simply mad for Mango-Jalapeno Poppy Seed Dressing. It is a perfect balance of sweetness and tanginess without being heavy. My current warm-weather favorite dressing.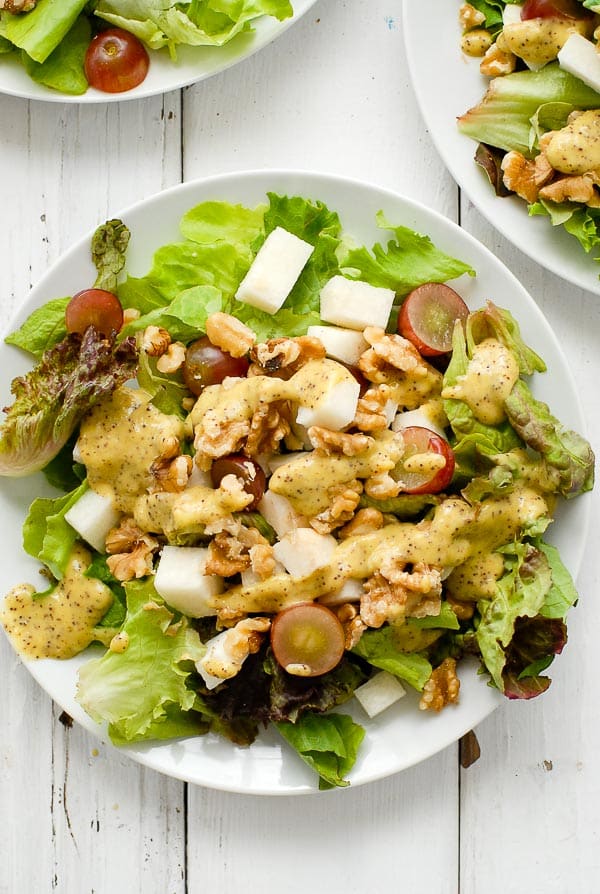 Red Grape Jicama Walnut salad is a perfect example of breaking out of the norm to mix and match fruits AND vegetables for a refreshing, sweet, tangy, spicy, crunchy salad. Never be afraid of combining ingredients you woudn't think to normally. You could be making your next favorite salad!
How to Make Red Grape Jicama Walnut Salad with Mango-Jalapeno Poppy Seed Dressing