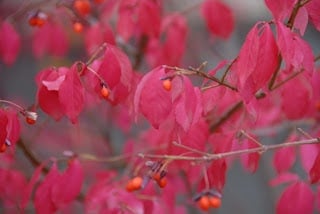 I think it really is over.
It's cold today.

Blustery, rainy with bitterness in the air.

The forecast warns of a 'severe chill' dipping into the 20's tonight and for the next few nights.

Call it 'Gardener's Intuition' but I think there is no protracting the summer spoils any longer.

It would be cruel to expect the warm weather heat seekers to hold out in these temps allowing remaining fruits to flourish.
I decided to harvest the remains of the tomatoes, of which there are still many, to make green tomato pickles or relish; just something to celebrate the season's effort and save the rest of the crop.

With downy layers on I went out with a stock pot to fill it with whatever I could take.

Unlike the familiar ritual of the last months of barely coaxing the ripe tomatoes to plop into my hand, today's effort was different.

Twisting, tugging and some ripping of vines.

Though my intent was honorable I felt melancholy over the violence of the act.
I filled a large stock pot with tomatoes including some ripe that were betwixt and between all the green globes, as well as some beans and one tiny watermelon that was all to speak of our efforts with that fruit (decided to try even knowing it is not the easiest of crops in our fair region).

I felt defeated that I can not extend the season any further by some means of ingenuity.

I know the frost protection tarps are no match for what lays ahead.

Winter's chill is tickling our cheeks even today.

It's coming and I can feel it.
A voice in my head is contradicting all my cloudy thoughts with 'HEY!

It is the last week in October and you are still harvesting tomatoes!

Take a Big Girl pill and get over it!'.

But still I will miss this particular garden of plants .

Having nurtured them all from seed indoors to this.

They've served us so well….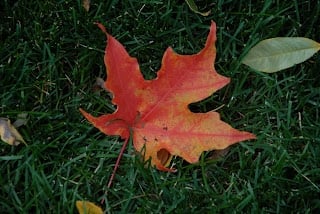 Post Script: I wrote this passage late morning but having risen WELL before dawn today felt it best to let the entry sit for a proofread to ensure its clarity. On my way home around 3:30 p.m. I noted what looked like a fire in my area of town (call me paranoid from our rogue wildfire a month back!). A strange smokey mass hanging in the north, centered in one location.
What a sight to behold driving into my neighborhood to find no smoke, but rather SNOW flurries! Whipping in the wind with sun still out. That is Gardener's Intuition at its finest!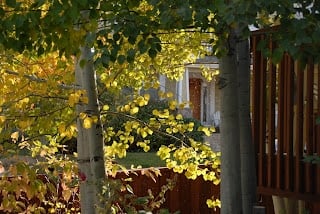 Note the white dots between the tree limbs when looking at the front door of the house in the photo! Snow!