I'm very fortunate to have my friends scattered all over the globe AND they all like food. A number of them are transplanted ex-pat's

who bring a fresh (and usually very funny) perspective to their new food encounters. I've convinced each of them to do a guest piece about food in their new native land
.
My first is my longtime Dubliner friend Neal, also known as 'The Thai' in the mad ping-pong match of wits on my post about
the Irish origin of the Jack-o-Lantern
. The man has a truly adventurous spirit that I admire. After extensively consulting in Asia he picked up and moved to Bangkok, loving the country and its people and having faith in launching his consulting firm there. He's jumped in with both feet, learning the Thai language, integrating into the culture and he has a local maid (which I love to tease him about). I hope you'll enjoy his descriptions of the street food and his photos as much as I did!
My good friend Toni (a.k.a. Boulder Locavore) requested that I guest write on her eloquent blog and being that I'm loath to argue with any woman, I have obliged herewith. Having landed in the Land of Smiles just under one year ago, I can provide a little insight into Bangkok Street Food from the unique perspective of the classic Paddy of the "Meat-n-Spuds only" or "if it's not burnt it's undercooked" variety. Indeed, having me write a food article is like having a lumberjack write about ballet. But here goes anyway.
So for those who haven't travelled to the wonderful city that is Krung Thep (Bangkok), I can inform you that not only does this modern city offer spectacular Thai and International restaurants of the 5 Star variety, but its street food is deservedly renowned for its variety and uniqueness. Indeed, in Bangkok, many of the locals rarely cook, such is the variety and quality of the incredibly cheap food available from the vendors on every "soi" (street).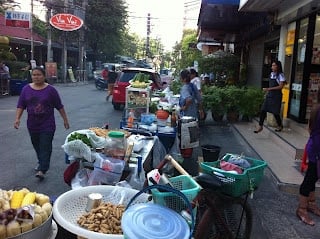 There are few streets in the city without vendors of hot and cold meals, exotic fruits and desserts, Thai Style versions of foreign foods such as kebabs, crepes, omelettes or sushi and various styles of Thai traditional food. On my own soi, as the junior high school gets ready to leave, vendors line up to provide them with afternoon snacks of Thai style sushi, mini crepes, BBQ chicken/pork/fish/crab on sticks which are grilled on charcoal grills before your eyes.
For BBQ, it is traditional to choose your "stick" which is caringly grilled before you. Opposite there is a BBQ pork seller who sells a smoked pork imbued with a smoky mix of herbs and spices together with a variety of noodles and soups. He opens for about 2 hours in the afternoon to a line of eagerly awaiting customers until he is sold out, then heads home. No franchising here, he makes a good living and is happy doing it.
Outside Siam Paragon, an immense luxurious shopping mall to rival the best in the U.S.A., amongst the many vendors of food, a skilled crepe vendor creates crepes with fillings including mushroom, butter, fruits, bananas, etc., made to your order for roughly $1 a crepe. He is busy from lunch 'til dusk.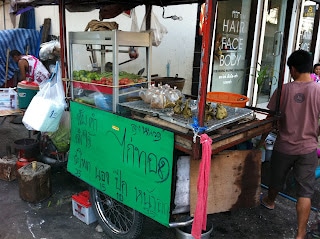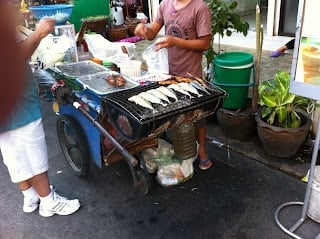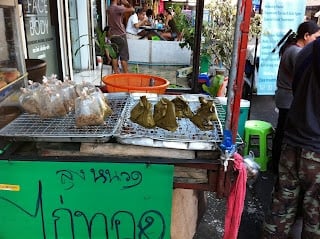 But these are the simplest of choices available, safe for the poor palette of a meat and spuds guy. There are literally hundreds of dishes available from multiple vendors, some who have fanatical followings like the
Soi 23 Mushroom Soup
vendor who makes the best mushroom soup in Sukhumvit, all others demoted to "Mai Arroy Thawray" (translated as 'not delicious much') by those who try the other soup sellers on the streets of Bangkok.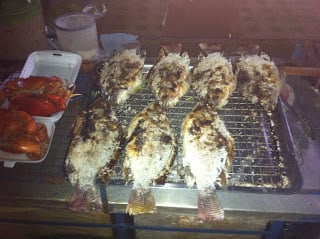 There is fierce competition on the noodle front with multiple varieties and choices available. The exotic spiders, grubs, scorpions, frogs, grasshoppers, etc. are also still sold in a few streets where immigrants from the far provinces treat themselves to a delicacy from their birthplaces.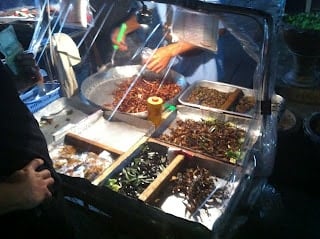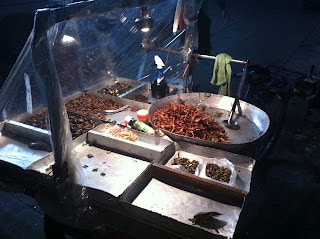 Many of the stalls provide small plastic tables and stools to enjoy your meal. Be warned though, usually when a vendor requests "Spicy or No?" with a twinkle in their eye, if you are brave enough to choose "spicy" be prepared to experience a temperature close to the sun, for no people like their spices more than the Thais of the North and North East of Thailand. These seemingly harmless tiny red and green peppers/chilies pack a punch that would put Mohammad Ali to shame. Unless you truly eat Jalapenos like Jelly Beans, do not try to match a local on "spicyness content".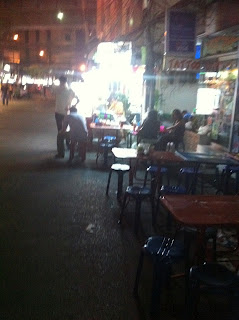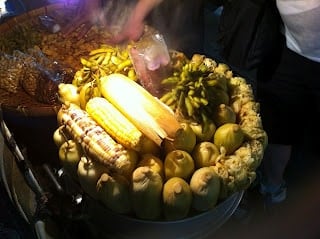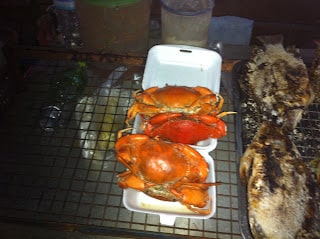 Overall, unlike many other areas of Asia, Street Food in Thailand is pretty much fine to eat as Thai people take immense pride in their culinary delights. The simple warning I give to visitors is that if you see a crowd of Thais eating there, it's as good as a five star restaurant. If you see it empty and the one beside it with a large queue, there is a good reason for that ……. join the queue and enjoy the feast.