Creamy, rich, tangy Key Lime Panna Cotta is a fun citrus twist on regular panna cotta. With key limes readily available in most parts of the U.S., everyone can enjoy a taste of Florida as inspired this recipe!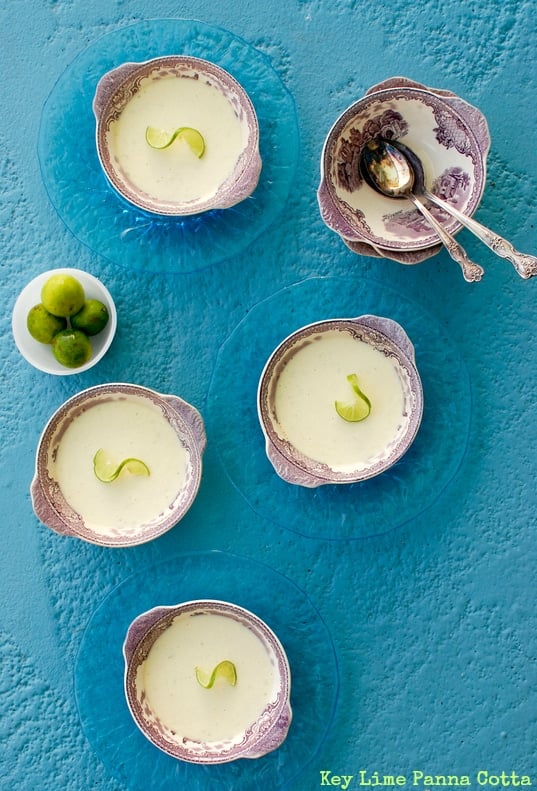 We have so enjoyed our two weeks in Florida staying at my Sister-in-Law's waterside vacation home. We've had manatee sightings and a Great Blue Heron hunting daily at our dock. Spotted an exotic sea slug that no one locally seems to have seen. Enjoyed long shell-hunting walks on the expansive beach. Dipped in the warm waters of the Atlantic and the house pool. It has really felt like vacation.
Loving Key Limes I've tried to use them whenever possible. I've made Tropical Mango Salsa and Key Lime infused Vodka. I loved Key Lime Pie before my gluten-free days but scouring the area for gluten-free graham cracker crumbs to make a pie crust was more than I could muster while on vacation.
I did however make a simple Key Lime Panna Cotta. Tangy, creamy and richly delicious I was inspired by the colors and vintage kitchenware in our vacation kitchen. The house where we stayed is a living tribute to the 1970's complete with aqua blue Formica counter tops and coordinated tile and wall paper. Deep pile shag carpet abounds. However I spent my time buried in the kitchen cabinets which house several lifetimes of dish and glassware compiled here by the original owners of the home.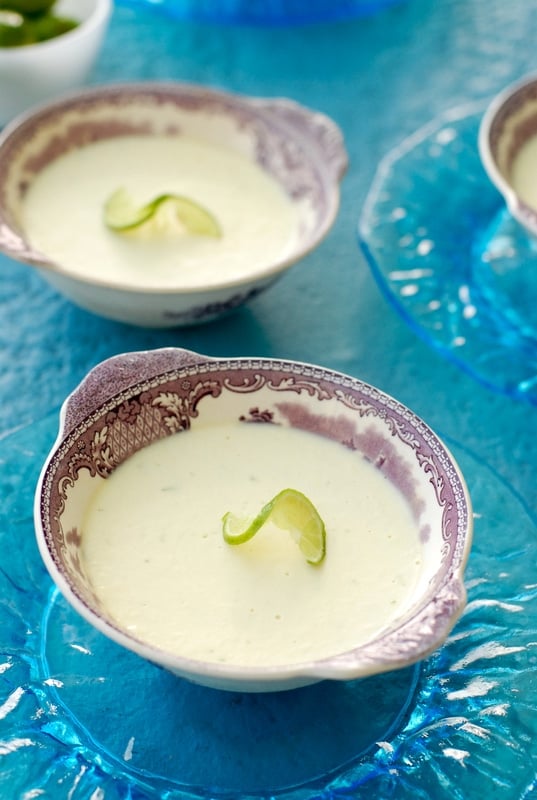 I fell briskly in love with several pieces (which I texted photos of to my Sis-in-Law as though offering free adoption services were they ever destined for a donation bin) including a lovely set of purple vintage Transferware bowls….that I promptly checked availability for on eBay. We used and gingerly hand washed them several times during our stay and celebrating them with the Key Lime Panna Cotta seemed fitting. Normally panna cotta would be released from their container and placed on a plate but in this case I wanted to savor every moment in this beautiful bowls so left it in the bowl for serving.