With four parks, visiting Disney World takes some special planning to get the most from a visit. These tips, tricks and resources help maximize a Disney World visit, including gluten-free dining, to avoid long lines, crowds and ensure happy memories are made!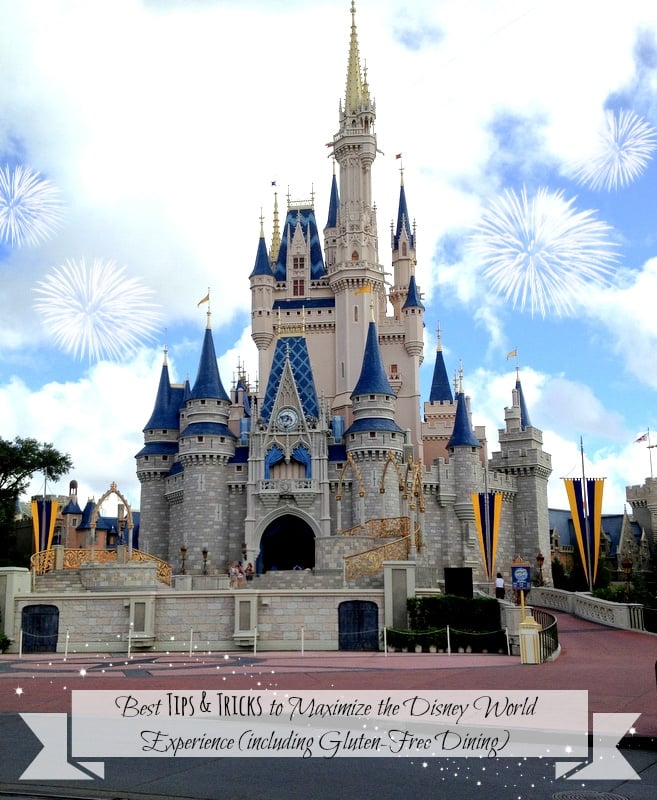 An anticipated highlight of our recent trip to Florida was three days at Disney World. Having visited and shared tips for a trip to Disneyland (California) from earlier this year I had not anticipated writing about Disney World but again the stellar gluten-free dining ease and some fantastic resources aiding our hardcore park schedule were too good not to share.
Despite being the 'Happiest Place on Earth', when visiting Disney World one must have a plan unless they are staying for a very long time in order to enjoy all the parks have to offer. Unlike Disneyland which sits directly across a pavilion from its sister park, California Adventure Park, Disney World's four main parks all require transportation between them adding time and planning. Our recent experience has validated that research and forethought provide the best opportunity to maximize the time at Disney World.
GETTING IT DONE: Three Days and Two Nights
Three days and two nights at Disney World. When buying park passes the 'Park Hopper Pass' option offers the most flexibility and in the moment decision-making. A Park Hopper passes allows moving between parks in a given day to maximize rides and experiences, dodging crowds and weather/heat whenever possible. There is an additional cost to make a daily pass a 'Park Hopper' but we've found the flexibility benefit it allows to be well worth it to ensure doing all Disney World has to offer on a limited time frame.
Tip: we purchased our Park Hopper Passes online from Travelocity.com. The three-day passes were the same price as purchasing them online from Disney, though an additional fourth day was included at no extra cost which was unique to the Travelocity offer. Moral of the story: Shop around.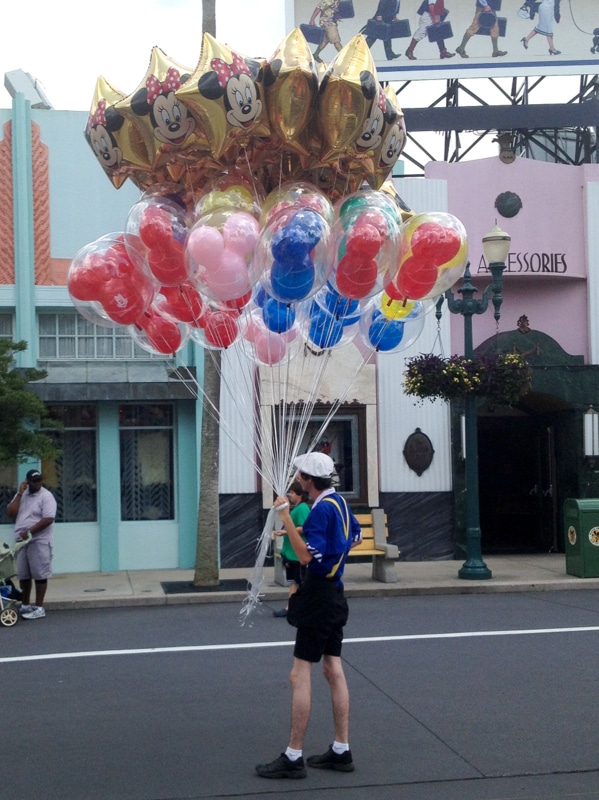 LODGING: we stayed at the Dolphin Hotel which is each a 10 minute walk from Epcot and Hollywood Studios (boat transportation is also available). The Dolphin, and its sister Swan hotel, are actually Starwood Resorts and are not owned by Disney however they are considered Disney Resorts. This means they offer their hotel guests park entry for 'Extra Magic Hours' (early entry and late departure hours reserved for Disney resort guests only), complimentary shuttle service between the hotel and the Disney parks, and free parking at the parks, as do the on site Disney hotels. The room rates were much more affordable and rooms equally nice to mid range Disney hotels in which we've stayed prior. We selected an 'Epcot Fireworks View Room with balcony'. Completely worth it with a fantastic view of the fireworks after our first long day at the parks.
The Best Online and App Resources: between smart phone apps and dedicated Disney blogs there is information galore online to aid in trip planning and in-the-moment decision-making on ride strategy. Disney World has a free app that tracks current ride wait times as well as other aspects of the parks such as dining options: 'My Disney Experience' app (available from the App Store). We learned about the app the first day of our trip and found it invaluable. Not only does it track wait times for all rides in all parks, but it also notes which rides issue Fast Passes and what the return time for a Fast Pass is at the present time (more on Fast Passes following) saving the need to go to the ride for the same info!
The app has a map of all the parks including shopping and dining. Because you register for the app it makes real-time dining decisions a cinch. When we'd become hungry we were able to locate dining close by that was available with no wait. We also decided after being at Epcot we'd like to eat at a specific restaurant for dinner, four hours before dinner service began. In a few seconds I was able to locate the restaurant and confirm a reservation all on my phone while at a different park.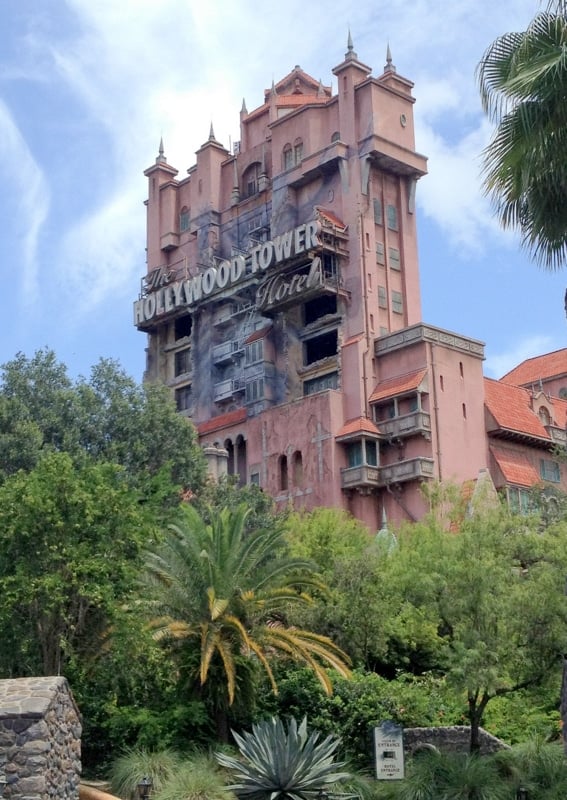 Another app we used each at Disneyland and Disney World to track ride times was: Disney World Wait Times app (by VersaEdge Software LLC; also available at the App Store). Both apps keep up to the minute statistics on ride wait times that are crucial to make the most of your day; the wrong ride choices and most of your time can be spent waiting which especially if traveling with smaller children is prohibitive.
A great Preparation and Strategy blog: MouseHints.com. It includes key data about which days of the week each park is most crowded, how to maximize Fast Pass use to hit the most popular rides with the least wait times and more. Based on reading one of the blog posts we changed our park strategy the night before from starting on a Monday at Magic Kingdom (the most popular of the four parks) since it pointed out most Disney visitors travel on the weekend and start with Magic Kingdom. Brilliant! We started with Epcot instead which was stellar advice as it was not crowded allowing plenty of ride time on the most popular attractions. Some especially helpful posts for us were: The Best Disney World Tips (some very simple but impactful ideas) and Beating the Crowds: Fast Pass Tips.
Best Online Food Allergy (Gluten-free) Website: The holy grail for gluten-free and other allergy-prone Disney travelers is AllergyFreeMouse.com. It lists all restaurants by Disney park with the gluten-free items they offer. It allowed us to navigate nimbly and successfully dine throughout the parks with no reservations.
OUR THREE DAY 'MAXIMIZE DISNEY WORLD' PLAN
MONDAY: (Daytime) Epcot Future World and World Showcase, (Evening) Hollywood Studios with late Extra Magic Hours
TUESDAY: (Morning to mid afternoon) Magic Kingdom, (late afternoon through evening) Epcot Showcase for dinner, rides, shopping and fireworks with late Extra Magic Hours in the evening
WEDNESDAY: (Morning to early afternoon) Animal Kingdom with early Extra Magic Hours, (late afternoon-evening) Hollywood Studios
Tip 1: Always arrive at the parks an hour before the park opens (or before Extra Magic Hours begin). There is a screening station for bags coming into the park and checking of passes to queue guests up to enter the park. This allows maximum riding of most popular attractions which by late morning can have wait times of more than an hour.
Tip 2: Before arriving at the parks think through which rides are most important to you and if they offer Fast Passes (a pass allowing you may return to the ride at a specified time and ride without waiting). Maybe even check the wait times on a mobile app a few days before going to the park so you have a sense of which rides are most popular at the time of day you'll be visiting. When arriving at the Fast Pass ride of choice, if you'll want to ride it more than once, before getting on the ride, get a Fast Pass; then proceed to ride the ride normally. This ensures you can return and ride the ride again without waiting as well as ride it when there are no lines. (refer to the MouseHints.com link about Fast Pass use for more specifics).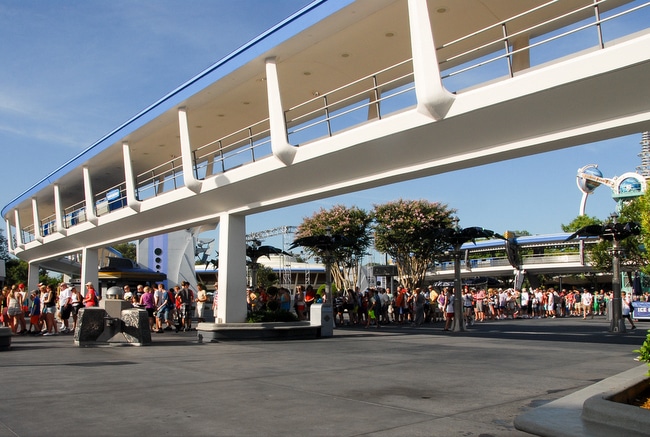 Tip 3: Plan to do all the major Fast Pass rides in the method of Tip 2 before proceeding to the less crowded rides. Fast Passes are issued at certain intervals so you cannot collect passes for several rides at once. Also the later in the day the later the Fast Pass Return Time will be; those you collect early will have a shorter time before returning to ride.
Best FREE Disney Souvenir: In Epcot's World Showcase there are KidCot stations in every country pavilion where kids can decorate a card stock character on a stick and then have it stamped at every country documenting their journey. Some countries will write the child's name in the native language and draw the country's flag with a Disney touch. I did see some adults doing it too!
Magic Kingdom is the most dense parks with both rides and crowds. The best time to be in the park to maximize rides is the first thing in the morning. Frankly for the most popular rides in any of the Parks, the best riding time is first things in the morning. You can ride multiple Fast Pass rides which will have very long lines from late morning on. Dinner time can also be a great time when there is a lull in the crowds before evening crowds arrive.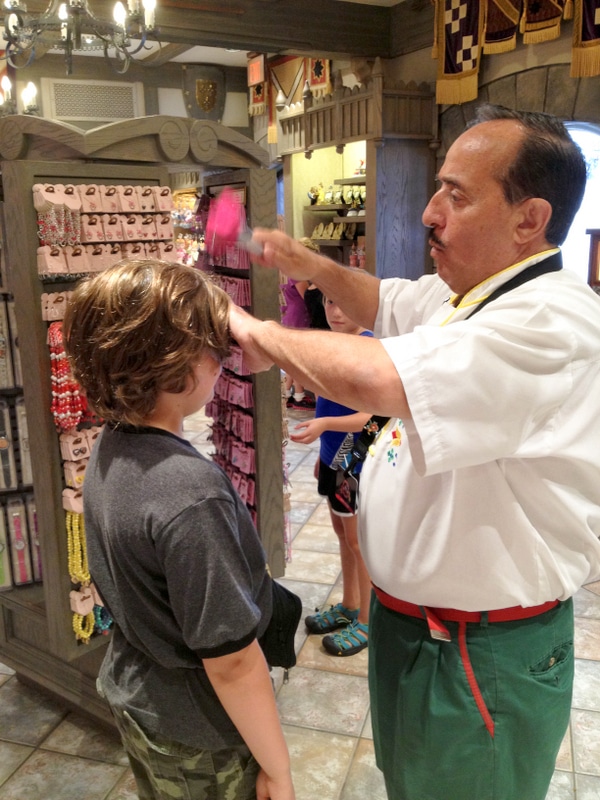 Our planning extends to meals as well. We generally try to buy some fruit and drinks we can eat early before heading out to wait for the parks to open or while waiting in line before the park opens. Disney World will allow you to bring water bottles into the park which is something to consider especially in the heat of the summer. We try to break for a meal mid morning after doing all the popular rides when the bulk of patrons begin to arrive at the park by around 11 a.m. We then have a later meal mid afternoon between more normal lunch and dinner hours when most patrons will be crowding the restaurants.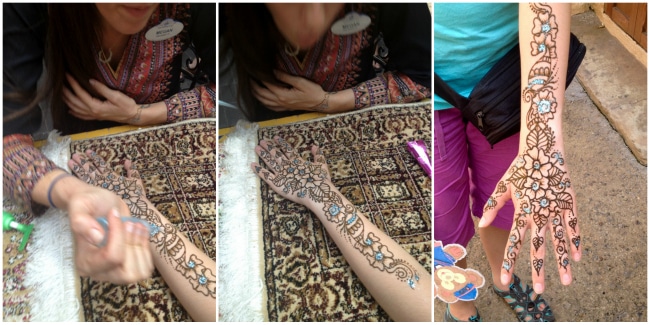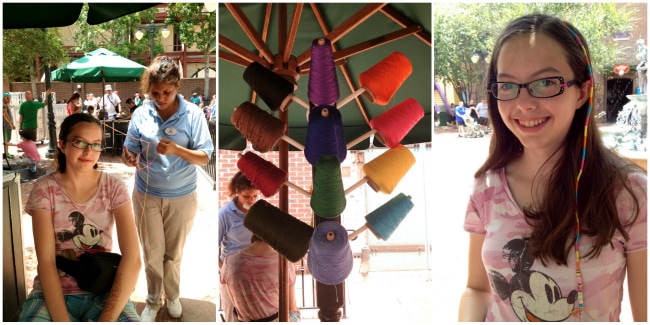 GLUTEN-FREE DINING
Many of the tips I shared about dining gluten-free at Disneyland hold true for Disney World. Disney has created a cohesive strategy to ensure safe dining for those with food allergies without sacrificing quality of cuisine.
1. Announce you are gluten-free to the Disney Cast Member greeter. The current Disney approach is to call in a lead, supervisor or manager to address diner's food needs. Once identifying your food allergy to the greeter, the specializing cast member will come out to work through menu options for you and personally make your food themselves.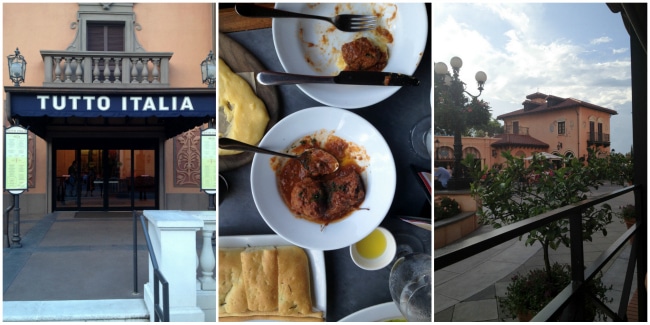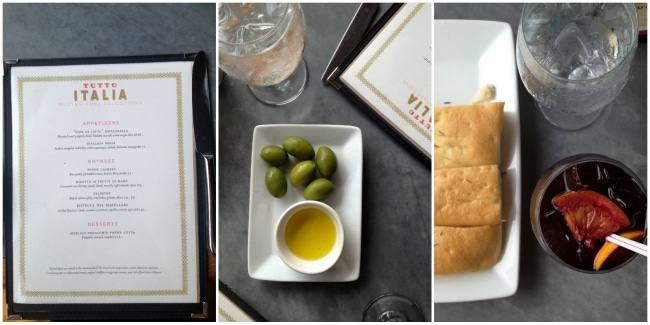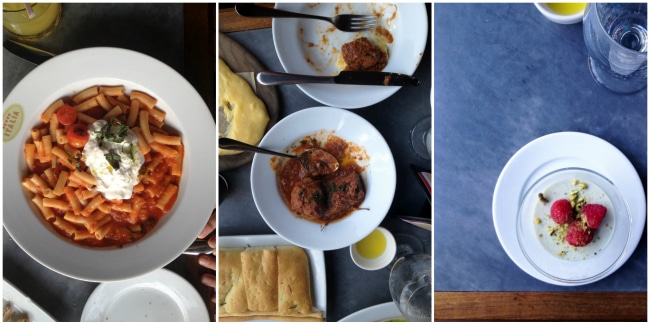 Disney does an extraordinary job recreating the essence of different countries in the Epcot 'World Showcase' area. We dined in the Italy area at Tutto Italia. Our server, Valentina was from Alessandria Italy working at Epcot on Disney's international program which lasts for a year. Each country is serviced by temporary Disney employees recruited from that country to further provide an authentic feel. Valentina has been gluten-free for 9 years which further ensured superb attention along with the restaurant manager, Mark.
2. Expect a brief wait. Because gluten-free food is made to order and outside of the normal process there will be a 15 minute or more wait while it is prepared. Don't wait until you are starving to head to a restaurant to eat!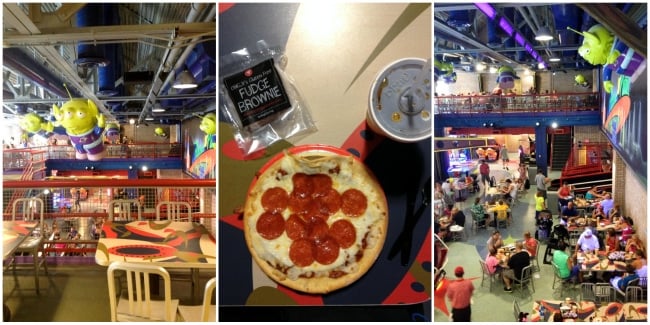 3. Reference AllergyFreeMouse.com to plan your dining location choices. We really wanted a more leisurely dinner in Epcot's World Showcase to enjoy the international ambiance and coincidentally arrived around 5 p.m. when many restaurants were only accepting guests with reservations. By using the website we were able to identify choices with more gluten-free latitude and find a walk in option that was a highlight of our time at Disney World.
A Hidden Gem: Possibly overshadowed by all the popular rides was a gem of an attraction we found at Hollywood Studios. Walt Disney: One Man's Dream is a mini museum of Walt Disney's life, and journey culminating in a short film including newsreel footage of Walt Disney himself. It was inspirational and a tale reminding all never to give up!
This approach may sound more like a military operation than a frolic at the world's best known amusement parks but believe me, planning is needed to get everything done. Locals have validated this strategy as something many first time guests don't realize and when wandering in later in the morning, are surprised to learn there are such long waits. Who would imagine the Peter Pan ride in Fantasyland can have wait times rivaling Space Mountain? When taking the time and cost to make a trip to Disney World, doing everything possible is usually at the top of visitors' wish list. With these simple tips for planning, tricks for avoiding crowds and wait times, and dining gluten-free, you are sure to maximize your trip, creating life time memories in the process.
Do you have some winning tips from your travels at Disney parks? I'd love to hear them!