Sports drink lovers will love this super easy, fun, frozen dessert treat to make at home. Homemade Sports Drink Snow Cones can be made in minutes, using a blender and sports drinks or vitamin water for coloring, and to help hydration too!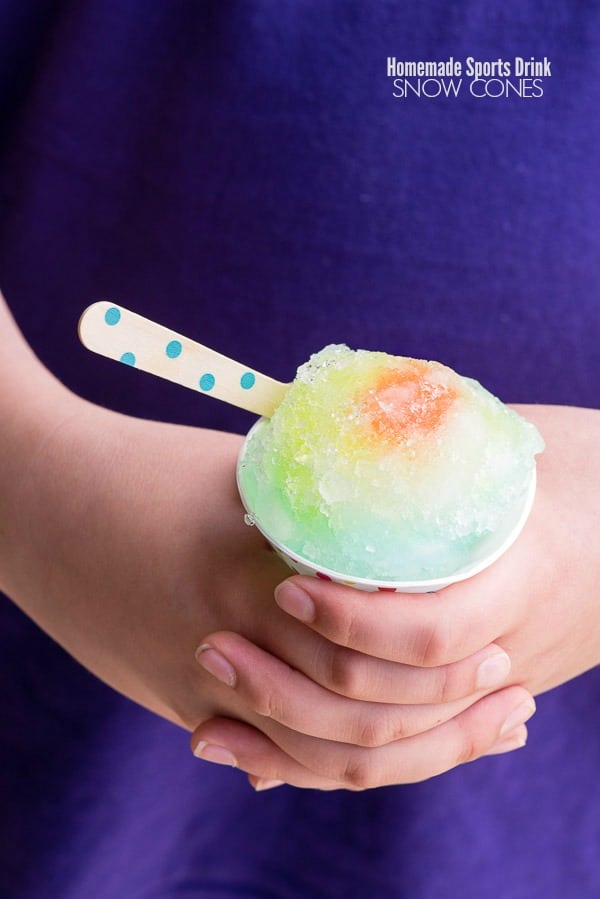 Summer has finally arrived! For me that definition comes both from the weather but also the proximity to the end of the school year. We no longer seem to step magically through a seasonal portal with the last day of school now but rather it takes a few weeks to shake off the rigors of the school year end before feeling the seeping in of summer's lazier habits.
This summer has special meaning for me as well. My eldest child, my daughter, has just completed her junior year in high school. The last few months of the year were densely laden with tests: IB tests, AP tests, multi-day class finals, as well as preparing and testing for college tests (ACT, SAT, SAT Subject Tests). By June 1 I truly could not remember what it was like for her not to be focused on preparing for taking a test of some sort.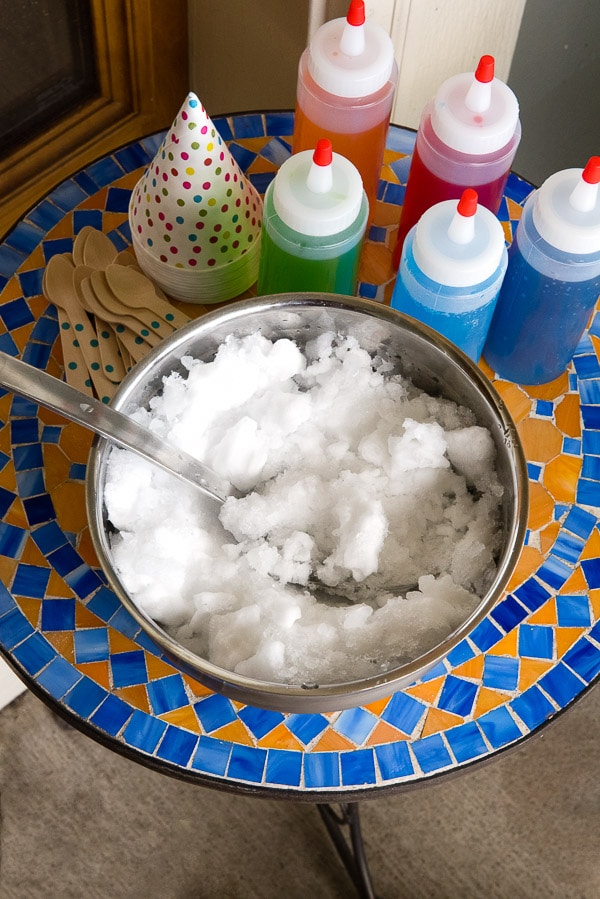 When my kids were younger we'd create a Summer Bucket List every year to be sure we'd harness all the fun summer had to offer. Whether it be outings, craft projects, special foods or simple backyard camping we wanted to leave no stone left unturned. Somewhere along the way we abandoned the practice. However, this summer I feel strongly that we do everything we want to do.
It's a very strange feeling staring into the face of the departure of your child, who has been with you every single day of their life. The feeling that time truly is like sand running through your fingers. You cannot stop it but you can be sure you celebrate every single day because we never get that time back. This goes for all of us, regardless of having an imminent departure in view. So this summer we are doing a few things consciously to soak up every single day and I wanted to pass them along to you, too.
Making the Most of Summer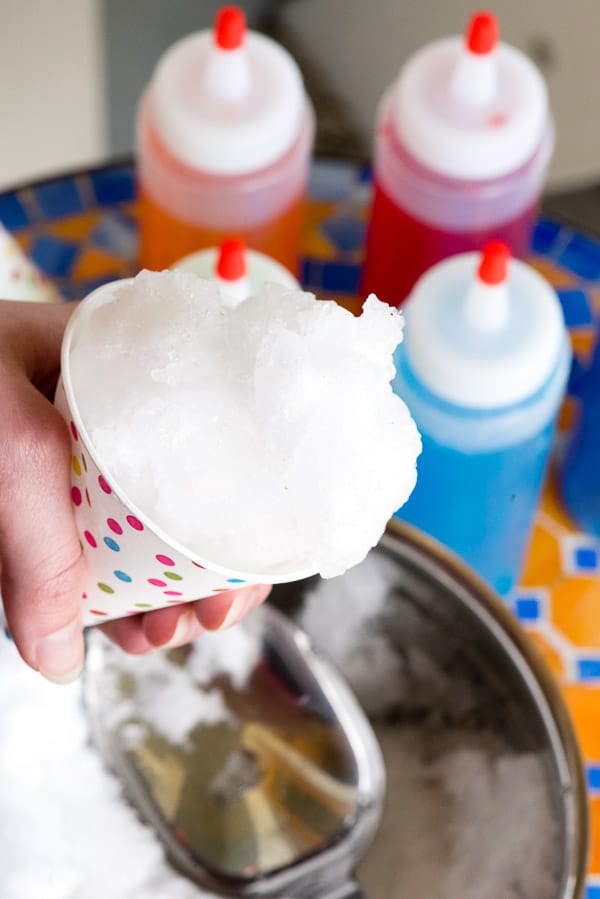 Make a Plan. Having a summer plan seems an oxymoron. I for one am spontaneous and that liberty is what I love about summer. However, to really enjoy the summer fully, making sure you know everything you want to experience is key rather than letting the days roll by. No matter how simple, get it on the list.
Have More Fun. This has come to mind keenly as my kids have become teens with dense school loads and hours of studying. When entering the summer my goal was to create more down time as well as have more fun. This is true of hard working adults too. We are all driven by our lists, by the drive to conquer all of our tasks. Guess what? It's never going to happen! As soon as some items are crossed off, more will come. At the end of the day I feel sure none of us will look back and wish we had done more chores. But those moments of fun will shine like jewels in the tapestry of our life's story.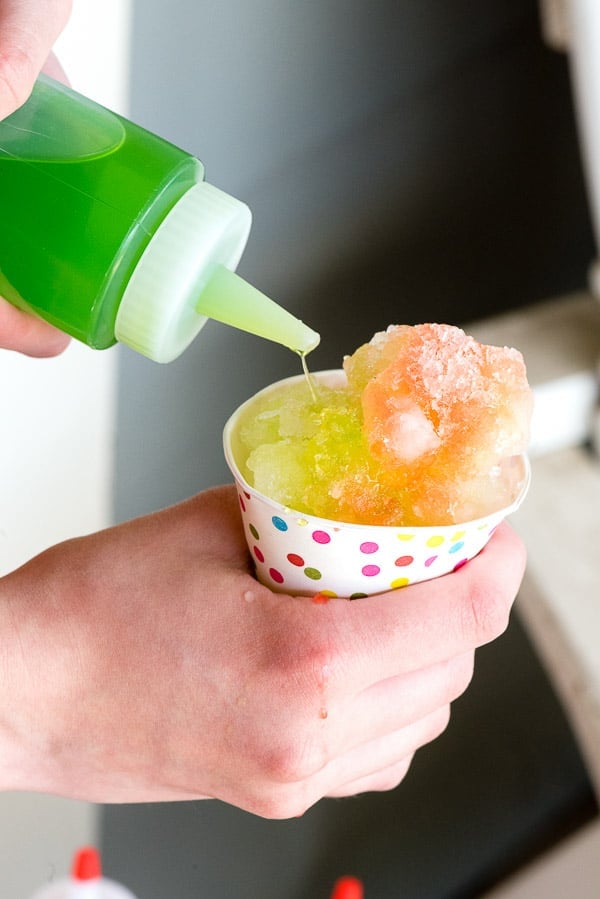 Do Something New. Maybe this is just me but I thrive and am sparked by new experiences. It gets me out of a rut and is a wonderful complement to traditions we love. In my family we quest for new learning, new travel, new outings. Often we don't realize how asleep we've fallen in the habitual patterns of our lives until we do something different!
As I was pondering the start to summer and sharing my thoughts in this post to you, my kids wanted me to make Snow Cones. My son was given a snow cone maker a few years ago from an older swimmer on his swim team and he loved it. Candidly I found myself feeling as fun as it was that there must be a better way to color them than with the densely colored high fructose corn syrup liquid that came with the machine.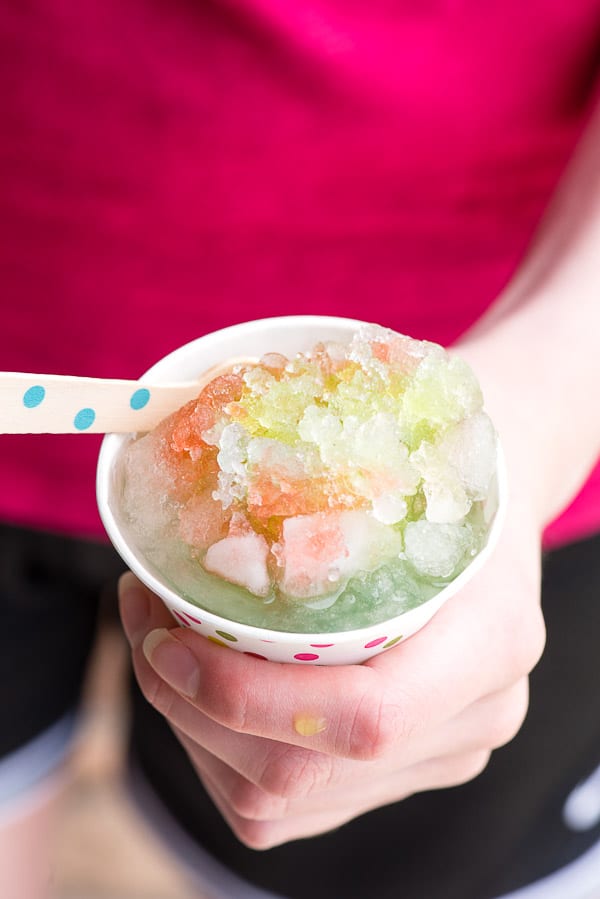 With beastly temperatures keeping me in a constantly state of dampness these days, this recipe for Sports Drink Snow Cones popped to mind. Living at altitude, our doctors constantly remind us to stay hydrated. Having competitive swimmers in my children adds more pressure on the need. They love frozen desserts like popsicles and ice cream, but those don't keep them hydrated.
How to Make Sports Drink Snow Cones
Making Homemade Sports Drink Snow Cones is super easy, and helps address summer hydration too! You will only need two ingredients and two supplies:
your favorite flavored sports drink
crushed ice
squeeze bottles with a small tip (often used for cake decorating or making homemade chocolate candies)
snow cone cups
With many different options of sports drinks from the traditional to more natural, you can choose drinks that fit your preferred diet as well. Snow cone cups are easy to find in stores and online, and of course any small container will work as well.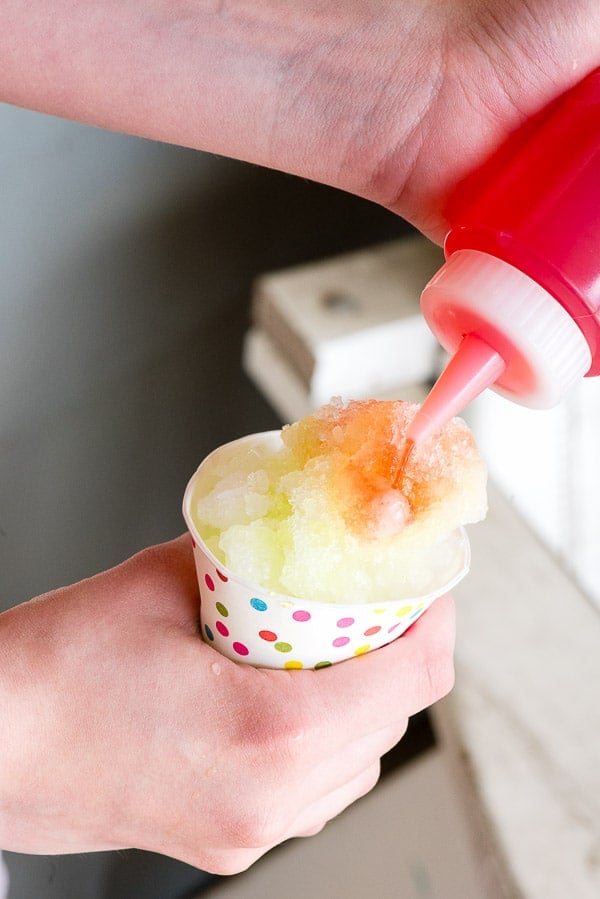 Recipe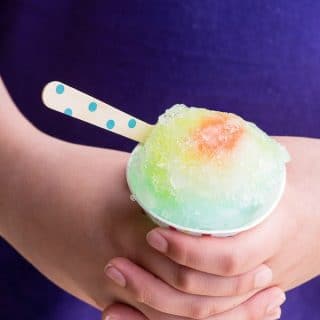 Ingredients
Sports Drinks of various colors

Squeeze bottles with pointed tips

(often used for cake decorating or candy making)

Snow cone cups or other cups

4

cups

Ice

(approximate and may be increased depending on the number of snow cones being made)
Instructions
Fill the squeeze bottles with the various colors of sports drinks. Set aside. Have the cups on the read to fill as soon as the ice is turned into snow.

Please 1-2 cups of ice in your blender. Depending on available settings, being by crushing the ice and finally processing it on a puree setting to yield snow. Note: review the manual for your personal blender regarding crushing ice. I use a Vitamix and begin on a low setting and slow increase as the ice becomes finer to yield 'snow'.

Spoon the snow into the cups, packing the bottom layer down slightly to form a base. Form a domed top to the snow cone.

Decorate the snow cone with the sports drinks and enjoy! Small spoons are handy to dig the snow out as it gets lower than the top of the snow cone.
Nutrition
Calories:
57
kcal
|
Carbohydrates:
14
g
|
Protein:
0
g
|
Fat:
0
g
|
Saturated Fat:
0
g
|
Cholesterol:
0
mg
|
Sodium:
5
mg
|
Potassium:
125
mg
|
Fiber:
0
g
|
Sugar:
11
g
|
Vitamin C:
1.2
mg
|
Calcium:
10
mg
|
Iron:
0.1
mg