Homemade marshmallows are a delicious treat that are easy to make. They taste so much better than store-bought marshmallows and can be flavored in any way. In this guide, we'll walk you through the simple steps of making homemade marshmallows.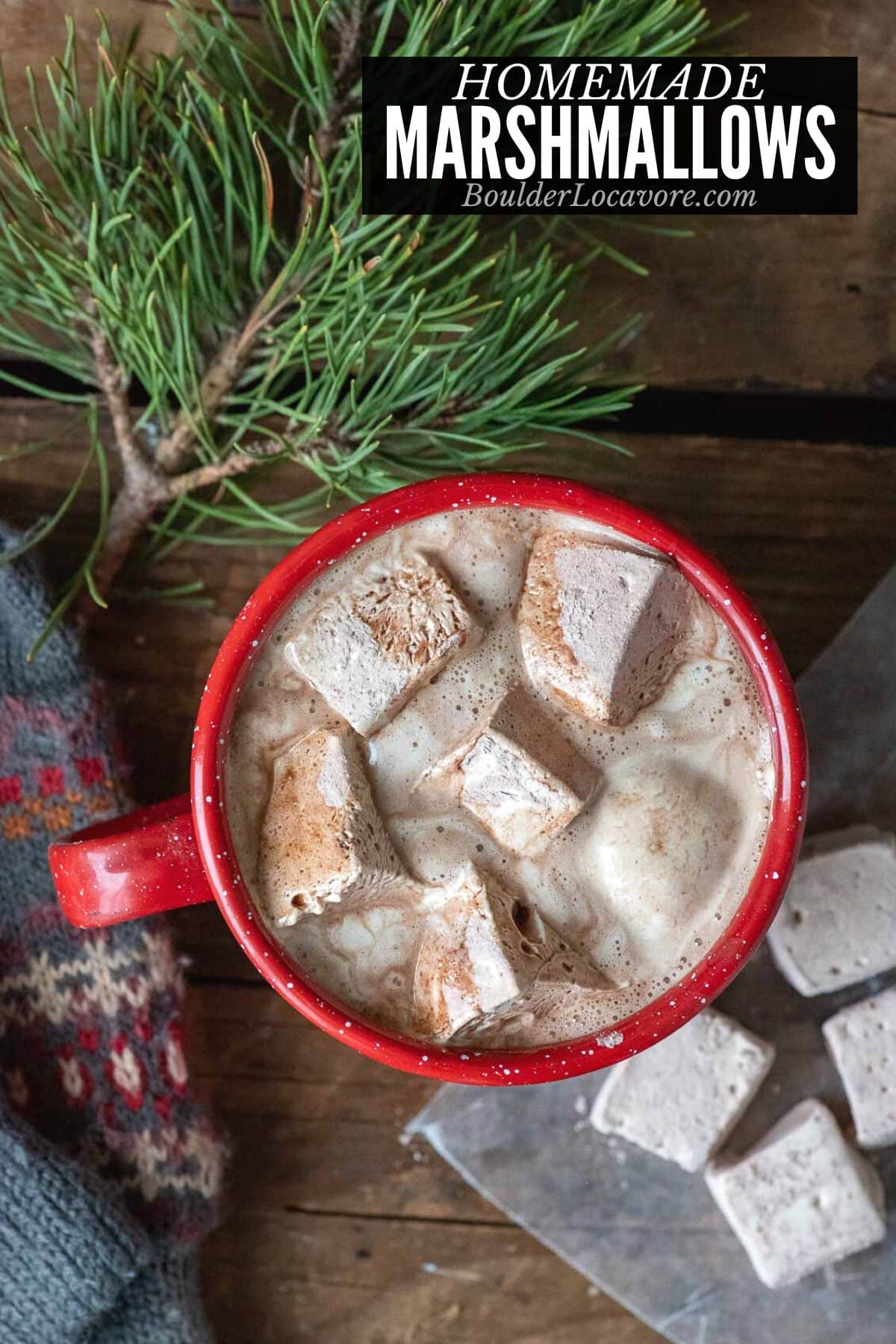 Whether you love them in hot chocolate, s'mores or just for a sweet treat, this homemade marshmallow recipe will be a fun activity. Making marshmallows at home not only taste better and have a much more pleasing texture but let you flavor them any way your want to.
Our Rose-flavored Marshmallows, Creme de Menthe Marshmallows and Vanilla-Coffee Liqueur Marshmallows are examples of what you can create!
Jump to:
Why make homemade marshmallows?
There are several reasons making your own marshmallows is a great thing to do.
You can customize them to almost any flavor (and color) you can imagine.
Homemade marshmallows taste fresher and have a richer, creamier flavor compared to store-bought ones.
No artificial additives or preservatives either.
They have a wonderful, whimsical, puffy texture, a great 'bite' and flavor. Lastly they are really easy to make.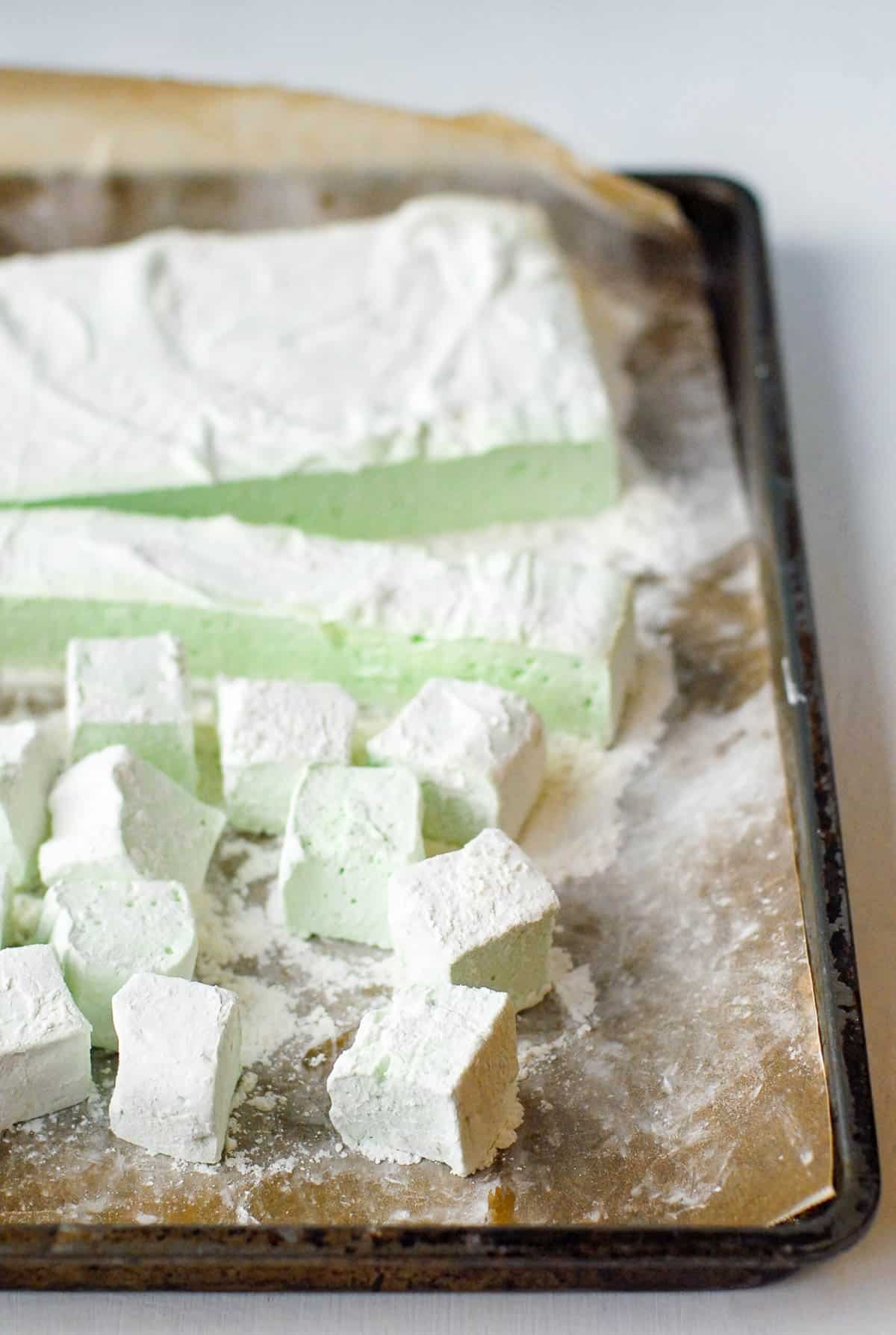 Recipe Ingredients Notes
Unflavored gelatin. This is a powdered thickening agent made from animal collagen. It's responsible for giving marshmallows their signature fluffy texture.
Cold Water. Water is used to dissolve and bloom the gelatin, allowing it to activate and create the marshmallow's structure. You'll use 1 cup UNLESS adding a liquid flavoring to the marshmallows. Then you'll use 3/4 cup plus 1/4 cup of the flavor liquid.
Granulated Sugar. Granulated sugar is the primary sweetener in marshmallows, providing their sweetness and helping to stabilize the gelatin structure.
Light Corn Syrup. Light corn syrup is a sweet syrup made from cornstarch and is used in marshmallow recipes to prevent the sugar from crystallizing during the cooking process and to add a smooth texture.
Vanilla Extract. Vanilla extract is a flavoring agent that adds a pleasant vanilla taste to the marshmallows, enhancing their overall flavor. Usually 1 teaspoon is added depending on the flavor of the marshmallows.
Powdered sugar. Powdered sugar, also known as confectioners' sugar or icing sugar, is used to coat the marshmallows after they're set to prevent them from sticking together and to give them a sweet outer layer.
Cornstarch: Cornstarch is mixed with powdered sugar to coat the marshmallows, preventing them from sticking and making them easier to handle.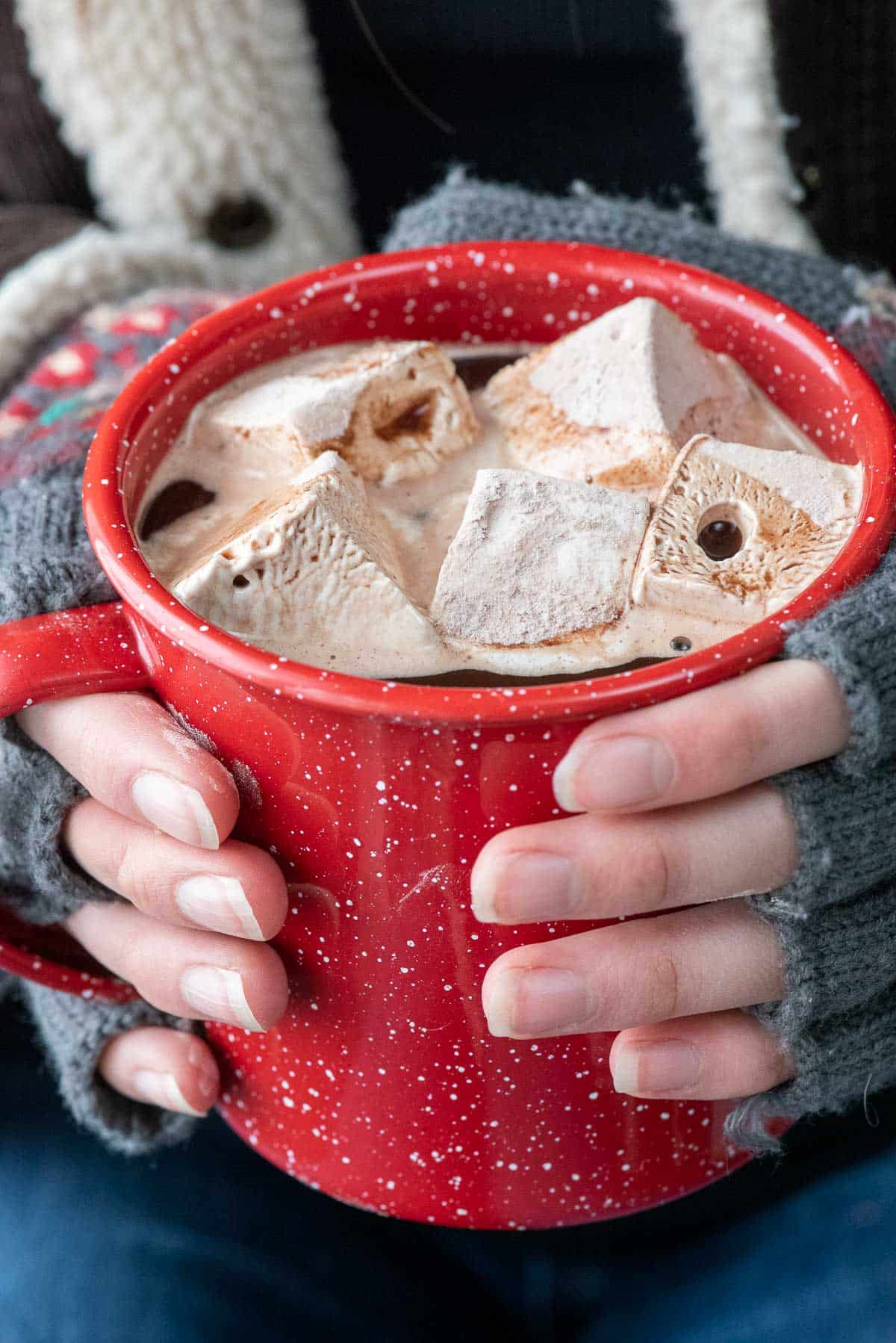 How to Make it
Following are the main steps for making homemade marshmallows. See the recipe card at the end of the post for a printable details version.
Prepare Your Pan: Spray a 9×9-inch (23×23 cm) square pan with cooking spray. Add a piece of parchment paper with two sides overhanging the edge of the pan.
Bloom the Gelatin: In a mixing bowl, combine 1/2 cup of cold water with the gelatin. Let it sit for about 10 minutes to "bloom," or soften.
Make the Sugar Syrup: In a saucepan over medium heat, combine the granulated sugar, corn syrup, and the remaining 1/2 cup of water. Stir until the sugar dissolves. Once it starts boiling, insert a candy thermometer.
Heat to Soft Ball Stage: Continue boiling the mixture until it reaches 240°F (115°C) on the candy thermometer. This is the soft-ball stage, which takes about 10-12 minutes.
Pour the Hot Syrup: Once the sugar syrup reaches the soft ball stage, carefully pour it into the mixing bowl with the gelatin. Be cautious, as the syrup is extremely hot.
Whip the mixture: Using a stand mixer fitted with a whisk attachment, start on low speed to mix the bloomed gelatin mixture and hot sugar mixture together. Increase the mixer speed to high and beat the mixture for 10-15 minutes until it becomes thick, white, and nearly tripled in volume. It should form stiff peaks.
Add Flavor: Add your chosen flavor extract and any food coloring; and mix for an additional 1-2 minutes.
Transfer to Pan: Spray a silicone spatula or spoon with non-stick cooking spray. Quickly pour the marshmallow mixture into the prepared pan, spreading it evenly. Sprinkle some of the powdered sugar-cornstarch mixture on top of the marshmallows (reserve the rest for the following day).
Let It Set: Allow the marshmallows to set at room temperature uncovered overnight.
Dust and Cut: Once set, sprinkle the remaining sugar-corn starch mixture on a work surface or cutting board. Lift the marshmallow out of the pan, peel off the parchment paper and place the bottom of the marshmallows onto the work surface. Use a greased knife or cookie cutters to cut the marshmallows into your desired shapes. Dust with powdered sugar to prevent sticking.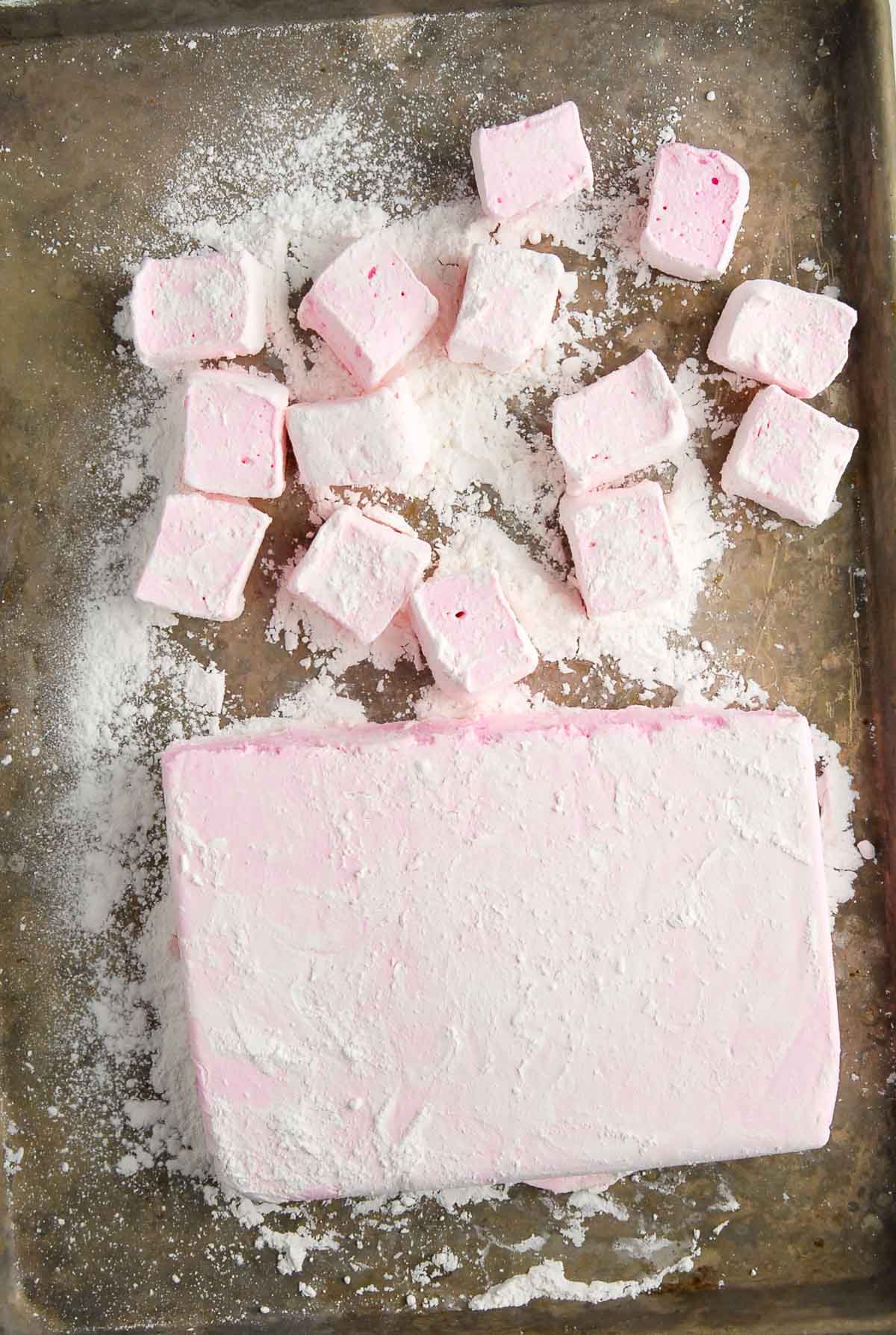 Flavor Ideas
As a general rule 1 teaspoon of flavor extract per batch.
Vanilla: Use vanilla extract for classic marshmallows.
Peppermint: Add peppermint extract for a refreshing twist.
Fruit Flavors: Try fruit extracts like raspberry or strawberry for a fruity marshmallow experience.
Cocoa: Mix in cocoa powder into the coating for chocolate marshmallows.
Coffee: Dissolve instant coffee granules in the water for a coffee-flavored treat.
Using liquid flavor ingredients. If you want to add a liquid ingredient like coffee or a liqueur use 1/4 cup and reduce the cold water to 3/4 cups (using 1/4 cup plus the liquid flavoring in the gelatin bloom step). Both liquid flavoring and extracts can be used.
Flavoring amount: 1 teaspoon of flavor extract. To add liquid flavor ingredients: use 1/4 cup and reduce the cold water to 3/4 cup.
Pro Tips
Use a stand mixer. The 15 minutes of whipping the sugar becomes labor intensive for the mixer by the end. A powerful mixer is needed and it's a tough challenge for a hand mixer.
Prevent tools and knife from sticking. Coat utensils or cutting knife with nonstick cooking spray before using with the marshmallow batter or to cut the final marshmallows.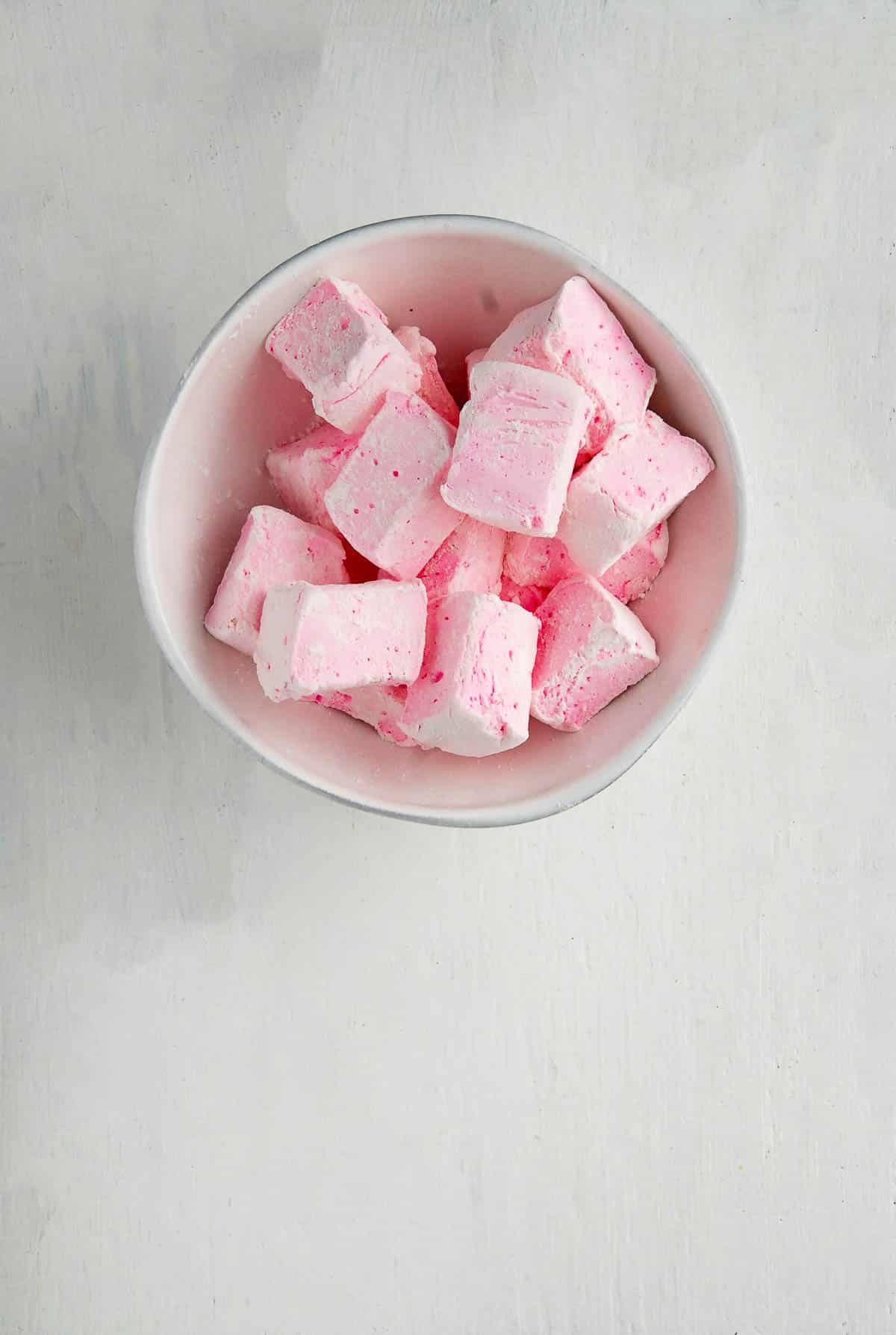 Frequently Asked Questions
How many marshmallows in a batch?
One batch makes between 36-49 marshmallows depending on the size when cutting them (I prefer 1 ¼ inch square though 1 ½ inch squares are good for things like S'mores). The marshmallows are best if eaten within 5 days and kept in an airtight container.
Why did my marshmallows turn out too soft or gooey?
Soft marshmallows can result from undercooking the sugar syrup. Ensure the syrup reaches the soft ball stage (240°F or 115°C) for the right consistency
Can I make marshmallows without a candy thermometer?
While a candy thermometer is highly recommended for accuracy, you can use the cold water test to check if the syrup has reached the soft ball stage. Drop a small amount of syrup into cold water; it should form a soft ball that flattens when removed from the water.
Can I toast homemade marshmallows for s'mores like store-bought ones?
Yes, homemade marshmallows can be toasted for s'mores or other recipes just like store-bought marshmallows. Use a flame or a kitchen torch to achieve the desired level of toasting.
Can I use homemade marshmallows in recipes that call for store-bought marshmallows?
Yes, you can use homemade marshmallows in any recipe that calls for store-bought ones. Simply substitute them in equal amounts.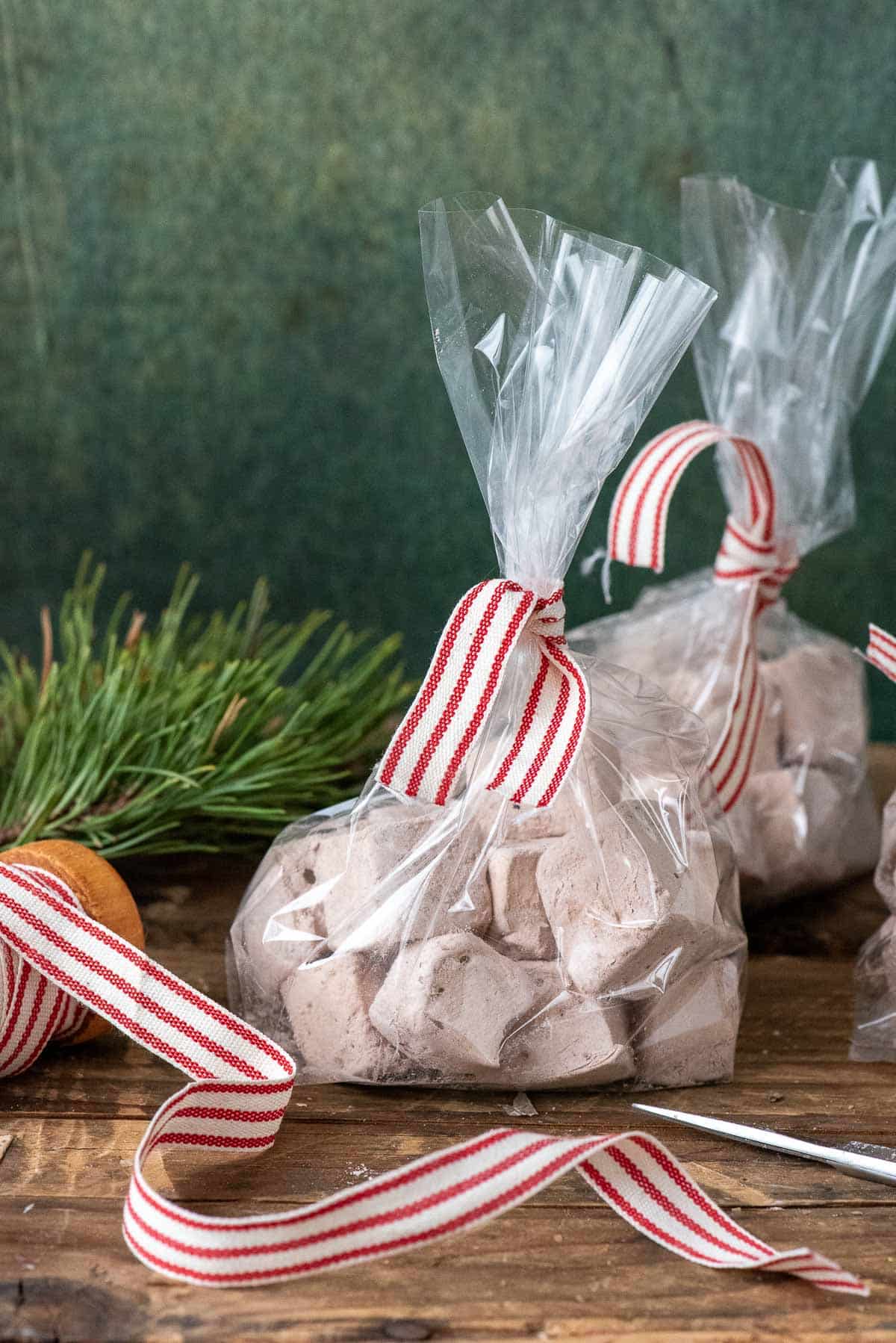 How to Store
Store in an airtight container at room temperature for up to 2 weeks. Do not allow the marshmallows to come in contact with moisture.
More recipes you'll love
Recipe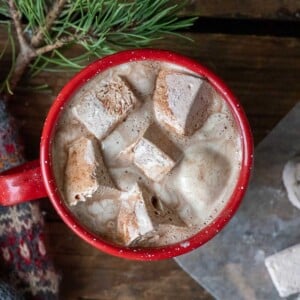 Homemade Marshmallows
Homemade Marshmallows are fun to make and taste so much better than store bought marshmallows. The texture is better too. Make them any flavor or color you desire. Can be used in hot cocoa, and any other recipes calling for marshmallows.
Print
Save Recipe
Recipe Saved!
Pin
Rate
Servings:
49
-1 1/4 inch cube marshmallows or 36-1 1/2 inch cube marshmallows
Ingredients
¼

cup

confectioner's sugar

¼

cup

cornstarch

3

packets

gelatin

1

cup

cold water

1 ½

cups

granulated sugar

1

cup

corn syrup

1

teaspoon

vanilla extract
Instructions
Prepare a 9 by 9-inch square pan by spraying with cooking spray.

Place a piece of parchment paper in the pan to cover the bottom and two adjacent opposite sides (leaving the other two opposite sides of the pan uncovered); press into the creases. This makes it easy to lift out of the pan when done. Spray the parchment paper and set pan aside.

Mix together the confectioner's sugar and cornstarch in a small bowl; set aside (this is for coating the marshmallows).

¼ cup confectioner's sugar,

¼ cup cornstarch

In the bowl of a free standing mixer equipped with a whisk attachment add the gelatin and 1/2 cup of the cold water. Do not stir.

3 packets gelatin,

1 cup cold water

In a large saucepan combine the sugar, corn syrup and remaining ½ cup of cold water. Stir to dissolve. Equip the pan with a candy thermometer and bring to a simmer over medium-high heat; do not stir. Allow mixture to simmer until it reaches 240 degrees on the thermometer.

1 ½ cups granulated sugar,

1 cup corn syrup

Carefully pour the sugar mixture into the bowl of the mixer with the gelatin. Start the mixer on low speed and once the two mixtures have combined, raise the speed to high and allow to mix for 15 minutes when mixture will be light and airy.

At 14 minutes add the vanilla extract.

1 teaspoon vanilla extract

Spray a spatula or silicone spoon with cooking spray so it won't stick to the marshmallow. Spoon the marshmallow mixture out of the mixing bowl and into the prepared pan.

Smooth with the sprayed spatula to cover the pan and smooth the top. Sprinkle some of the confectioner's sugar-cornstarch-cocoa mixture on the top; reserve the rest for the next day.

Set the pan of marshmallow aside at room temperature, uncovered, overnight.

The next day sprinkle the remaining confectioner's sugar-cornstarch onto a work surface or cutting board.

Lift the marshmallow from the pan with the sides of the parchment paper. Peel away the parchment paper and place the underside of the marshmallow (that was on the parchment paper) onto the sugared work surface, allowing it to become covered with the sugar-cornstarch.

Cut the marshmallow into 1 1/4 or 1 1/2-inch-wide strips; kitchen scissors work the best for this task.

Cut each strip into individual marshmallows (1 1/4 or 1 1/2 inch). Roll all sides of the marshmallows in the sugar-cornstarch mixture and shake off any excess (this will keep the marshmallows from sticking to each other or hands).

Store in an airtight container at room temperature for up to 2 weeks.
Notes
Flavor and color options
To flavor the marshmallows add 1 teaspoon extract instead of vanilla extract at the same recipe step.
To add liquid flavoring (coffee, liqueur, etc) use 1/4 cup. Reduce the cold water to 3/4 cup for a total of 1 cup liquid and add it with the gelatin.
Food coloring can be added with the vanilla extract or other extract at the end of mixing the marshmallow.
How to Store
Store in an airtight container at room temperature for up to 2 weeks. Do not allow the marshmallows to come in contact with moisture.
Nutrition
Calories:
49
kcal
|
Carbohydrates:
13
g
|
Protein:
0.1
g
|
Fat:
0.03
g
|
Polyunsaturated Fat:
0
g
|
Monounsaturated Fat:
0
g
|
Sodium:
5
mg
|
Potassium:
0.4
mg
|
Fiber:
0.01
g
|
Sugar:
12
g
|
Calcium:
1
mg
|
Iron:
0.01
mg