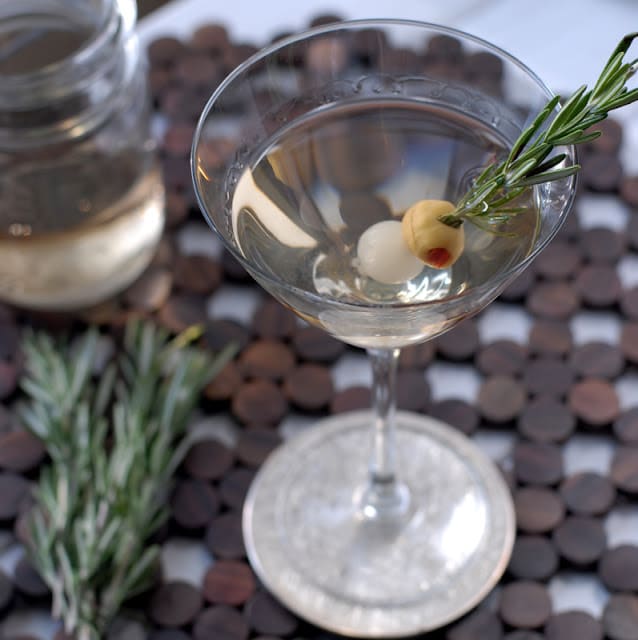 I don't think I've heard 7 scarier words: 'This recipe is good for tame rabbit'.
It's time for our monthly Vintage Recipe Redo and Swap (details of the project at the bottom of this post).

We've ambled our way for the last 8 months through kooky cakes, fried bits and bobs and comfort food, clearly all a subtle warm up for this:

Wild Rabbit with Vegetables.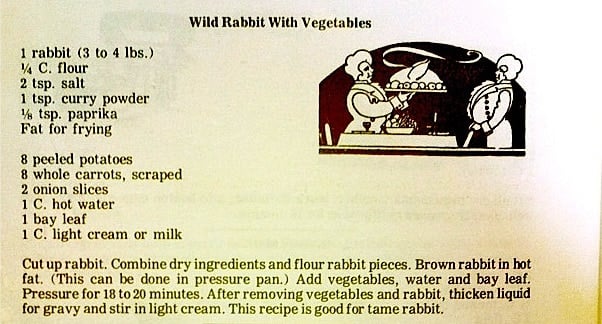 As earthy, and wild and sexy as that sounds, I cannot prepare rabbit.

I just can't (let alone 'tame rabbit' despite being informed it is less tough than wild rabbit).

Maybe it is because I had 5 for pets.

Maybe because I watched one of my Labs pounce on and eat one whole on a hike the night before Easter one year (then cleaned up the indigestible skeletal elements from the floor of his crate for days afterwards).

Maybe because I'm a wimp.

I have eaten it while working in France, but I don't live in France now so it's just not in the cards.
HOWEVER, I love the 'wild bounty' spirit of this recipe and instead will use venison for my recipe.

I have several packets of venison sausage in my freezer from a hunter friend.

I really do subscribe to the Omnivore's Dilemma 'feast from the earth' type attitude.

I just can't do rabbit.

My swap dish will be a spiced up Venison Breakfast sausage with Roasted Potatoes and a fried egg paired with a home-infused Rosemary Gin Martini.

A sort of 'Backwards Day' meets Cocktail Hour.
I added a special little twist to my venison dish as well.

I won a prize.

A very special prize.

Christianna, our vintage recipe swap project conceiver decided it would be nice were we to develop prize categories and nominate each other for them.

I won the first prize!

'Best Use of Booze in a Cupcake'; something that will undoubtedly make my mother (and all of her recently subscribed friends who are happily drinking their way through my blog; thanks Ladies!) very proud.

My prize was Juniper Berries and not having a still (Santa?) I am incorporating them into my dish.

And to my culinary Sister and nominator of my liquid ingenuity, Lindsay, I say thank you with my Rosemary Gin Martini.

It seemed only fitting to pay homage with my regular pairing using a juniper berry product and one honoring her blog (aptly named Rosemarried).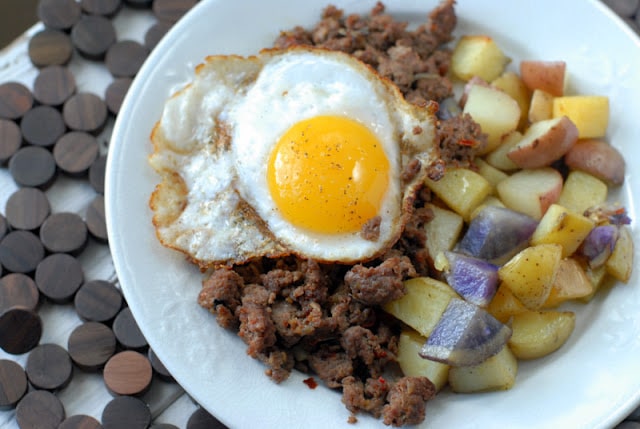 WILD VENISON BREAKFAST SAUSAGE
Wild venison is much lower in fat content than domesticated meat.

My sausage had been processed as breakfast sausage meaning when it was prepared by the butcher it was blended with fat.

Should you make this with pure venison you'll need to add some pork fat to allow it to have the rich familiar consistency of breakfast sausage.
·
1 pound venison breakfast sausage
·
1 small red onion, chopped
·
2 small New Mexican chile peppers, minced*
·
10 dried juniper berries, crushed
·
1 teaspoon red pepper flakes
·
Salt and pepper to taste
*I used this variety because they grow in my garden.

Feel free to use any mild chile pepper, preferably a red one to add color to the dish.
1.

In a heavy skillet, heat the olive oil over medium heat. Add the onion and chile pepper.

Sauté until they begin to soften about 2-3 minutes.
2.

Add the ground venison and spices (my sausage already had sage in it; if you are using ground venison be sure to add sage to your taste, start with 2 teaspoons).

Break up into small pieces and brown until fully cooked.

Serve immediately.

Roasted potatoes and a fried egg (mine is a duck egg) make for a perfect dish.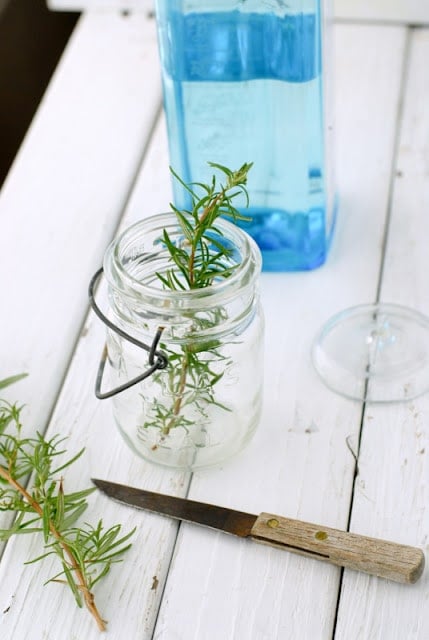 I'm a DIY kinda girl so the limitless possibilities with infusing anything completely appeals to my Gemini nature (I like loads of options).

This flavor profile sprang to mind as I see a similarity to the intensity of the flavor of juniper berries and felt it would stand up to the venison.
·
A few fresh sprigs of rosemary
·
Glass jar with lid, a size allowing the volume you'd like to infuse
I only wanted a small amount to make a few cocktails so calculating approximately 2 ounces of gin per cocktail; I used a pint of gin with three sprigs of fresh rosemary.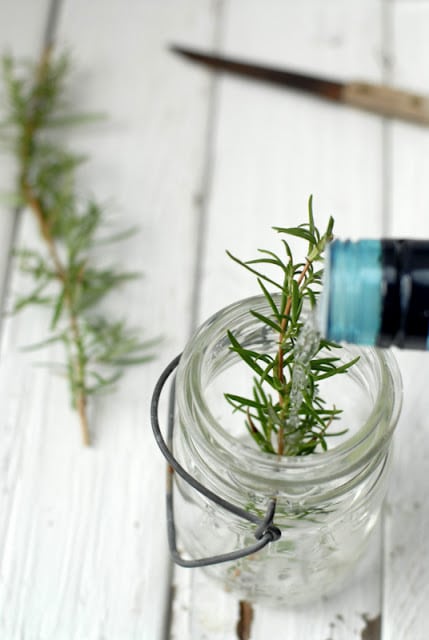 I let it sit for 5 days.

Because rosemary is a strong tasting herb this should be plenty of time to develop the flavor though if you want an even stronger flavor leave it longer.

When it has reached the flavor you prefer, remove and discard the rosemary (which will have turned brown and colored the gin slightly).

If you want to make a larger batch just add additional sprigs of rosemary to the volume of gin.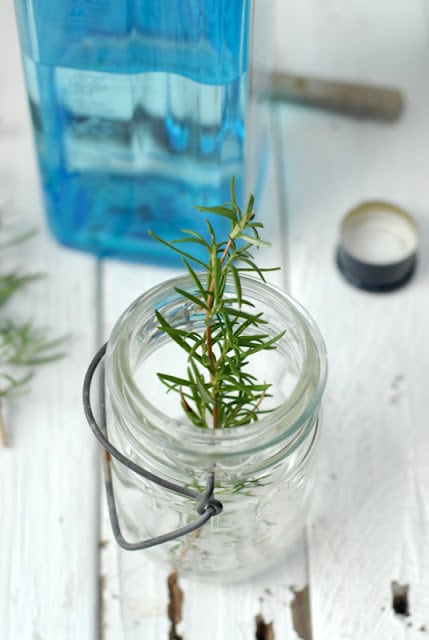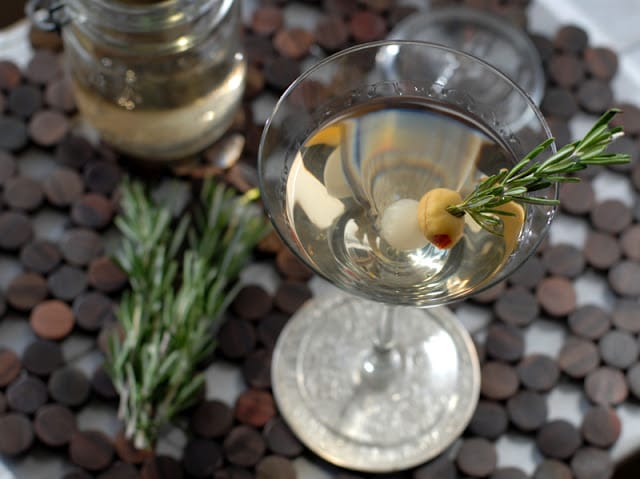 ROSEMARY GIN 'CLASSIC' MARTINI
·
2 ounces chilled rosemary infused gin
·
Garnish:

rosemary sprig with a stuffed olive and cocktail onion
Put rosemary gin and dry vermouth in a cocktail shaker with crushed ice.

Shake and pour into a chilled martini glass.

Add garnish and enjoy!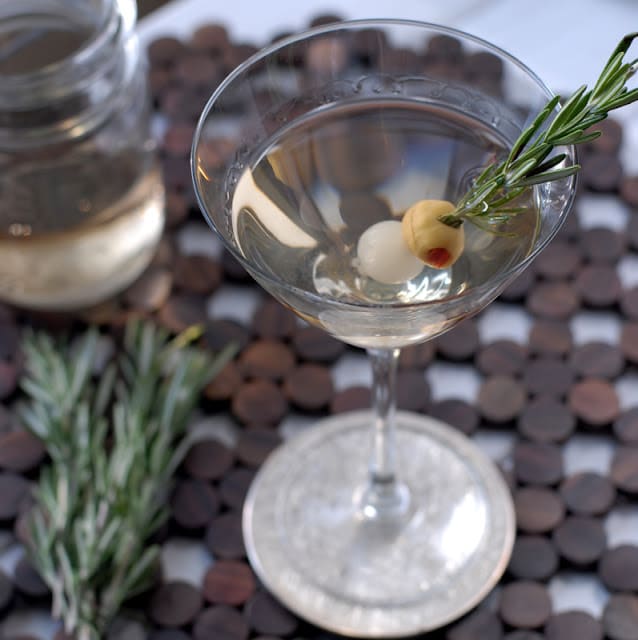 Where to buy venison:
It is against the law to sell wild game meat in stores in the U.S. however if you don't know a hunter and want to try your hand with venison or other game here are a few resources I found.
Colorado locals:

Herb's Meats in Broomfield.

They have a great reputation for quality meats of all kinds, exotic and more mainstream.
Broken Arrow Ranch
in the Texas Hill Country sells free range antelope, venison and wild boar online and ship.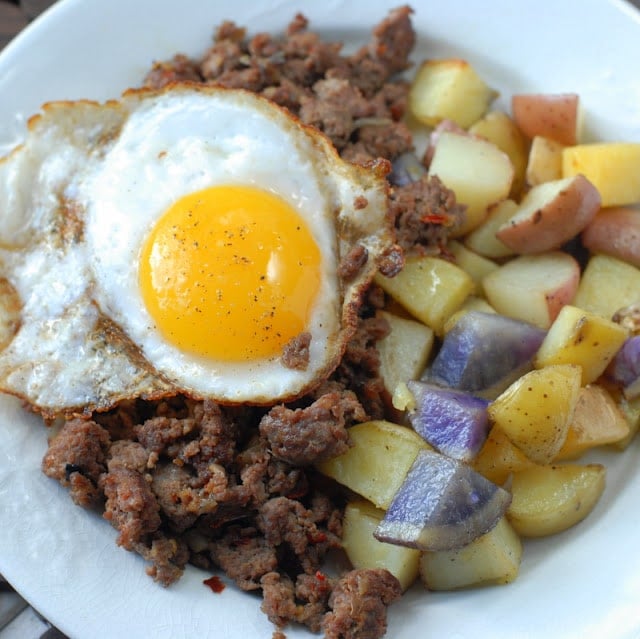 Vintage Recipe Redo and Swap Project
: This recipe redo/swap idea was brought to life by Christiana of
Burwell General
Store
upon finding a cool vintage hymnal/recipe book at a swap meet in Arizona. She had the vision of bringing those recipes back to life with a twist. We redo/swappers must change at least three things to make it our own and stay true to the intent of the recipe. There is a growing group of international talent wielding their monthly vision in our recipe swap.