Crockpot Chicken and Rice is down home southern comfort at its finest. Chicken simmered in a creamy gravy has a peppery bite, mixed with fluffy tender rice for a meal that needs to be tasted to be believed!

Sometimes only simple comfort food will do.
Homey flavors and satisfying textures have a cozy feel we all need.
Much like homemade chicken soup or Chicken and Biscuits, Chicken and Rice is a comfort food classic that always delivers when the time is right.
Jump to:
Easy Crockpot Chicken and Rice
Don't let the white-on-white appearance of this classic dish fool you.
When it comes to flavor, this Crockpot Chicken and Rice Recipe can runs circles around its competition.
Unlike some similar rice and chicken recipes, this meal is anything but bland.
The chicken has a kick of pepper and herbs smothered in a creamy chicken gravy.
The tender rice is prepared separately and stirring it into the chicken at the end for a perfect result every time.
This ensures the rice grains stay intact instead of dissolving into the rich sauce.
Slow cooked chicken + creamy sauce + rice = a homey comfort food meal that's always a favorite.
Why You'll Love this
It uses frozen chicken breasts straight from the freezer. Fresh chicken breasts work too!
Preparing the rice separately ensures it's always perfect. You can use any rice you want to: long grain, short grain, white, brown and even leftover rice.
It's comforting. The flavors are warm and cozy. It's simple down home food.
Recipe Ingredients + Notes
Chicken breasts. Boneless skinless chicken breasts are used for this recipe. Use chicken right from the freezer–no need to thaw first! Fresh chicken breasts work well too.
Seasonings. Dried parsley, minced dried onion, garlic powder, black pepper. This simple combination of spices gives a delicious flavor to the chicken and rice.
Cooked rice. White rice is traditional, but brown rice can be substituted too. This is a wonderful way to use up leftover rice!
Cream of chicken soup. The condensed soup is added directly to the slow cooker. If making the chicken and rice gluten-free verify the soup used is gluten-free.
I used Pacific Foods Organic Cream of Chicken soup which is gluten-free and well marked on the can
Milk. Whole milk will make the richest end result but lower fat dairy milk will work too.
Variations
Add some cheese. Sprinkle shredded cheese over the finished Chicken and Rice and give it a stir for a cheesy variation.
Add some vegetables. Though not included in the traditional version you can add a package of frozen mixed vegetables if desired.
Thaw them first and stir in during the last 15 minutes with the rice just to warm them through.
Use brown rice. Add more good-for-you whole grain taste by substituting brown rice for the white.
How to Make it – Step-by-Step
How do you make Chicken and Rice from scratch?
These easy steps will let you do just that!
STEP 1. Season the chicken
Place the chicken breasts in the slow cooker (photo 1) and sprinkle with parsley, garlic powder, dried onion, and black pepper (photo 2).
Whisk together the cream of chicken soup and milk, and pour over the top of the chicken breasts (photo 3).
STEP 2. Slow Cook
Set the crock pot to cook on low for 6 hours or cook on high for 3 hours. The chicken should reach 165 degrees internal temperature to be considered done cooking.
Use two forks to shred the cooked chicken, then add it back to the slow cooker (photo 4).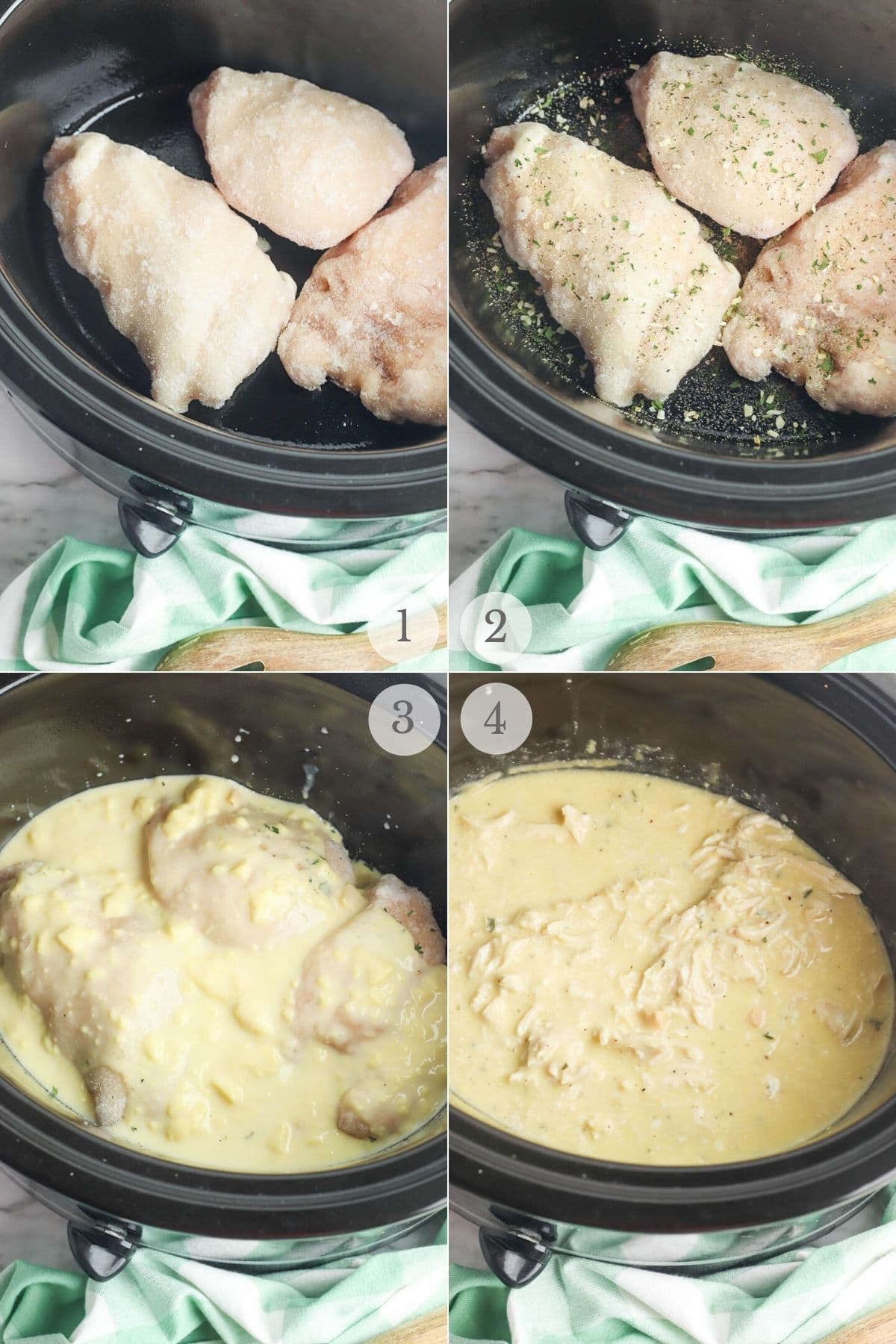 STEP 3. Add rice
Stir the cooked rice into the slow cooker (photo 5). Cover and cook for another 15 minutes on low.
Once it has thickened and creamy, it's ready to serve and enjoy (photo 6)!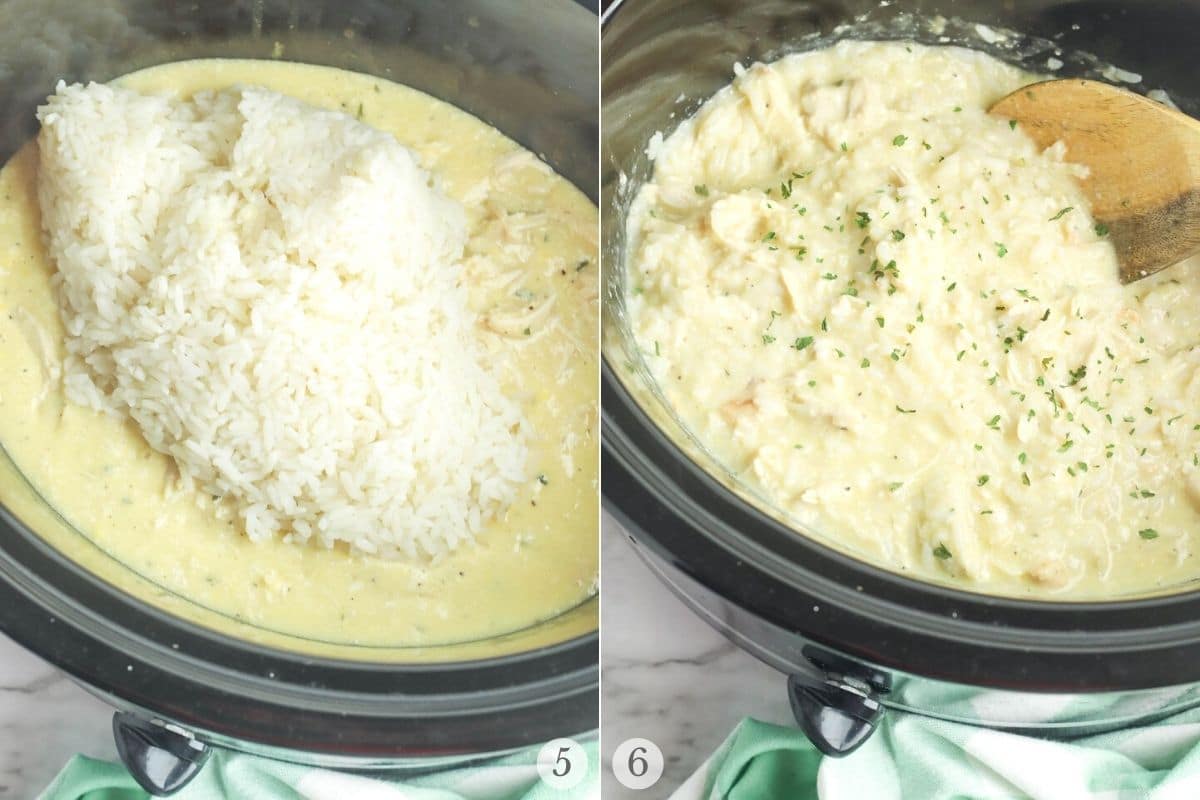 Frequently Asked Questions
What size slow cooker is used for this recipe?
6 quart. This is the model I use which is programmable so it's easier to monitor. Also it has a lid that can be clipped on which is perfect if transporting the slow cooker
How do I know if the chicken is done cooking?
The internal temperature of the chicken should reach 165 degreed F. The best way to check this is with an instant read food thermometer.
Why add the rice at the end of cooking time?
Cooking rice in a slow cooker is challenging. Different types of rice (even different types of white rice) can change the cooking time. Balancing the correct amount of liquid and time to thoroughly cook both the chicken and rice without overcooking one of them is nearly impossible.

After lots of experimenting with different methods, we found that adding separately cooked rice to the chicken at the end produces the best results.
It creates both the best flavor and the best texture. The chicken is perfect cooked and the rice is tender and whole.

It also gives flexibility about what type of rice is used without worry about the chicken cooking properly too.
Is Chicken and Rice healthy?
This recipe includes a combination of lean protein, carbohydrates and is low in saturated fats.

It's a very easy recipe to change up to meet your dietary needs and preferences too (see the Variations section for ideas).
Time Saving Tip: Use leftover rice
If you have leftover rice from another meal, use it! This chicken and rice recipe is a perfect way to use it up and saves time.
If making the rice fresh, time it so that it's done cooking a few minutes before the chicken has finished cooking.
Storing Leftovers
Keep any leftover Chicken and Rice in an airtight container in the refrigerator and enjoy within 2 days. It reheats well in the microwave or in a pan on the stove top.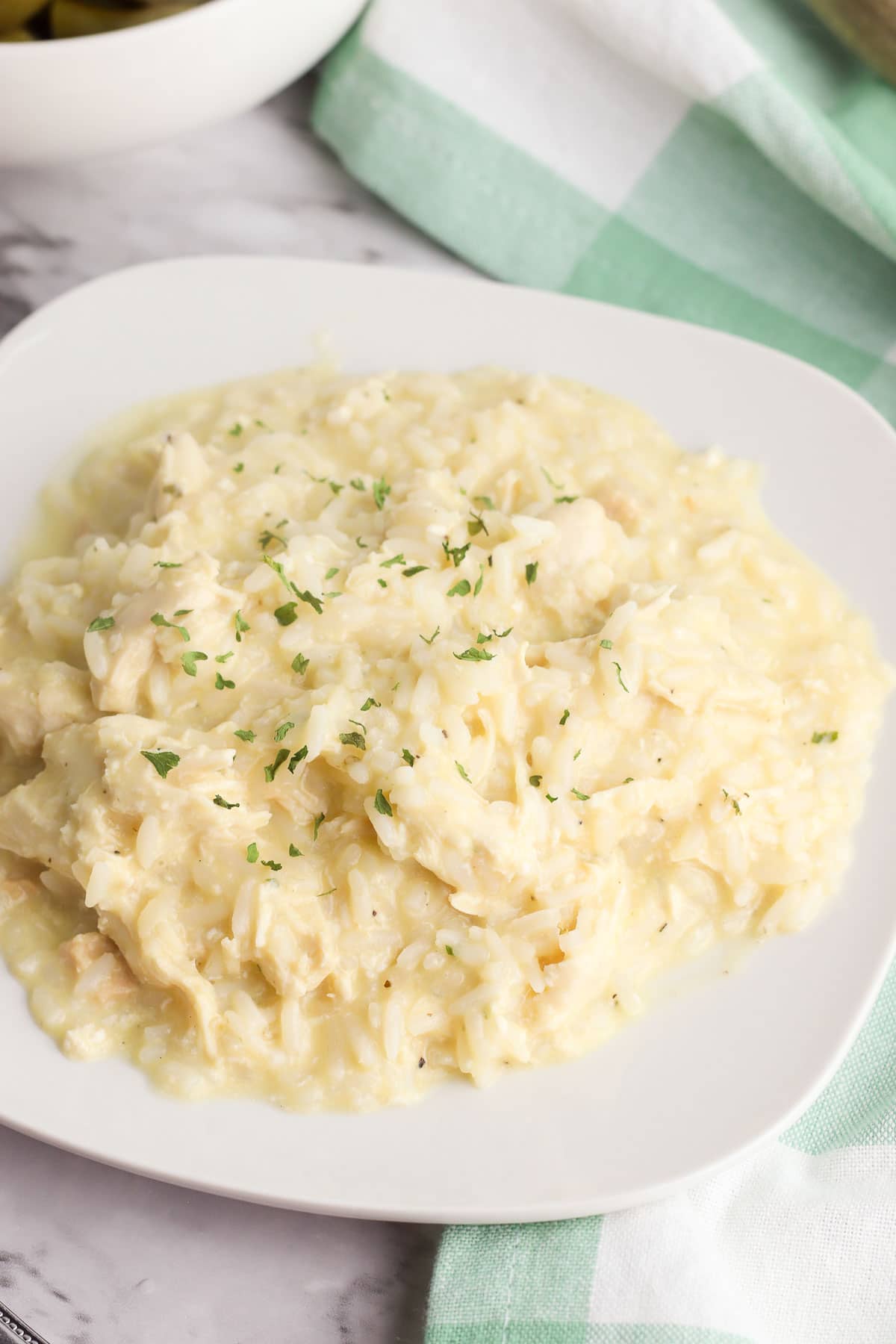 More Recipes You'll Love!
Recipe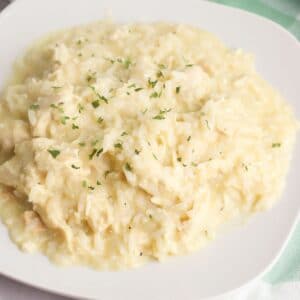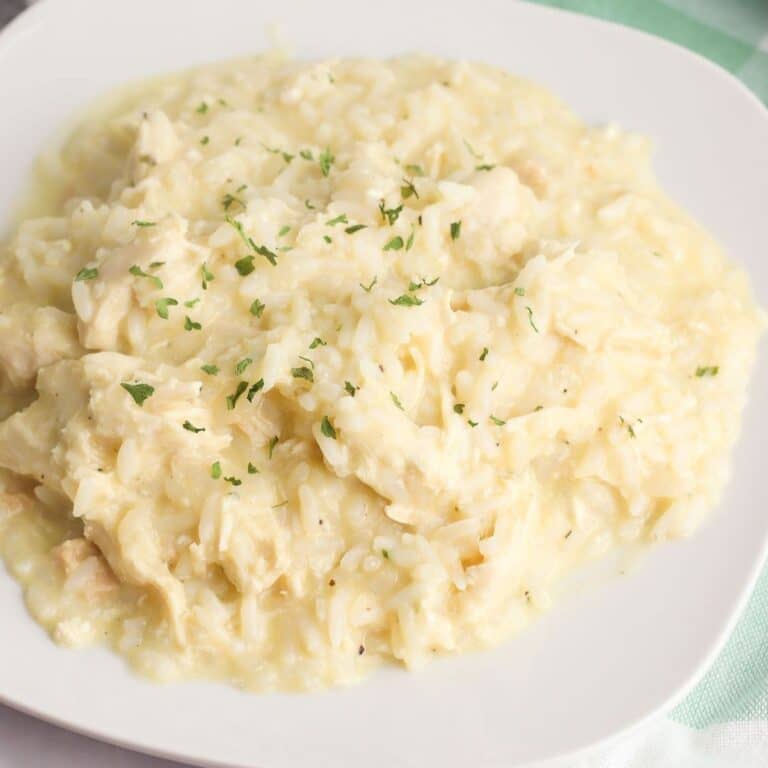 Crock Pot Chicken and Rice
Chicken and Rice is easy, dependable comfort food. Its warmth and satisfying flavor are a welcome dish whenever its served. This version can use any type of rice and frozen chicken breasts!
Print
Save Recipe
Recipe Saved!
Pin
Rate
Servings:
4
1 1/2 cup servings (total yield aproximately: 6 cups)
Ingredients
4

8-ounce

frozen boneless skinless chicken breasts

1

teaspoon

dried parsley

½

teaspoon

garlic powder

½

teaspoon

dried onion

½

teaspoon

black pepper

1

10.5-ounce can

cream of chicken soup

½

cup

milk

2

cups

white rice

prepared
Instructions
Place the chicken breasts in the slow cooker and sprinkle with parsley, garlic powder, dried onion, and black pepper.

Whisk together the cream of chicken soup and milk and pour over the top of the chicken breasts.

Set the crock pot to cook on LOW for 6 hours or HIGH for 3 hours.

When the chicken is cooked through (internal temperature of 165 degrees F), remove the breasts and shred them using 2 forks. Return the shredded chicken to the slow cooker.

Add the rice and stir to combine. Place the lid back on the slow cooker and cook for an additional 15 minutes before serving.
Notes
Cooking time based on cooking on low temperature for 6 hours. That time will be reduced by half if cooking on high heat.
Ingredient Notes
White rice is traditional in this recipe however feel free to change it up and use brown rice too. It's a great use for leftover rice!
Nutrition
Calories:
362
kcal
|
Carbohydrates:
76
g
|
Protein:
8
g
|
Fat:
2
g
|
Saturated Fat:
1
g
|
Cholesterol:
4
mg
|
Sodium:
21
mg
|
Potassium:
157
mg
|
Fiber:
1
g
|
Sugar:
2
g
|
Vitamin A:
49
IU
|
Vitamin C:
1
mg
|
Calcium:
60
mg
|
Iron:
1
mg