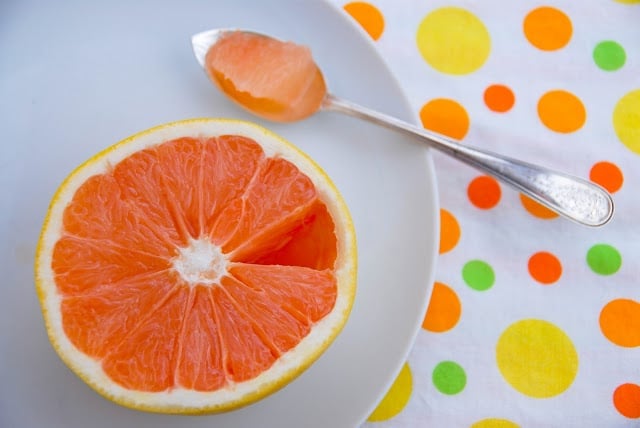 When I was growing up I remember my grandmother in California feeding us half grapefruits, neatly cut so the sections were easily removed with her sterling silver pointed grapefruit spoons.

I loved the precision of the whole experience.

She used a grapefruit knife which if you have not seen one makes this art as easy as cutting butter.

It is a small knife, serrated on both sides with a rounded end slightly bent to slip in along the sloping inner rind of the grapefruit.
After swiftly outlining each section inside the membrane Nana would gently slice around the outer circumference of the fruit so there was no unruly wrestling to free the fruit and dislodge any of the precious juice.

I also recall her occasionally sprinkling the top of the cut grapefruit with powdered sugar.

Seems weird to me now and I still remember the odd taste mixture of uber sweet and tart.
Growing up in a seasonal area in which winter sets in like an uninvited house guest with no intent to leave, citrus really was not part of our local repertoire.

We occasionally would receive Harry and David boxes bearing grapefruit sent by relatives which as a child I was nonplussed over.

This was all before international shipping declared a mono season year round, making anything available anytime.

We just accepted if it was winter there was not a lot of produce (and it was usually pretty gross if it was available).

We ate any canned foods my mother had put by.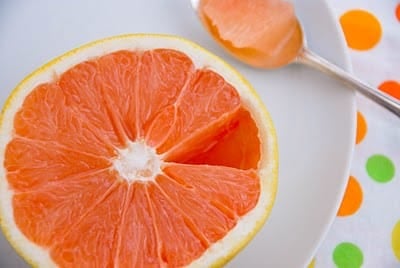 After last year when I went the locavore extreme to test my hypothesis, or really query, about whether it was possible to live over the winter in Colorado on only local spoils, I really appreciated any fresh food.

I was religious about not veering from my mission so did not buy anything grown from the ground that had not been birthed in Colorado.
When a relative wintering in the warm embrace of Florida sent us a large box of citrus, I thought I was going to lose my mind with excitement.

It was fresh and 'new food' (something anyone who eats from a root cellar exclusively for three or more months of the year would understand).

It was local to our relation so I felt we were able to share in her locavore'ism (despite knowing she had no idea she was eating as a locavore).

Bottom line?

I felt I was channeling a sailor who'd endured a half year sailing expedition, at the moment of realizing Scurvy would be dodged with the opening of this precious box of winter citrus. Ecstatic.
The boxes were full of oranges and grapefruit.

I dove for the oranges like a baseball player sliding into home plate.

They were incredibly sweet, sporting the most luscious, juicy orange color.

I ignored the grapefruit.

It probably would not be sweet.

I was not about to pull out the powdered sugar but could not imagine foregoing the oranges.

When I finally cut into one of the grapefruit, I realized the adage of 'saving the best for last' was at play.

I've never tasted a sweeter and more flavorful fruit.

I relished every anticipatory cut with my grapefruit knife and every bite taken with what are now MY pointed sterling silver grapefruit spoons.

A bright sunny spot in a long cold winter.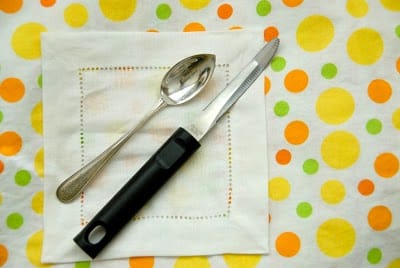 Cocktail Party Trivia Tidbits about Grapefruit:
·
Got their name based on how they grow in clusters on a tree (like grapes).
·
Main winter U.S. production is in Florida and Texas, with spring crops coming mainly from Arizona and California.
·
They can be white, yellow, pink or red.
·
Grapefruits are 75% juice.
·
Half a grapefruit contains 45% of the recommended adult intake of Vitamin C.

The pink and red varieties are high in lycopene the anti-oxidant that helps fights cancer.
·
The first U.S. grapefruit tree planted was in Florida was by a Frenchman, Count Odette Phillipe, in the 1820's near Tampa.
·
Grapefruit trees can produce for 30-40 years and are all harvested by hand.
·
Grapefruit juice can produce a negative interaction with several medications.

It is wise to check with your doctor if you drink grapefruit juice regularly and take regular medication (who knew?!)