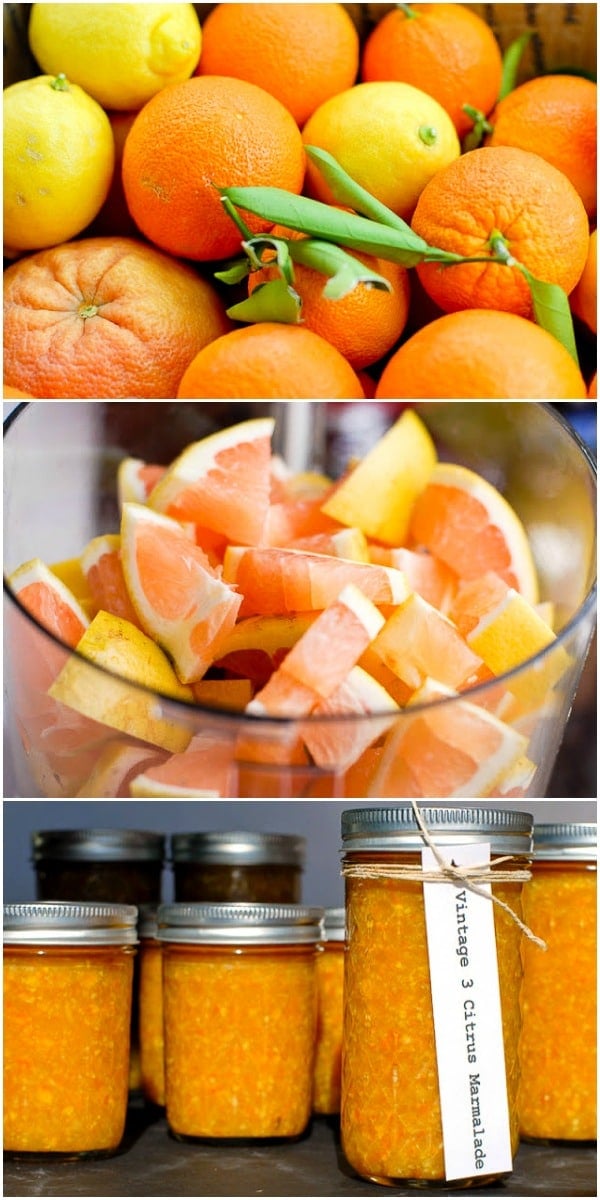 On the heels of the beautiful Floridian citrus I received a few weeks ago, I just received an abundant box of mixed citrus from the trees of wintering relatives in Arizona. They felt the cold was harsh this year, the oranges not as good as usual however I found in opening the box, sheer beauty in the form and colors, and delight at the prospect of what I'd do with it all. The finite quantity of such seasonal treasures lends itself to appreciation for the end product all year long.
Before the holidays I shared I have my grandmother's recipe box. It's filled with hand written and typewriter typed recipes with fabulous names like 'Good Cookies' or 'Hor D'Oeurve' (you can click those titles for some entertainment). One caught my eye a bit ago which was a three citrus marmalade. It's in my great grandmother's handwriting though attributed to someone named 'Mrs. Dillon'. I'd date it back to the first half of last century. I do make jam, though most always with organic pectin that allows use of honey instead of sugar, but was quite taken with this recipe. Some aspects were not something I was able to do so my end recipe is a modification but one that stays true to Mrs. Dillon's intent I believe.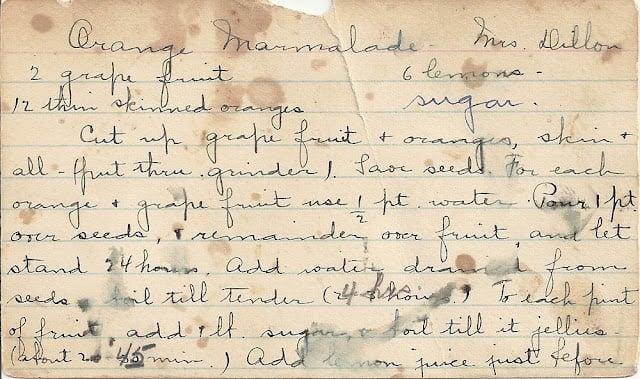 The way I modified the recipe the marmalade contains small bits of fruit and peel versus long pieces of the peel. I reduced the amount of sugar and the quantity of the oranges and lemons. Though this recipe is not difficult, it's lengthy due to the soaking time, causing it to span over a few days. It's a great weekend recipe with the last stage timing out when you have some time by the stove to allow it to boil down. The beautiful color and flavor will take the edge of any dreary day and it makes a wonderful homemade gift too.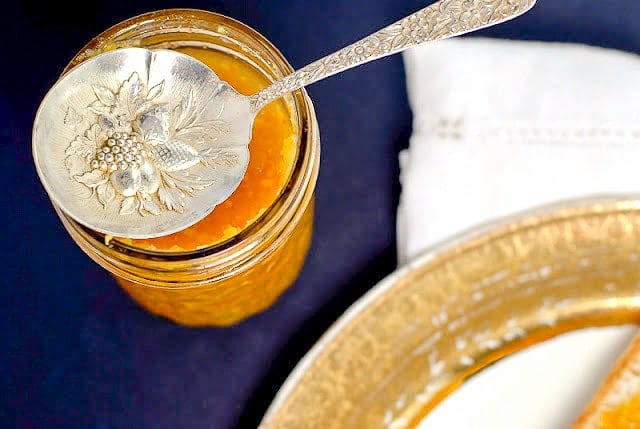 Recipe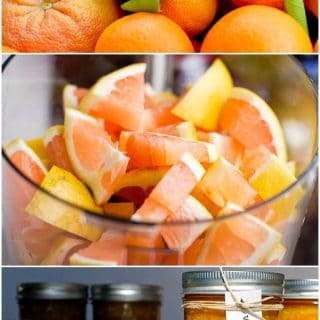 Vintage 3 Citrus Marmalade
This is a sizable batch of marmalade. Unless you plan to can it, give it to lots of friends or eat it for every meal you might consider cutting it in half or a fourth. I did process mine in a water canner though I think you could just refrigerate it if you plan to eat it straight away (another reason you might not want a mega batch). The amount of sugar may be a surprise in the recipe however it functions both to take the tartness down a notch as well as help the marmalade solidify. This version is modified from the original to lessen the sugar a bit, taking out the extreme tartness as well as allowing the marmalade be a bit more solid. If wishing a smaller batch, the recipe ingredients could be halved which would still provide for plenty.
Print
Save Recipe
Recipe Saved!
Pin
Rate
Servings:
48
1-ounce servings (4-12 ounce jelly jars, 8-8 ounce jelly jars)
Ingredients
2

grapefruit

10

small-medium size

oranges

3

lemons

4

pounds

granulated sugar

(I use organic)

Jars and lids

Water

Candy thermometer
Instructions
Wash the outside of each fruit (peel is included in the recipe). Cut each citrus fruit into quarters and place in the bowl of a food processor. Pulse until the fruit is in small pieces. Refer to the photo below.

Measure and place fruit into a large, non-reactive pot with lid. Cover with 3 times the volume in water. As an example: I had 7 pints of pulverized fruit/juice and added 21 pints of water to the pot. Cover and let sit overnight (or for 12 hours). It does not need to be refrigerated unless in a very warm climate.

The following morning bring the mixture to a vigorous boil for 30 minutes. Stir periodically to prohibit any burning of the pulpy fruit. Turn off heat, cover and allow to sit 24 hours.

After the 24 hour rest period, bring the mixture to a boil again, this time with the purpose of reducing the volume by 1/3. It will need to boil for a few hours. The color will become more amber as the marmalade reduces.

After the marmalade has reduced and is less watery, add the sugar.

Bring the mixture to a boil and boil until it reaches 220 degrees, (gel or soft ball stage), on a candy thermometer.

If you are refrigerating, spoon the marmalade into the jars and allow them to cool fully before putting them in the refrigerator. If canning, process in a water bath for 10 minutes (or the correct time for your altitude; I did for 15 minutes).
Nutrition
Calories:
152
kcal
|
Carbohydrates:
39
g
|
Protein:
0
g
|
Fat:
0
g
|
Saturated Fat:
0
g
|
Cholesterol:
0
mg
|
Sodium:
0
mg
|
Potassium:
23
mg
|
Fiber:
0
g
|
Sugar:
38
g
|
Vitamin A:
120
IU
|
Vitamin C:
6.8
mg
|
Calcium:
4
mg
|
Iron:
0.1
mg