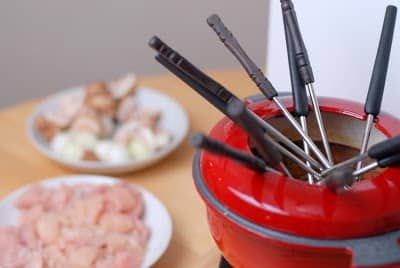 We recently celebrated a birthday of an exquisite home cook who owns every possible cookbook, kitchen gadget (I mean that in the most haute cuisine way) and device for every genre of cooking.

A few things popped up as possible gifts having escaped the cook's radar but none felt worthy of the full celebration of his birth and talents.
Those of us holding steady on our own age headed en masse to the local mecca of all kitchen stores: the Peppercorn.

I've never encountered a store like this and frankly, to unabashedly name drop, Marcus Samuelsson, whom I met at a book signing last summer at the Peppercorn was also dazzled, notably.
As we cruised the store searching for clues to the perfect gift, we took in the immense and eclectic offerings.

There is a Colorado food section.

A hot sauce section with hundreds, seriously, of selections (several with expletives you might imagine uttering were you to eat the sauce containing the caliber of chile peppers in the ingredient list).

Everything for coffee and tea imaginable.

Hundreds of cookbooks spanning the newest and the classics, to the specific food items warranting an entire book just on themselves.

I even noted a cookbook from an iconic restaurant from Big Sur California I used to frequent, Nepenthe, perched on the side of a cliff featuring cool dishes and roots deep in the hippy era of last century.
We milled around and found ourselves at, of all places, in the fondue center.

Truly a modern day kiosk of current fondue pots, heating gels, cookbooks, medieval looking forks, packets of cheese (which immediately made me spring to read the ingredients questing to understand why it does not have to be refrigerated).

Before we knew it we were embroiled in a heavy question and answer session with the knowledgeable store attendants (two on the case).

Electric or fuel?

Cast iron or non-stick lined metal?

Gel or heating 'pods'?

How many forks?

Great cookbook suggestion?

Before you knew it they were wrapping up a new, cast iron, red, Swiss made rig with a copy of 'Not Your Mother's Fondue' recipe book.

Had we lost our mind?

This is not 1972 after all.
Suffice it to say our recipient was genuinely surprised (wouldn't you be?). Perhaps taken aback but being a gentile sort, graciously appreciative and hopped on to try it out.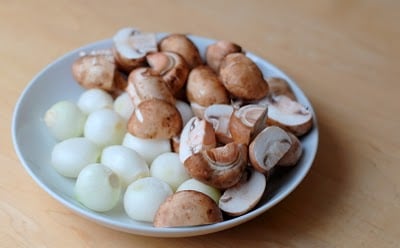 You might note from the photo at the top we clearly did not read the 'fondue etiquette' pamphlet and just stuffed our forks and dove in.

The recipe we used was more of a hot pot dish than the classic bourguignon (meat) or Swiss (cheese) fondue.
This was delicious.

The chicken was cooked perfectly.

It was succulent and flavorful.

The onions and mushrooms were wonderful as well.

This is fast and fun for a time you don't HAVE much time.

A great way to center everyone over one dish to enjoy lovely food and company.