White Chocolate Truffles filled with a spicy gingersnap cream cheese filling are a delicious gingerbread truffle! Perfect flavors for the holidays and these no bake cookie truffles are great for gifting too!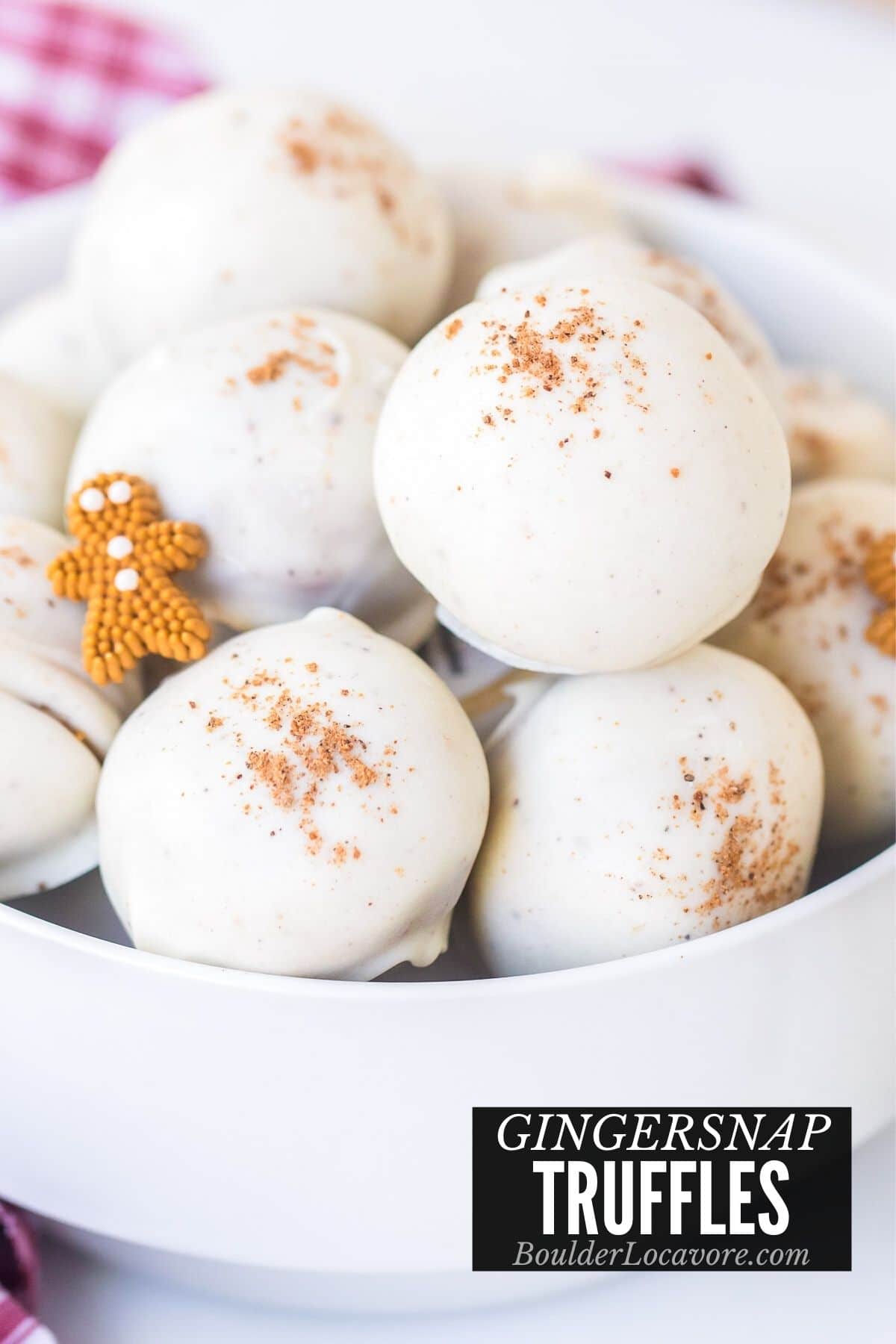 If you love cream cheese cookies, easy gingerbread cookies, or a truffle dessert, you are going to LOVE these white chocolate truffles with gingersnap cream cheese filling.
They are easy to make. No baking required!
Brimming with classic holiday flavors too!

Easy White Chocolate Truffles
Cookie truffles are some of the easiest to make. The process isn't fussy or time consuming as some melted chocolate versions can be.
These white chocolate truffles are a taste sensation.
The sweet exterior combined with the spicy, tangy gingersnap cookie cream cheese filling is delicious.
These are a perfect addition to annual Christmas Truffles or a Christmas cookie gift tray.
The ingredients are available all year long so they can be made and enjoyed outside the Christmas holiday season too.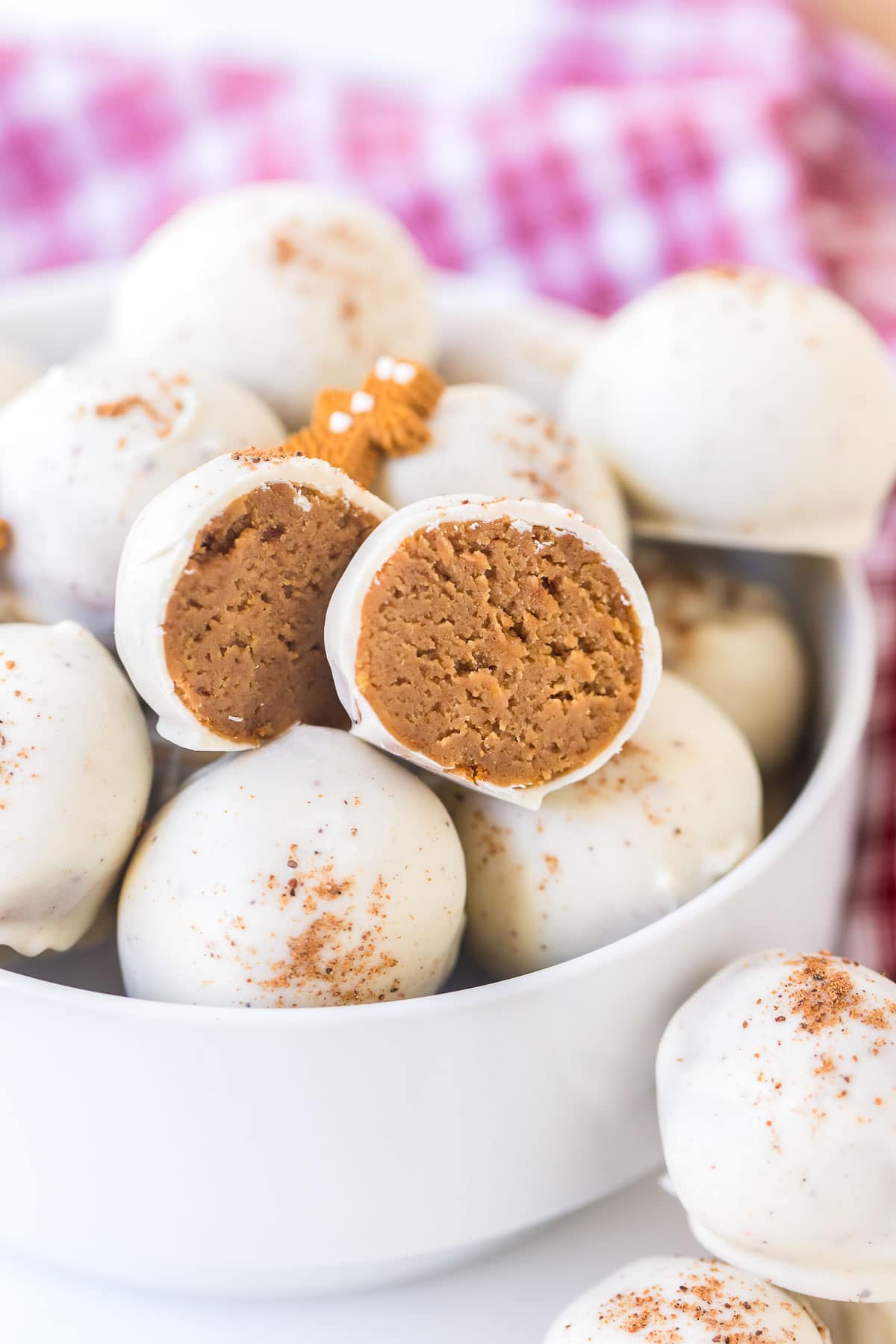 Recipe Ingredients + Notes
There isn't a ton of ingredients needed so gather them up before you get started!
Gingersnap cookies. Regular or gluten-free gingersnaps can be used. Store bought or homemade gingersnaps will work.
The cookies are ground into crumbs so harder cookies work best (versus soft ginger snaps).
Ground ginger. Gives extra gingery flavor to the cream cheese filling.
Ground nutmeg. This will go into the cream cheese filling and be sprinkled on top of the finished white chocolate truffles.
Vanilla Extract. Adds homey flavor to the filling.
Cream cheese. Start with room temperature cream cheese to ensure best results. We used full fat cream cheese but lower fat types should also work great.
Almond bark. This will be used for dipping to create the white chocolate exterior of the truffles.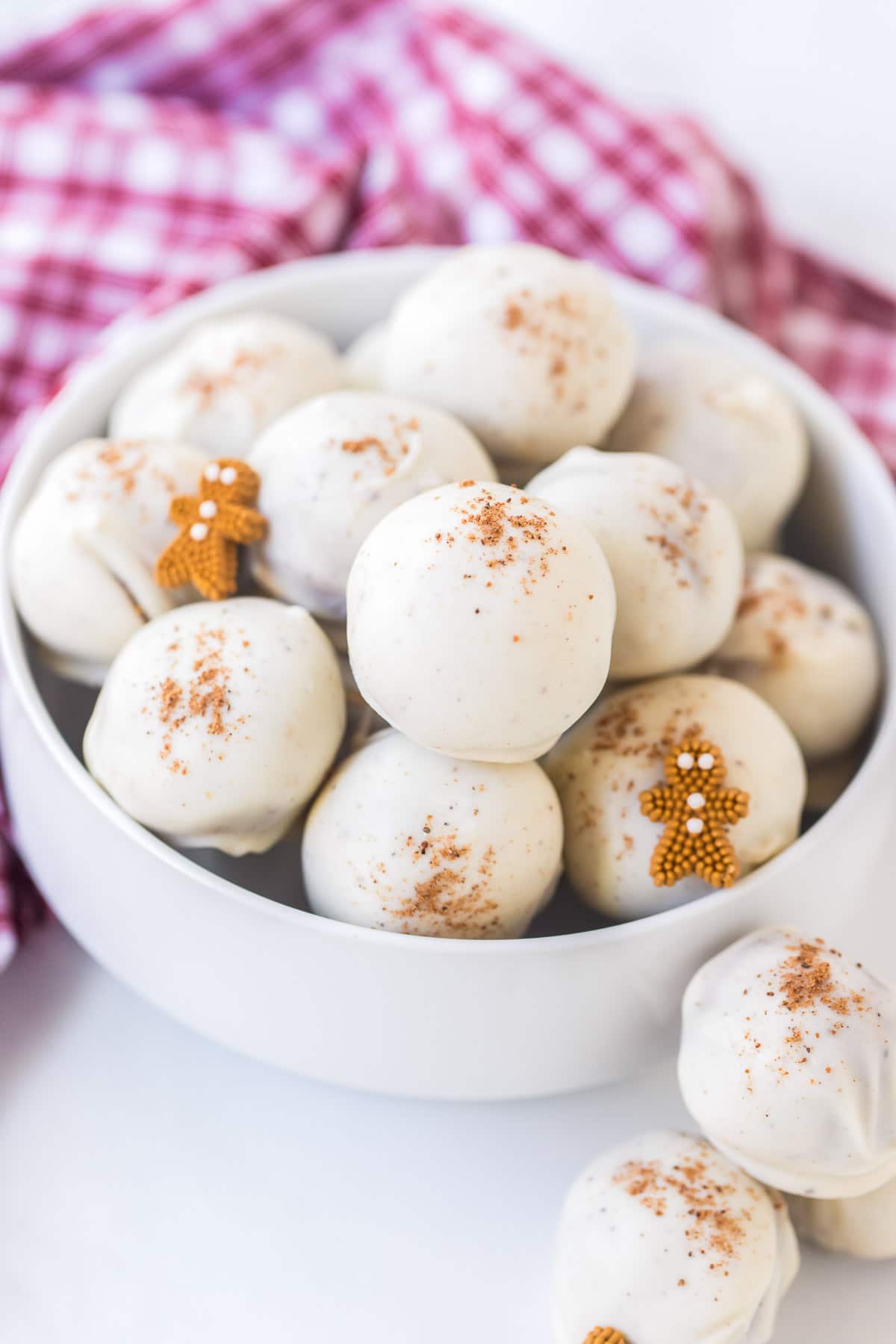 What is almond bark?
Many people think that almond bark and chocolate are the same things but they aren't are not.
Almond bark is meant to be used as an outer coating for desserts and treats.
It has the flavor of white chocolate but is much easier to work with.
The ingredients in almond bark allow it to melt easily and smoothly. Unlike white chocolate which can easily 'seize' when melting.
It sets (or firms up) well making it perfect for giving dessert recipes a bit of a sweet taste without going overboard.
Almond bark is sold in bars with baking supplies.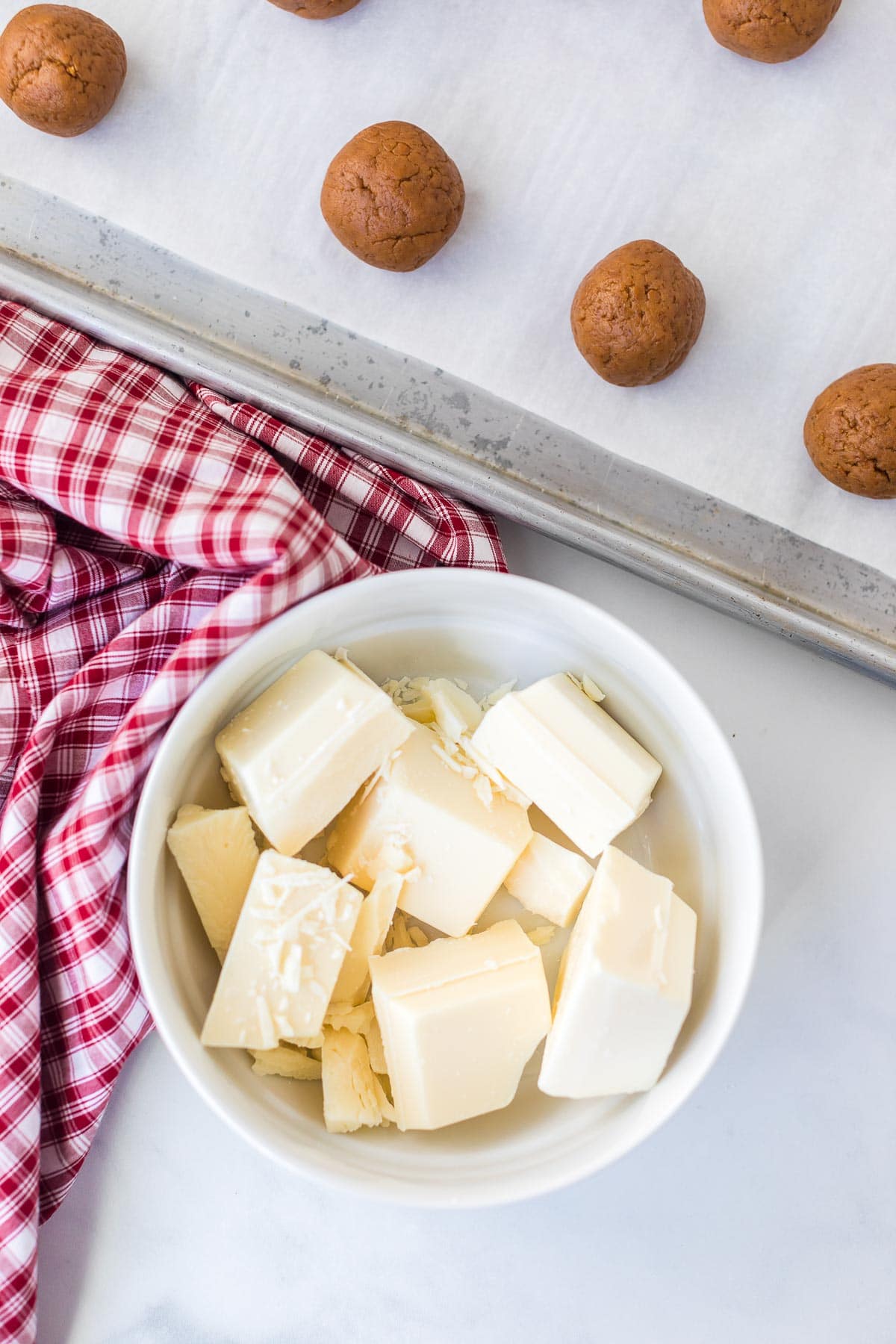 How do you melt almond bark for truffles?
How to Melt Almond Bark in the Microwave
The easiest way to melt the almond bark for the truffles is using a microwave.
Break the almond bark into pieces and place them into a microwave-safe bowl.
Start by melting the almond bark for 30 seconds, remove and stir.
After that initial time, heat for 15 seconds and stir.
Repeat until it's smooth and creamy and the perfect consistency for dipping.
DON'T SKIP STIRRING! The almond bark can burn if it's not stirred between each heating cycle.
How to Melt Almond Bark on the Stove Top
Melting the almond bark on the stovetop is another option but it does tend to take a little bit more time.
Use a double boiler or a heat safe metal bowl placed over a simmering (not boiling) pan of water.
NOTE: the bowl should not touch the surface of the water.
Add the almond bark (broken up in chunks) to the top double boiler or metal bowl over a pan of simmering water.
Stir constantly until the almond bark has fully melted and is smooth.
Monitor carefully and stir constantly to ensure no burning.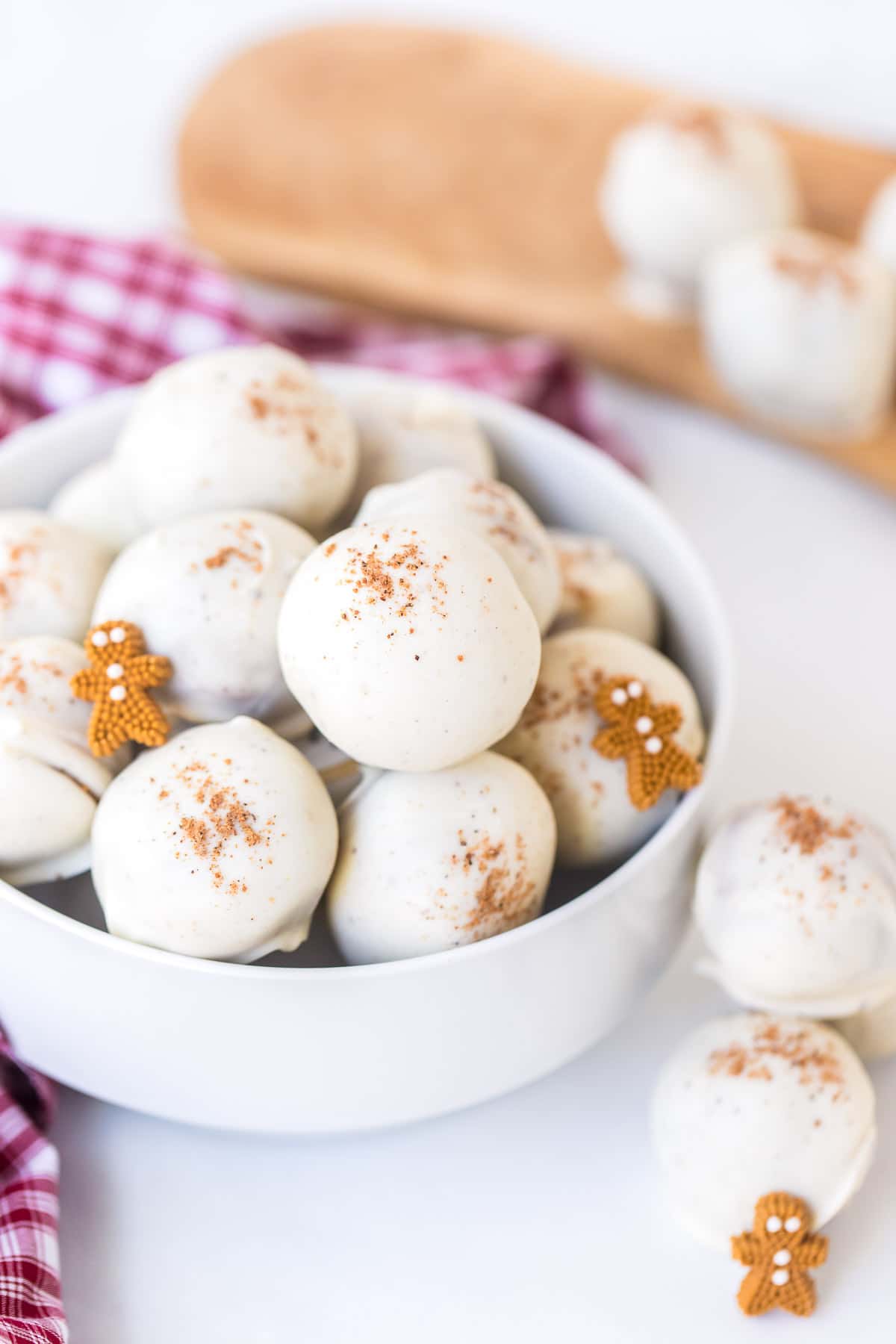 How to make it – Step by Step
STEP 1. Preparation.
Line a rimmed baking sheet with parchment paper or wax paper.
STEP 2. Make the Cream Cheese filling
In a food processor combine the whole gingersnap cookies, ginger, and ½ teaspoon nutmeg (photo 1). Pulse cookies into fine crumbs (photo 2).
In a medium-sized mixing bowl, mix together gingersnap crumbs, cream cheese, and vanilla extract (photo 3). Stir until completely combined.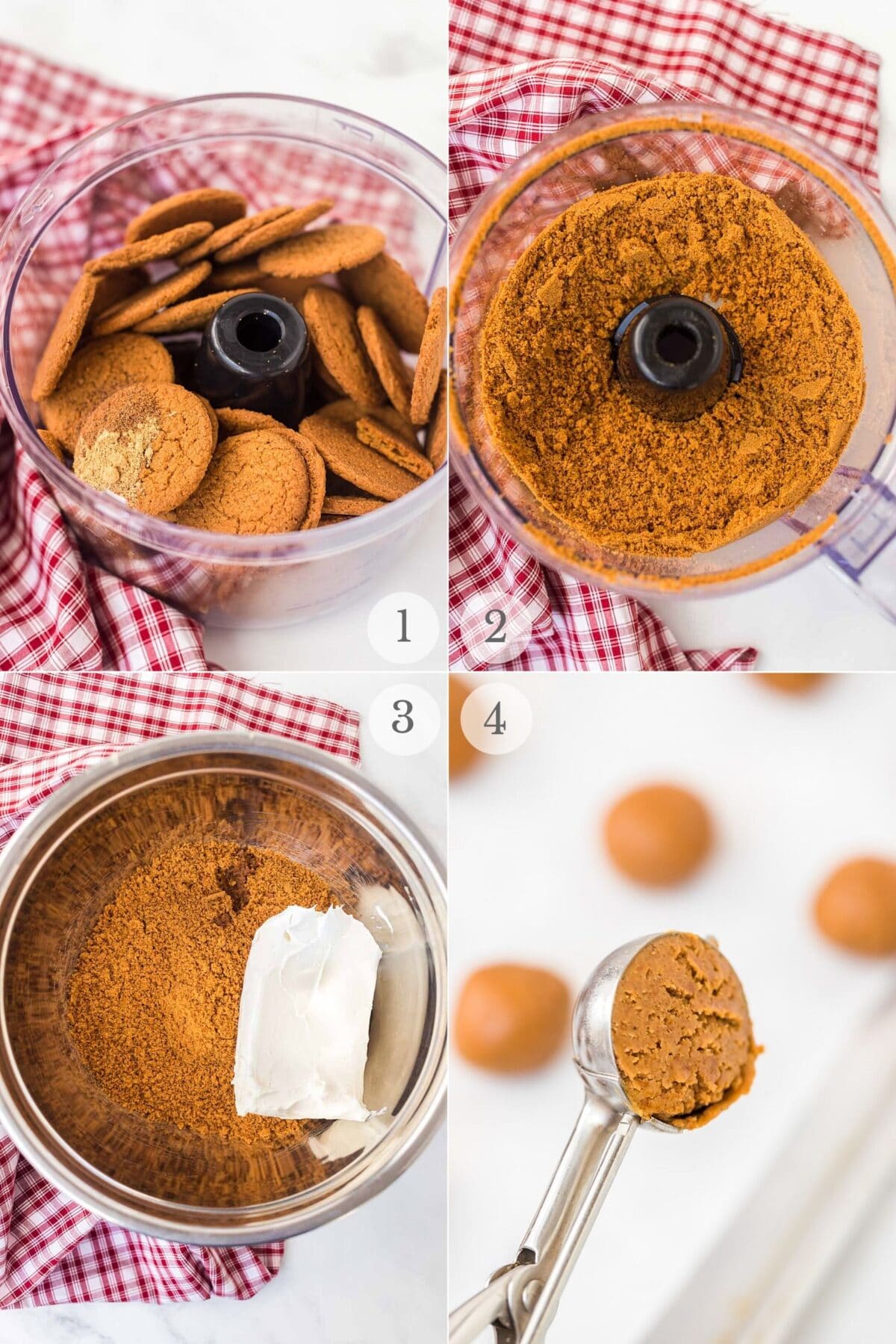 STEP 3. Chill the cream cheese filling.
Roll dough into 1 inch sized balls. PRO TIP: A cookie scoop with help achieve consistency with this (photo 4).
Place rolled cookie balls onto the prepared baking pan and into the refrigerator for 20 minutes (photo 5).
STEP 4. Dipping the white chocolate truffles.
Melt almond bark. Add 1 teaspoon of nutmeg and mix until combined (photos 6 and 7).
Dip each cookie ball in almond bark (photo 8) and lay on the cookie sheet to set. Sprinkle ground nutmeg on each truffle before the chocolate hardens.
Allow the truffles to set and the almond bark to cool completely. Enjoy!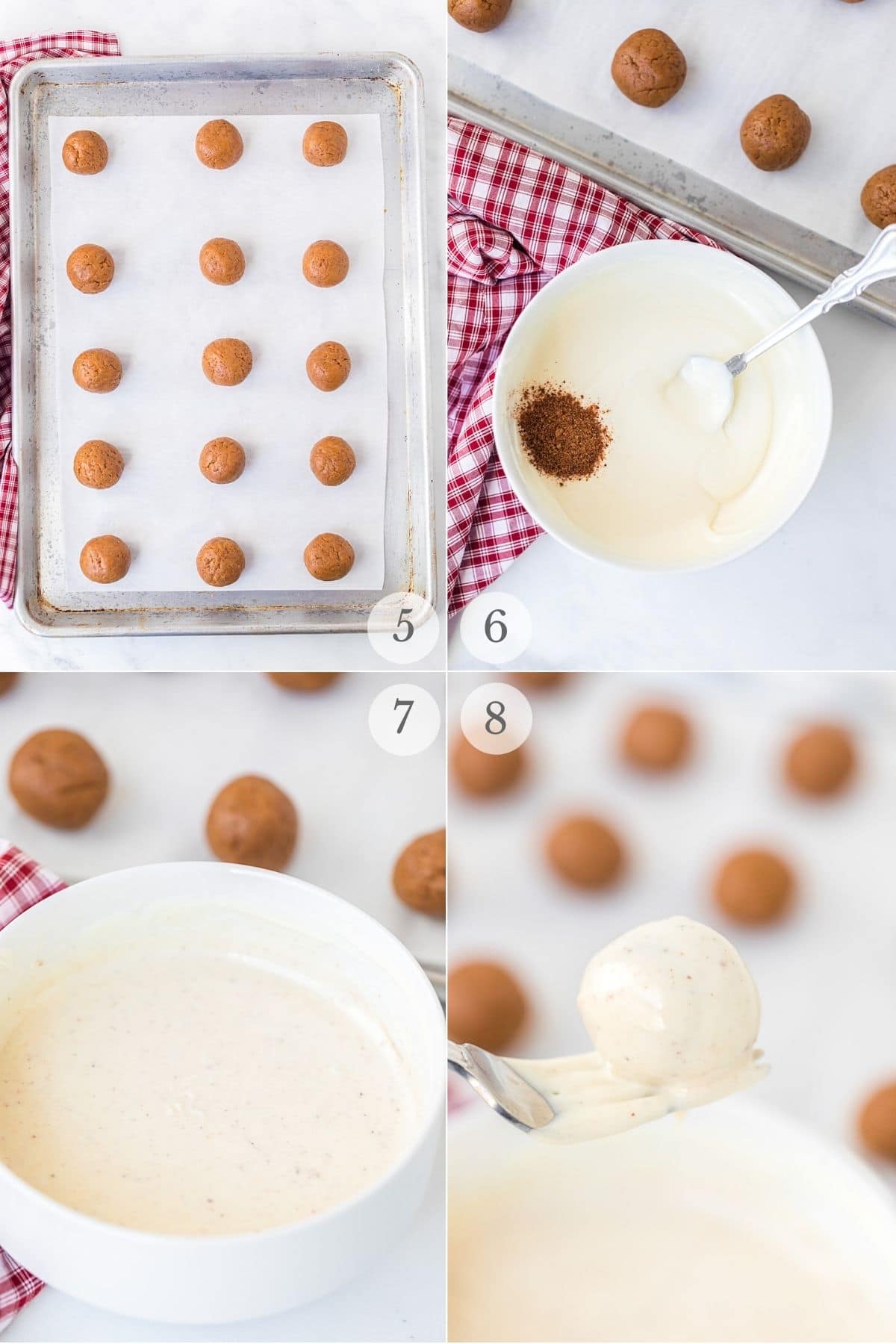 Dipping the truffles into the melted almond bark
The easiest way to get the gingersnap truffles covered in almond bark without making a mess is to use a fork.
Place the cookie ball on a fork and lower the entire fork and cookie down into the melted bark.
Once coated, lift up and let the excess bark drip back into the bowl.
Tap gently on the side of the bowl then set aside to set.
How to Store Cookie Truffles
Store these in an airtight container in the refrigerator for up to 1 week.
Or in an airtight freezer-safe container in the freezer for up to 2 months.
NOTE: if you choose to freeze these, the almond bark coating may crack.
Another option: make the cookie filling balls, freeze them and dip in the almond bark when closer to serving.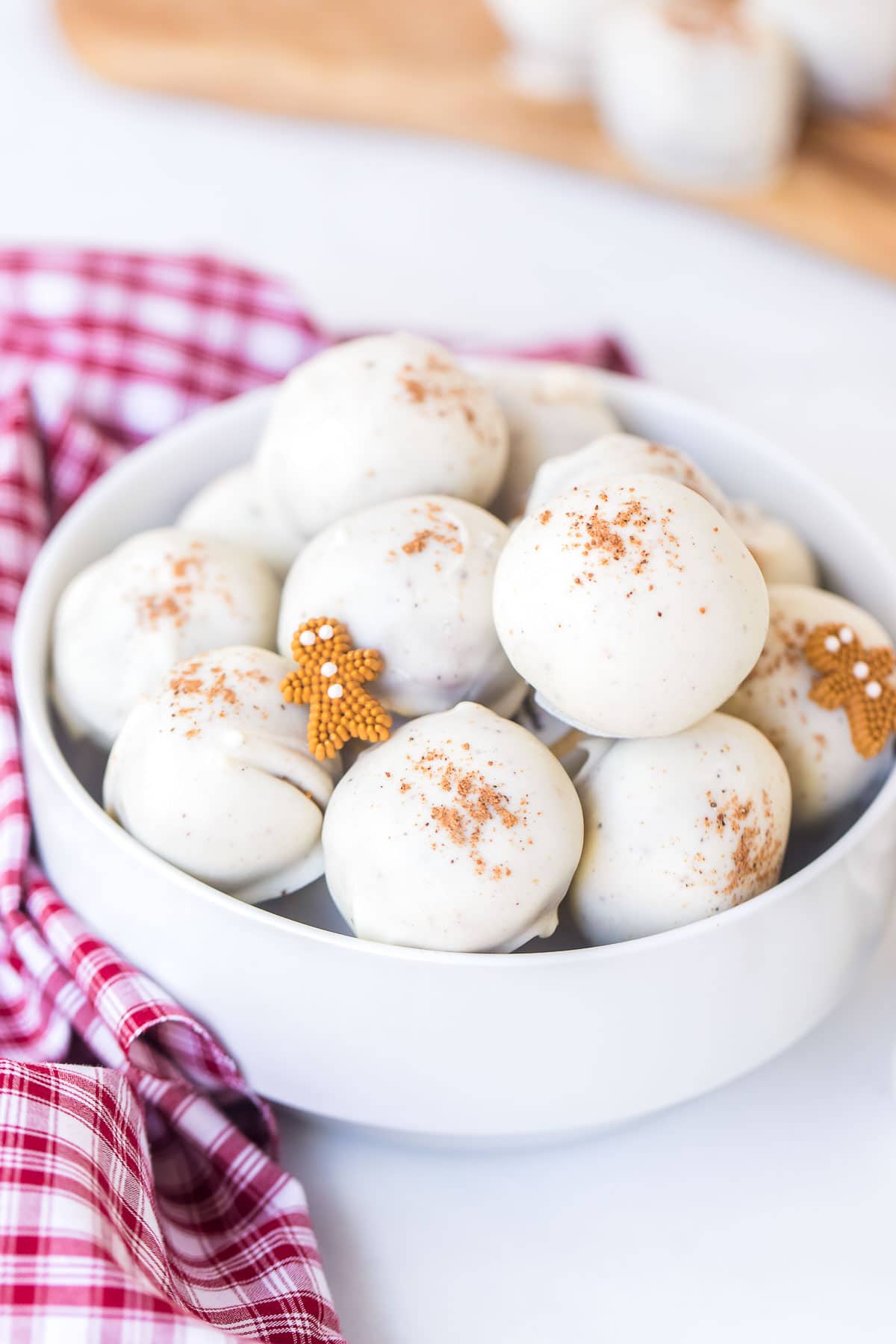 More Recipes You'll Love!
Did you make it? Please RATE THE RECIPE below!
Please
SUBSCRIBE
and
FOLLOW ME
on
FACEBOOK
,
TWITTER
,
INSTAGRAM
and
PINTEREST
!