Loukonen Farms is a favorite pumpkin patch in Boulder CO. A family-run, old school pumpkin patch with loads of choices, great prices and good company.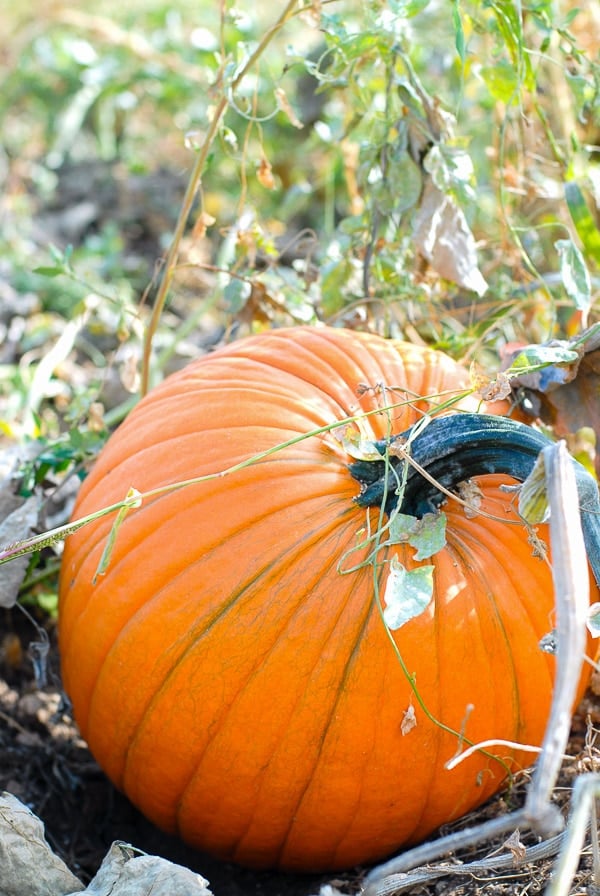 Have you ever had one of those uplifting experiences that comes out of the blue, like finding something you lost and have longed to find?
Getting a call from a longtime treasured friend you have not spoken to in way too long? Something that shakes your immediate consciousness, changes the trajectory of your entire day and totally elevates you?
Stumbling upon Loukonen Farms was that for me.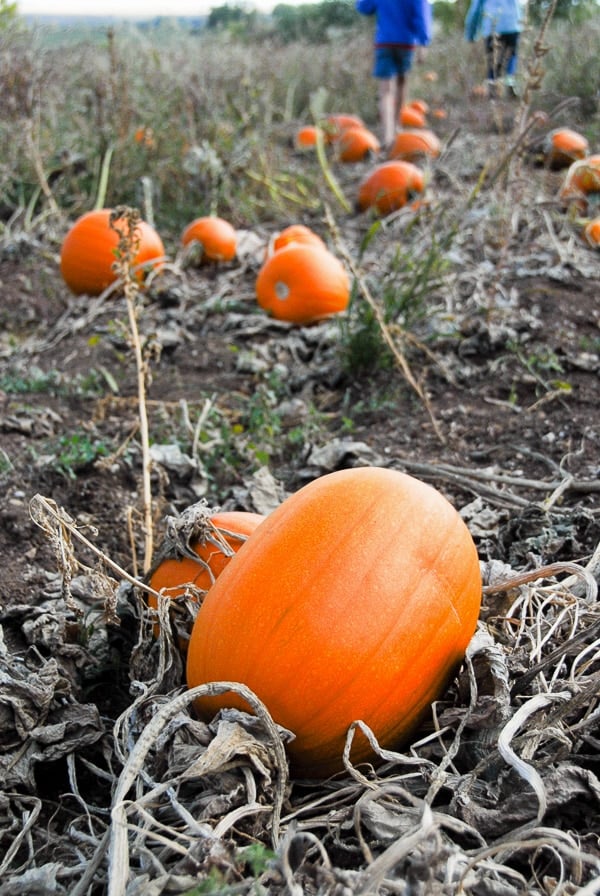 For years now, almost a decade, I've driven up and down Highway 36 from Boulder to Lyons, noting from the corner of my eye a seasonal display of pumpkins on the side of the road out in the middle of nowhere.
I've never taken the time to stop and investigate, always being on a purposeful drive with a timeline.
This year something internal urged me to make an exception and though I was still on a schedule I felt I had enough time to jet in to look around. Was I ever glad I did.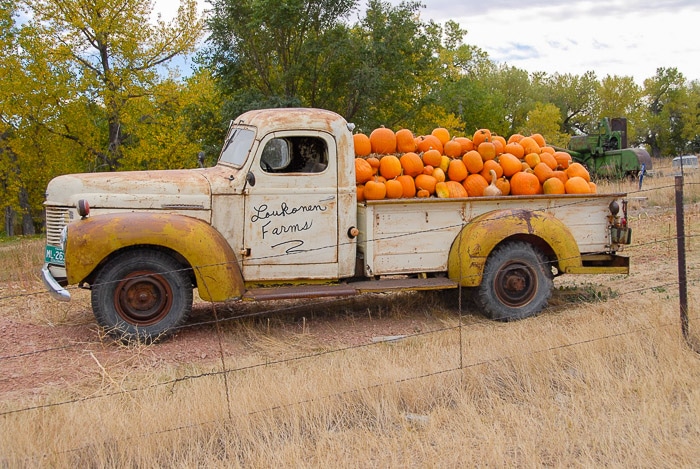 Loukonen Farms Pumpkin Patch
You would easily find Loukonen Farms between mile markers 25 and 26 on the east side of the road.
Under normal conditions (a.k.a. not in October) it would just appear to be a house with ample land around it.
However come October you'll note the vintage pick-up truck loaded to the brim with pumpkins announcing Loukonen Farms in painted hand script on the door.
The signs preceding the farm are also a giveaway.
A few words on each sign beckoning you closer: 'Halloween Is Near, Pumpkins Are Here, 1 mile'.
No matter which way you are driving you are forewarned in orange and black and can't miss it.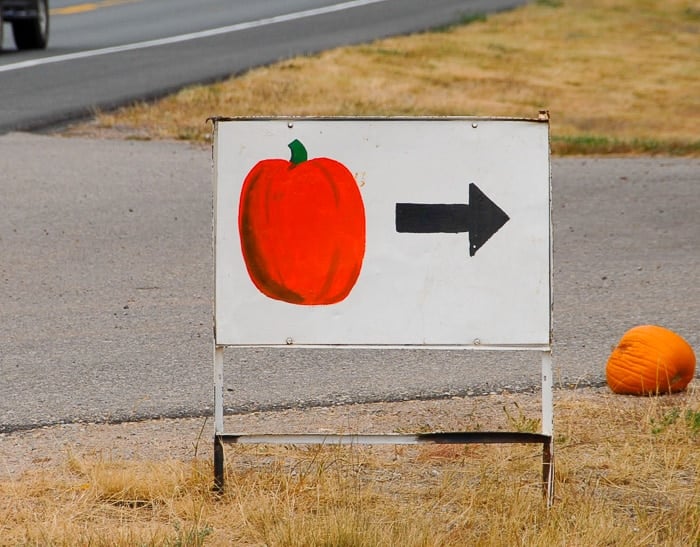 You'll find a simple internationally understandable sign at the driveway of a pumpkin and arrow. After meeting John Loukonen I'm not surprised.
He's a straight forward man with a gentile sensibility and a leaning toward direct, simple, no frills engagement.
As we drove in frankly expecting a few pumpkins piled in a driveway we were greeted by large groupings of all sorts squash and gourds.
They were all neatly laid out by type and separated by nice walkways.
Everything you could hope for was there; regular carving pumpkins, white pumpkins, Cinderella pumpkins, pie pumpkins, birdhouse gourds, decorative gourds, mini pumpkins and more I'm sure I'm forgetting.
There are an abundance to select from and real world prices.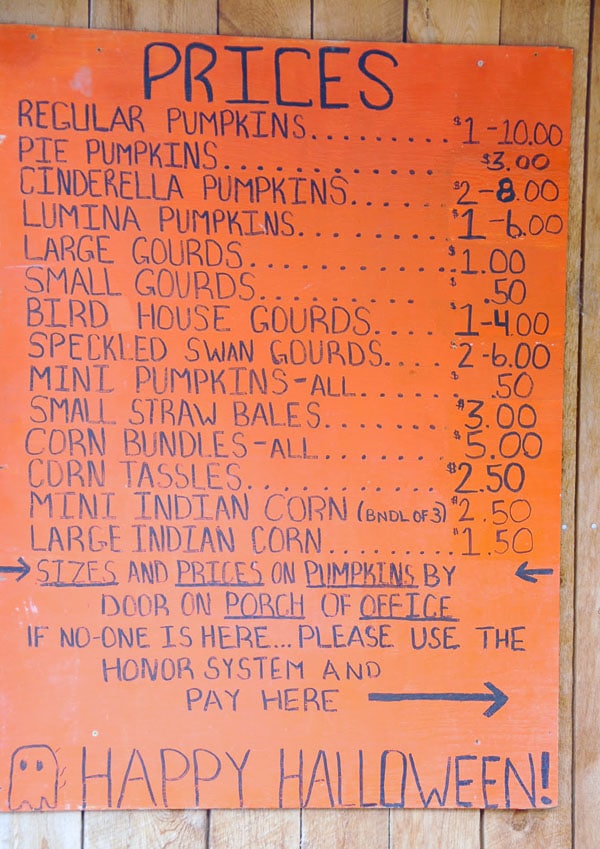 Old School Pumpkin Patch
John's Daughter in Law and her dog Chauncy helped us with our pumpkins choices.
We selected 1 medium sized pumpkin, 2 smaller pumpkins, 2 gourds, a mini pumpkin (still with tendrils that would make Martha Stewart launch a full on cat fight in the payment line to have its perfection grace her seasonal décor). $11. Seriously. They were all flawless.
I had a few questions which lead John to come out to chat. I liked him immediately.
He was one of those salt-of-the-earth kind of guys making me imagine him as a the new face of the en vogue 'Know Your Farmer' movement.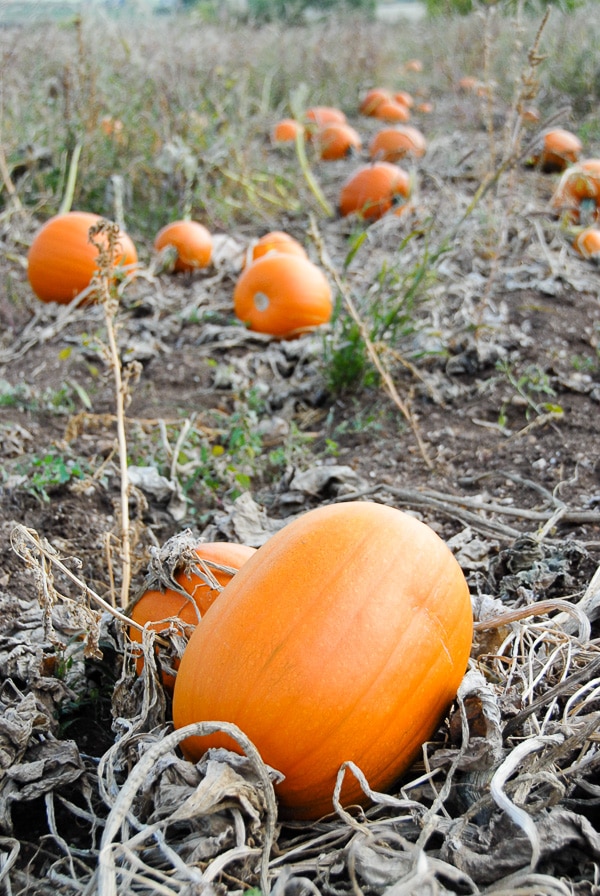 John Loukonen Farmer & Sculptor
I learned he's had his pumpkin patch for 20 years.
People have asked him if he wouldn't like to jazz it up a bit like more elaborate local venues with carnival type attractions but that's not his style. He likes to keep things simple and straight forward. The best kind of 'old school'.
He grows pumpkins, raises some cattle and hay. Somehow in our discussion it came out that he also does sculpture.
(Who knew? All this AND a Renaissance man.) His eyes absolutely lit up as he began to talk about it.
I asked if I could see some of his work and he generously took me to see a number of his pieces.
John works with Texas limestone and began his passion by taking a sculpting class in New Mexico. Afterward he decided he liked it and has continued to take a class yearly.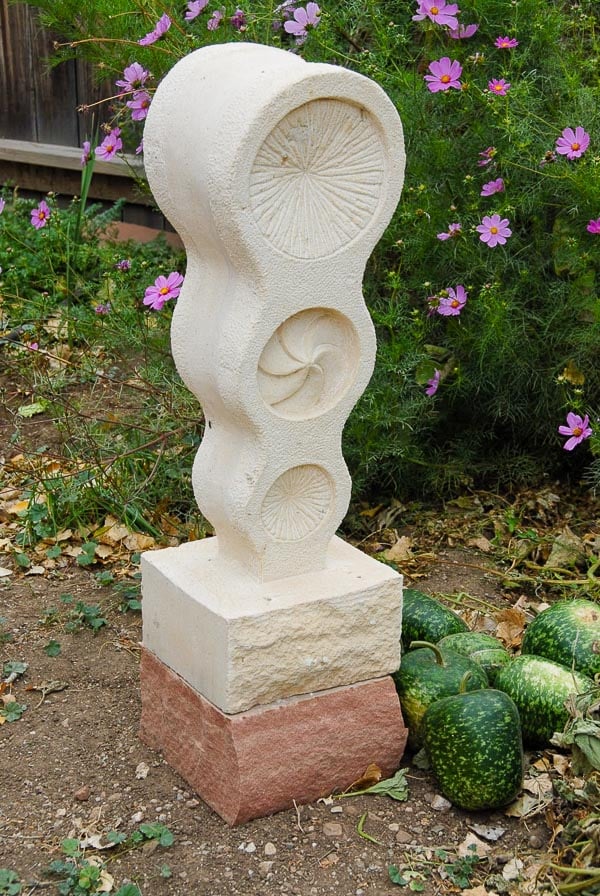 His sculptures are done with a pneumatic chisel which from all indicators does not reduce the intricacy of his work at all but maybe saves some hand joint pain (not being a sculptor, nor playing one on TV, that's just my guess).
The art ranges from large statement pieces to more abstract Dali'esque motifs to Pop Art renditions of 3 foot high cigarette lighters and full size car batteries.
They are fascinating, inspired and clearly works of devotion by John.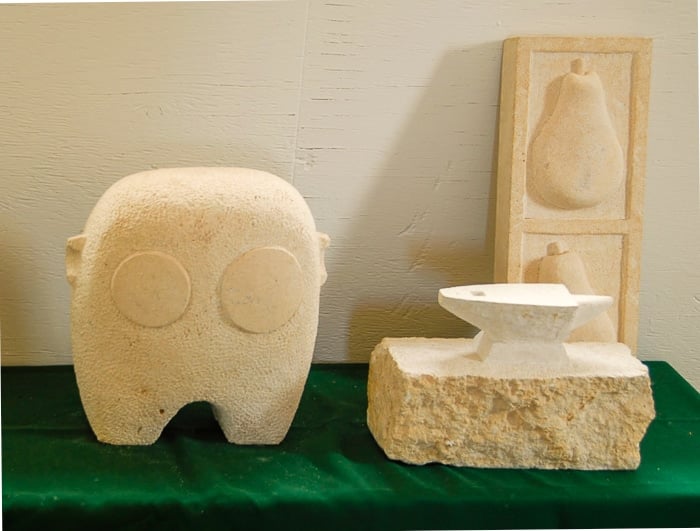 Woven in and out of all this are the wonderful buildings on his property he's adapted.
Being a bit of an architecture-o-phile I was completely smitten with the wooden cottage John internally renovated for showing some of his smaller work, the gorgeous weathered wooden barn where he keeps is chisel and the small shack which is the payment hub for the pumpkin patch.
In the end I did not want to leave. I wanted to spend the afternoon and learn more from John and his farm.
For the time I was there I felt there was no other place that could be more rich to be spending time. Why hadn't I ever stopped in before I wondered?
John said simply, 'You have to remember to take the side roads in life'. 'Even when you don't feel you have the time,' I added.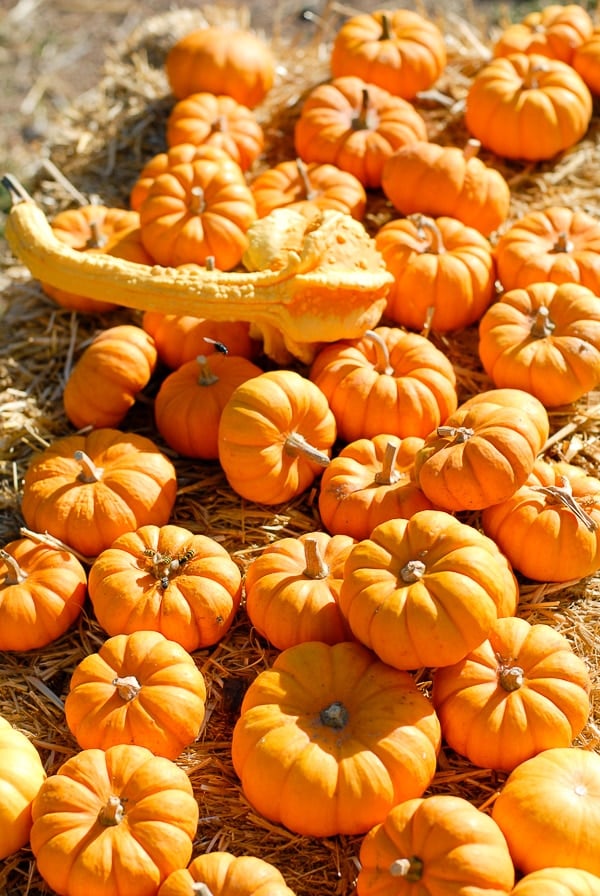 Tips if you go
The farm's actual address is 10558 N. Foothills Highway (Hwy 36), Longmont but it cannot be missed driving down the highway as you near the juncture with 66 coming from Boulder.
The pumpkin patch is open daily through October 31 from around 9:00 a.m. to 5:30 p.m.
If you'd like to contact John about his sculptures you can do so by email (johnloukonen@yahoo.com) or by phone (303-823-6158).