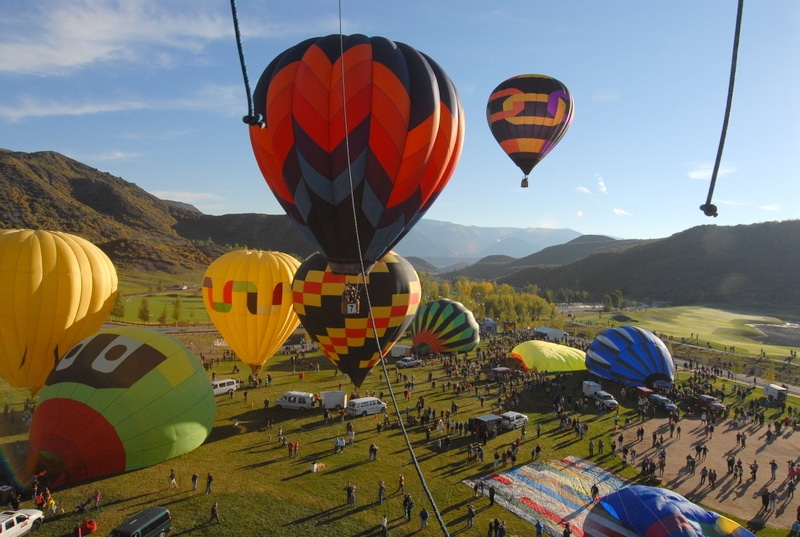 Without question, fall is my favorite season with the turning of the colors being a highlight. In Colorado, our main display is the aspen trees whose quaking leaves flame a brilliant gold, parading unabashedly in contrast to the deep evergreens.
Last weekend I attended two fall festivals in Snowmass Colorado; the Snowmass (Hot Air) Balloon Festival and Snowmass Wine Festival. Though completely separate and run by different organizations, they intertwined like yin and yang making for a perfect fall getaway.
When I arrived in Snowmass on Friday, the mid day temperatures were in the low 70s. Just right for pants and no sweater but giving way to an evening and morning chill, reminding one summer is definitely gone. The Wine Festival kicked off the weekend with a 4 course Spanish wine paired dinner. The Snowmass Rotary club puts on the festival as a fundraiser to benefit four local charities. Each year they select a different wine theme for the dinner and this one was certainly a hit. Hosted at the Artisan restaurant in the Stonebridge Inn, the relatively newly appointed Executive Chef Randall Baldwin rose to the occasion delivering Spanish influenced dishes definitely worthy to pair with the superb wines.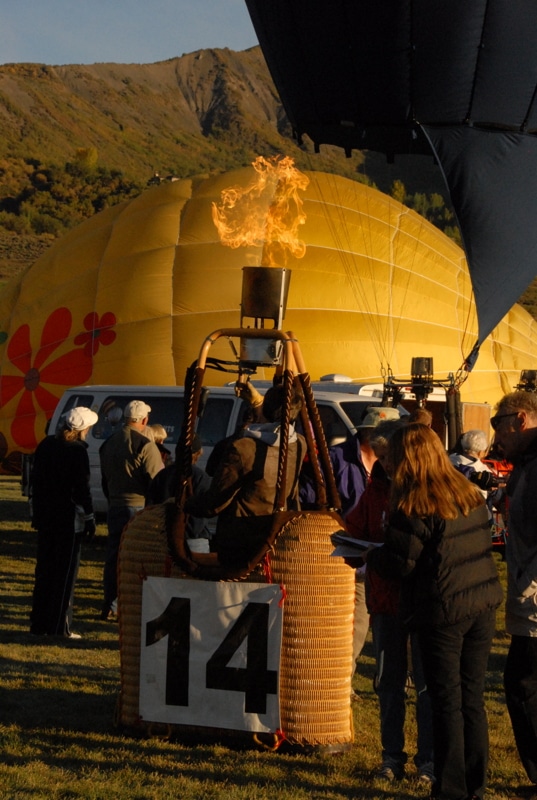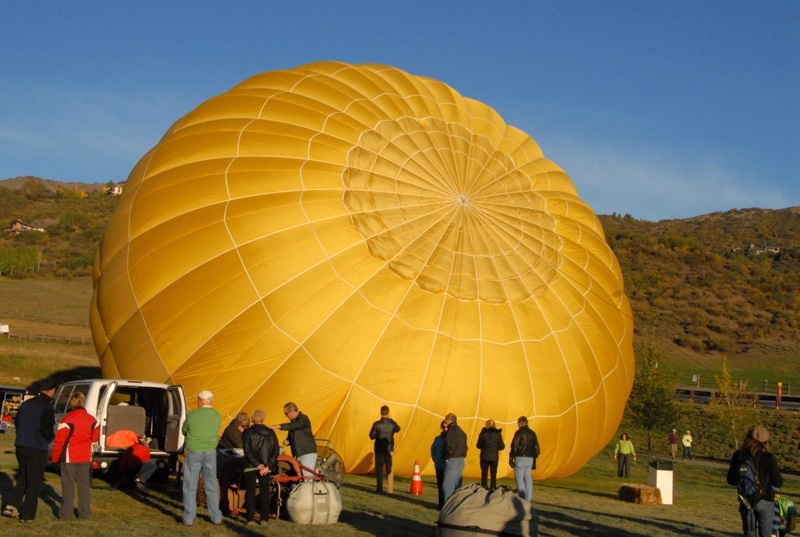 Saturday morning started in the early mountain dawn around 6:45 a.m. at the base of Snowmass Mountain where the balloonists readied to depart for a few hour flight. I was offered the chance to go up and jumped at it. This is not my first voyage in a hot air balloon. Of my prior flights the most dramatic location was undoubtedly Kenya where we flew above the wildebeest migration to set down in a sprawling open space to a gorgeous breakfast on fully set tables with table linens (looking over our shoulders for a hungry rogue lion eyeing our croissants). I was definitely excited to go up again and even more so when learning my pilot would be Patrick Carter of 37 years experience.
The softball field, the staging and departure point, was alive with activity. Pilots in solitary baskets testing their burners while their crew unfurled the yards of lifeless fabric that would soon be inflated to carry us over the Brush Creek Valley. Watching the operation jump into action was eye opening. In the case of Patrick Carter, his team is a multi-generational mixture of family and friends with even the youngest member having a role like sitting on the basket once the balloon is inflated to keep it earthbound until the marshal gives the approval to take off. Everyone knew their job and even the mob of teen boys took it to heart clearly revering the family pastime.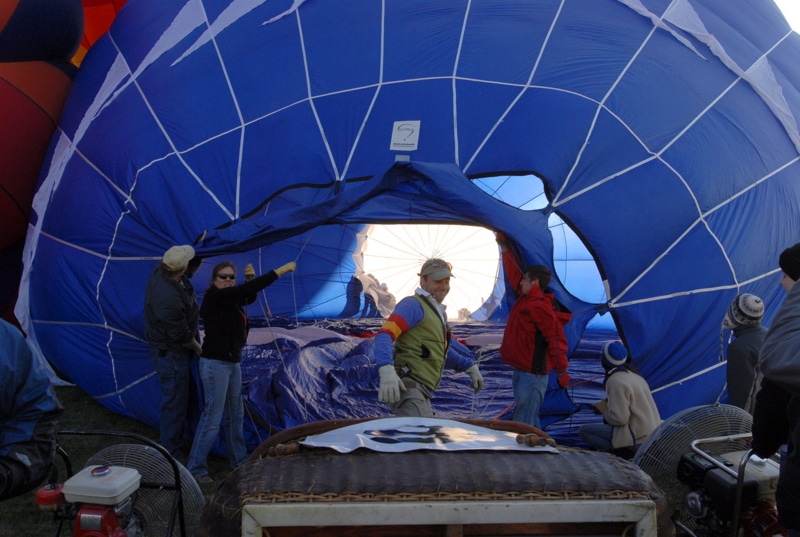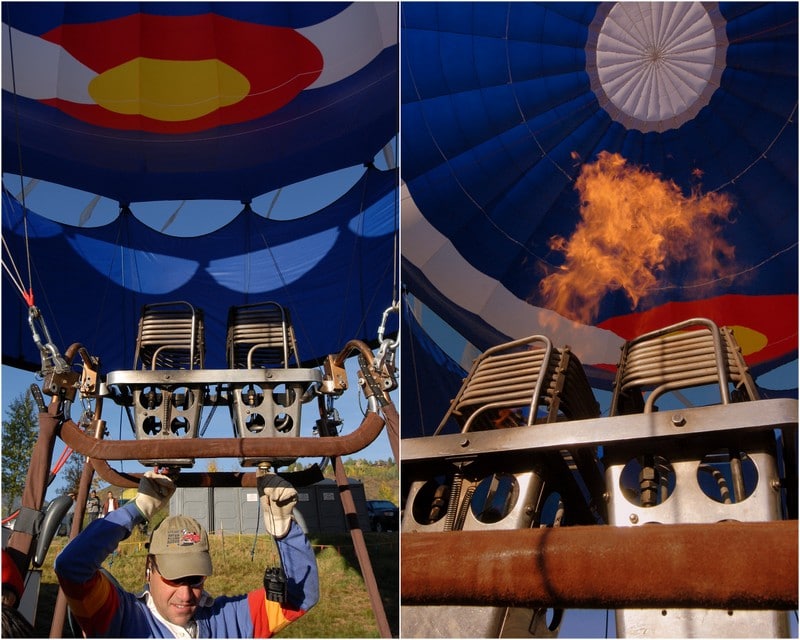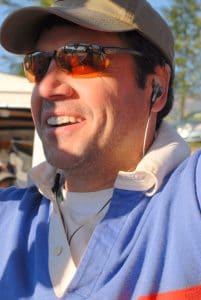 Patrick and his wife Gina are both physicians in the Colorado Springs area. Patrick's father had been a balloonist bringing Patrick into the craft when he was a mere 10 years old. In speaking with his mother, Mary Jo, it's been a lifelong family passion. Her husband and Patrick's father, Jim has loved the Down Valley Race conducted on Friday morning with the goal of seeing how far they can travel. The race is now named in memoriam after Jim who passed away two years ago.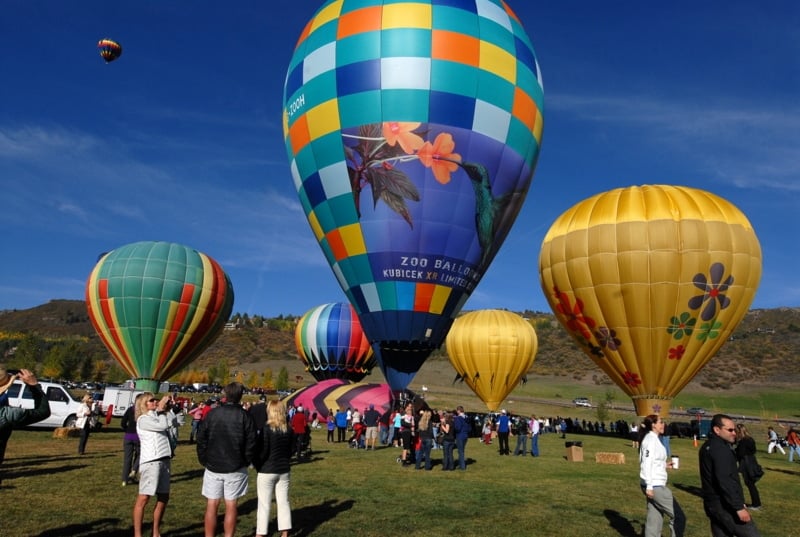 The day could not have better for a balloon flight. The air was still and chilly to start which balloonists love. As we gently began to float upward, seeing the ground crew waving joyfully and growing ever-so-small, I felt I was having a Wizard of Oz moment. It was both surreal and idyllic to be aloft in complete stillness other than the occasional burst of the burners overhead.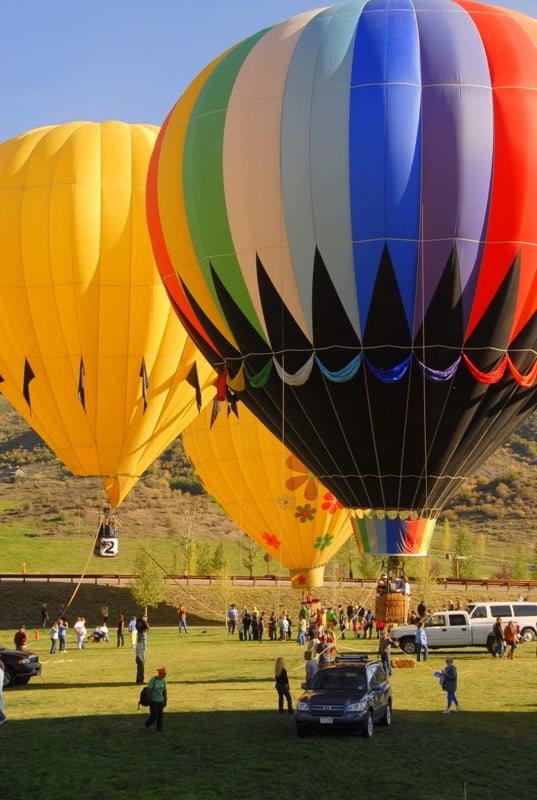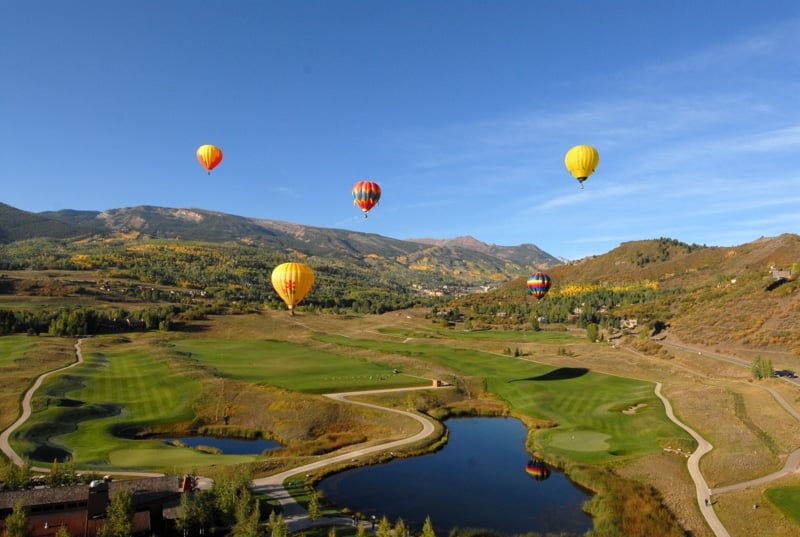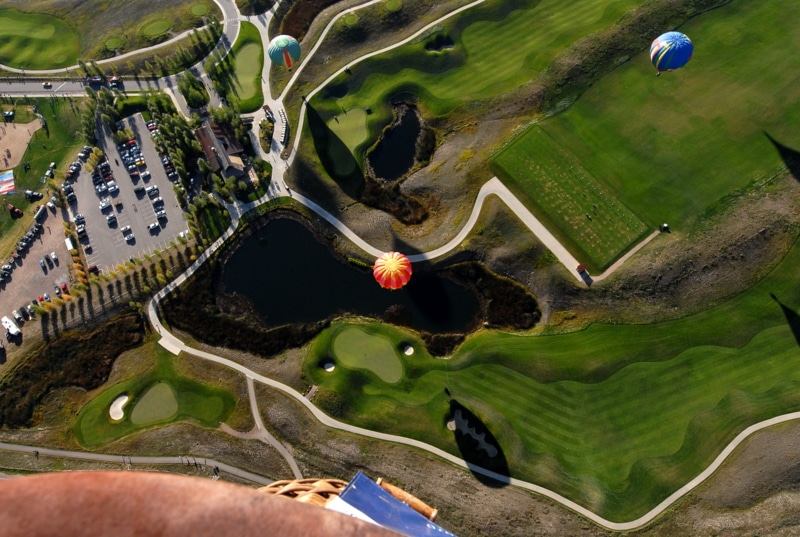 'Steering' a hot air balloon is an art of itself. Relying on the burners and any wind currents, Patrick also explained in a denser ballooning situation such as this he looks for shadows to determine his orientation to other balloons. He pointed upward showing us there is no way to see around our balloon and therefore another balloonist above us. He was in contact with his ground crew via radio but watching the valley walls also allowed our successful navigation.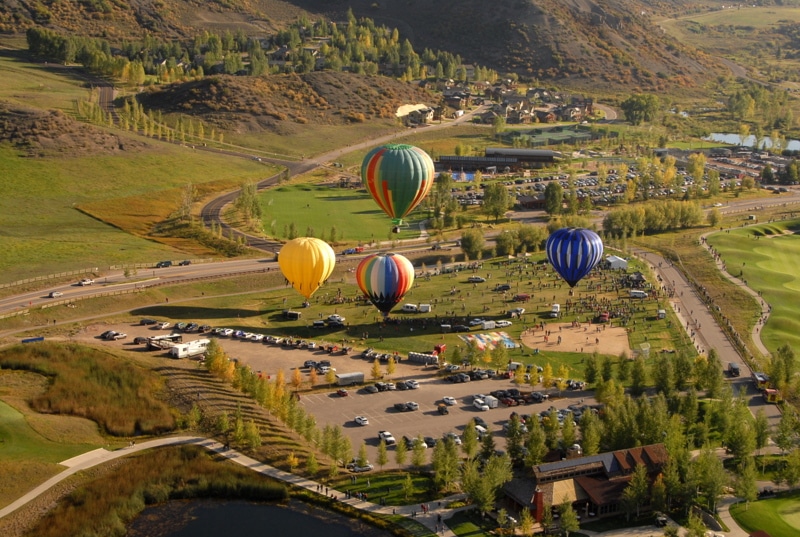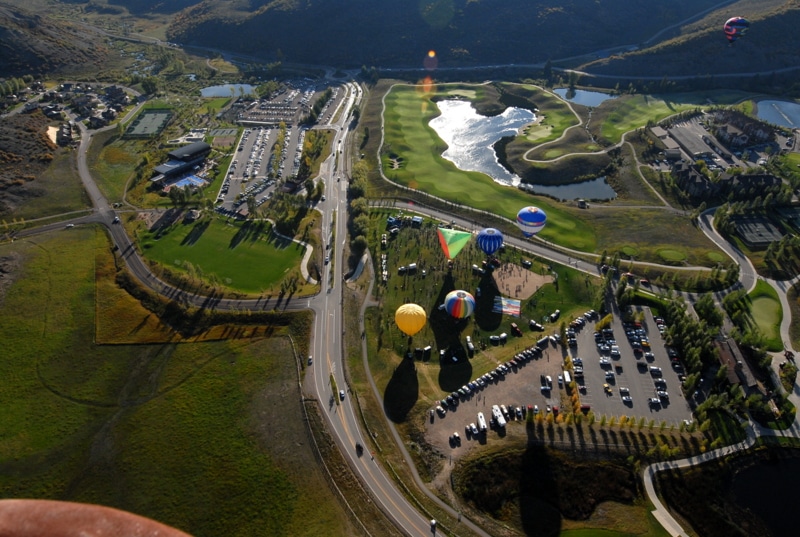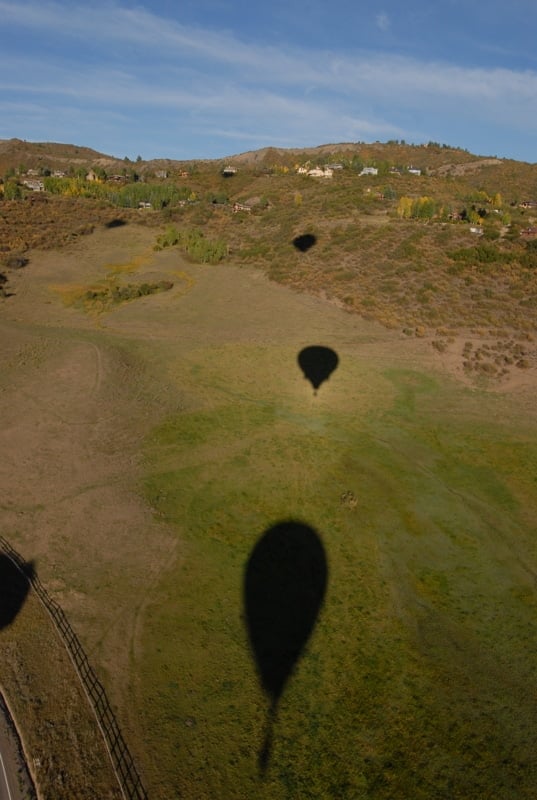 It seemed kismet that I'd end up in a balloon sporting the Colorado state flag. I also learned the 'Colorado High' balloon (this being the third actual balloon with the name in the Carter's possession), was christened in the 1970's in a chance meeting between Jim Carter and the singer John Denver. The balloon's name had been picked and received an iconic 'Far Out!' from Mr. Denver when Jim shared the intended name. The rest is history.
As Patrick drifted downward he pointed out a different balloon which had just skimmed the golf course pond purposely. Clearly a fun loving group, balloonists will often include feats such as water skimming or attempting to pop strategically situated birthday size balloons with a sharp pole from their balloon basket. We were careening toward the golf course green which Patrick said they try to avoid as it is not received well by greens keepers. We made it to the rough when a pack of young boys sprinted out of nowhere to mount the side of the balloon basket in almost a cartoon like manner and hold it down. As fellow passenger Jill Beathard (editor of the Snowmass Sun) and I disembarked we left Patrick negotiating between his young male relations for who would be able to go up for a ride. Something they all clearly covet.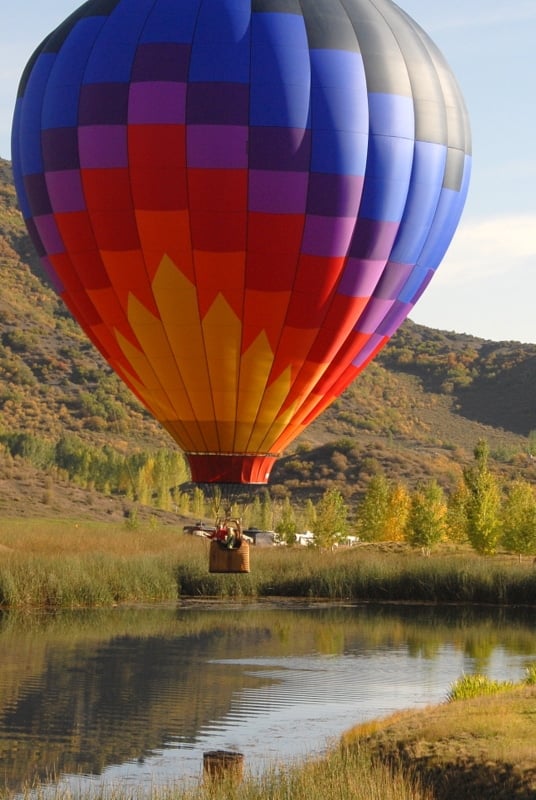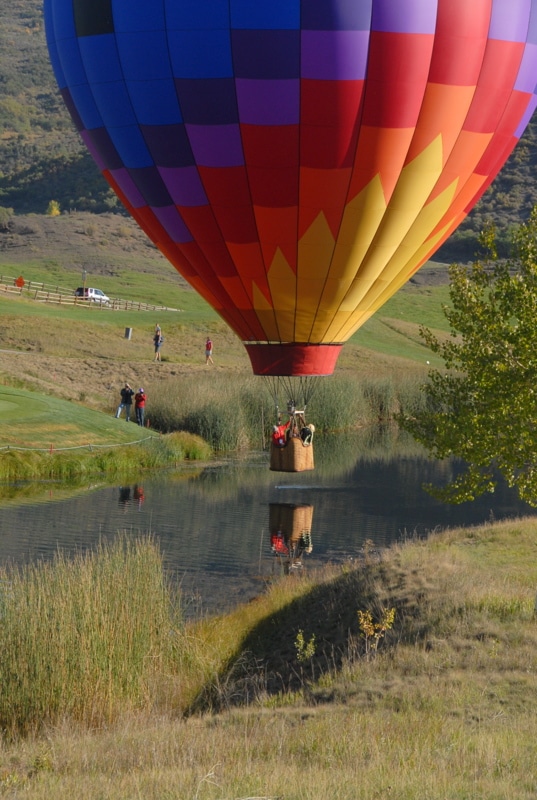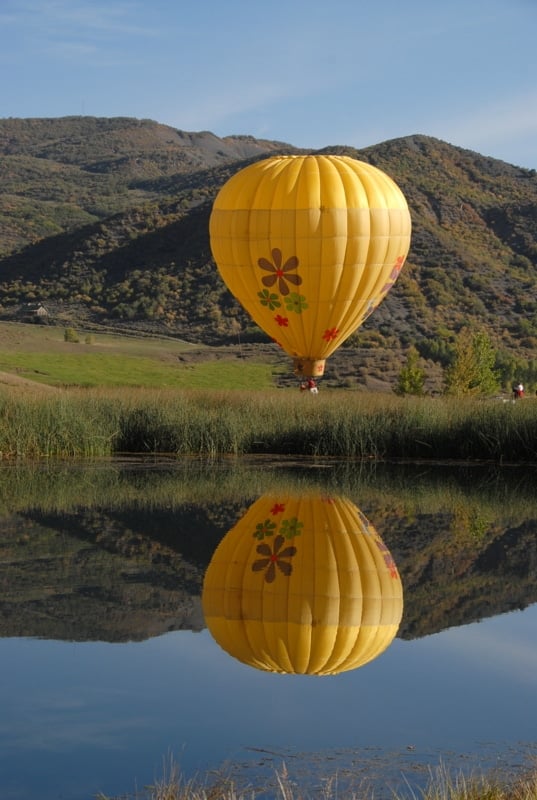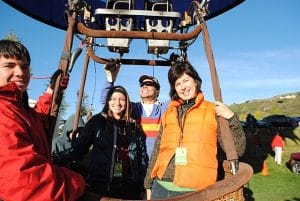 I walked back to the softball field with Silas, Patrick and Gina's turning-16-this-week year old son. I could not take notes fast enough on my phone as he spontaneously showered me with facts about ballooning and family balloon history. It struck me what a benefit it is to be brought up in the culture of this pastime, learning via real life and not just via a book and test flights. Silas has both his learner's permits for driving a car and piloting a balloon. When I asked if he'd be taking up ballooning I did not even get half the sentence out before he enthusiastically said 'YES'!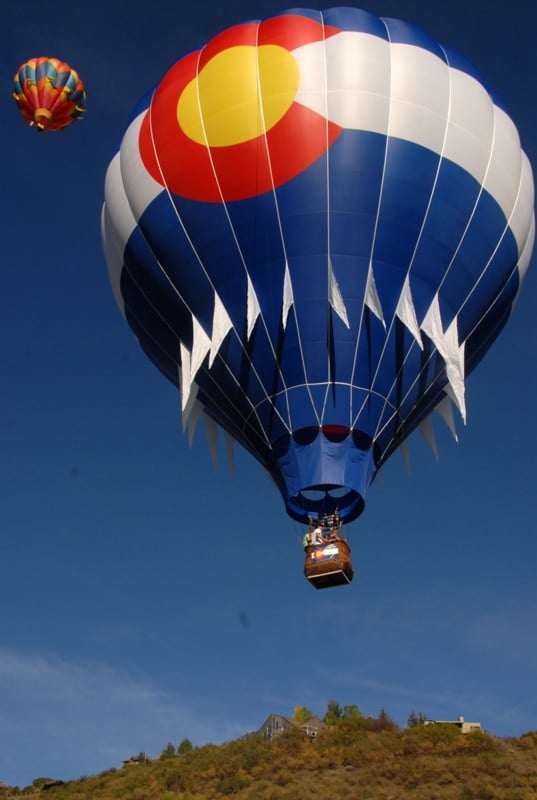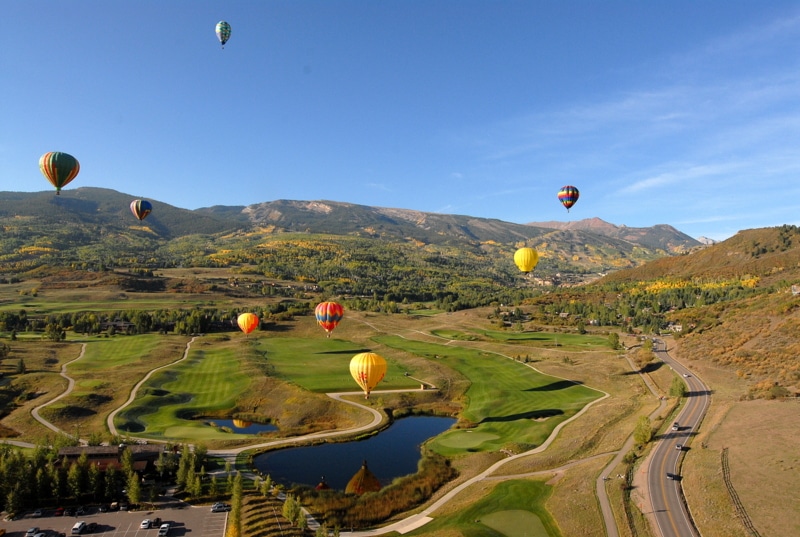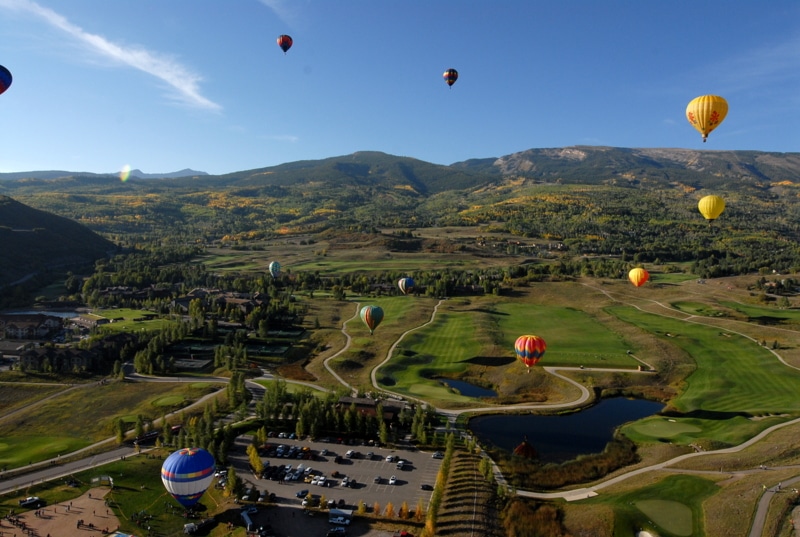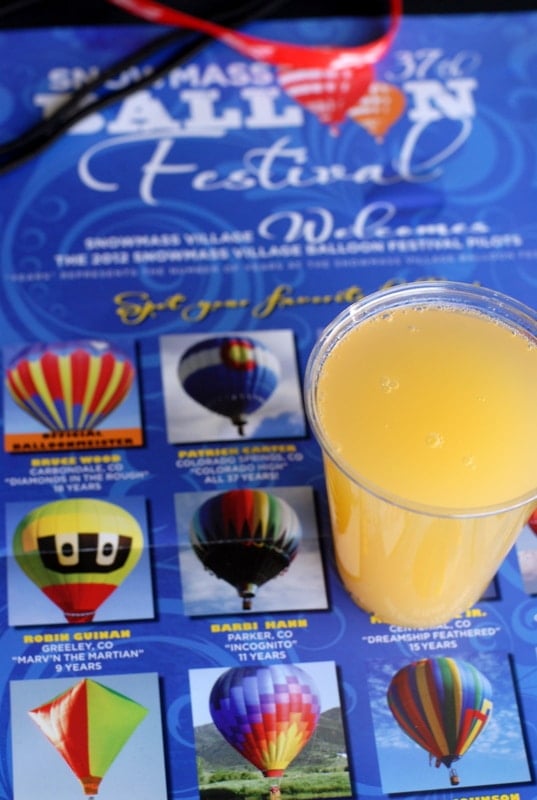 Waiting at the balloon take off spot was a Mimosa, a requisite drink to consume upon a safe landing (I've also had champagne poured on my head for the celebratory purpose so this seemed tame and most welcome).
After a brief nap and change of clothing I set out to the Snowmass Wine Festival's main event. The Snowmass Village mall was transformed with shoulder-to-shoulder canopies each housing winemakers, distributors and restaurants facilitating 4 hours of tastings. I'll be candid, it was impossible to know where to start. I floated in and out when something caught my eye; a small Alexander Valley winery from my time in residence in Northern California, the few Colorado wines present (the Mountain Wine Fest featuring most Colorado wineries was the same weekend), or maybe a wine with an intriguing name or label causing curiosity. The crowd was convivial, multi-generational and clearly relishing this last festival of summer.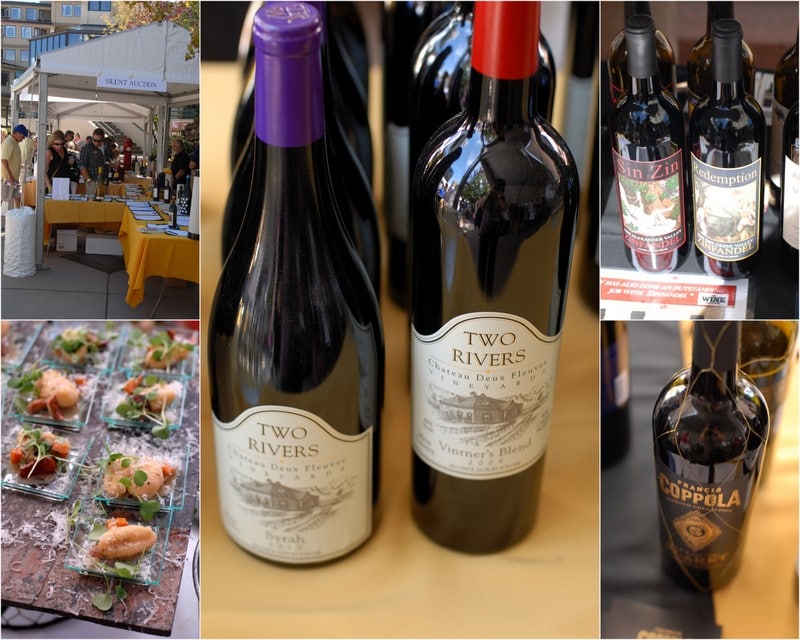 The day capped with one of the most magical sights; the Night Glow. Returning back to the softball field of the morning, as dusk settled to night, a band played while some of the balloons were inflated. Other balloonists manned only their baskets setting off their burners in fiery blow torch homage to the festival. Once inflated the balloons would set off their burners in a coordinated effort to illuminate against the night sky like massive fairy lights. It was spectacular.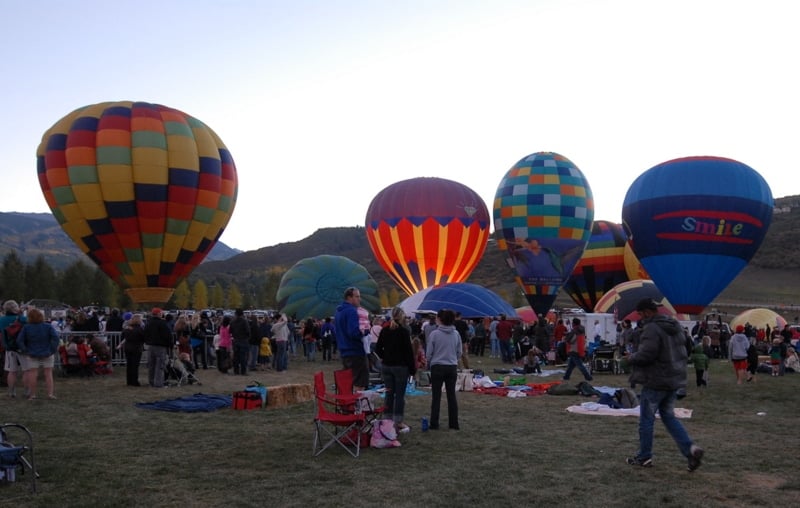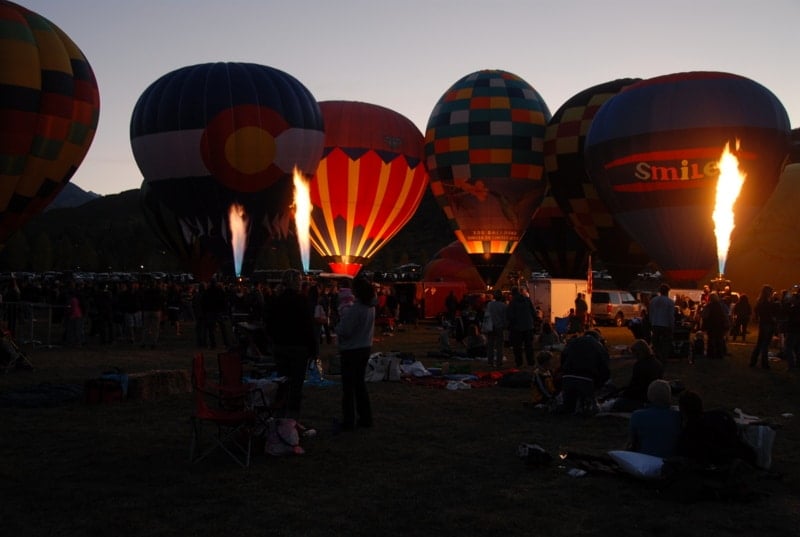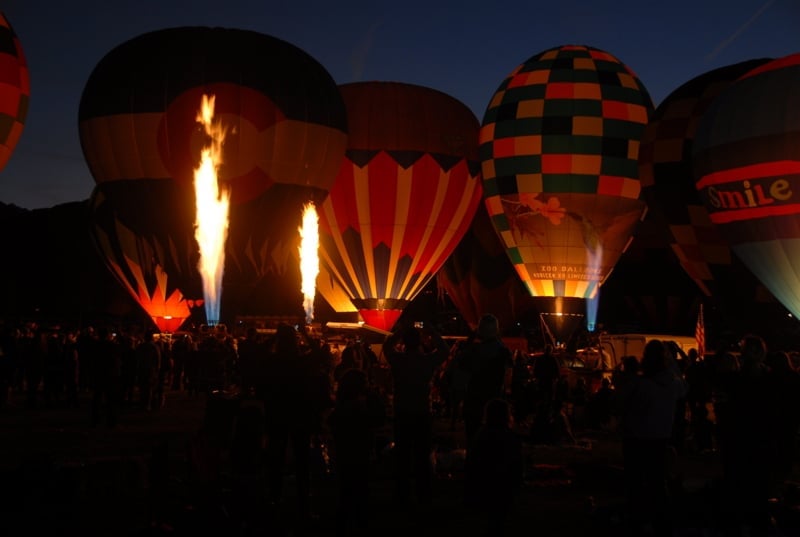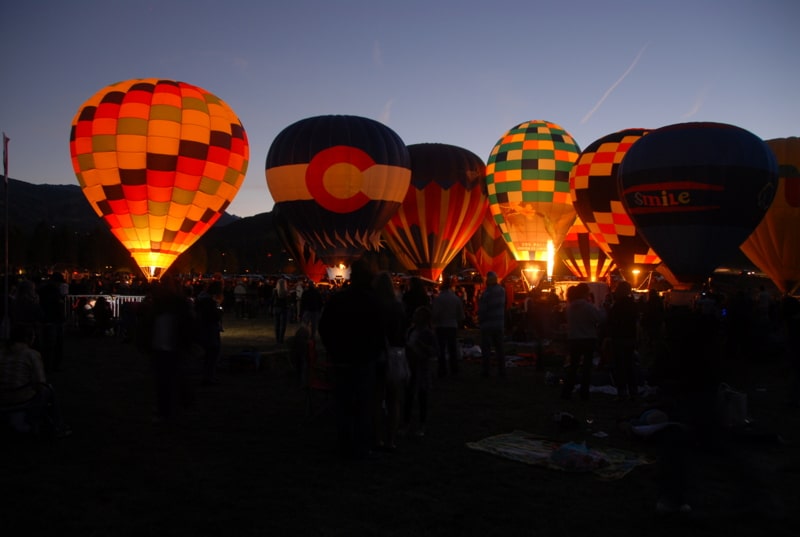 With hundreds of photos taken for the day, new friends made, new adventures had, I struck out in the dark cool night feeling the palpable joy from the crowd in celebration of the season's end. Everyone knows what comes next, perhaps the crowning glory of ski towns like Snowmass, but until the first flakes drop I'm sure there will be a lot of soaking in of the glorious fall.