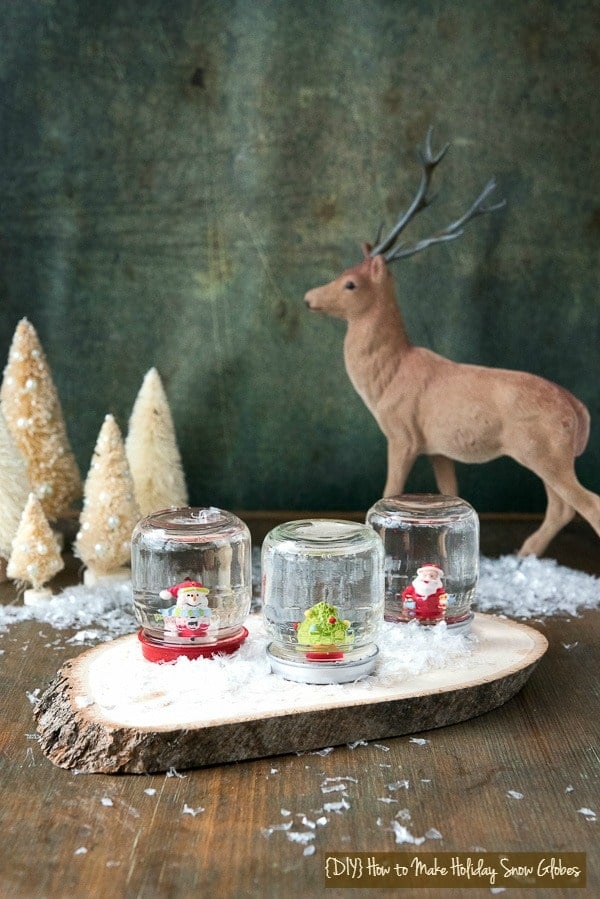 This is an update of an old blog post, the focus of which I still love; making Snow Globes! It was originally coupled with a blog post including a vintage cookie, the 'Christmas Nugget', which we've taken the liberty of renaming a few times. Making Snow Globes is a fun and easy holiday craft I hope you'll love doing yourself!
My favorite holiday craft by a long shot has been making snow globes. Who does not love a snow globe? An enchanting, whimsical world where snow can be conjured with a little shake?
When my tots were little it was a very sleep deprived time. I spent most of my days in a joyful fog of an existence, sustaining maybe 5 broken up hours of sleep a night…..for years it seemed. I recall rocking one to sleep for a nap and having the TV on, blankly circling through inane daytime TV programs. I landed on a cheery holiday crafting channel and was sucked in by the host's overly effervescent personae and a disturbingly overdone holiday sweater she was wearing. I became a bit fixated.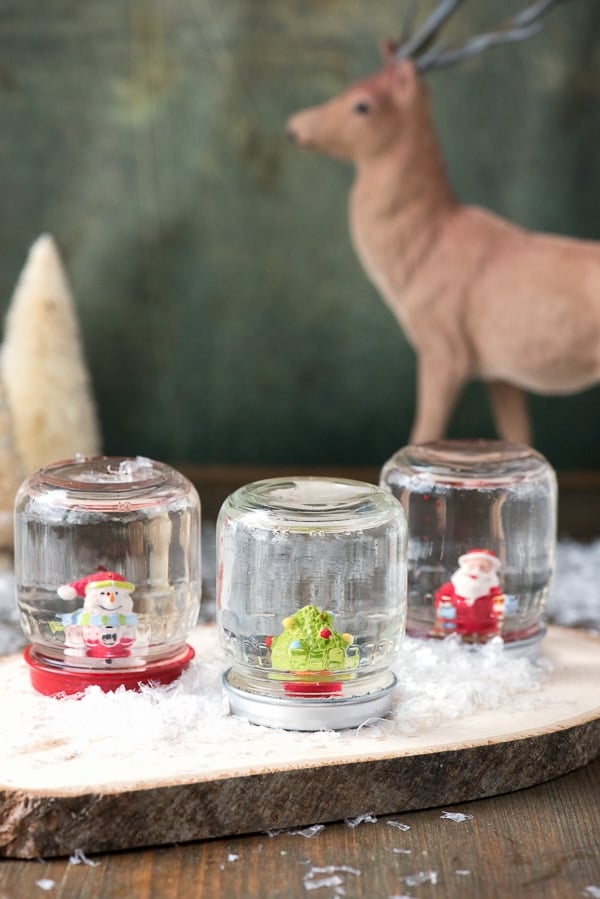 Some time into the viewing I realized they were making homemade snow globes. I had been staring at the sweater, intently trying to figure out how many Christmas scenes in miniature were actually donning her torso (the 12 days of Christmas, all the reindeer with neatly stitched names overhead; the Eiffel Tower, Sphinx, Tower of Pisa, and all the other famous international architectural icons with actively flashing mini holiday lights), and I had missed most of the instruction.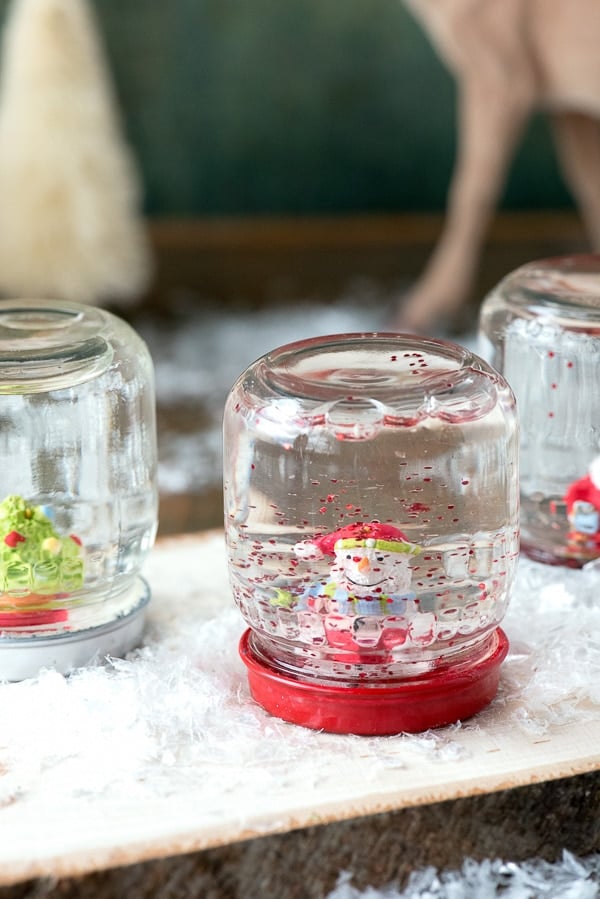 Fortunately, they are not hard to make so I was able to fill in the blanks. I desperately scribbled down key words and notes, all the while trying not to wake the sleeping child in my lap. It was about 5 years and two cross country moves later that the notes surfaced and the time was right to give it a go. It is a simple, fun, whimsical craft which we've now had for about 6 years and they look like the day we made them.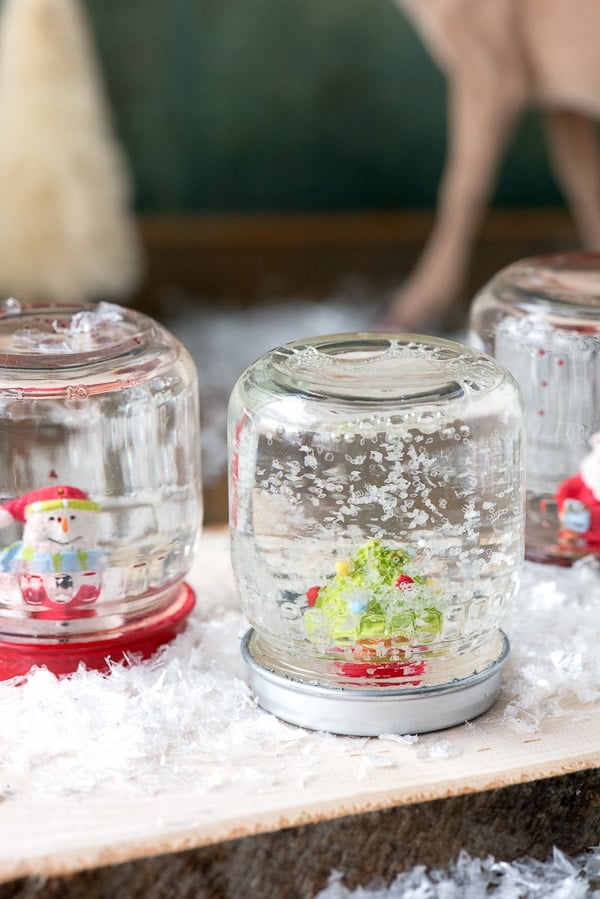 I'm sharing the Supplies and Instructions in my standard recipe template so it can be easily printed!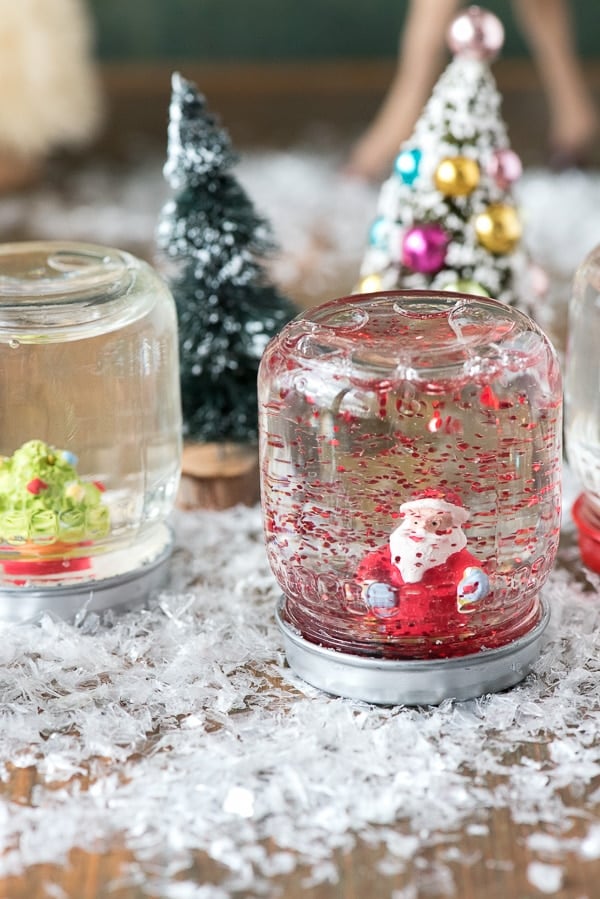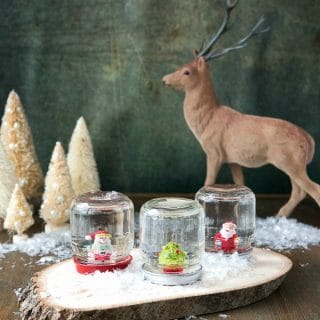 DIY How to Make Holiday Snow Globes
Before I had made snow globes I would never have guessed how easy and inexpensive they are to make. They can be made with any size jar or little scene inside. They last for years without discoloring or leaking when made by this method too.
Print
Save Recipe
Recipe Saved!
Pin
Rate
Ingredients
Homemade Snow Globes

Jars with metal lids

(I used baby food jars; choose jars to fit your snow globe 'scene' items)

Resin or plastic items to fit inside the snow globe

Spray paint for metal lids

Epoxy

Fine grain sand paper

Glycerin

(inexpensive and available by asking at a Pharmacy)

Distilled Water

Glitter or plastic confetti
Instructions
Ensure the jars and lids are clean. Spray paint the outside of the metal lids in any color you choose. Set aside to dry fully before starting the snow globe.

Using the fine grade sandpaper, lightly sand the spot where the resin/plastic item will be glued to the inside of the painted jar lid. This helps the epoxy to adhere best. Wipe away any dust from the sanding.

Prepare the epoxy per package instructions. Coat the bottom of the resin/plastic item with prepared epoxy and place onto sanded spot on inside of jar lid. Press to firmly adhere. Allow to dry fully per the time instructed on the epoxy instructions.

Once lid has dried, fill the jar with distilled water (do not over fill or water will spill out when lid with the item is installed).

Add a few drops of glycerin into the jar (amount depending on jar size); add the desired amount of glitter, screw on lid and shake to test the effect. Glycerin causes the glitter to float and not immediately settle. Too little glycerin will not suspend the glitter to float and too much will cause the glitter to form clumps.

Once you have the desired effect, dry the threaded area on the outside of the top of the jar and the inside threaded area of the lid so they close snugly. Seal and enjoy!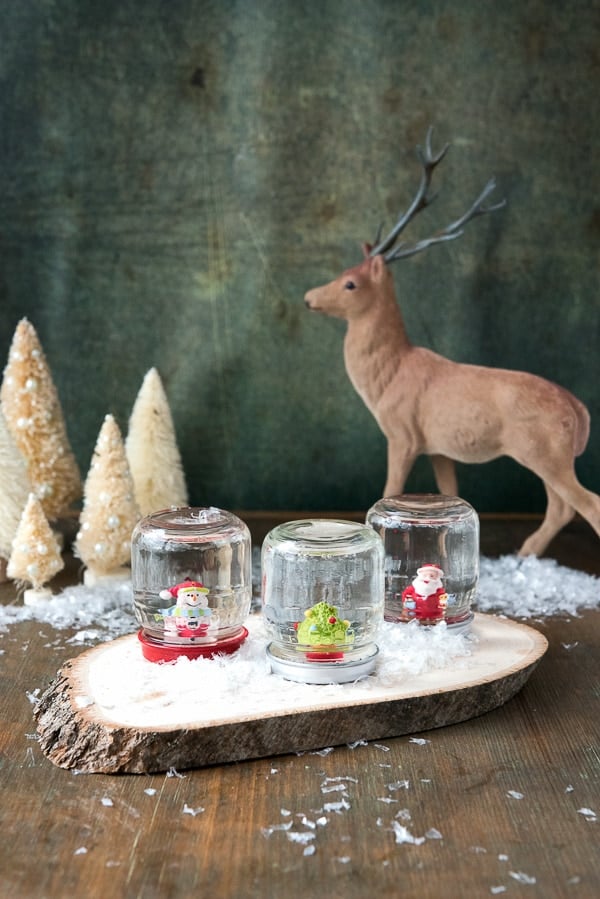 From the original blog post: