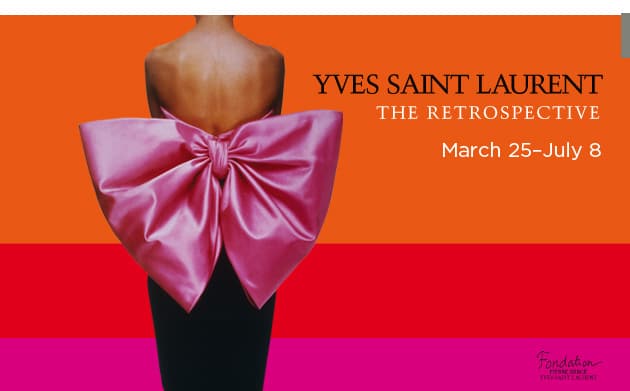 Black velvet sheath dress, "Paris rose" satin bow, "Paris" haute couture collection, Fall-Winter 1983. Photo Gilles Tapie.
One does not have to be a slave to fashion to identify the most iconic initials for the last half century: YSL. Whether it be in the realm of haute couture or the more accessible Ready-to-Wear fashion, Yves Saint Laurent hopped on the tide of both fashion and social change, riding the wave to a graceful retirement in 2002, leaving in his wake both art and style that remains current and influential today.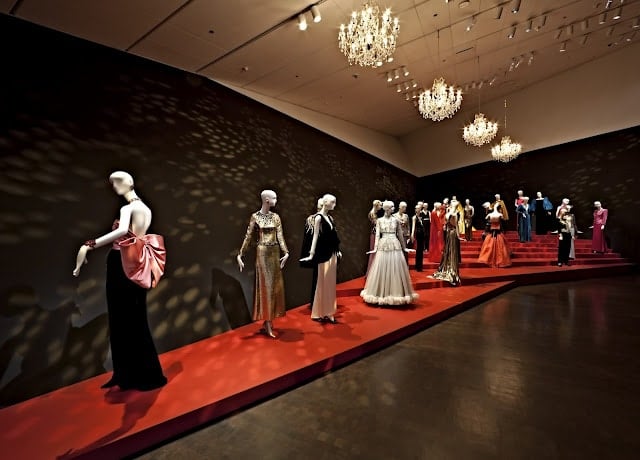 Is the Last Ball section with a selection of haute couture ball gowns from the glory days of haute couture.

Photo courtesy of the Denver Art Museum.
Beginning today Denver is truly graced by an extensive 40 year retrospective of the work of Yves Saint Laurent at the Denver Art Museum. Let me get this out of the way right now: 'Why Denver?!'
Even those of us holding our breath for the exhibition's first day asked the same thing in hushed tones. No better example of 'first come, first serve' exists in the realm of art curating coups I'd guess. Christoph Heinrich, the Director of the Denver Art Museum, was in Paris and viewed the exhibit at Le Petit Palais, a distinguished, 112 year old castle-like venue and knew he must have the exhibit in Denver.
He wasted no time starting a discussion with the foundation managing the exhibit to secure its only North American location to be the Denver Art Museum. I listened as the exhibit's curator, Florence Muller, shared how overjoyed the foundation (Fondation Pierre Berge-Yves Saint Laurent) is with the unbridled passion and work ethic demonstrated by the Denver Art Museum staff.
They felt the modern architecture of the Hamilton building lends itself perfectly to reflecting the timeless quality of Saint Laurent's work. She also noted that 'most exhibits like this are held on the west coast or the east coast. It's time to change'.
Her last statement embodies the spirit and trajectory of Saint Laurent's work for me. At the tender age of 19 he began to work at the house of Dior, fashion's most powerful presence at the time (1950's). Two years into his time with Dior the young and incredibly talented Couturier found himself at the helm when Dior suffered a heart attack and died.
He shone at Dior but eventually moved away to begin his own fashion house with life partner, Pierre Berge who still manages affairs of the YSL foundation today after Saint Laurent's death in 2008 at the age of 71.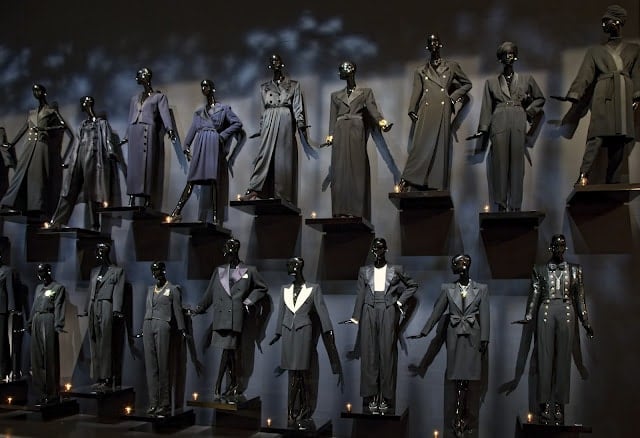 The wall of 'Le Smoking', the French term for tuxedo. Yves Saint Laurent made the first tuxedo for women.

Photo courtesy of the Denver Art Museum.
Saint Laurent's perspective was one of change. And though it was not always met with social acceptance I felt in learning more about him that he found a synergy with social unrest, harnessing energy ripe for change and meeting it with an artistic outward expression that spoke to women and the calling of the times.
In the 1960's the changing role of women gave way to a menswear concept feeling men were more confident in their clothing and women deserved to claim their power as well. He found a middle road with men's inspired garments that kept a women looking like a woman.
He was always mindful of physical movement and keeping garments in line with this as well as that ultimately what was most important was the woman wearing the garment; not the garment itself.
His collection traverses many themes, always staying true to his true goal of creating style, which he felt is everlasting versus fashion which is often more trend-based and fleeting. I was struck at the realization of his goal when looking at garments from multiple decades that could have been worn by any of the patrons experiencing the exhibit and would have looked as current as they did when they were first created.
A prime example of this was curator Florence Muller, who I'd seen from afar in an eye catching, sleek, simple black jumpsuit which I learned later was a YSL piece from 1969.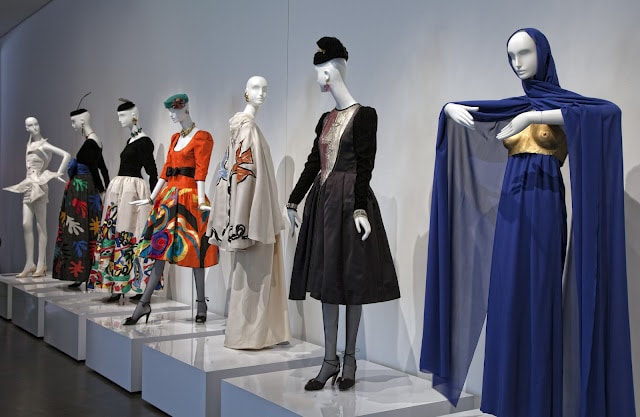 This area explores Saint Laurent's dialogue with artists including the famous Mondrian dress.

Photo courtesy of the Denver Art Museum.
The exhibit displays his precedent-making creations which have been copied and reinvented hundreds of times such as the pea coat for women, the tunic, the trapeze dress and the famous Mondrian color-blocked shift dress.
Examples of his international collections from distant lands are featured along with the inside info that he hated to travel himself. All the creations were evoked by books he read, fostering imaginary travel and manifestation of the destination's essence so aptly crafted. There are provocative elements in a collection hated by the fashion press and loved by the consumer.
A series all inspired by influential artists causing him to employ a variety of techniques and approaches. Of course last but not least the exhibit culminates in a remarkable display of his gowns and tuxedos for women; an homage to the end of the era of true Haute Couture.
It struck me that he never repeated himself; he constantly stretched and innovated leaving behind a visionary, timeless collection of gems, each different and unique.
Whether one enjoys fashion, or art, or history or frankly wants to experience something a bit different, this exhibit must not be missed. Regardless of age or gender, there is something for all to take in.
The exhibit is beautifully narrated with an audio accompaniment. More than being overcome by the beauty, thought and detail of his creations I walked away amazed at Yves Saint Laurent, the man. His intuitive sense of what the world wanted at any given time. His commitment to dressing real women regardless of their station in life. He was without a doubt remarkable.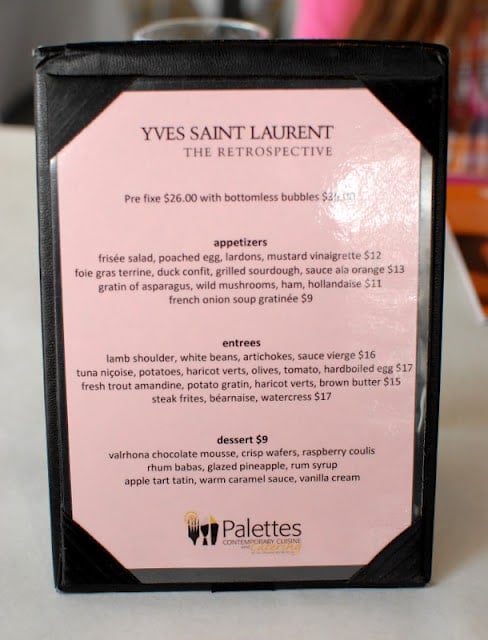 A wonderful tradition of the Denver Art Museum is to coordinate a special menu when hosting an extraordinary exhibit such as the Yves St. Laurent Retrospective. Palettes Restaurant, which resides within the museum is part of the Kevin Taylor restaurant group, a well known fixture on our culinary landscape providing inspired, fresh, creative cuisine.
I've written about Palettes before loving their attention to the changing seasons by updating their regular menu to reflect what is currently available. They are mindful of local sourcing and always of quality sourcing, which is evident when trying their dishes.
Currently on weekends they have three menus available. Their spring menu was released in the past week and they also have a brunch menu from which to choose. I was interested in the 'Pre Fixe' (fixed price) YSL menu.
There are four options of each appetizer, entrée and dessert, as well as a selection of suggested wines and a cocktail carefully paired with the menu. All items may be ordered a la carte (and prices are listed on the menu) or for $26 as the pre fixe option.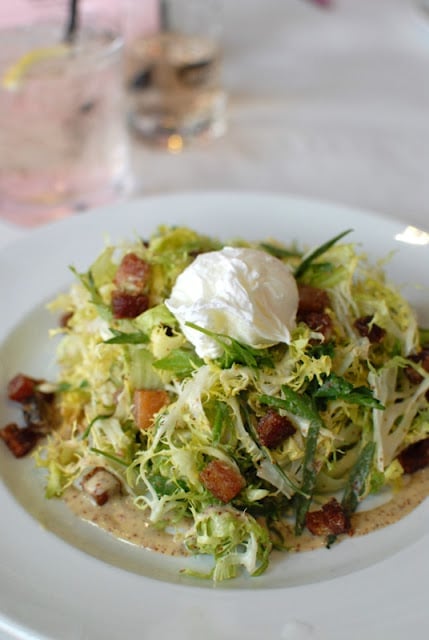 I was navigating with gluten free objectives and found options in each category. I started with a Frisee Salad with a perfectly poached egg, lardons and a beautiful grainy mustard vinaigrette dressing. The salad was fresh with a hint of anise from some other greens mixed in and the flavors melded beautifully.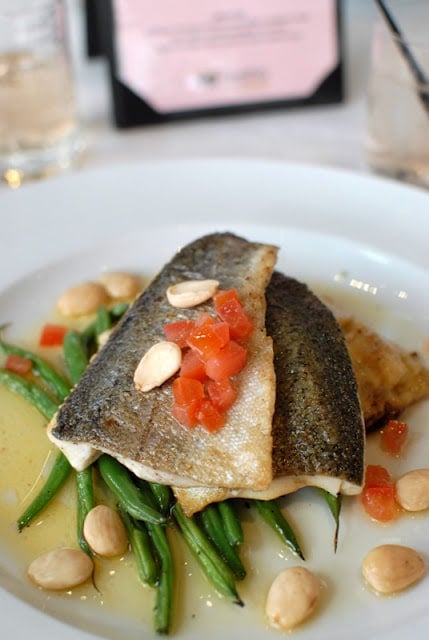 My entre was Trout Amandine. Light, fresh trout perched over a rich, potato gratin and haricot verts; punctuated by flavorful Spanish almonds. Despite trout being a local fish, it's not something I often order. I was so glad I had. The other entrees reflected other protein options leaving me confident everyone will find something of their choosing.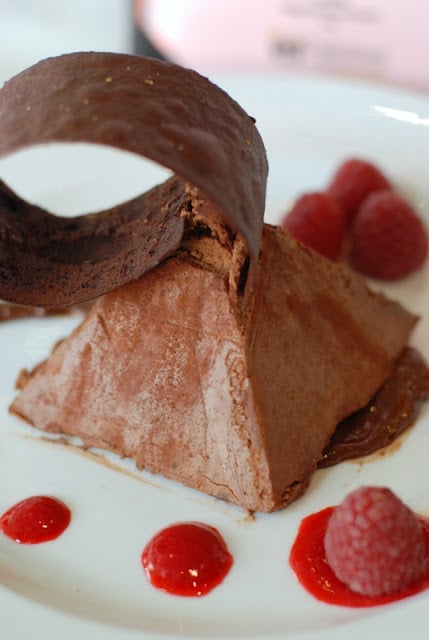 The one gluten free dessert was Valrhona Chocolate Mousse with fresh raspberries and raspberry coulis. 'Decadent' was an understatement as a description for this dessert. It was rich with the most perfect chocolate flavor and consistency.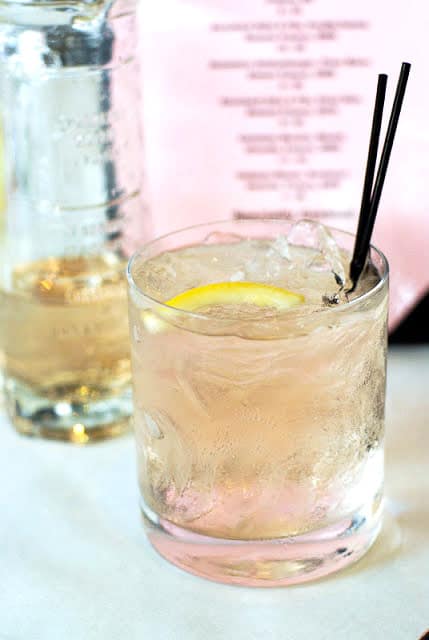 I could not resist the St. Germain cocktail for the refreshing elderflower sound of it. Though listed as a 'single serve' carafe it was the pouring equivalent of two cocktail. The custom carafe allows specific markings to craft the sublime light pink cocktail. I firmly believe enjoying this cocktail in the presence of all things YSL to be best but will share the proportions for you to construct at home as well.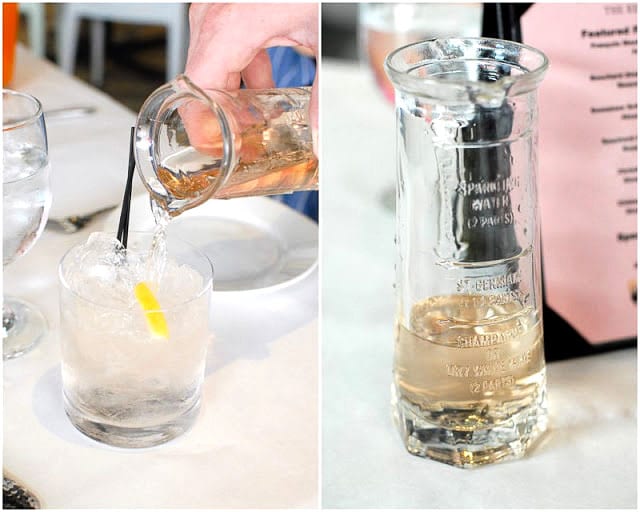 Recipe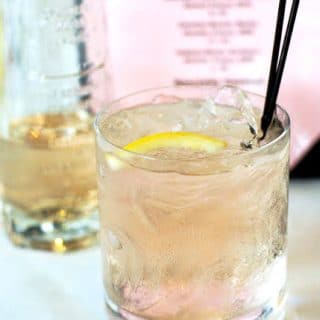 Ingredients
2

ounces

Dry White Wine or Champagne

1 ½

ounces

St. Germain

2

ounces

Sparkling Water or Club Soda
Instructions
Mix ingredients (preferably all chilled); pour over ice in an Old Fashioned glass.

Garnish with a lemon slice.
Notes
Recipe is based on percentages (2 parts, 1 1/2 parts, 2 parts)
Nutrition
Calories:
182
kcal
|
Carbohydrates:
17
g
|
Protein:
0
g
|
Fat:
0
g
|
Saturated Fat:
0
g
|
Cholesterol:
0
mg
|
Sodium:
15
mg
|
Potassium:
49
mg
|
Sugar:
17
g
|
Iron:
0.2
mg
This dining experience upheld all I've experienced Palettes to be on past visits.
Beautifully crafted cuisine which speaks to the season and in this case, to the spirit of the YSL exhibit.
The service was impeccable and responsive, something often tested by my gluten free needs.
The kitchen under Executive Chef Andy Ribelin truly delivered.
With the exhibit just opening Palettes will undoubtedly be busy so make reservations (using the link below); it was sold out on the member preview day I attended.
If you have special seating requests, such as being seated by a window, make your request at the time of making your reservation as well.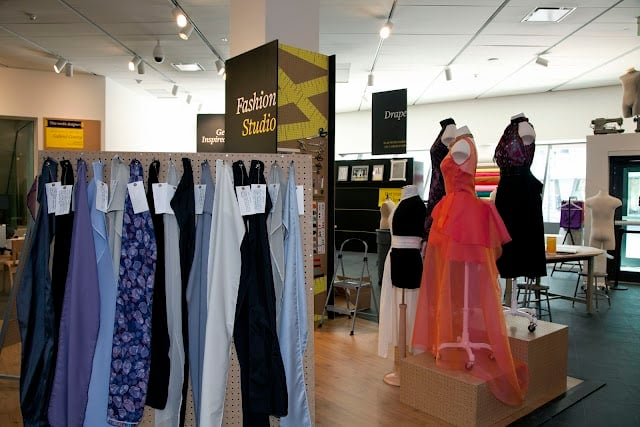 This is a photo from the interactive, hands on Fashion Studio space. Visitors can touch fabric, play with tools of the trade, watch local designers demonstrate their craft every weekend, even walk down a runway!

Photo courtesy of the Denver Art Museum.
The museum in partnership with Culture House has also set up a Design Studio on the first floor of the Hamilton Building. Local designers come to speak. There are light boxes where you can conjure your own fashion sketches (with the help of templates).Supplies to create inspiration boards with magazine photos and fabric swatches.
There is a draping station with endless fabrics, pins and clips to try your hand at something at which Saint Laurent excelled and was certainly a signature of his style.
The YSL Retrospective will run from March 25 through July 8, 2012.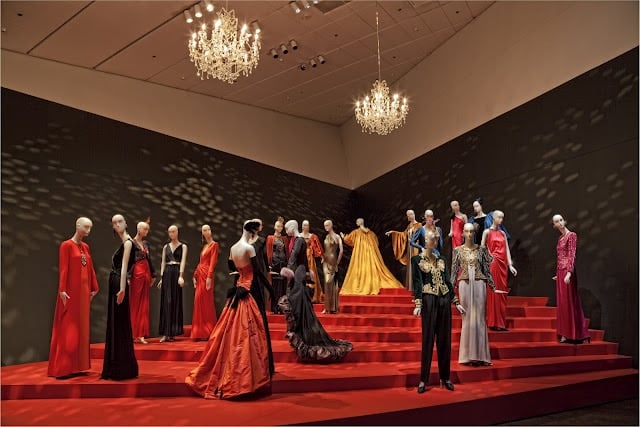 Photo courtesy of the Denver Art Museum.
"Thanks to extraordinary luck and instinct, I am one of the last few to be in on the secrets of haute couture, and to perhaps loop the loop of its history' – Yves Saint Laurent
All photographs by Boulder Locavore unless otherwise noted.