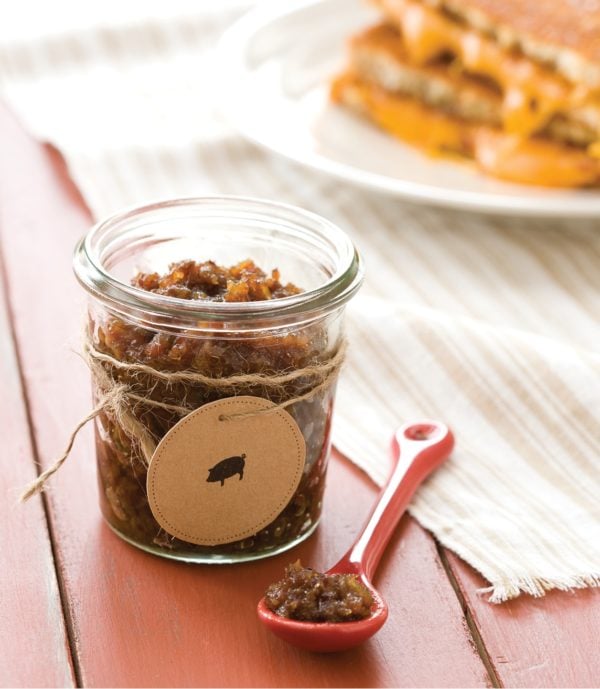 Having always been a strong proponent of 'Backwards Day' as a means to feature the delectable breakfast choices so often shortchanged at the hands of a busy work or school day, I was thrilled at the chance to review the new cookbook Breakfast for Dinner. Lunch and dinner fare are often casually inner changed without a thought but somehow breakfast stands alone, rarely to be consumed at alternate times of day. That will be over once this cookbook graces your kitchen shelves.
I'll start with a note of caution, do not read this cookbook when hungry. It is full of eye-catching mouth-watering photos of recipes varying from main dishes, simple sides and beautiful beverages. Packaged in a pleasing square shape, the cookbook's graphics convey a hip-yet-rustic, approachable warmth we equate with having breakfast. I wanted to curl up in an arm chair with a big cup of Joe and read it from cover to cover. Well actually I did.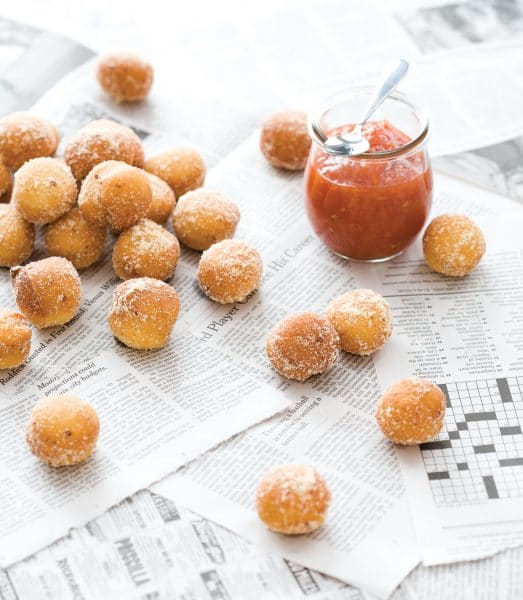 Authors Lindsay Landis and Taylor Hackbarth have lassoed the perfect collection of recipes to fit with all tastes and talents. In betwixt the gorgeous recipes for things like Maple-Glazed Pork Meatballs, Greek Baked Eggs and Italian-Style Stuffed French Toast are simple primers for the basics such as 'perfectly poached eggs', making Buttermilk Ranch Dressing from scratch, mini phyllo cups, Candied Bacon and photographic guides for all the basic ingredients one needs to whip up the perfect breakfast.
The collection of savory options is unending and spans the globe with varying inspired ethnic nods for dishes like Habanero-Cheddar Bread Pudding, Parmesan Beignets, Green Pea Carbonara and Andouille Shrimp and Grits. Those preferring the sweeter side of the 'most important meal of the day' will not be let down with options for Bananas Foster Crepe Cake, Strawberry & Basil Shortcakes or something uber decadent and fun, Doughnut Fudge Sundaes.
And what is the ingredient we most love about breakfast? Bacon of course. It is represented with panache; Maple Bacon Cupcakes, how to make one's own Bacon-Infused Bourbon (and a handy Bacon Old Fashioned cocktail with which to use it), Bacon Fried Rice and the current, trendy 'must have' Bacon Jam.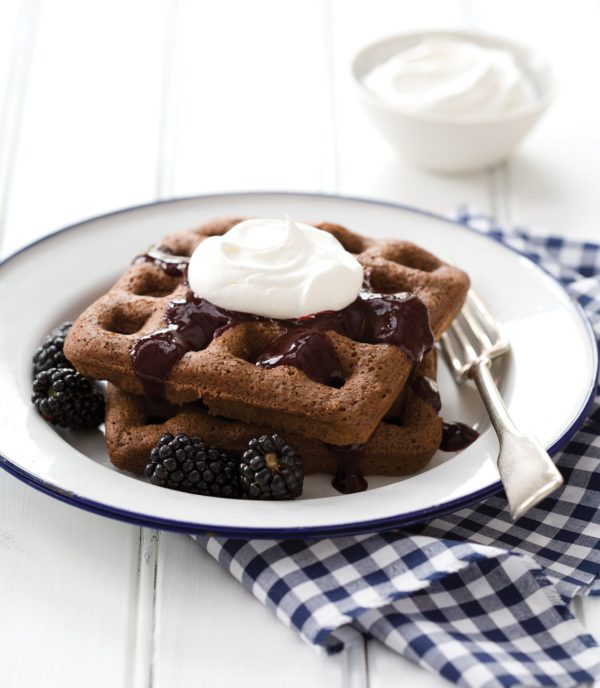 I have known of bacon jam though had yet to partake, however with Breakfast for Dinner in hand it seemed the perfect opportunity. I learned two important things when making and consuming this recipe: 1) Bacon Jam goes with everything, and 2) Bacon Jam is like catnip for humans.
In hindsight I was fortunate no one else was at home when I sampled this gorgeous, savory jam. A rich flavor of bacon balanced with maple, coffee, ginger and bourbon. A little sample on the last piece of toast in our household would surely be enough to comprehend the essence of this intoxicating jam.
It was, however within minutes I was feverishly digging through the refrigerator for something else to slather it on. I briefly and desperately considered some organic raspberries at the front of the fridge and finally found a lone gluten-free French roll which quickly was elevated and gobbled up.
The fervor was only building when I found some corn tortillas and a Mexican cheese blend that, when compiled with the Bacon Jam, became what I venture is the most delicious thing I've ever eaten. To be sure I ate two more. And then contemplated a Bacon Jam 12 Step Program. You get the gist. "Heaven in a jar".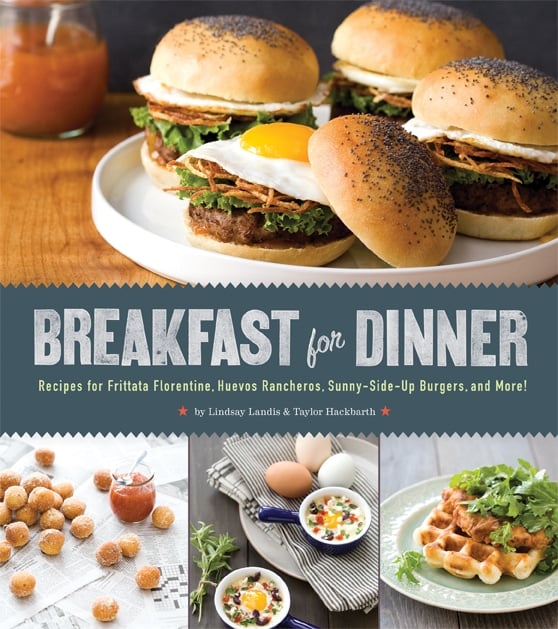 I love this cookbook. It's warm and friendly with out-of-the-box options that are anchored in the soul-warming sensibility we all look for in a great breakfast experience. The thing I liked the most? You can feel the love in their food. There is care and thought in every recipe, and every ingredient selection. It's an original concept for a cookbook and it does not disappoint.
Recipe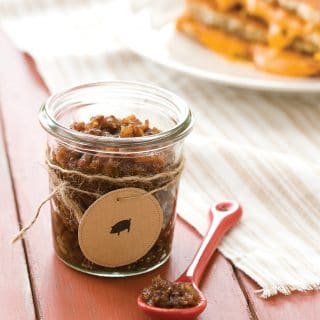 Bacon Jam
"A magical cross between ketchup and fruit preserves—but with bacon—this jam just might be the king of all condiments. The rich flavor of bacon is complemented by hints of coffee, citrus, maple syrup, and bourbon." -Breakfast for Dinner cookbook
Print
Save Recipe
Recipe Saved!
Pin
Rate
Servings:
32
1-tablespoon servings (total yeild 2 cups)
Ingredients
1

pound

sliced bacon

, cut crosswise into 1/2-inch pieces

1

large yellow onion

, chopped

2

garlic cloves

, minced

1

cup

brewed coffee

1/2

cup

cider vinegar

1/2

cup

orange juice

1/4

cup

pure maple syrup

2

tablespoons

light brown sugar

, packed

1

teaspoon

orange zest

1/4

teaspoon

ground ginger

1/8

teaspoon

freshly ground black pepper

, or to taste

1/4

cup

bourbon
Instructions
Heat a large heavy skillet or Dutch oven over medium-high heat. Cook bacon until it starts to brown, 10 to 12 minutes.

With a slotted spoon, transfer bacon to a paper-towel-lined plate. Drain off all but 2 tablespoons of the bacon fat in skillet.

Reduce heat to medium. Add onions and garlic and cook until onion begins to soften, about 5 minutes, stirring frequently so garlic does not burn.

Return bacon to skillet and add coffee, vinegar, orange juice, maple syrup, brown sugar, orange zest, ginger, and pepper.

Reduce heat to low and simmer for 45 minutes. Transfer mixture to a food processor and pulse briefly until finely chopped.

Return mixture to pan and cook for another 15 minutes, stirring occasionally.

Add bourbon and gently simmer for 30 minutes more, or until jam is thick, syrupy, and dark in color. NOTE: if at any point the mixture starts to stick to the bottom of the pan and starts to look more like paste than jam, add water, 1/4 cup at a time.

Remove from heat and let cool slightly. Refrigerated in an airtight container, bacon jam will keep for 3 to 4 weeks.
Notes
Recipe excerpted with written permission from Breakfast for Dinner cookbook (Quirk Books)
Nutrition
Calories:
77
kcal
|
Carbohydrates:
3
g
|
Protein:
1
g
|
Fat:
5
g
|
Saturated Fat:
1
g
|
Cholesterol:
9
mg
|
Sodium:
94
mg
|
Potassium:
52
mg
|
Fiber:
0
g
|
Sugar:
2
g
|
Vitamin A:
15
IU
|
Vitamin C:
2.3
mg
|
Calcium:
6
mg
|
Iron:
0.1
mg
Disclosure: I was provided a review copy of Breakfast for Dinner cookbook. Commentary represents my personal opinions.