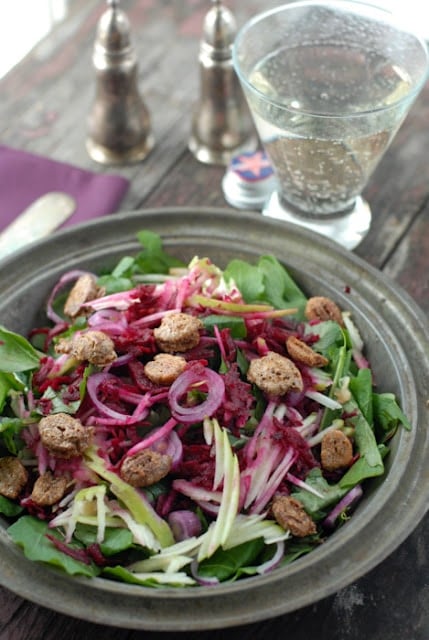 I kind of hate beets.

 

I really want to like them but the torment in our relationship is like that with a person whose virtues you regard, one you truly

want

to like yet somehow each time you meet they completely rub you the wrong way.

 

I would gladly wear beets for their array of chromatic drama but I'm still working on trying to like eating them.

 

I'm determined however.
With this as a backdrop those who know me will doubt I really had this recipe pop into my head without a gun pointed at it, but it is so.

 

I think

it

is a

nother post holiday cry for help, my cravings for not only a salad but one comprised of serious players; arugula, beets, apple cider vinegar (all known for fantastic healthful properties).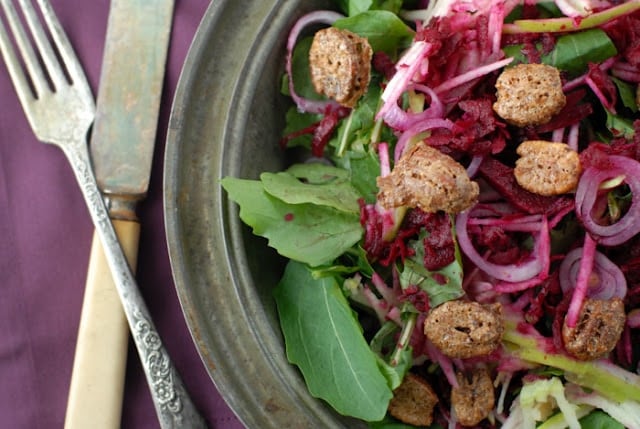 As feverishly as I am trying to love beets, I already DO love arugula. I was speaking with a close friend recently about food and asked 'if you were shipwrecked on a desert island, and could only take one food with you, what would it be?'

 

(Of course you'd have to have the foresight you were going to become shipwrecked for this to work but that's beside the point).

 

Being a thoughtful chap he chose 'salt'.

 

Feeling it could be used to season things as well as preserve things.

 

Not nearly so practical, I declared my pick would absolutely be 'arugula'.

 

I-heart-arugula.

 

I find the peppery flavor and delicate texture sublime.

 

It is definitely my green of choice.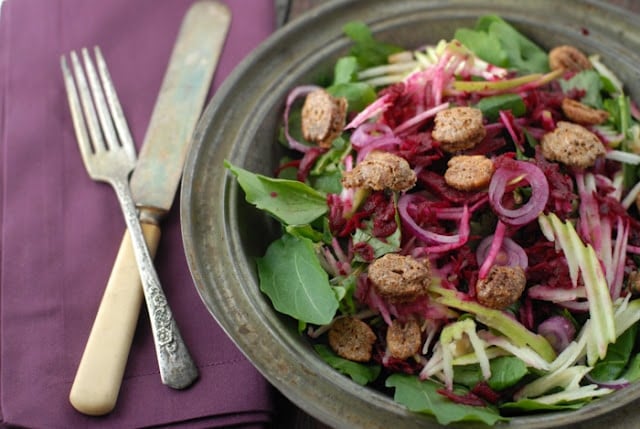 After a month of chocolate dipped everything I was not surprised to turn the corner at New Year's finding my

palate

had taken the reins and done the same.

 

Amidst the more hearty foods of the winter the idea of this peppery green combined with vinegary beets, some crunchiness and a bit of sweetness from the apple and coated nuts could not be any more to the point.

 

AND I've finally met a beet I'll happily eat anytime!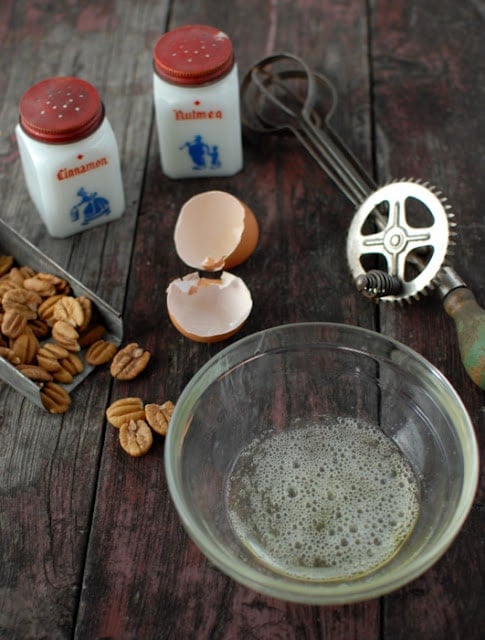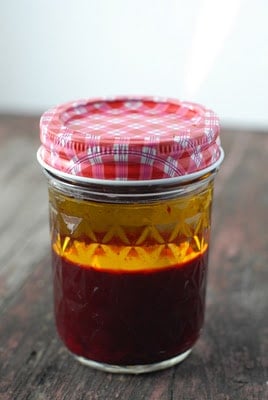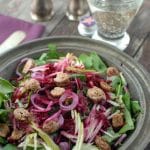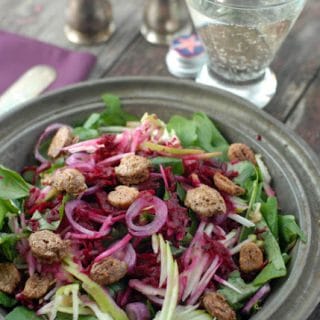 Arugula Apple-Beet Candied Pecan Salad
This beautiful winter salad is feisty. Spicy arugula, tangy sweet apple cider overnight pickled beets, sweet and crunchy candied pecans and the bite of apple.The beets should be prepared the night before desiring to use to allow the full affect of the vinegar and apple juice to take hold. They are slightly vinegary and also sweet from the apple juice. A reminder about working with beets, things can quickly digress to look like a murder scene with permanent reminders in clothing. I highly recommend wearing latex gloves, using a plastic cutting board and not wearing your favorite outfit (or at least cover it with an apron).The Candied Pecans may be used as an independent recipe. They require about 45 minutes to make and 15 minutes to cool. They can be made up to 4 days beforehand. Once you make them I think you'll find many uses and thoughts on how to tweak the seasonings for your creations.Most vinaigrette recipes suggest 1/3 vinegar to 2/3 oil. I personally prefer much more vinegar. In this case the vinegar is diluted with the apple juice so not as tart. I suggest making it as follows then tweaking it to your taste if you'd enjoy more vinegar or more oil. This will make far more than you need for this salad but will stay fresh if kept in a sealed jar in the refrigerator. If the oil solidifies after chilling just leave it out before using or set the jar in some warm water to hasten the process.
Servings
1
large main dish salad or 2 side salads
Ingredients
Ingredients for Overnight Apple Cider Pickled Beets (should be prepared the night before making the salad):
1

heaping 1/3 cup of peeled

, grated beets

¼

cup

apple cider vinegar

2

tablespoons

apple juice

(I use organic, unfiltered juice)
Ingredients for Candied Pecans:
1

cup

halved pecans

(not pieces)

1

egg white

¼

cup

sugar

½

teaspoon

cinnamon

¼

teaspoon

nutmeg

¼

teaspoon

chile powder

(preferably Ancho)

1/8

teaspoon

salt
Ingredients for Apple Cider Beet Vinaigrette:
Remainder of Apple Cider vinegar pickling liquid

(I had a bit over ¼ cup left)

Equal amount of quality Olive Oil

Salt and pepper to taste
Ingredients for Arugula Apple-Beet Candied Pecan Salad:
2 ½

cups

Arugula

, rinsed and roughly torn

1

recipe Apple Cider Vinegar Pickled Beets

1

small red onion

, sliced

½

Granny Smith apple

, grated

Apple Cider Beet Vinaigrette
Instructions
Instructions for Overnight Apple Cider Pickled Beets (make the night before making the salad):
Combine all ingredients in a glass container with lid and allow to soak overnight. Remove beets with a slotted spoon and set aside for the salad recipe. Reserve liquid for Apple Cider Beet Vinaigrette.
Instructions for Candied Pecans:
Heat oven to 300 degrees F.

In a small bowl, whisk egg white until frothy. Add sugar and spices and whisk again.

Place pecan halves in the bowl and stir to cover all pecans.

Remove coated pecans with a small slotted spoon or fork to allow excess coating liquid to drip back into the pan and place on a cookie sheet with a silpat (or a non-stick cookie sheet, or one sprayed with non-stick coating)

Place in the oven for 25 to 30 minutes until the nuts are golden brown, softer to the bite but not overdone (I suggesting tasting one at 25 minutes to judge). Remove and cool to room temperature.
Instructions for Apple Cider Beet Vinaigrette:
Put all ingredients in a sealable jar and shake vigorously.
Instructions for Arugula Apple-Beet Candied Pecan Salad:
Place arugula on serving plate.

Layer on pickled beets, apple and onion and top with a handful of the candied pecans.

Dress lightly with Apple Cider Beet vinaigrette, salt and pepper as desired and enjoy.
Recipe Notes
Candied Pecan recipe adapted from Epicurious