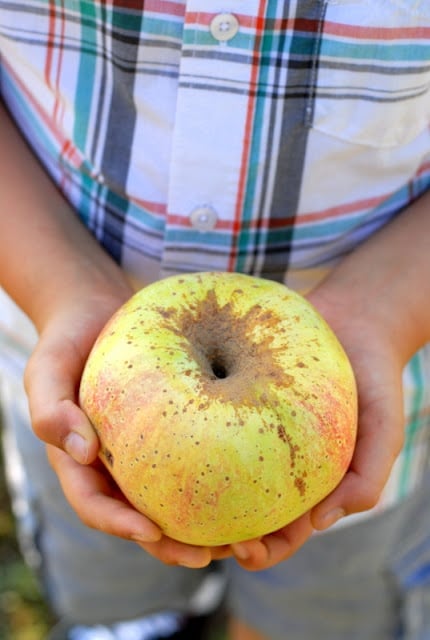 Though our temperatures are still in the mid 90's, signs of fall abound. Trees have begun to turn yellow just this week and I've noted the local apple trees are burgeoning with ripe fruit. With the apple being the harbinger of fall, its appearance prompted me to take a visit to YaYa Farm and Orchard in Longmont which has opened early this year due to their bumper crop. YaYa is a 'Pick Your Own' orchard opening only at this time of year for apple lovers to visit, pick, and enjoy a festive ushering in of our cooler weather season.
My first visit to YaYa Farm was two years ago. At the time they were beginning a large expansion which they have now completed with 810 apple trees and 120 varieties of Old World and Heirloom apples. The apples ripen in three main stages during the fall allowing visitors to enjoy different apples each time they visit.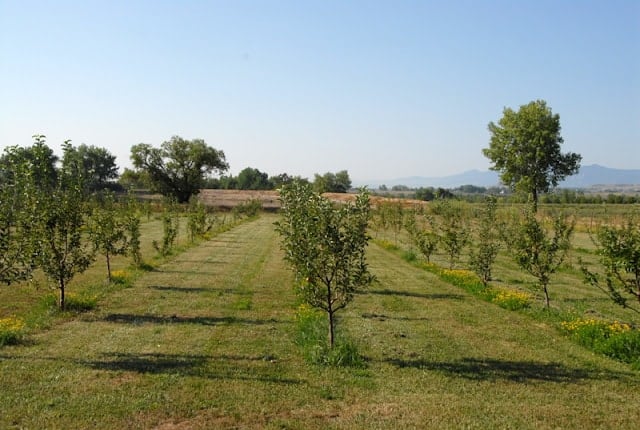 The farm originally started in the late 1800's by Percy Goss. The start of the apple orchard was a graduation gift to the Goss's son Jim. Preceding the use of tractors, the Goss's used Percheron draft horses to work the land. Gigantic, regal beasts of Clydesdale proportions, they provided the muscle to get the farm's work done. In 2003 current owners Michael and Sharon Yager moved to the farm and have both rescued the original apple orchard from neglect but also have continued to expand. The Yagers can describe every tree and apple, from growing habits to fruit flavor profiles. Thanks to the Yagers the Percherons are back which they breed 'for the hitch' (to pull things like the Budweiser wagon or sleigh.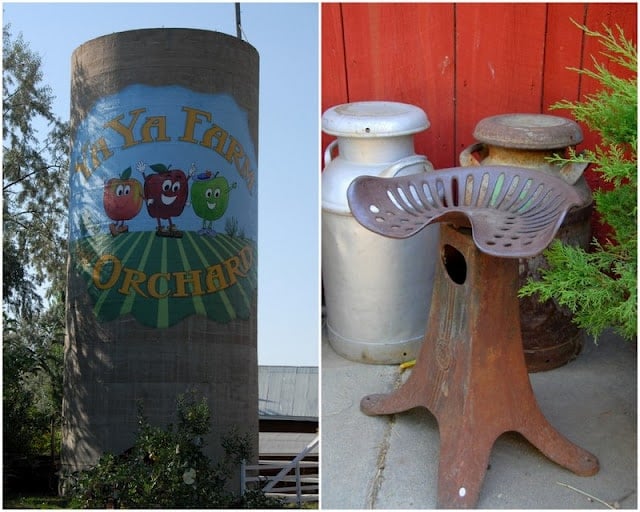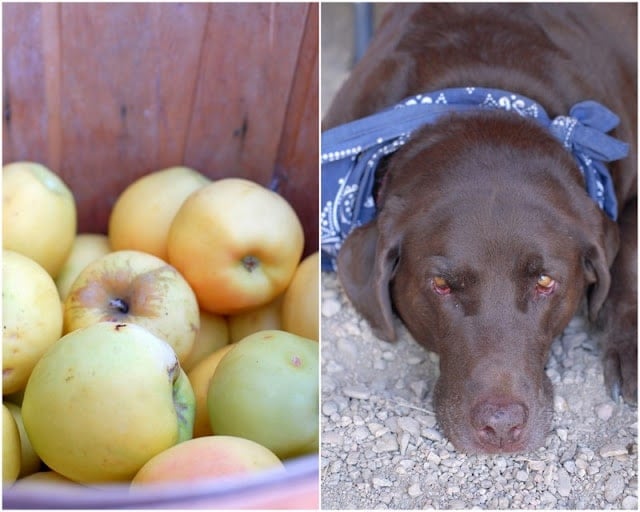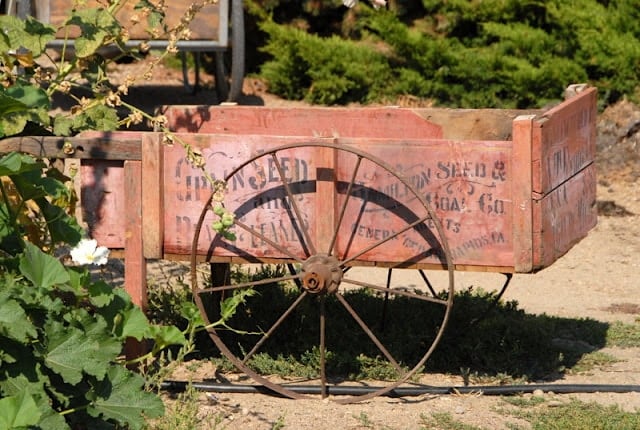 Turning off Highway 66 between Lyons and Longmont one would not expect the charming scene awaiting them when winding around the farm buildings to the gravel parking lot. Brilliant sunflowers and rustic garden patches dot the landscape along with traditional weathered barns and farm equipment. Elaborately plumed chickens, turkeys with a log cabin coop and a beautiful produce and flower garden line the walking pathways. Visitors are welcomed by those working the farm and instructed on picking. YaYa supplies the bags (please don't bring your own) each able to hold 8 pounds of apples and costing $12 this year when filled. I'll add a personal note to experience to say apples keep very well in the refrigerator for months, especially these which are grown by organic methods.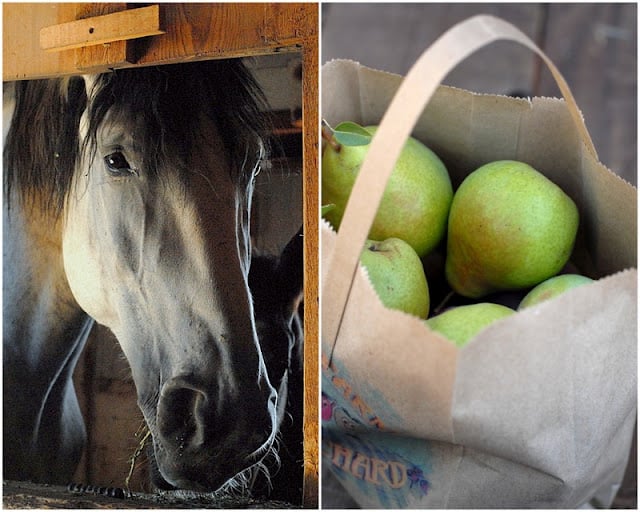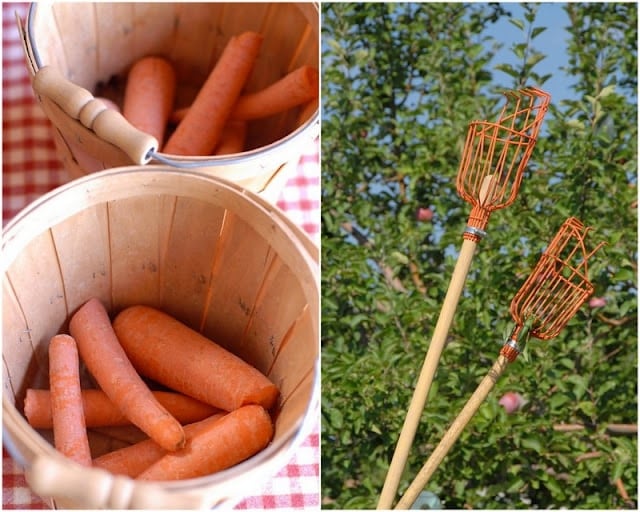 There are currently two main picking areas. The front orchard is a potpourri of apple varieties from those familiar to a French variety cultivated last century featured in childrens' Christmas stockings to another that purports tasting like strawberries. There is a chart detailing all the apples and which are currently ripe for picking that the farm will loan pickers as a guide.
The older part of the orchard features an abundance of more traditional varieties as well as pears that are almost jumping off the trees right now. Red umbrella-covered picnic tables are nestled in the midst of the newer section of the back orchard for a respite from the heat and some snacking.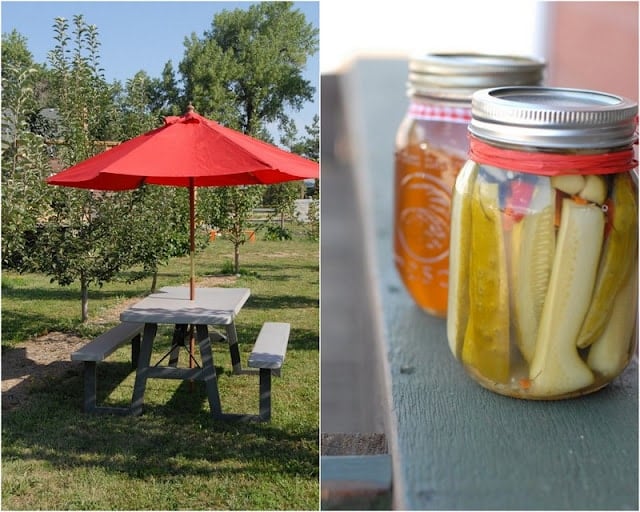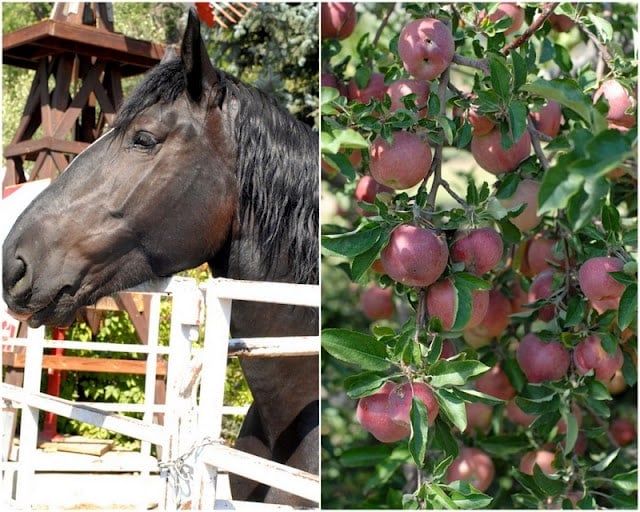 There is no admission fee to visit the farm and for those less inclined toward manual labor (picking is all quite fast, easy and on ground level), pre-picked apples can be purchased from a farm store along with freshly baked apple pie from a secret family recipe, freshly pressed apple cider (which if you have not tried you have not tasted apple cider at its finest), apple cider donuts, farm honey, pickles and more. There are small bushel baskets of carrots available for a dollar to feed John Henry and Betsy, the farm's full grown mini donkey's who have been together for over 40 years or the towering, curious Percherons if you don't find their size too daunting! For a couple of additional dollars visitors may enjoy a hayride pulled by a 1940's tractor taking a few loops around the new orchard showing off a spectacular view of the Rocky Mountains and the lake at the back of YaYa's property.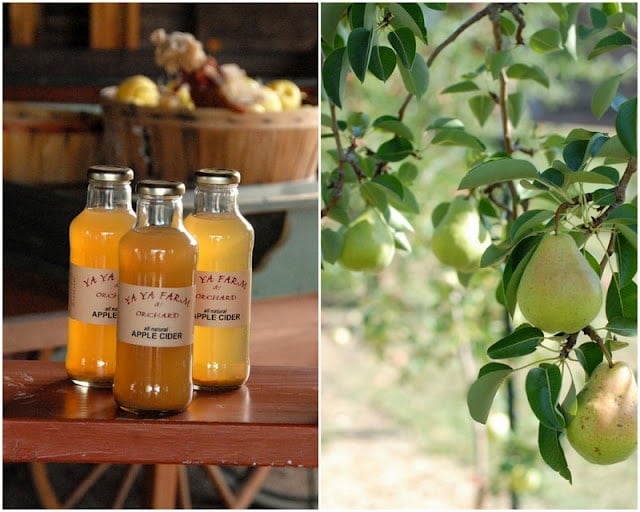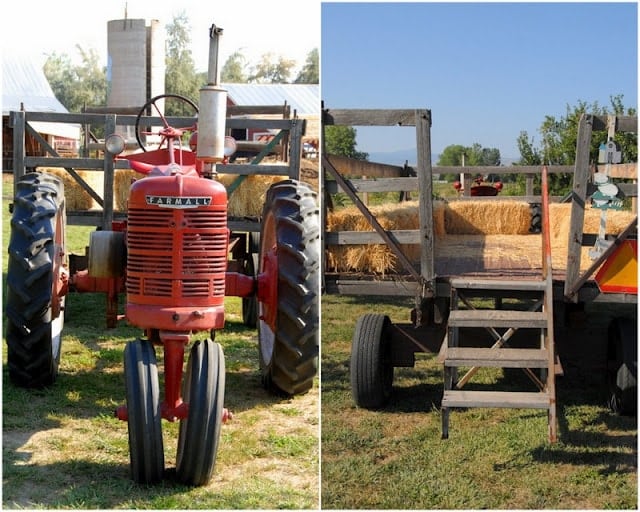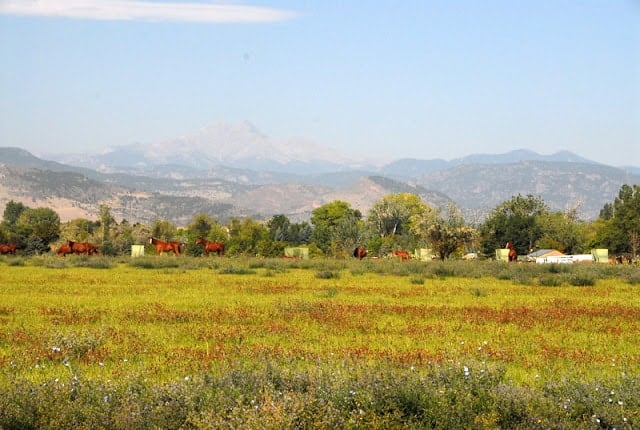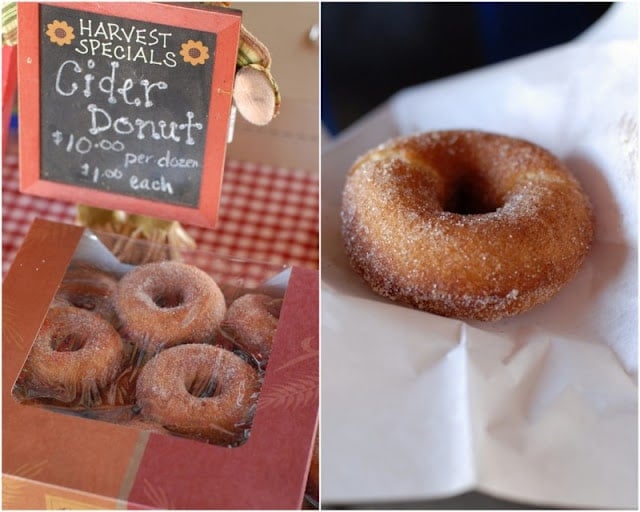 The act of picking apples brings us all closer to the season thou I can attest that the flavor of the apples themselves is unparalleled. Nothing like the varieties you've tasted from a supermarket, these apples are almost like a different fruit. It's a signature of fall that should not be missed.
With the orchard expansion the weekly picking days have extended to be Wednesdays through Sundays from the historic weekend only schedule. Reservations are still required though the hope is within two years those will no longer be necessary. To reserve a date and time click here to email Sharon Yager. The weekends can be crowded but always with plenty of room for pickers thanks to the reservations. YaYa would suggest allowing an hour to pick, visit the animals and enjoy the property. The Farm also hosts a variety of events and demonstrations as well as has a fruit CSA (full for 2012) and a hard cider making workshop. It really defines the spirit of fall.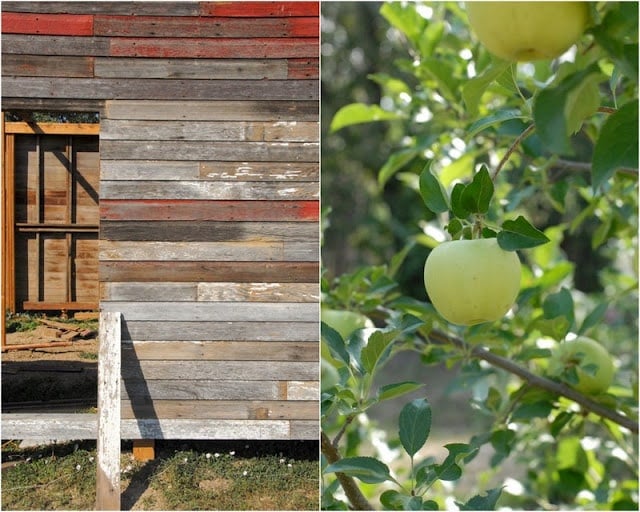 YaYa Farm and Orchard: 6914 Ute Highway, Longmont CO 80503. (303) 485-5585. Hours (verify with website before going): Wednesday-Friday: 10-4. Saturday-Sunday 9-4. Reservations required for picking. Open now through early November (weather permitting).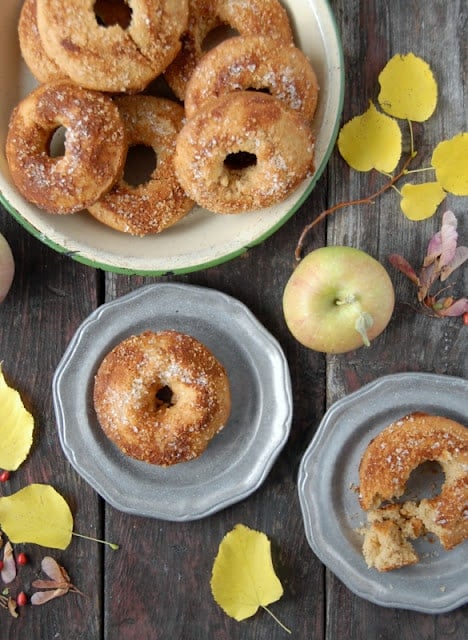 After visiting YaYa Farm and Orchard I left with a bee in my bonnet to make a gluten free version of Apple Cider donuts. They looked and smelled so delicious I became quickly fixated. I found and adapted a recipe for friend donuts from a seasonal 'pick your own' website which I'll share below. As soon as our temperatures drop to a more civilized 70 degrees I know it will feel like fall but until them I'm jumping forward with the tastes of fall thanks to YaYa Farm and Orchard!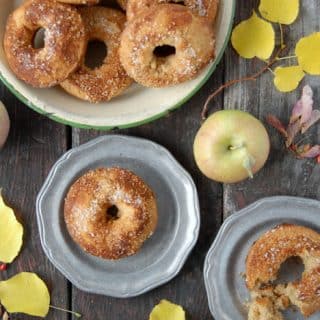 Baked Apple Cider Donuts (gluten free)
These donuts are light and cakey, tasting of fall. Should you not be gluten free feel free to substitute gluten-filled flour which should work fine. These donuts were adapted from a fried gluten-filled recipe and if you'd like to fry the donuts instead of baking them, or check out more seasonal topping/glaze ideas, click on the link in the recipe adaptation line below. The donuts, like all donuts, should be eaten fresh. If unable to do so, wrap them tightly in plastic wrap or store in an air tight container and eat within a few days.
Print
Save Recipe
Recipe Saved!
Pin
Rate
Ingredients
Ingredients for the Apple Cider Donuts:
2

cups

of apple cider

, preferably freshly pressed; boiled down to yield 2/3 cups and cooled

8

tablespoons

butter

, room temperature

1

cup

granulated sugar

2

eggs

, room temperature

½

cup

buttermilk

3 ½

cups

all purpose gluten free flour

(I used King Arthur Gluten-Free Flour Blend)

2

teaspoons

baking powder

1

teaspoon

baking soda

½

teaspoon

ground cinnamon

½

teaspoon

kosher salt

1/8

teaspoon

nutmeg

, freshly ground if possible
Ingredients for the topping:
4

tablespoons

granulated sugar

(note: The sugar can be all granulated sugar or a mix of granulated and crystal/sprinkling sugar which has larger granules and is more eye-catching)

1 ½

tablespoon

ground cinnamon

4

tablespoons

butter

, melted
Supplies:
1-2

standard size donut shape baking pan

(s)
Instructions
Preheat oven to 425 degrees.

In a large bowl cream the butter with a mixer. Add granulated sugar and cream together.

Add eggs, one at a time. Mix to combine.

Add buttermilk and reduced apple cider. Mix to combine.

In a separate bowl sift together the dry ingredients: flour, baking powder, baking soda, cinnamon, salt and nutmeg.

Slowly add the dry ingredients to the wet ingredients using a mixer to ensure they are fully combined.

Prepare donut pans with cooking spray. Fill the donut cavities no more than 2/3 full. Place in the oven for 7-9 minutes until donuts spring back to the touch.

Remove donuts and allow to sit in the pan for 5 minutes. Turn out onto a cooling rack to cool completely.

To add topping: Mix together the sugar(s) and cinnamon in a small bowl. Use a whisk to full mix. Lightly paint the melted butter onto the top of a donut with a cooking/basting brush. Over the sugar/cinnamon bowl sprinkle heavily with sugar/cinnamon. Carefully turn donut over the bowl and shake off any excess.
Nutrition
Calories:
201
kcal
|
Carbohydrates:
31
g
|
Protein:
3
g
|
Fat:
8
g
|
Saturated Fat:
4
g
|
Cholesterol:
35
mg
|
Sodium:
186
mg
|
Potassium:
80
mg
|
Fiber:
2
g
|
Sugar:
15
g
|
Vitamin A:
245
IU
|
Vitamin C:
0.2
mg
|
Calcium:
51
mg
|
Iron:
1
mg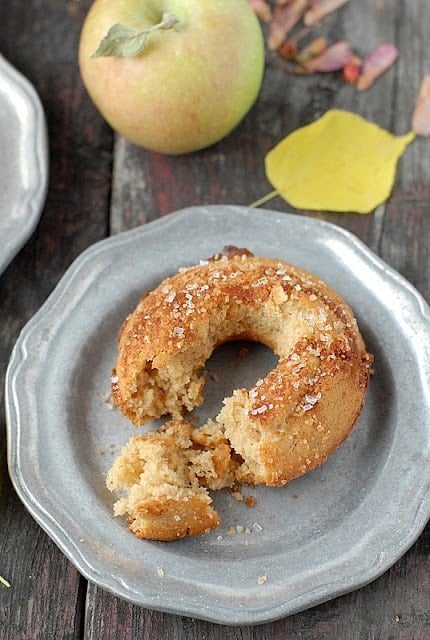 I did mention the Percherons are very curious and friendly right?