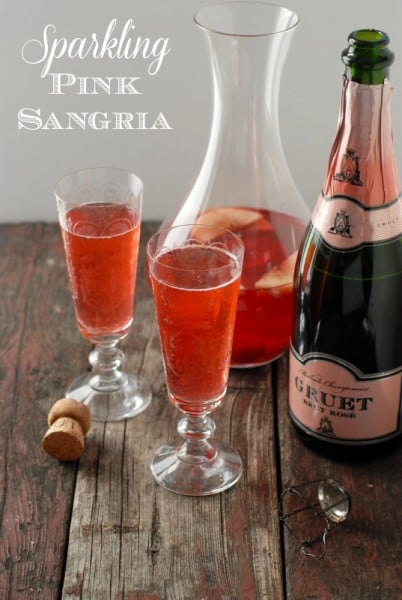 I don't know the actual statistics for Valentine's Day champagne sales but I'd wager they are a close second to New Year's Eve. Though I have no complaint about presenting the bubbly by itself, I think there is more to be had for the day of love. Sparkling Pink Sangria. The idea popped to mind loving the challenge of weaving together seasonal fruits and the color pink to come up with a twist on a way to celebrate the holiday. I will say I think it's my favorite sangria recipe yet, not the least of which is the sublime pink color!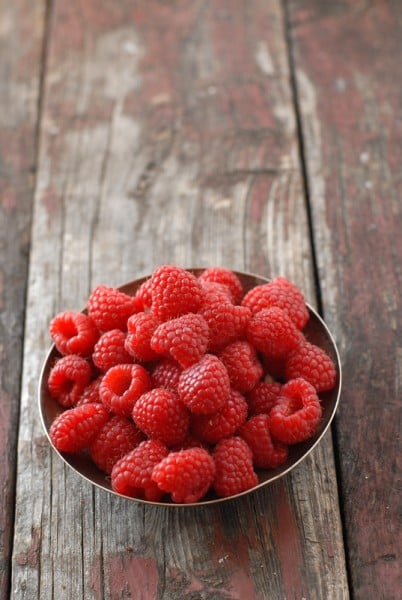 For those not having enjoyed Sangria, it is an infusion of fruit in wine heralded most prominently from Spain. There are usually other liquors added to bolster the flavor as well as something fizzy, in my case Pink Champagne. The soaking of the fruit transfers the most delicious notes to the liquid leaving clearly identifiable flavors as well as a beautiful unexpected blend. The choice of fruit determines the end result making it different with each combination.
In this case I sought to include as many red fruits as possible that would happily coexist in addition to seasonal citrus that always brightens sangria in my opinion. The end result was a fun and flirtatious blend, with strong flavors of raspberry and orange. I think pink as a color of food always lifts the spirits as do some bubbles so I have no doubt this will make your Valentine's Day a festive occasion. Plus who doesn't love something unexpected!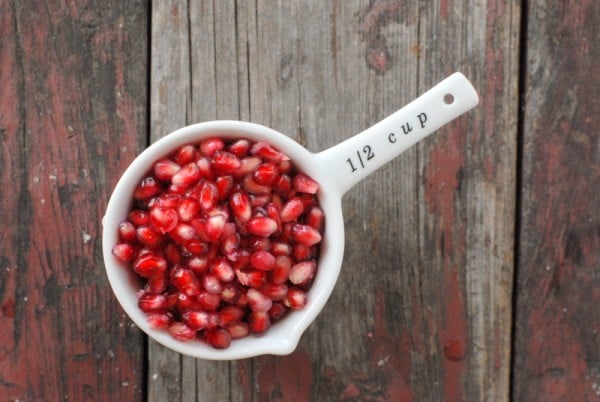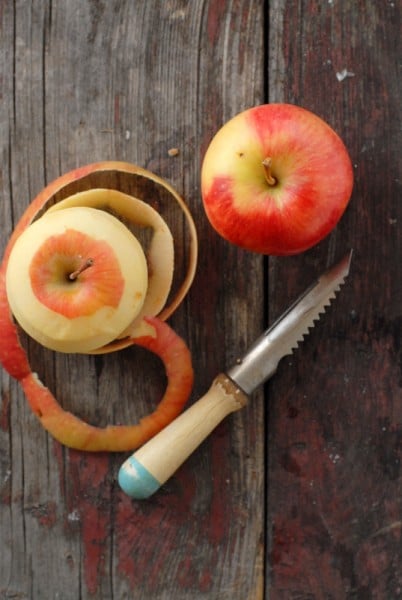 The sangria should sit for 24 hours to allow the flavors to all blend well but can sit longer. There is a plenty of time to whip up a batch for Valentine's Day! I think it's easiest to drink strained so the threat of a big soggy orange slice falling from the glass unexpectedly landing on your face is kept to a minimum. This by no means suggests you should discard the fruit. You can top some sorbet (raspberry would be great) or ice cream with it (for those over 21 of course). Or eat is as a boozy fruit salad and essentially 'eat-your-cocktail'.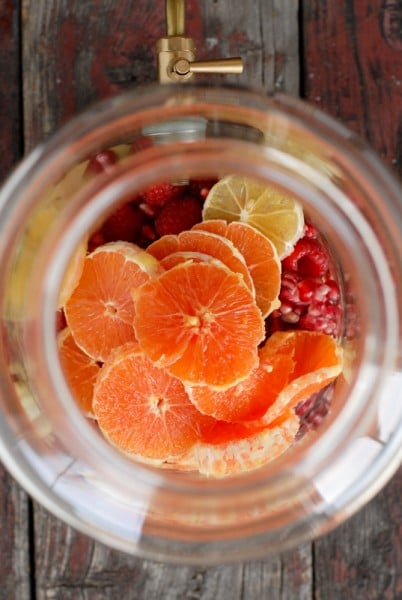 Love is best shared so before getting into the recipe I need to send out a bit of 'Liquor Love'. Most girls covet the idea of a personal shopper at Tiffany's or Nordstrom's; I have a personal shopper at North Boulder Liquors. Over the past few years since I've been blogging, there have been many occasions when I've had a half baked idea, pop in to the shop to feebly recount it to Mark. He listens intently and like a blood hound on a scent immediately departs my sloppy description of my vision, leading me to the perfect solution for the perfect reasons. He's a bit of a 'booze whisperer', Mark is. This case was no different as I was fumbling through all the pink wines, I turned to find him across the store, beckoned him over to have him lead me to the perfect choices, meeting my flavor criteria and at a fabulous price point. I-heart-Mark (and North Boulder Liquors).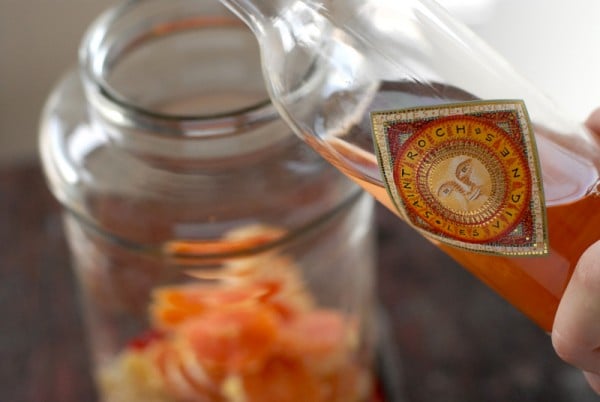 For this recipe Mark's pick for the Rose wine was Saint Roch Les Vignes (a Provence Rose made with 50% Sinsault and 50% Grenache; from Jeff Welburn Selections) pointing out the most important aspect to selecting for this sangria type is the originating appellation (or wine area); in this case being Cotes de Provence, known for the type of wine I was seeking. His pick was less than $15. For the Sparking Pink Wine Mark introduced me to a bio-dynamic Austrian wine from the winemaker Meinklang; Pinot Noir Frizzante Prosa 2011. I will confess I also picked up a bottle of a quasi-local Brut Rose from Gruet Winery in New Mexico (a winemaker I discovered in Santa Fe years ago and have always loved; their price point can't be beat either). My curiosity got the best of me and I drank Mark's sparkling selection before it made it to the Sangria (loved it; it was delicious and not overly fizzy). The Gruet was great with the sangria (under $20.00).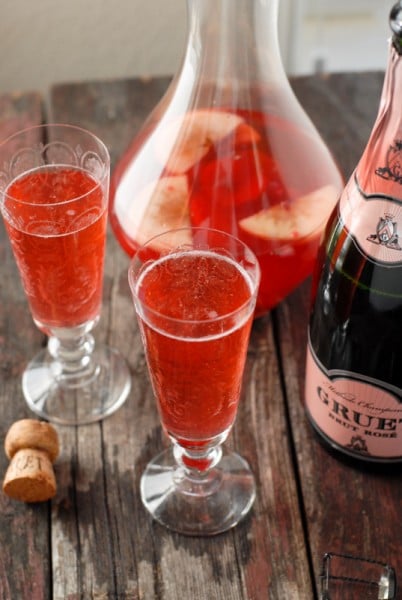 Recipe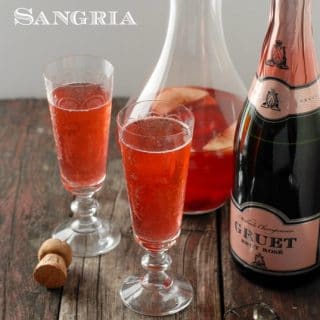 Ingredients
1

750-ml bottle

Rose wine from the Cotes de Provence appellation

1/3

cup

Brandy

1/2

cup

Citronage

1 ¼

cup

fresh Raspberries

(about one carton)

½

cup

Pomegranate seeds/arils

2

Cara Cara or Blood Oranges

, peeled, and cut into round slices

1

Pink Lady

, Ambrosia or Gala Apple, peeled and sliced horizontally into ¼ inch thick round slices

1

Meyer Lemon

, peeled and sliced horizontally into ¼ inch thick round slices

1

bottle Sparkling Pink Wine
Instructions
Combine the rose wine, brandy, Citronage and all the fruit (NOT the sparkling wine) in a large sealable jar or container.

Refrigerate for 24 hours or longer. Strain fruit (you could add a few raspberries to the glass) and reserve for other purposes. Serve at a ratio of 1 part Sangria to 1 part Sparkling Pink Wine.
Nutrition
Calories:
133
kcal
|
Carbohydrates:
16
g
|
Protein:
0
g
|
Fat:
0
g
|
Saturated Fat:
0
g
|
Cholesterol:
0
mg
|
Sodium:
2
mg
|
Potassium:
116
mg
|
Fiber:
3
g
|
Sugar:
12
g
|
Vitamin A:
25
IU
|
Vitamin C:
11.6
mg
|
Calcium:
10
mg
|
Iron:
0.3
mg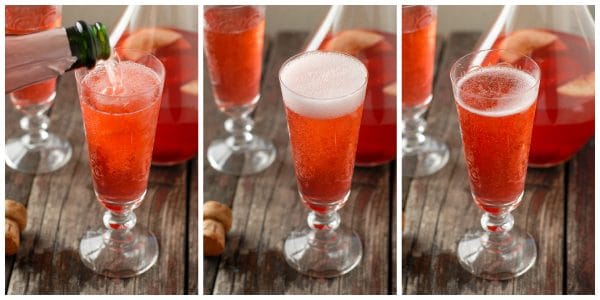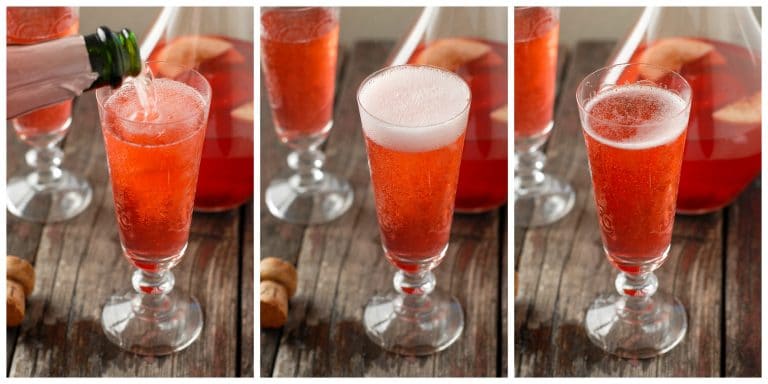 Note: This is not a sponsored post, just a chance to recognize a local business I love and appreciate.