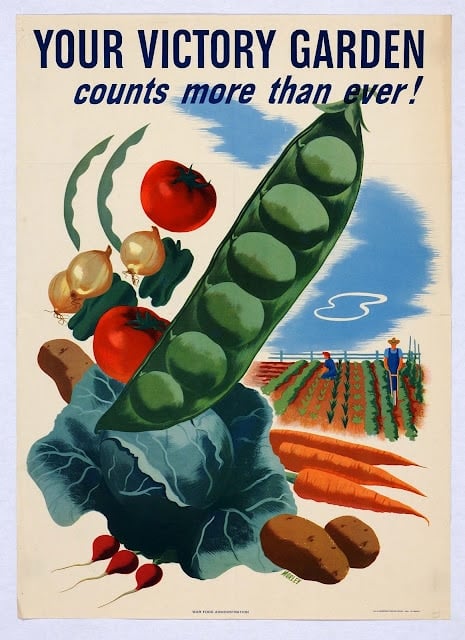 World War 2 campaign poster to encourage civilians to grow their own food and share surpluses with others
As I thought about appropriate blog topics for this Memorial Day weekend two things came to mind.

The first was that this weekend is generally experienced as the gate keeper to summer, the shifting of food preparations outdoors with grilling and picnics.
My second thought was that as holidays go, this is one that is not as straight forward as others like July 4 or Christmas, in terms of its meaning and significance.

I wondered how many really ponder the intent of Memorial Day as its tribute to our armed services throughout history.

I know armed services people personally who were heroically involved in the aftermath of 911 as well as the Iraq war.

Our family history bears soldiers from the Spanish American war as well as the Civil War, from whom we still own relics such as a canteen and genuine horse hair coat keeping history alive in our family.

Secretly I've always enjoyed the three days of historical films that fill this weekend, giving a nod to a bygone era defined by honor and decency.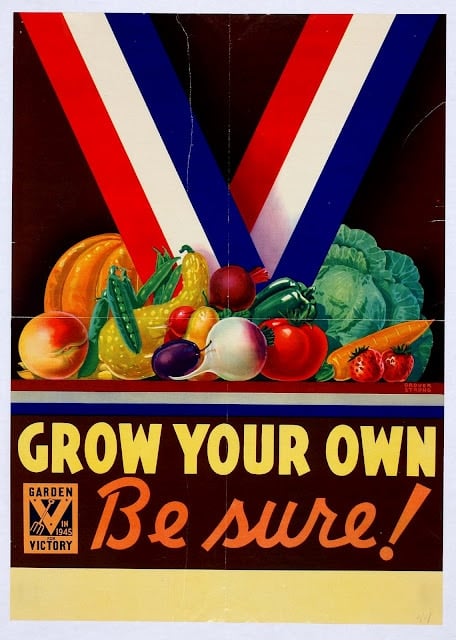 Really though where my mind wandered was to Victory Gardens.

The campaign to get people to grow their own food.

During

World Wars 1 and 2, there was incredible pressure on the U.S. food supply.

Canned goods and a large percentage of agricultural crops were going to support the U.S. troops at war.

There were difficulties transporting food to civilians as well.

The government implored families to start a food garden, to support their own needs and bring any surpluses to local grocery stores to aid those with no garden access.

Landscaped yards, vacant lots, public and private land was converted to massive food growing gardens.
It is estimated by the U.S. Department of Agriculture that over 20 million Victory Gardens were planted with a yield 9-10 million tons (equivalent to all the commercial production at the time)*.

As World War 2 and the Victory Garden campaign ended, many people did not resume their gardens.

There was a temporary food shortage as agricultural and food sources rebounded after the war to meet consumer demand.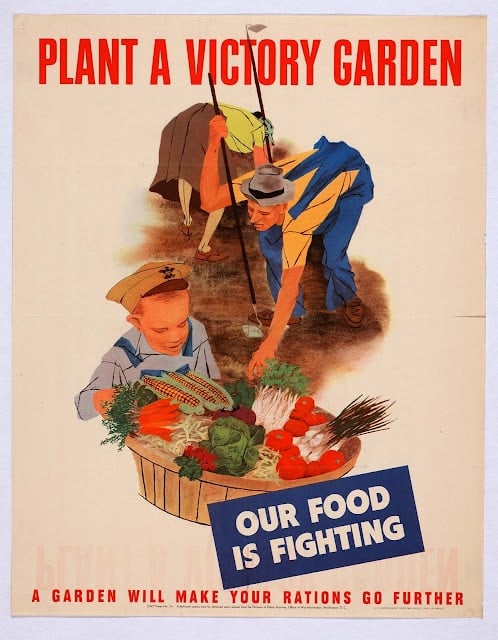 In the past few years there has been a resurgence of home food growing and it has not escaped my attention that it corresponds with the decline in the economy. I think the consciousness in the clean food movement is at play as well. Despite the purpose of Victory Gardens originating from difficult times and circumstances, I find myself a bit enviousof the simplicity of growing one's food in earnest. Despite the convenience of our modern day existence, I suspect being so close to one's own necessity bred higher appreciation and satisfaction.
This weekend I planted my victory garden of sorts with Memorial Day on my mind. Though my planting is purely from choice, and overflow will go to others, it still bears the purposeful intent of the war effort; to grow my own food, not for folly.
In this 8 foot by 8 foot plot there are: 8 tomatoes (all heirloom meaning their seed lineage goes back in history some to the 1800s), 9 peppers, 2 eggplant, 2 zucchini, 2 varieties of bush beans (several plants), edible insect-offending flowers, fennel, cilantro, epazote, radishes, cucumbers, lettuce, celery, several other herbs.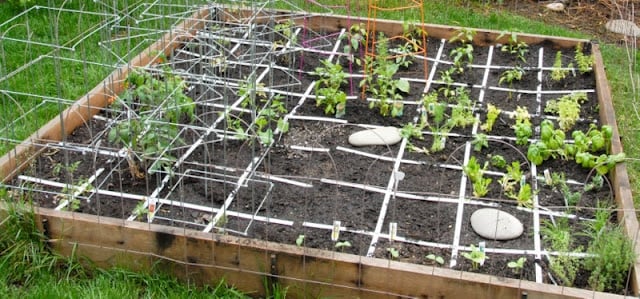 A bit of a sad looking photo on this dreary, foggy more-like-Northern-California Colorado morning but it gives you the spacial gist
Victory Gardens were as small as window boxes.

I began planting edible-only containers by my front door last year.

This year I have an heirloom tomato with nasturtium trailing the front of the pot (flowers are edible and ward off unwelcome insects), 2 large rosemary plants (can only be grown as annuals in Colorado so I can bring the pots indoors over the winter), 3 types of sage (variegated, traditional and pineapple) as well as a pot of calendula (colorful, edible flowers).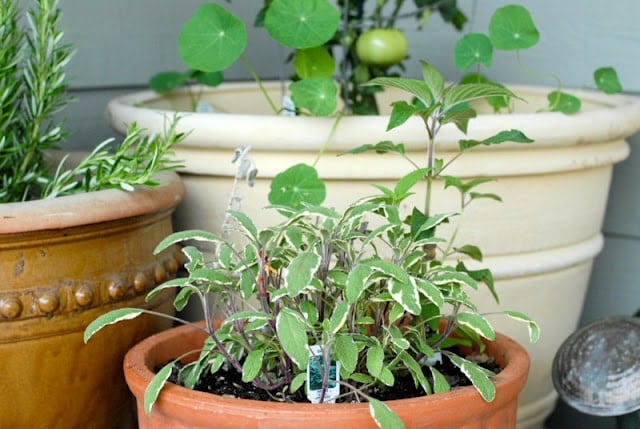 *Wessels Living History Farm (click here to learn more)