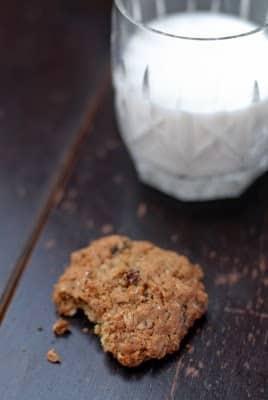 I'm serious, about the title.

I was given this recipe about 1,042 years ago.

I'm dubious about such boastful claims but it's true.

The reason these cookies are the BEST is a little secret.

It's this: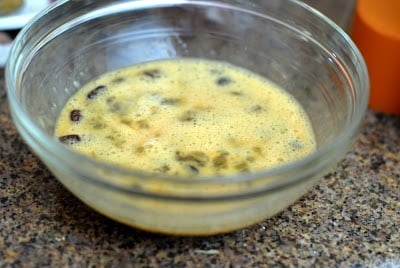 'Gross!

What's THAT?!'

you ask.

Well it would be the raisins soaking in the eggs and vanilla for an hour before being incorporated into the batter and believe me it makes this a different kind of cookie.

Always plump, soft in the middle, but with structure (not crumble, wimpy or overly soft).
Righteous Oatmeal Cookies
Adapted from the Colorado Cache Cookbook
Ingredients
·
1 teaspoon vanilla extract
·
1 teaspoon ground cinnamon
·
2 teaspoons baking soda
·

2
cups oatmeal (substitute ½ cup wheat germ if desired)
Substitution options:
Gluten Free
:
substitute your preferred
gluten free flour blend
for the same amount of the flour, add
1 ½ teaspoons xanthan gum
and use
gluten free oatmeal.
Healthier/high energy variation:
Instead of the
pecans
(which are delicious in this recipe but I did not have any on hand) I used a mixture of
raw sunflower seeds
and
raw pumpkin seeds
(run through the chopper),
shelled hemp seeds
and
chia seeds
, combined for a total amount of ¾ cups (same volume as the pecans).
It gives the same crunch and flavor of nuts but I think you get more reserve energy from them.
One issue with gluten free baking is a lower protein and fiber so I add hemp and chia seeds to most everything.

Chia seeds (you know 'cha-cha-cha Chia PET', those seeds but now they are embraced by health and foodie purveyors as an up and coming SUPER food) are the size of a poppy seed with literally no taste.

The Aztecs would take some in their mouths and chew them as they trekked all day long understanding their protein benefit.
1.
Preheat oven to 350 degrees.
2. Combine the eggs, raisins and vanilla in a small bowl.
Cover with plastic wrap and let stand at room temperature for an hour.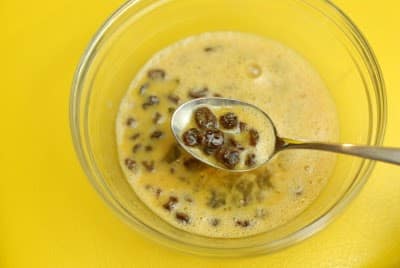 3.
Cream together butter and sugars.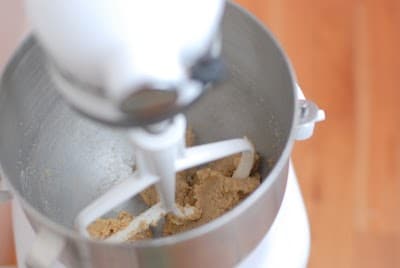 4. In a separate bowl combine the flour, salt, cinnamon, and baking soda (as well as xanthan gum if making them gluten free).
Add to the butter/sugar mixture and beat to combine.
5. Blend in the egg/raisin mixture, oatmeal (and wheat germ if you choose to), and chopped pecans (or the seed mixture).
The dough will combine but be stiff.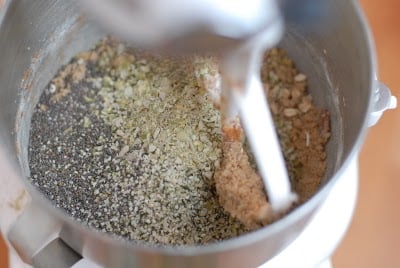 The dough with the seed mixture (pre-mixing)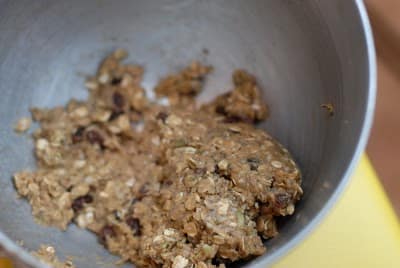 6.
Place spoonfuls onto a silpat or ungreased cookie sheet.

I sometimes roll mine into balls and flatten a bit to ensure they are intact before baking.

Bake approximately 12 minutes or until slightly brown.

I used a larger dining spoon for mine (so they were a bit over a tablespoon uncooked) and mine cooked 16 minutes.

All ovens and altitudes affect the baking so keep a watch out!